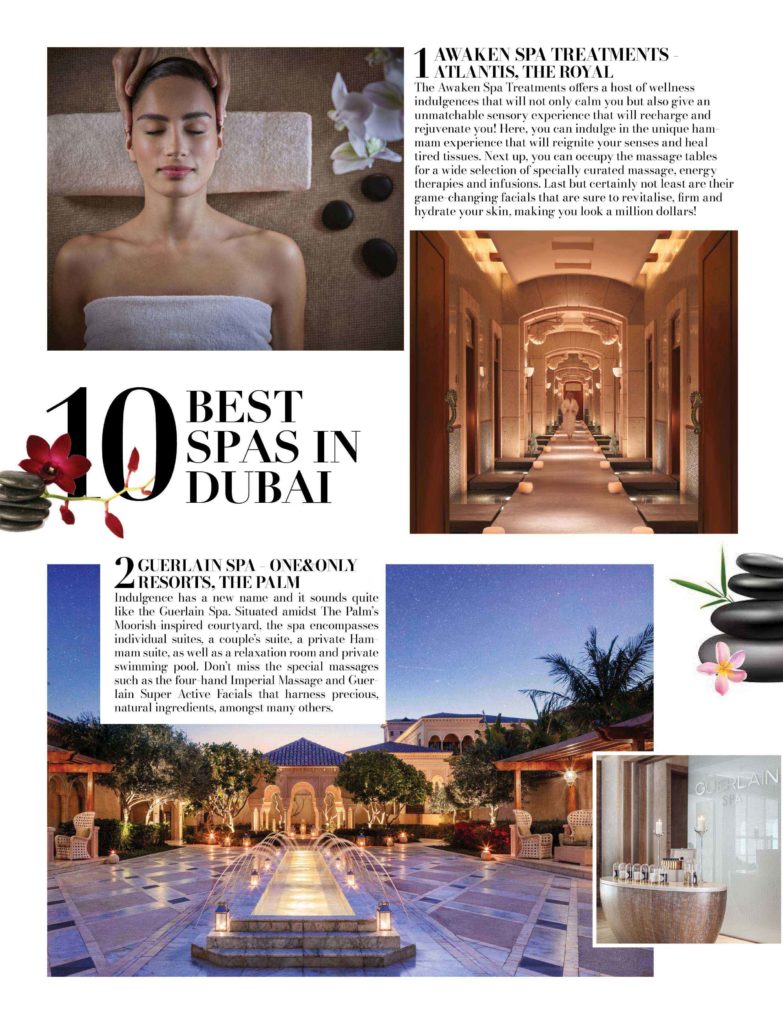 10 BEST SPAS IN DUBAI TO RELAX AND REJUVENATE
[1] Awaken Spa Treatment – Atlantis, The Royal
Atlantis, The Royal's grand launch will be a thing that will go down in history! From Beyoncé's dazzling performance to Kendall Jenner launching her 818 tequila, the opening ceremony consisted of numerous pinch-me moments. But the hotel doesn't just give you an adrenaline rush with its start-of-art amenities and luxurious surprises. It, in fact, calms you down and gives an unmatchable sensory experience at the Awaken Spa Treatments—a host of wellness offerings by the hotel that will recharge and rejuvenate you! Here, you can indulge in the unique hammam experience that will reignite your senses and heal tired tissues. Next up, you can occupy the massage tables for a wide selection of specially-curated massages, energy therapies and infusions. Last but certainly not least are their game-changing facials that are sure to revitalise, firm and hydrate your skin, making you look a million dollars!
[2] Guerlain Spa – One&Only Resorts, The Palm
Indulgence has a new name and it sounds quite like the Guerlain Spa. Situated amidst The Palm's Moorish-inspired courtyard, the spa encompasses individual suites, a couples' suite, a private Hammam suite, as well as a relaxation room and private swimming pool. Don't miss the special massages such as the 4-Hand Imperial Massage and Guerlain Super Active Facials that harness precious, natural ingredients, amongst many others.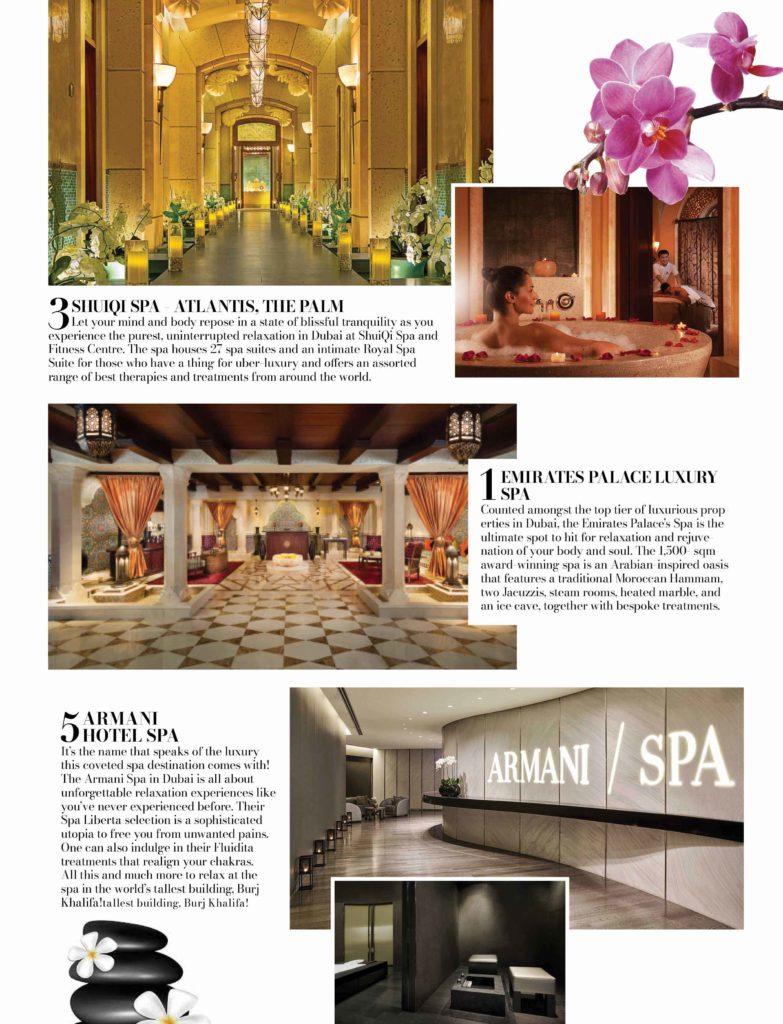 [3] ShuiQi Spa – Atlantis, the Palm
Send your mind and body in a state of blissful tranquility as you experience the purest, uninterrupted relaxation in Dubai at ShuiQi Spa and Fitness Centre. The spa houses 27 spa suites and an intimate Royal Spa Suite for those who have a thing for uber-luxury and offers an assorted range of best therapies and treatments from around the world.
[4] Emirates Palace Luxury Spa
Counted amongst the top tier of luxurious properties in Dubai, the Emirates Palace's Spa is the ultimate spot to hit for relaxation and rejuvenate your body and soul. The 1,500 sqm award-winning spa is an Arabian-inspired oasis that features a traditional Moroccan Hammam, two Jacuzzis, steam rooms, heated marble, and an ice cave, together with bespoke treatments.
[5] Armani Hotel Spa
It's the name that speaks of the luxury this coveted spa destination comes with! The Armani Spa in Dubai is all about unforgettable relaxation experiences like you've never experienced before. Their Spa Liberta selection is a sophisticated utopia to free you from unwanted pains. One can also indulge in their Fluidita treatments that realign your chakras. All this and much more to relax at the spa in the world's tallest building, Burj Khalifa!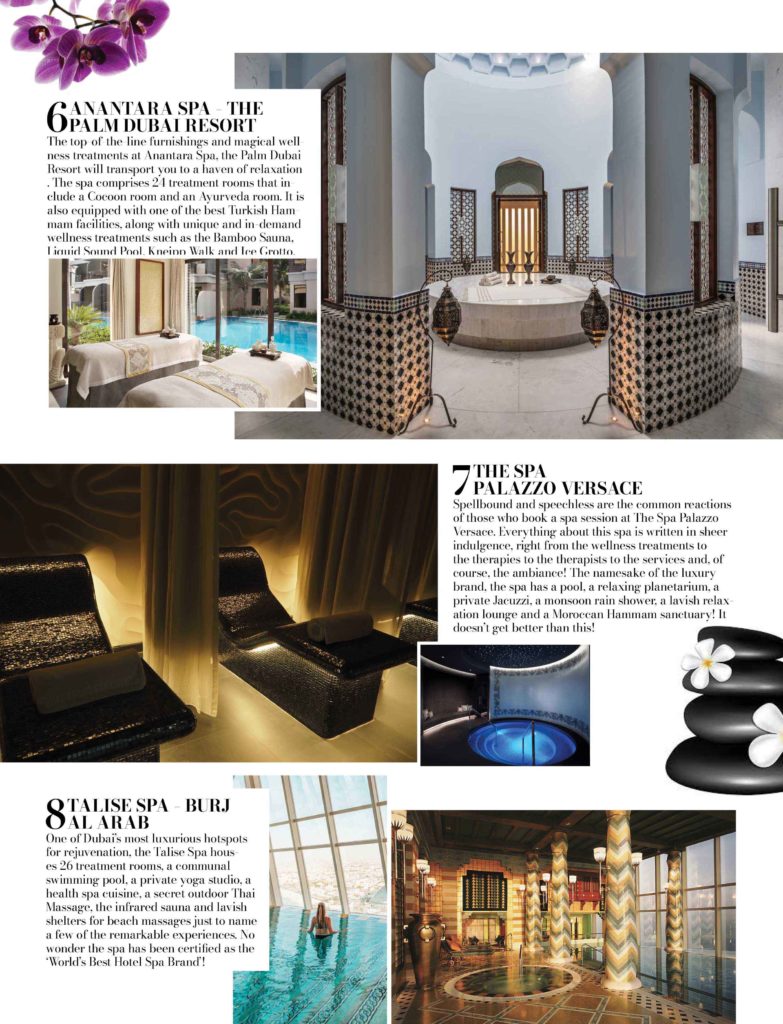 [6] Anantara Spa – the Palm Dubai Resort
The top-of-the-line furnishings and magical wellness treatments at Anantara Spa descend you into the relaxation heavens. The spa comprises 24 treatment rooms that include a Cocoon room and an Ayurveda room. It is also equipped with one of the best Turkish Hammam facilities, along with unique wellness treatments such as the Bamboo Sauna, Liquid Sound Pool, Kneipp Walk, and Ice Grotto that are much-in-demand.
[7] The Spa Palazzo Versace
Spellbound and speechless are the common reactions of those who book a spa session at The Spa Palazzo Versace. Everything about this spa is about sheer indulgence, right from the wellness treatments to the therapies to the therapists to the services and of course, the ambiance! The namesake of the luxury brand, the spa has a pool, a relaxing planetarium, a private Jacuzzi, a monsoon rain shower, a lavish relaxation lounge, and a Moroccan Hammam sanctuary! It doesn't get better than this!
[8] Talise Spa – Burj Al Arab
One of Dubai's most luxurious hotspots for rejuvenation, the Talise Spa houses 26 treatment rooms, a communal swimming pool, a private yoga studio, a health spa cuisine, a secret outdoor Thai Massage, the infrared sauna, and lavish shelters for beach massages just to name a few of the remarkable experiences. No wonder the spa has been certified as the World's Best Hotel Spa Brand!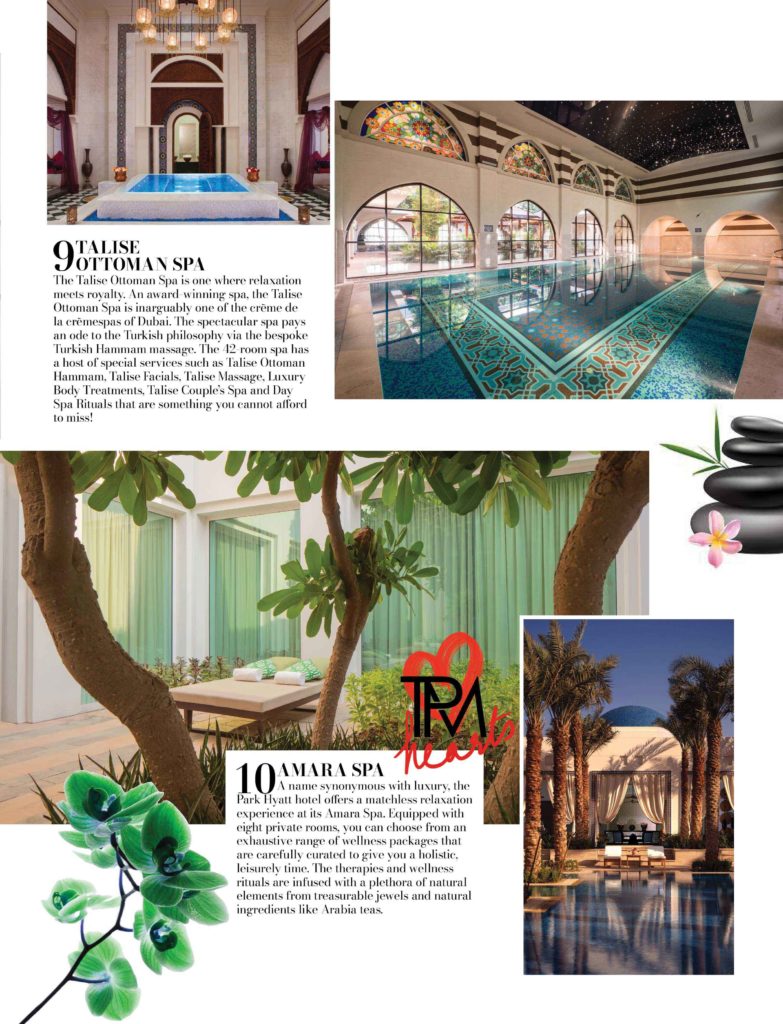 [9] Talise Ottoman Spa
The Talise Ottoman Spa is one where relaxation meets royalty. An award-winning spa, the Talise Ottoman Spa is inarguably one of the crème-de-crème spas of Dubai. The spectacular spa pays an ode to the Turkish philosophy via the bespoke Turkish Hammam massage. The 42-room spa has a host of special services such as Talise Ottoman Hammam, Talise Facials, Talise Massage, Luxury Body Treatments, Talise Couple's Spa, and Day Spa Rituals that are something you cannot afford to miss!
[10] Amara Spa
A name synonymous with luxury, the Park Hyatt hotel offers a matchless relaxation experience at its Amara Spa. Equipped with eight private rooms, you can choose from an exhaustive range of wellness packages that are carefully curated to give you a holistic, leisurely time. The therapies and wellness rituals are infused with a plethora of natural elements from treasurable jewels and natural ingredients like Arabia Teas.


Add to favorites