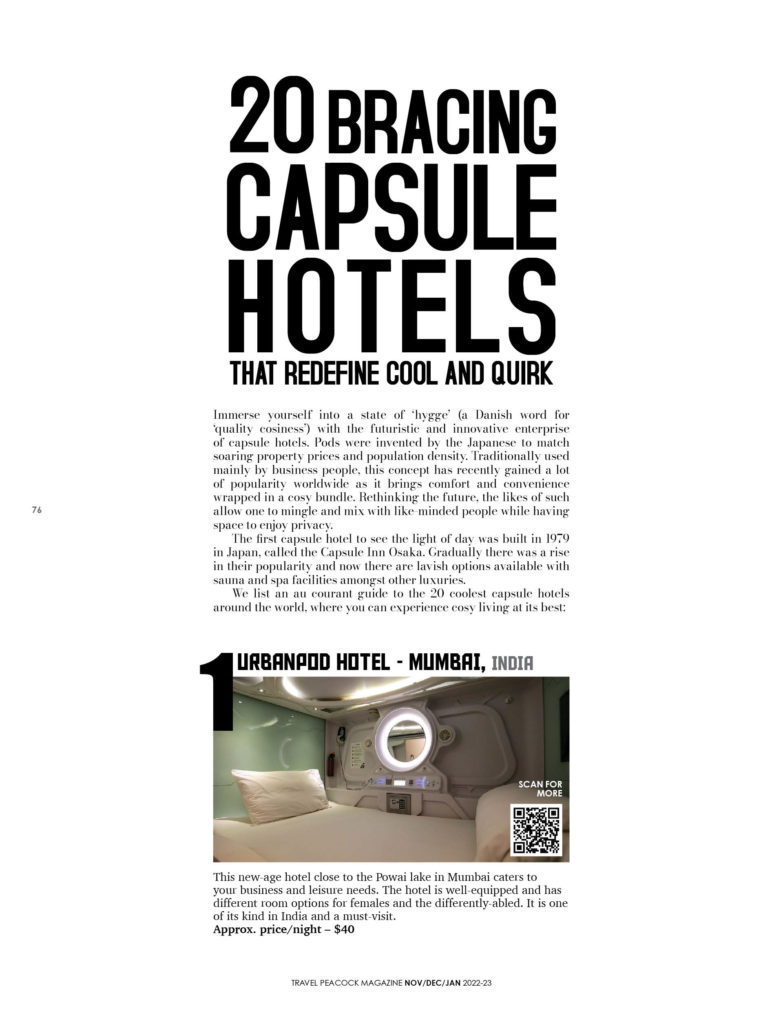 Immerse yourself into a state of 'hygge' (a Danish word for 'quality cosiness') with the futuristic and innovative enterprise of capsule hotels. Pods were invented by the Japanese to match soaring property prices and population density. Traditionally used mainly by business people, this concept has recently gained a lot of popularity worldwide as it brings comfort and convenience wrapped in a cosy bundle. Rethinking the future, the likes of such allow one to mingle and mix with like-minded people while having space to enjoy privacy.
The first capsule hotel to see the light of day was built in 1979 in Japan, called the Capsule Inn Osaka. Gradually there was a rise in their popularity and now there are lavish options available with sauna and spa facilities amongst other luxuries.
We list an au courant guide to the 20 coolest capsule hotels around the world, where you can experience cosy living at its best:
1. URBANPOD HOTEL, MUMBAI, INDIA
This new-age hotel close to the Powai lake in Mumbai caters to your business and leisure needs. The hotel is well-equipped and has different room options for females and the differently-abled. It is one of its kind in India and a must-visit.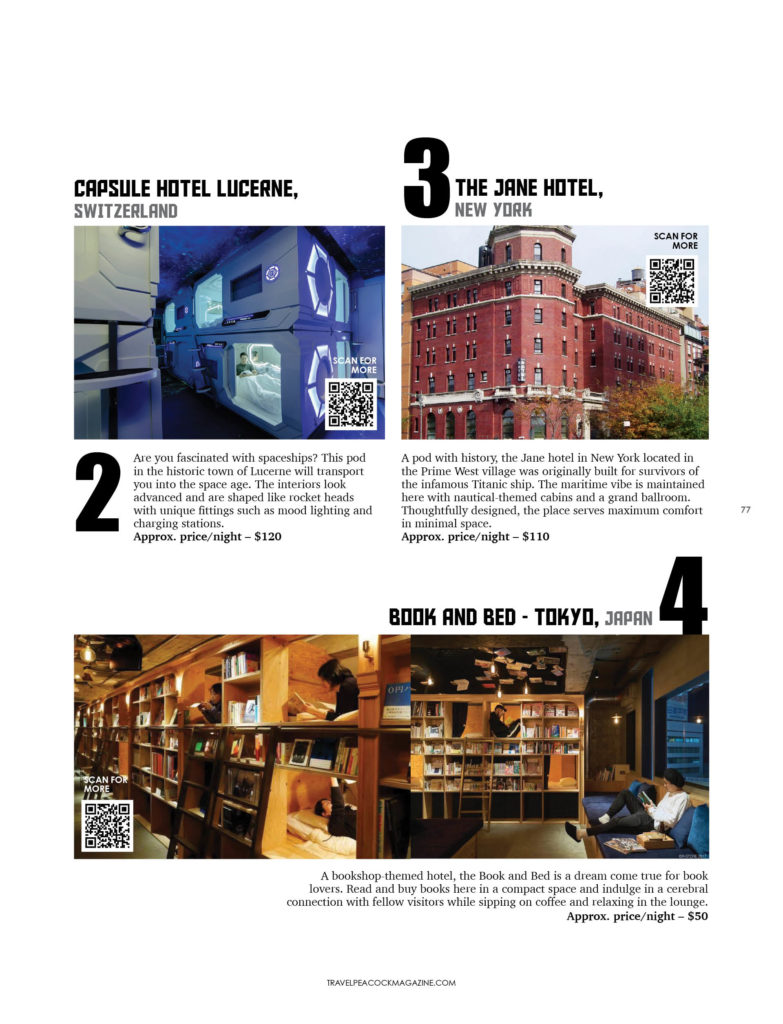 2. CAPSULE HOTEL LUCERNE, SWITZERLAND
Are you fascinated with spaceships? This pod in the historic town of Lucerne will transport you into the space age. The interiors look advanced and are shaped like rocket heads with unique fittings such as mood lighting and charging stations.
3. THE JANE HOTEL, NEW YORK
A pod with history, the Jane hotel in New York located in the Prime West village was originally built for survivors of the infamous Titanic ship. The maritime vibe is maintained here with nautical-themed cabins and a grand ballroom. Thoughtfully designed, the place serves maximum comfort in minimal space.
4. BOOK AND BED, TOKYO, JAPAN
A bookshop-themed hotel, the Book and Bed is a dream come true for book lovers. Read and buy books here in a compact space and indulge in a cerebral connection with fellow visitors while sipping on coffee and relaxing in the lounge.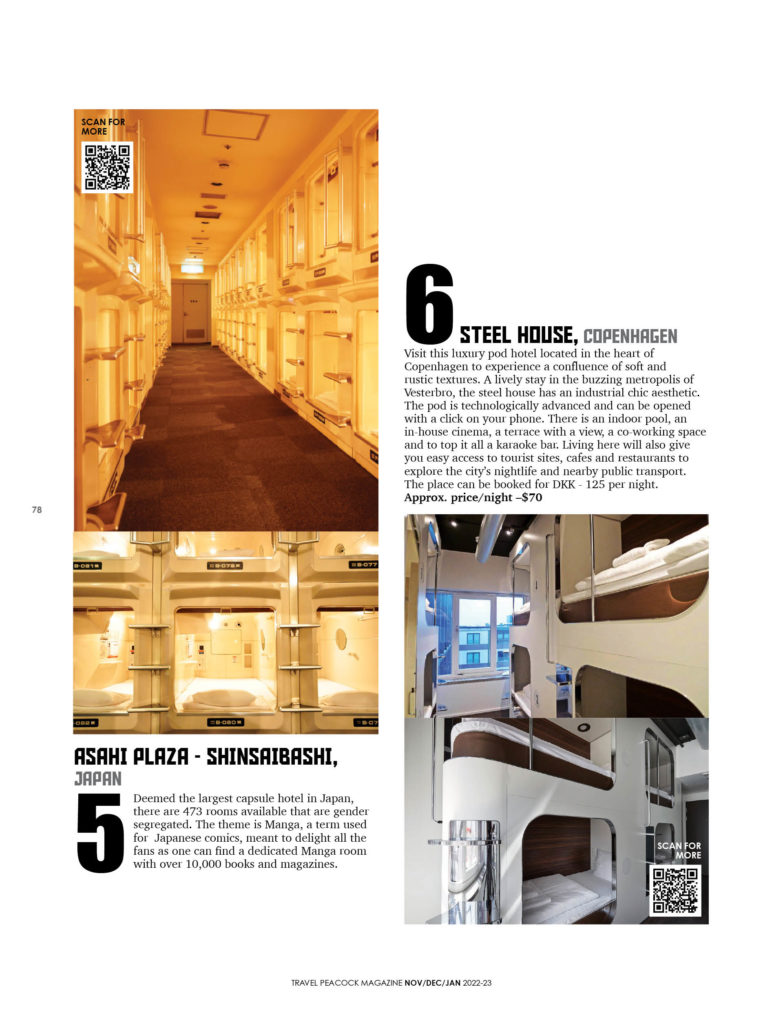 5. ASAHI PLAZA, SHINSAIBASHI, JAPAN
Deemed the largest capsule hotel in Japan, there are 473 rooms available that are gender segregated. The theme is Manga, a term used for Japanese comics, meant to delight all the fans as one can find a dedicated Manga room with over 10,000 books and magazines.
6. STEEL HOUSE, COPENHAGEN
Visit this luxury pod hotel located in the heart of Copenhagen to experience a confluence of soft and rustic textures. A lively stay in the buzzing metropolis of Vesterbro, the steel house has an industrial chic aesthetic. The pod is technologically advanced and can be opened with a click on your phone. There is an indoor pool, an in-house cinema, a terrace with a view, a co-working space and to top it all a karaoke bar. Living here will also give you easy access to tourist sites, cafes and restaurants to explore the city's nightlife and nearby public transport. The place can be booked for DKK – 125 per night.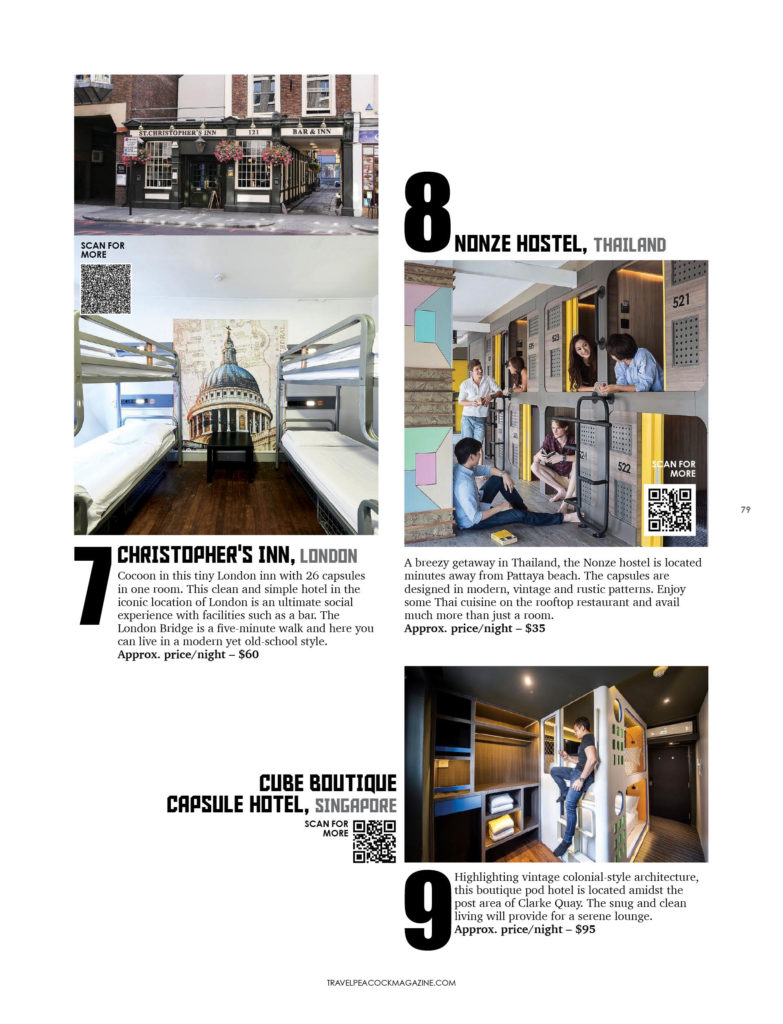 7. CHRISTOPHER'S INN, LONDON
Cocoon in this tiny London inn with 26 capsules in one room. This clean and simple hotel in the iconic location of London is an ultimate social experience with facilities such as a bar. The London Bridge is a five-minute walk and here you can live in a modern yet old-school style.
8. NONZE HOSTEL, THAILAND
A breezy getaway in Thailand, the Nonze hostel is located minutes away from Pattaya beach. The capsules are designed in modern, vintage and rustic patterns. Enjoy some Thai cuisine on the rooftop restaurant and avail much more than just a room.
9. CUBE BOUTIQUE CAPSULE HOTEL, SINGAPORE
Highlighting vintage colonial-style architecture, this boutique pod hotel is located amidst the post area of Clarke Quay. The snug and clean living will provide for a serene lounge.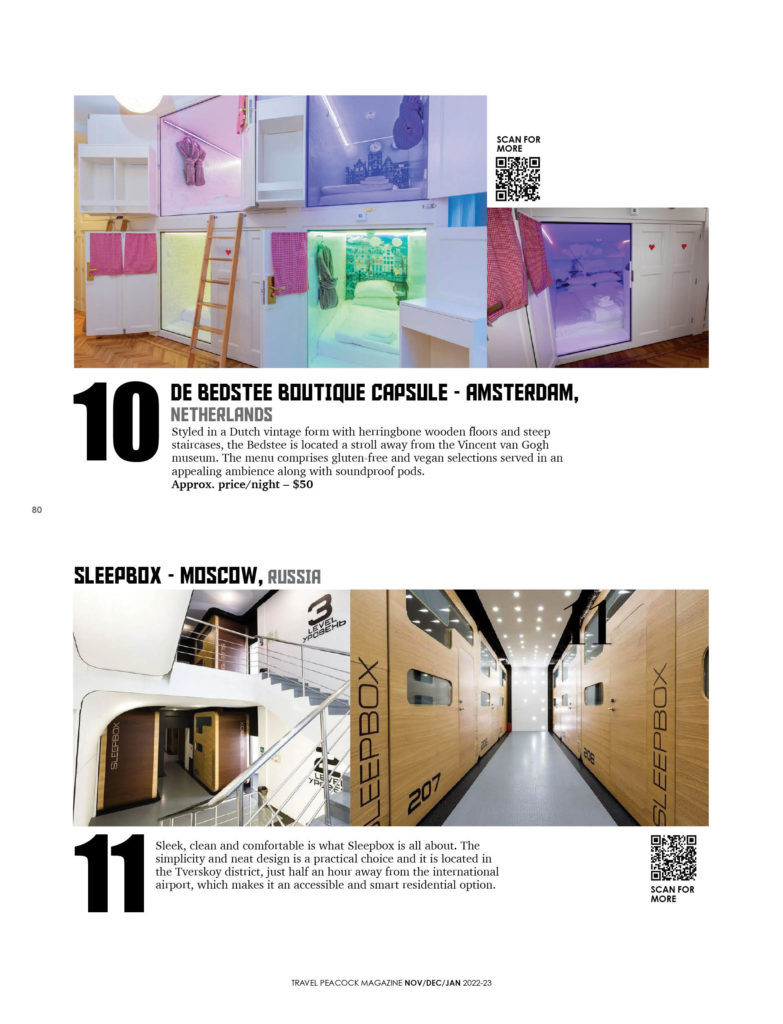 10. DE BEDSTEE BOUTIQUE CAPSULE, AMSTERDAM, NETHERLANDS
Styled in a Dutch vintage form with herringbone wooden floors and steep staircases, the Bedstee is located a stroll away from the Vincent van Gogh museum. The menu comprises gluten-free and vegan selections served in an appealing ambience along with soundproof pods.
11. SLEEPBOX, MOSCOW, RUSSIA
Sleek, clean and comfortable is what Sleepbox is all about. The simplicity and neat design is a practical choice and it is located in the Tverskoy district, just half an hour away from the international airport, which makes it an accessible and smart residential option.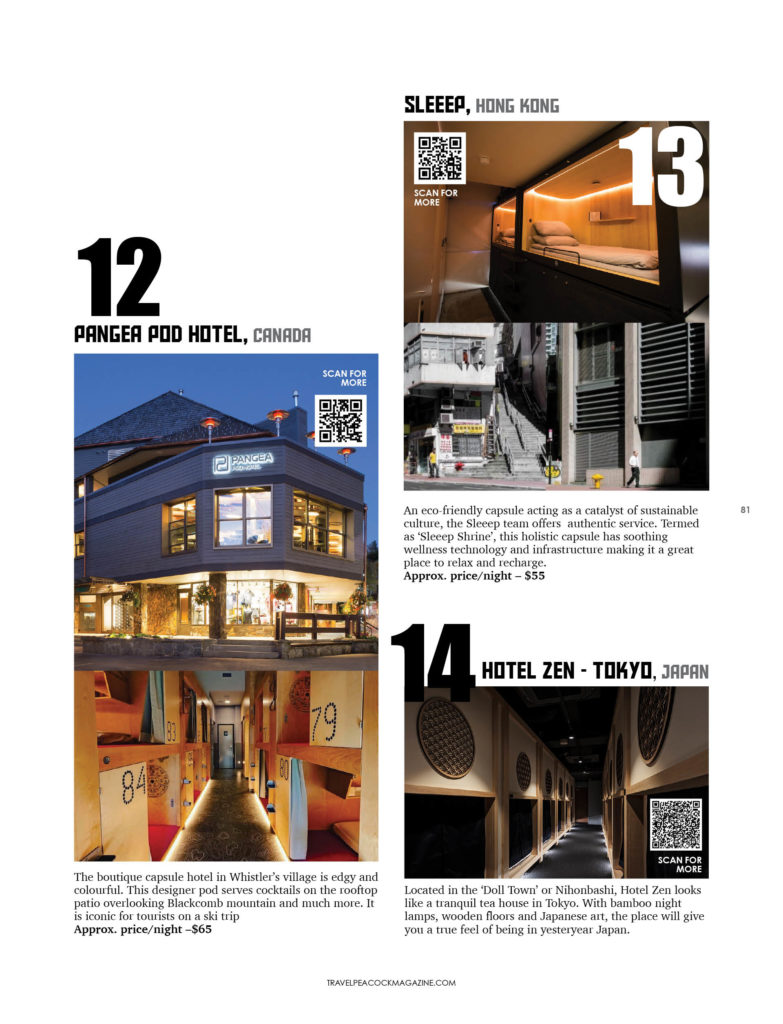 12. PANGEA POD HOTEL, CANADA
The boutique capsule hotel in Whistler's village is edgy and colourful. This designer pod serves cocktails on the rooftop patio overlooking Blackcomb mountain and much more. It is iconic for tourists on a ski trip.
13. SLEEEP, HONG KONG
An eco-friendly capsule acting as a catalyst of sustainable culture, the Sleeep team offers authentic service. Termed as 'Sleeep Shrine', this holistic capsule has soothing wellness technology and infrastructure making it a great place to relax and recharge.
14. HOTEL ZEN, TOKYO, JAPAN
Located in the 'Doll Town' or Nihonbashi, Hotel Zen looks like a tranquil tea house in Tokyo. With bamboo night lamps, wooden floors and Japanese art, the place will give you a true feel of being in yesteryear Japan.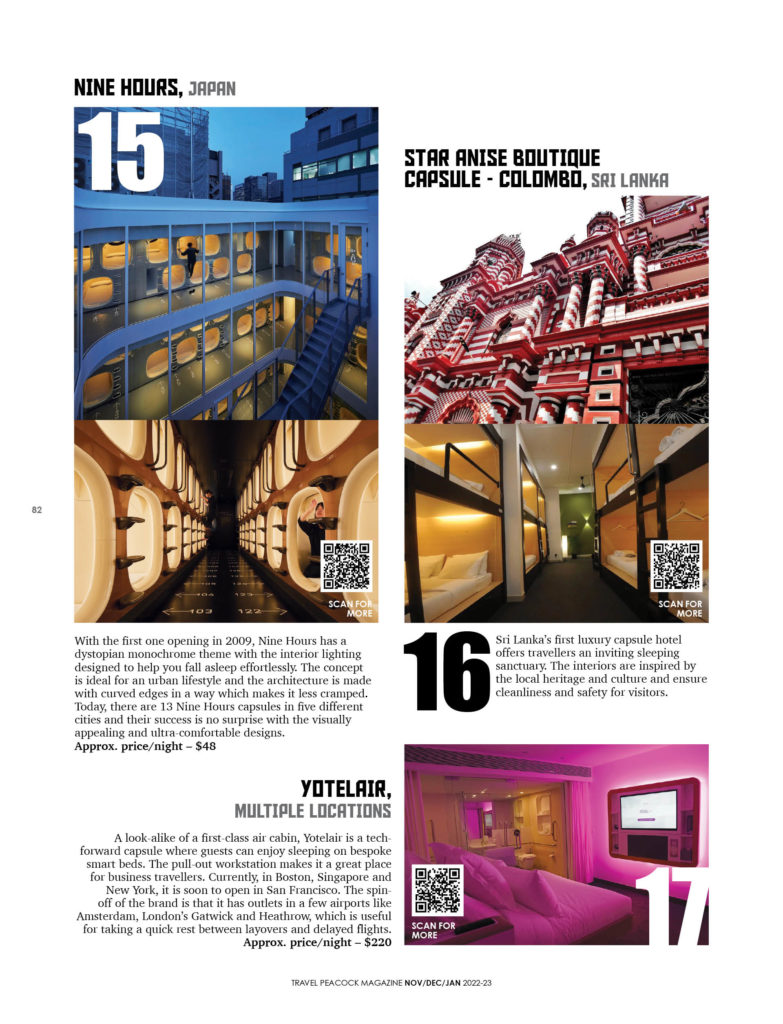 15. NINE HOURS, JAPAN
With the first one opening in 2009, Nine Hours has a dystopian monochrome theme with the interior lighting designed to help you fall asleep effortlessly. The concept is ideal for an urban lifestyle and the architecture is made with curved edges in a way which makes it less cramped. Today, there are 13 Nine Hours capsules in five different cities and their success is no surprise with the visually appealing and ultra-comfortable designs.
16. STAR ANISE BOUTIQUE CAPSULE, COLOMBO, SRI LANKA
Sri Lanka's first luxury capsule hotel offers travellers an inviting sleeping sanctuary. The interiors are inspired by the local heritage and culture and ensure cleanliness and safety for visitors.
17. YOTELAIR, MULTIPLE LOCATIONS
A look-alike of a first-class air cabin, Yotelair is a tech-forward capsule where guests can enjoy sleeping on bespoke smart beds. The pull-out workstation makes it a great place for business travellers. Currently, in Boston, Singapore and New York, it is soon to open in San Francisco. The spin-off of the brand is that it has outlets in a few airports like Amsterdam, London's Gatwick and Heathrow, which is useful for taking a quick rest between layovers and delayed flights.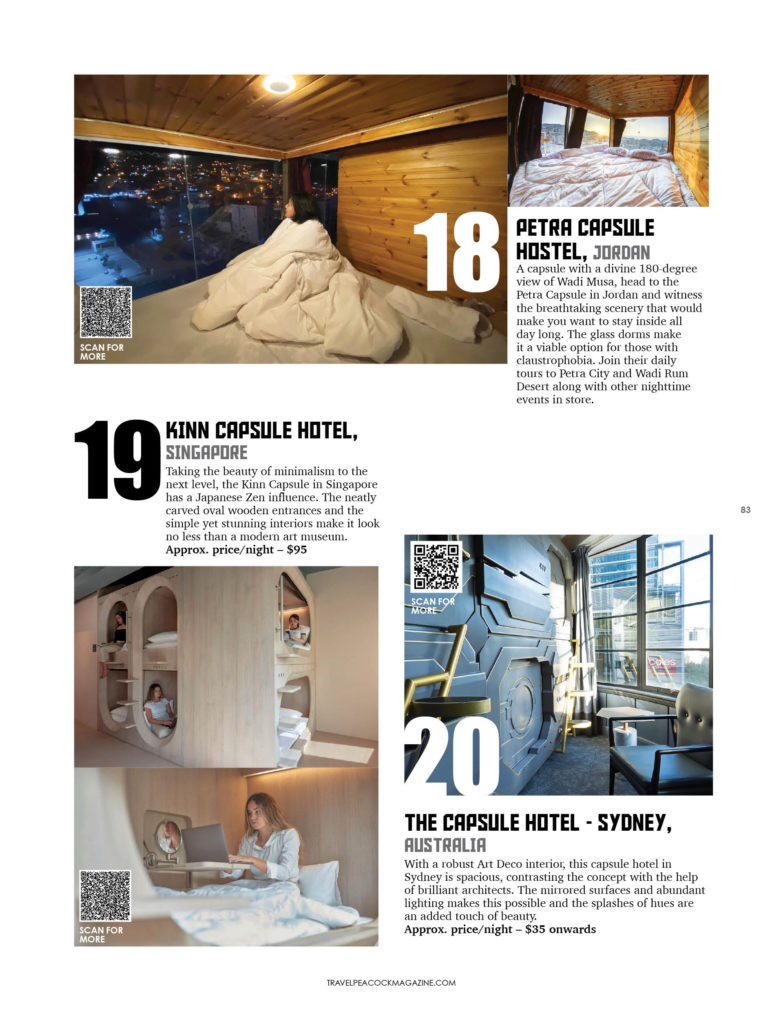 18. PETRA CAPSULE HOSTEL, JORDAN
A capsule with a divine 180-degree view of Wadi Musa, head to the Petra Capsule in Jordan and witness the breathtaking scenery that would make you want to stay inside all day long. The glass dorms make it a viable option for those with claustrophobia. Join their daily tours to Petra City and Wadi Rum Desert along with other nighttime events in store.
19. KINN CAPSULE HOTEL, SINGAPORE
Taking the beauty of minimalism to the next level, the Kinn Capsule in Singapore has a Japanese Zen influence. The neatly carved oval wooden entrances and the simple yet stunning interiors make it look no less than a modern art museum.
20. THE CAPSULE HOTEL, SYDNEY, AUSTRALIA
With a robust Art Deco interior, this capsule hotel in Sydney is spacious, contrasting the concept with the help of brilliant architects. The mirrored surfaces and abundant lighting makes this possible and the splashes of hues are an added touch of beauty.



Add to favorites