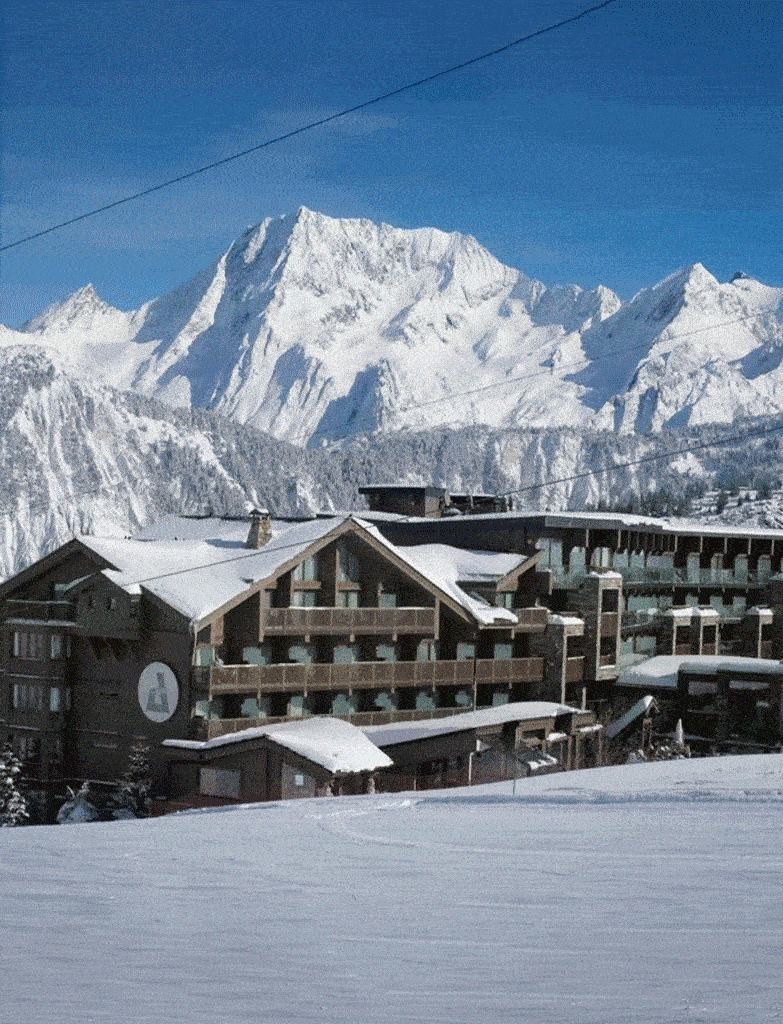 If you fancy a luxurious getaway with lots of snowy adventures and a flair for regal leisure, how about experiencing an enchanting winter staycation in Courchevel, France? Deemed one of the most luxurious ski resorts in the world, Courchevel swears by the phrase 'heaven on earth.' This Alpine resort town offers a fabulous escapade to all the luxury connoisseurs and ski enthusiasts of the world. Apart from housing several stunning ski slopes, Courchevel is also home to some of the best hotels in France. With each property exhibiting its exquisite charm and opulence, these hotels are the epitome of elegance and grandeur. In our exclusive luxury travel blog, we will explore the four best hotels in Courchevel that offer a world-class experience along with exceptional hospitality, tantalising French gourmet cuisine and breathtaking views of the snow-clad Alps. From stylish jacuzzis and saunas to indulgent spas and pools, these swanky stays have it all! Whether you're a ski enthusiast, a nature-seeker or an individual who craves luxury and leisure. These plush hotels will serve your every whims and fancies ensuring a truly memorable holiday. So, to all the Monsieurs and Madames, we request you all to join us as we explore these four best hotels for a luxurious getaway in Courchevel, France.
LE GRANDE ALPES, COURCHEVEL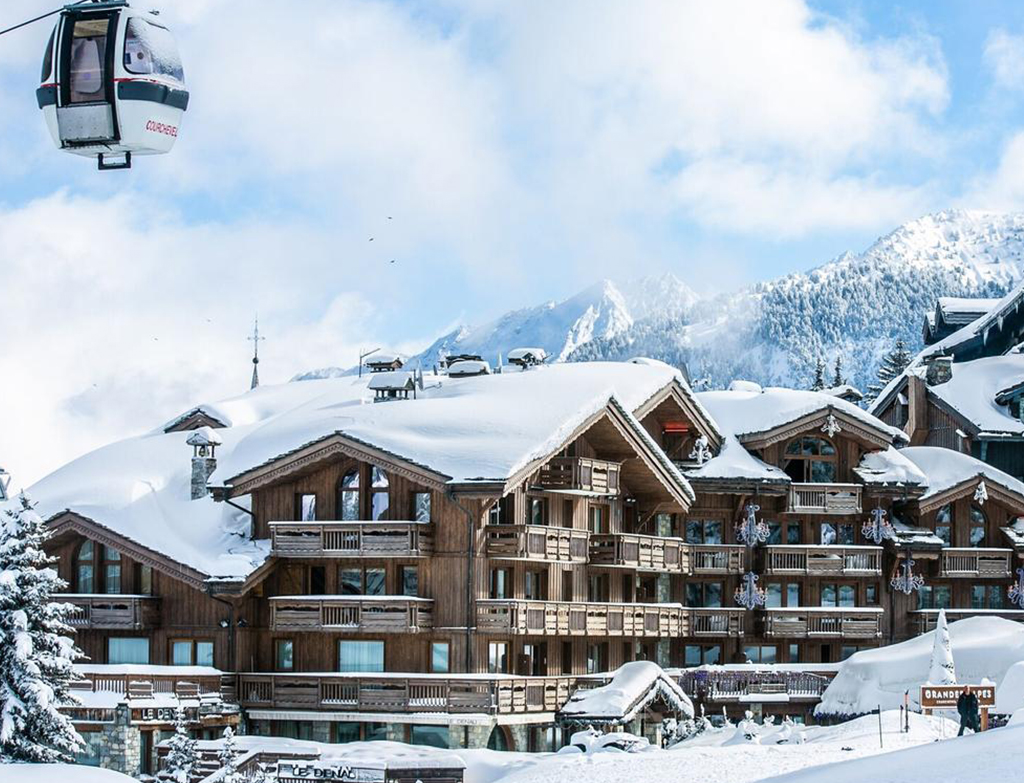 Located in the Alpine resort town of Courchevel 1850, hotel Le Grande Alpes resides high on the luxury factor. The hotel's prime location leads you straight to the magnificent slopes and snow-clad mountains. Spend a great fancy evening at the bar all cosied up amidst the magnificent mountains and immerse yourself in all the opulent luxuries provided by the Le Grande Alps in Courchevel.
Caractéristiques de luxe
Accommodation
Le Grande Alpes boasts 31 plush rooms and suites with cosy beds and elegant furnishings, all chicly adorned and fully equipped with modern facilities such as HD TVs, Wi-Fi and minibars to ensure a leisurely stay.
Fine dining and Michelin stars
La Table de Mon Grand-Père has been awarded one Michelin star for its delicious cuisine, exclusive wine list, and obviously for its stunning backdrop views of the Alpine mountains!
Spa and wellness centre
Spa Diane Barrière offers a range of treatments and facilities including a heated indoor pool, sauna, steam room and Jacuzzi.
Ski room and ski rental
The hotel offers a ski room as well as ski rental services because you are in Courchevel and engaging in ski activities is a must.
Book your snowy getaway now: https://grandesalpes.com/

CHEVAL BLANC, COURCHEVEL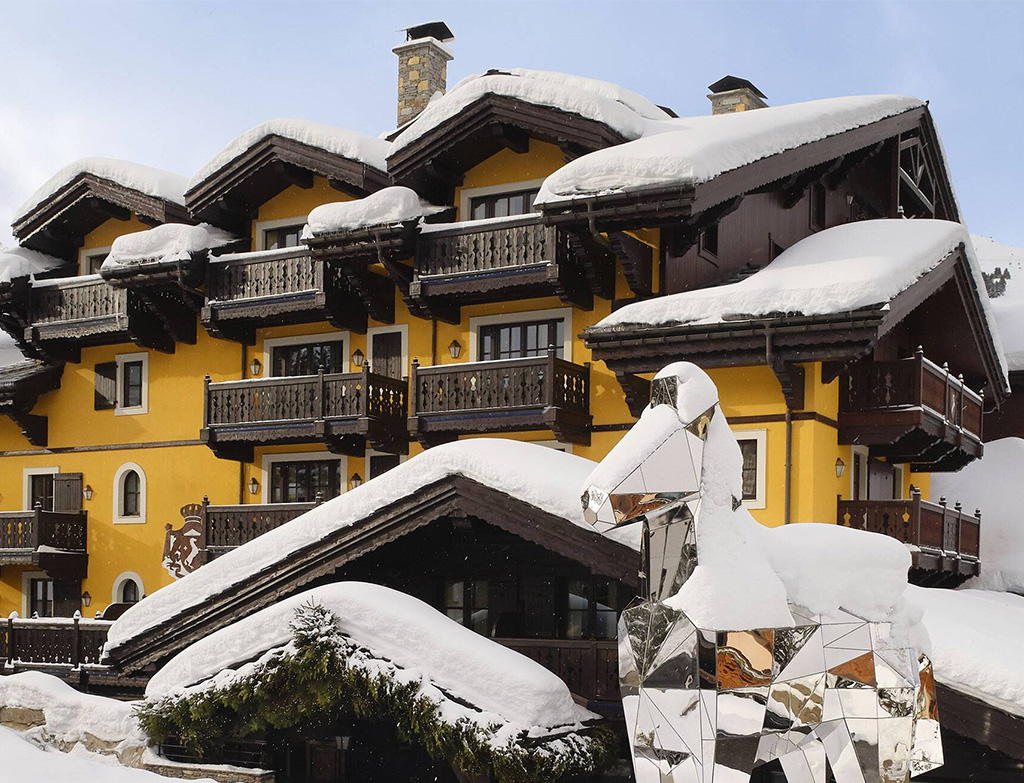 Perched high above at 1850 metres, this magnificent hotel acts as a crowning glory for the stunning Alpine land of Courchevel 1850. Offering exclusive ski-in/ski-out services, hotel Cheval Blanc is a much-sought-after vacay destination among fashion elites and luxury connoisseurs. Plush and opulent, the chic hotel also houses various in-house designer boutiques to please the couture cravings of its clients. With avant-garde photography and object d'art adorning every corner and wall of the hotel, it surely acts as a scenic nirvana!
Caractéristiques de luxe
Accommodation
Cheval Blanc offers premium rooms and suites with the decor exuding an elegant and sophisticated ambience. Some rooms also feature a private balcony setting, providing stunning views of the surrounding snow-clad mountains.
Fine dining and Michelin stars
The hotel offers several world-class dining options such as the Le 1947 – A two-Michelin-starred restaurant offering a tantalising culinary journey of French cuisine.
Cheval Blanc spa
The hotel's spa offers an array of personalised treatments and massages, and its fitness centre is equipped with modern equipment.
Private jet service
The hotel offers an exclusive private jet service for guests travelling to and from Courchevel.
Connoisseurs of art
The hotel also boasts an impressive art collection featuring works by contemporary artists, adding to its unique character and charm.
Book your snowy getaway now: www.chevalblanc.com

LES AIRELLES – PALACE DE COURCHEVEL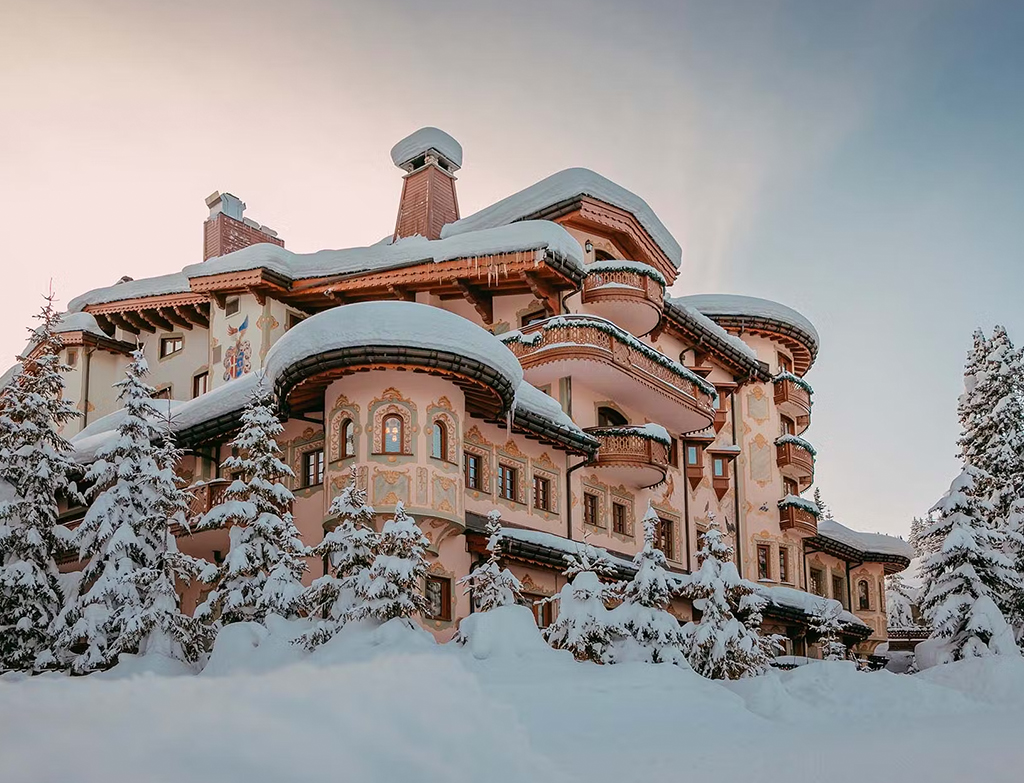 Renowned for its exemplary service, Les Airelles – Palace de Courchevel has been awarded the Palace distinction, the highest recognition for luxury hotels in France. Located in the stunning Alpine ski resort of Courchevel 1850, The hotel boasts beautiful, fairytale-inspired architecture and offers you a truly grandiose experience.
Caractéristiques de luxe
Accommodation
The hotel offers all kinds of luxury accommodations, from spacious rooms and deluxe suites to cosy apartments and cottages.
Fine dining and Michelin stars
make sure you visit the Michelin-starred restaurant – Pierre Gagnaire pour Les Airelles for some exquisite cuisine and cocktails.
Spa and saunas
Indulge in an exhilarating spa session, exclusively by the luxury skincare brand La Mer or relax at the hotel's sauna. Les Airelles. Les Airelles also provides a wellness centre and Turkish bath.
Exclusive perks
The hotel provides some fabulous exclusive amenities including chauffeured car services and helicopter transfers, high-end boutiques featuring couture brands and lots more.
HOTEL DES TROIS VALLEES, COURCHEVEL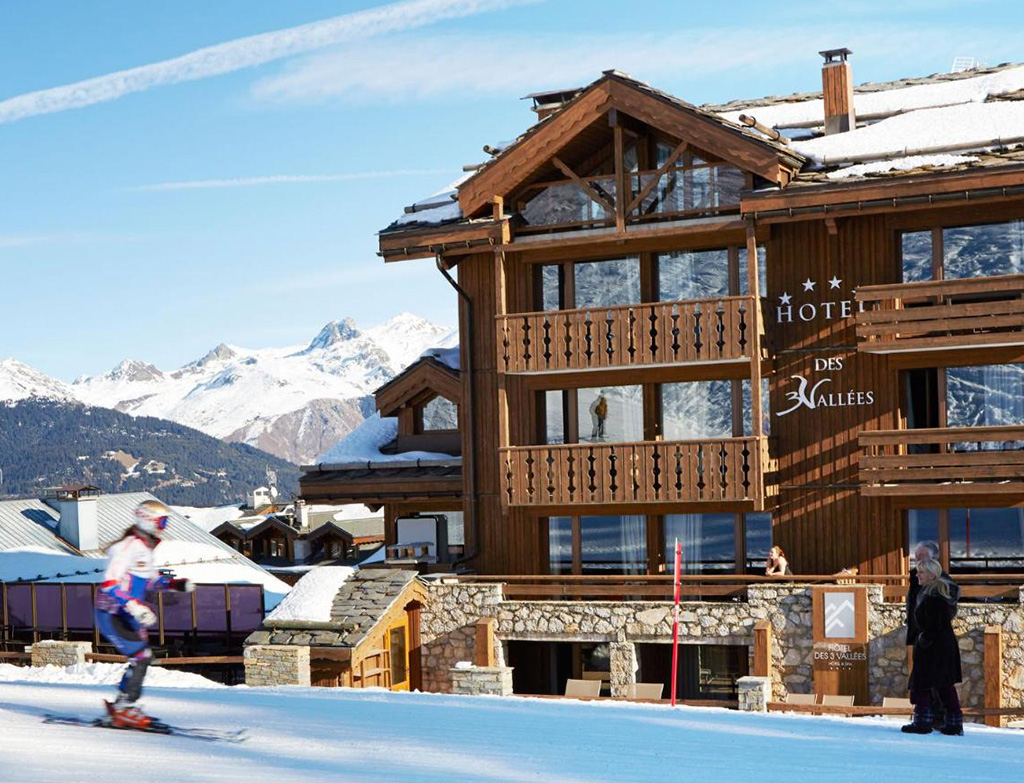 Located in the heart of the scenic ski resort of Courchevel, Hotel des Trois Vallees is an oasis of luxury and serenity. Owning an enviable locale at the base of the slopes, this luxe hotel offers unparalleled leisure and elegance, combined with stunning views of the surrounding French countryside. From its chic decor to plush amenities, every detail is designed to cater for the needs of the most refined travellers. Whether you are seeking an enchanting winter escapade or a bright summer Alpine Vacay Hotel des Trois Vallees offers you a memorable stay.
Caractéristiques de luxe
Accommodation
Hotel des Trois Vallees provides plush rooms and private suites with spectacular views of the French Alps. All the rooms are equipped with multiple modern facilities.
Wellness and spa
The hotel offers a spacious wellness centre featuring an indoor pool, a steam room, a jacuzzi and a spa offering various therapies and beauty treatments.
Bar and Lounge
Spend a relaxing time with some great drinks to keep you company at the hotel's chic bar and lounge
L'APOGEE COURCHEVEL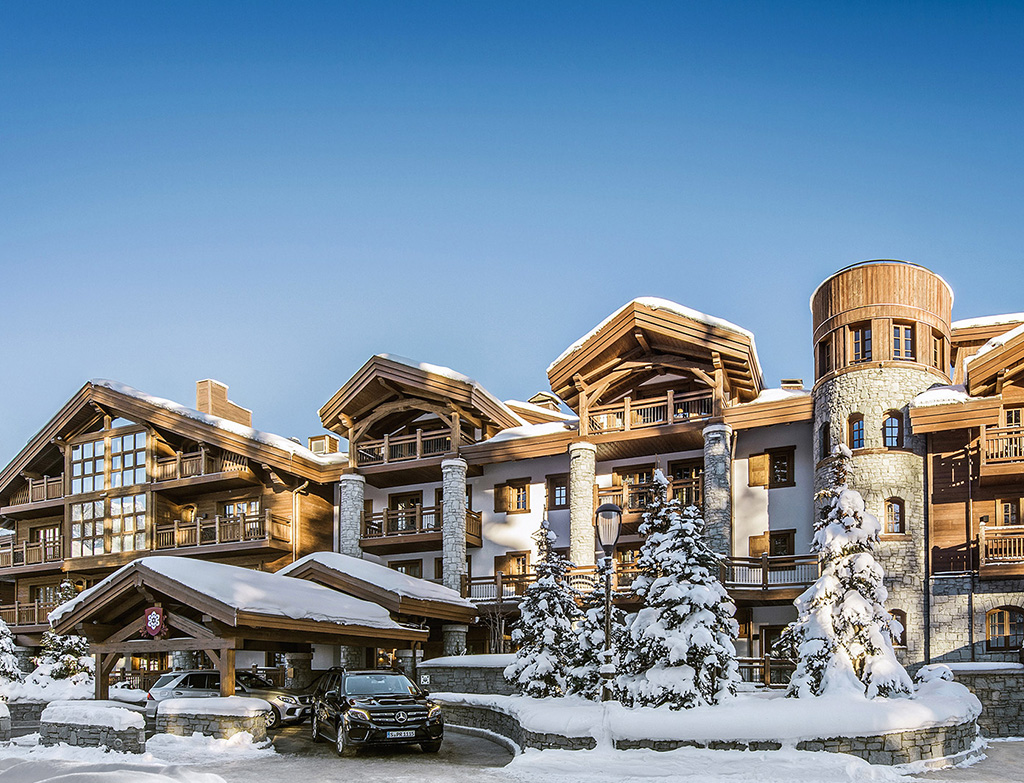 https://www.oetkercollection.com
Promising you the most desirable skiing experience in the world, L'Apogee Courchevel is created with sophisticated individualism adding glory to Le Jarde Alpin, the prettiest spot of Courchevel 1850. This luxurious boutique hotel exudes a warm and elegant ambience with its modern-chic decor and a magnificent foyer that welcomes every guest with utmost hospitality.
Caractéristiques de luxe
Accommodation
The luxury hotel offers 55 spacious rooms and suites, all chicly adorned and offering beautiful scenic glimpses of the surrounding, snow-clad Alps. Each room comes fully equipped with all the plush amenities such as minibars and espresso machines.
Fine dining and Michelin stars
Indulge in tantalizing fine dining restaurants provided by the hotel such as – Le Comptoir de L'Apogee, serving authentic mountain delicacies along with Koori which focuses on Japanese cuisine.
Spa, sauna and jacuzzi
Enjoy a range of beauty treatments and massages at the spa. Take a dip at the indoor pool or relax at the jacuzzi, sauna and steam room services provided by the hotel.
SUITES DE LA POTINIERE HOTEL & SPA, COURCHEVEL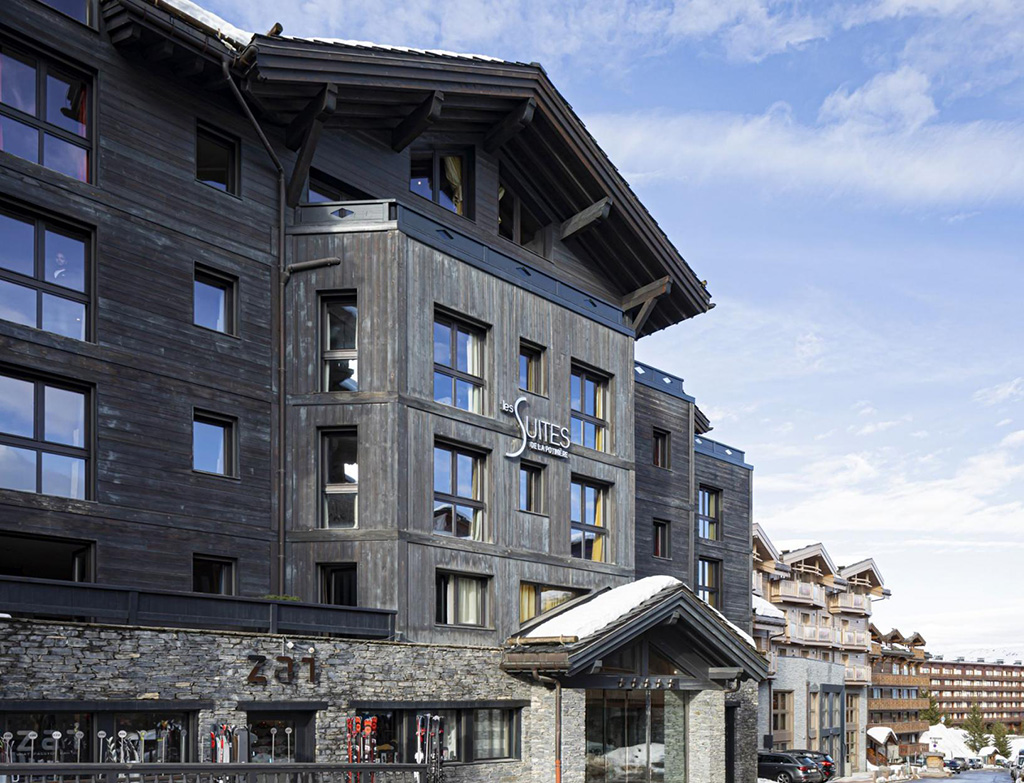 This luxurious destination in Courchevel guarantees you an unforgettable getaway in the midst of the French Alps. Suites de la Potiniere Hotel & Spa offers beautifully designed suites that seamlessly blend modern elegance with authentic Alpine charm. Indulge in the hotel's world-class facilities and leisure amenities including a fabulous spa and exquisite gourmet cuisine.
Caractéristiques de luxe
Accommodation
The hotel provides luxurious, elegantly adorned suites with private balcony settings that offer stunning mountain views. Some of the suites also feature cosy fireplaces.
Saunas and spa
Indulge in the deluxe spa and sauna sessions along with exclusive access to the indoor swimming pool and steam room at the hotel.
Ski facilities
Along with ski rental and storage room facilities, the hotel also provides complimentary shuttle service to and from the ski slopes.
LE CHABICHOU, COURCHEVEL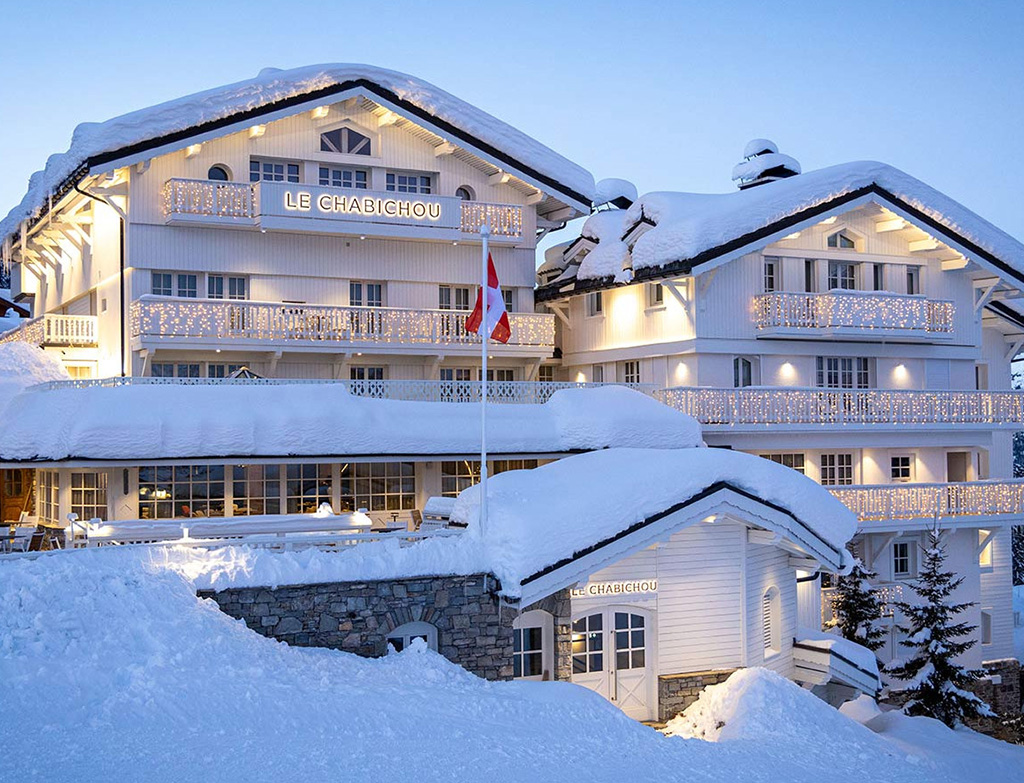 Known as the epitome of luxury and elegance, Le Chabichou is a popular destination among the ski-lovers and luxury enthusiasts of the world. Embraced by the French Alpine mountains, the hotel's prime locations provide you with easy ski-in/ski-out access and making it the perfect spot to indulge in winter sports activities. Le Chabichou is renowned for a lot of attributes – from providing spacious suites to world-class cuisine, luxuriant spa services and lots more.
Caractéristiques de luxe
Accommodation
Le Chabichou offers spacious rooms and swanky suites with luxurious bedding and elegant furnishings.
Fine dining and Michelin stars
Indulge in an array of exquisite French gourmet cuisine at the two-starred Micheline restaurant by Stéphane Buron.
Wellness and Spa
Soak your stress away with spa sessions and massage treatments provided at the spa and wellness centre and you can fit even in the French Alps by visiting the hotel's personalized gym and fitness centre.
LE K2 ALTITUDE, COURCHEVEL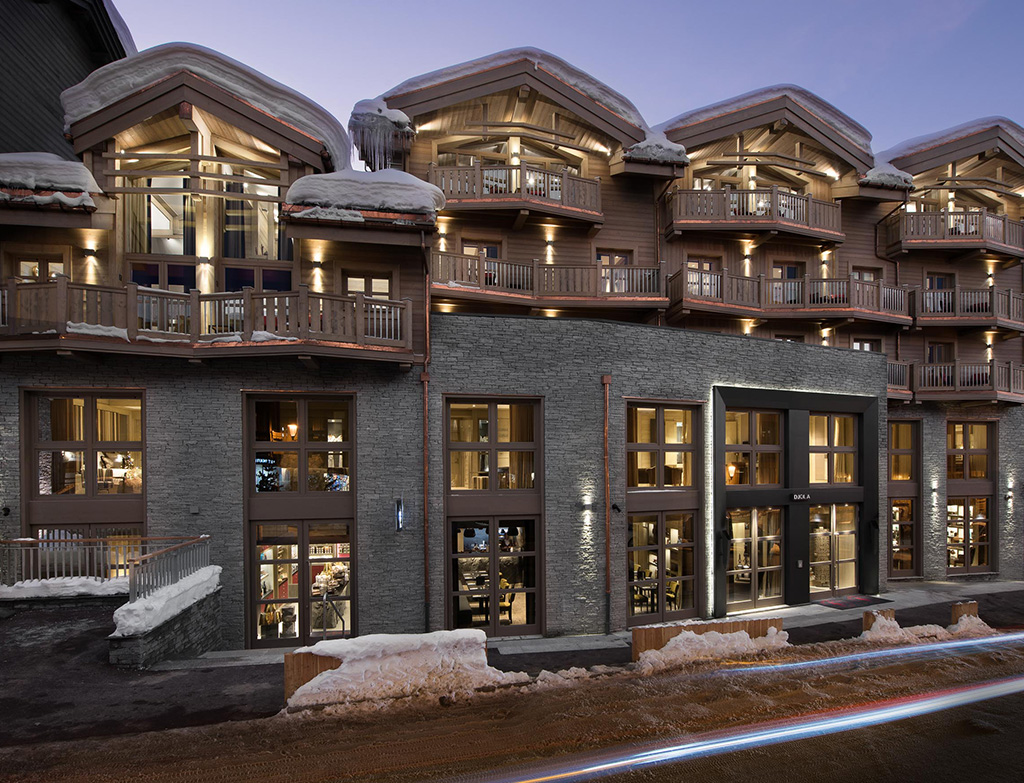 Situated in the exclusive Jardin Alpin district of Courchevel, Le K2 Altitude is a world-class hotel that provides you with a unique and luxurious experience. Nestled in the majestic French Alps, this five-star hotel offers breathtaking, panoramic views of the surrounding mountains. With intricate wood carvings and handcrafted textiles and luxurious materials being adorned throughout the hotel, the interiors are meticulously designed to reflect the age-old beauty and traditions of the Himalayas.
Caractéristiques de luxe
Accommodation
From luxurious rooms to plush suites and elegant chalets, Le K2 Altitiude offers all kinds of accommodation to ensure a leisurely stay to its guests.
Fine dining and Michelin stars
Tantalize your taste buds by eating at any of these Michelin-starred restaurants such as Kintessence and Le Sarkara.
Ski services
The hotel provides personalized ski concierge services for renting and storage of ski equipments.
ANNAPURNA, COURCHEVEL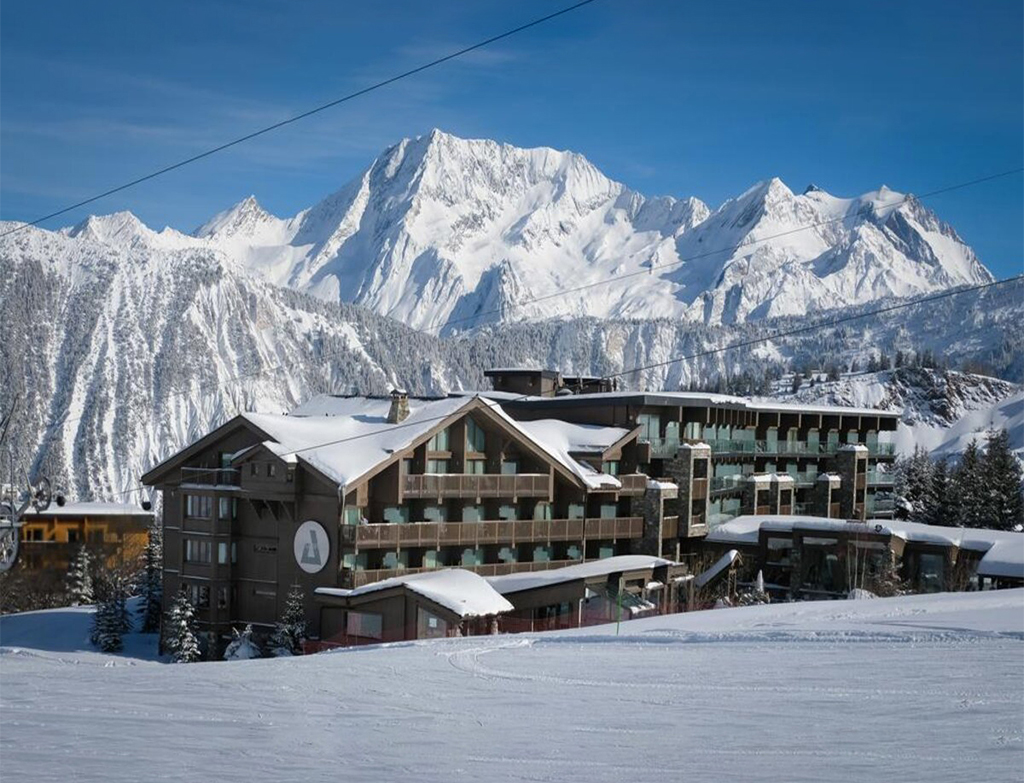 Situated at the centre of the 3 Valleys–the world's largest skiing area, hotel Annapurna has gloriously entrenched itself over the years to set a bar within the group of luxury hotels in Courchevel. Set in a stunning location on the Pralong slope, facing the scenic Alps of the Courchevel 1850, this family-friendly hotel guarantees you an enchanting getaway in the snow-clad Courchevel of France.
Caractéristiques de luxe
Accommodation
Rooms at Annapurna are elegantly designed with all the rooms and suites being spacious and coming with plush furnishings and comfortable bedding. Some of them feature private balconies with stunning views of the surrounding mountains.
Fine dining and Michelin stars
The hotel boasts exquisite fine dining restaurants such as the Guinguette by Jean Remi Caillon, offering tantalising French gourmet cuisine on a plate.
Fitness and spa
Grab your chance to relax and rejuvenate at Spa by Codage Paris at Annapurna which offers a range of bespoke treatments and massages. The hotel also provides a spacious, well-equipped fitness centre.
Jacuzzi, saunas and pools
The uber-chic jacuzzi and saunas offer panoramic surrounding Alps allowing you to unwind in style. Indulge in a soothing dip in the hotel's indoor as well as outdoor pool.
Ski-in/ski-out services
The hotel provides easy entry to the slopes, making it a much-loved destination for ski lovers.
Book your snowy getaway now: www.annapurna-courchevel.com

LA SIVOLIÈRE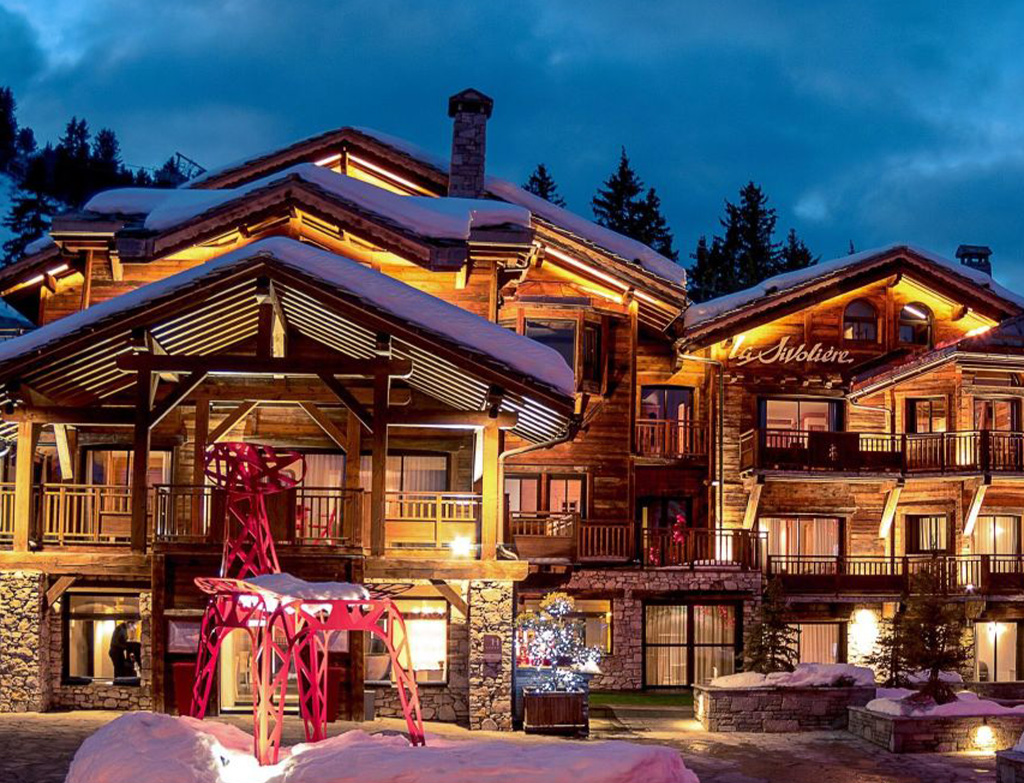 This five-star ski-in/ski-out hotel boasts stunning panoramic views of the snow-capped Alps and offers its guests to indulge in exciting skiing activities and easy access to the ski slopes. La Sivolière's warm and inviting decor, coupled with exceptional amenities such as a spa, indoor pool, and gourmet restaurant, make for an unforgettable alpine experience. With an attentive staff and a prime location, this hotel is the perfect destination for those seeking a luxurious and authentic French Alps getaway.
Caractéristiques de luxe
Accommodation
The luxurious chalet offers 35 rooms including special family suites and well-furnished apartments, revamped in a unique Alpine style.
Fine dining and Michelin stars
The hotel provides several delicious food options ranging from breakfast and afternoon tea to exquisite fine dining restaurants and aperitif at La Sivolière exclusive Le bar de Madame.
Spa
The hotel with its exclusive collaboration with Scentiana bio-active cosmetics and the latest Dermalux LED technology provides an advanced skin-care-based spa by offering anti-ageing massages and LED phototherapy.
Ski-in/ski-out services
Skiing here is a luxury affair as the hotel offers an exclusive ski room where you can relax comfortably while the assigned staff prepares them with the necessary gear and leads you straight to the slopes to indulge in adventure activities.
Book your snowy getaway now: www.hotel-la-sivoliere.com


Add to favorites