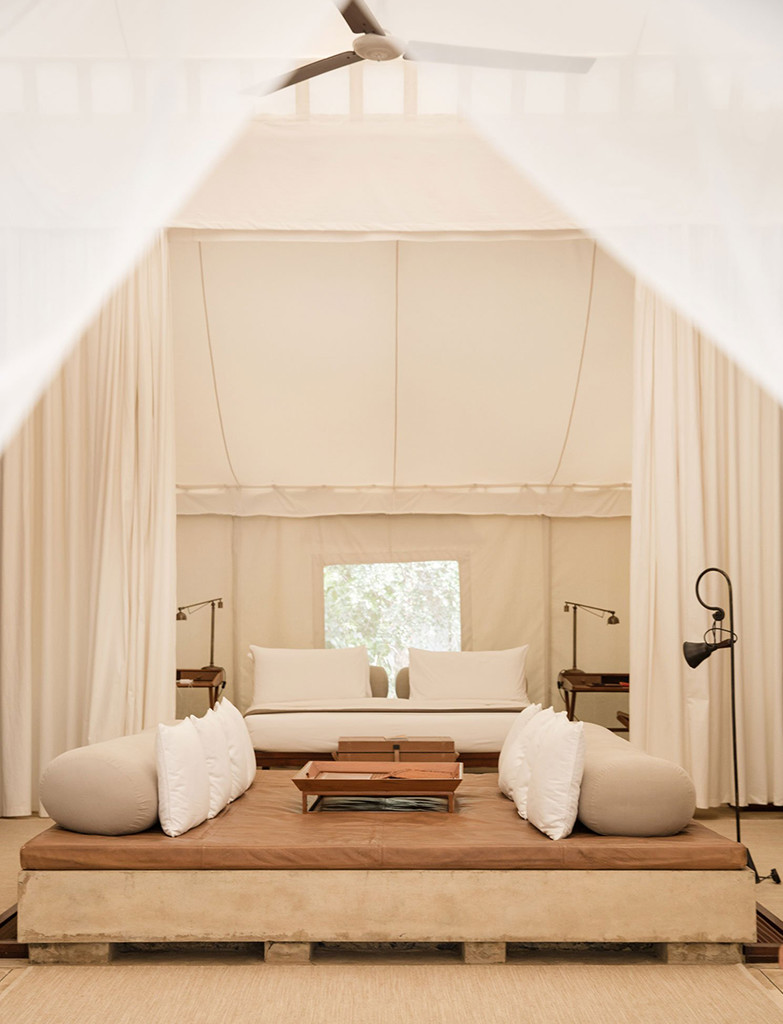 5 LUXURIOUS GLAMPING TENTS AROUND THE WORLD TO FUEL YOUR WANDERLUST
Camping is the quintessential approach of getting in touch with nature. It creates a great space for some storytelling and live-music jamming sessions around the campfire, exciting adventures in the magnificent outdoors and bonding with loved ones. However, many–especially today's generation lack interest due to the insufficiency of modern-day facilities and minimal leisure. But there's an alternative: 'glamping' or glamorous camping. While the words 'luxury travel' and 'camping' aren't exactly two peas in a pod, the rise of social media and leisure aesthetics paved the way for glamorous camping viz. the glamping tents.
Glamping provides a thrilling adventure of camping in the wilderness without falling back on the comfort genre and with all exclusive luxurious amenities. So, if a plan for glamping adventure is on the cards, then check out the list below that includes the 5 best luxurious glamping tents around the world.
AMAN-I-KHAS, INDIA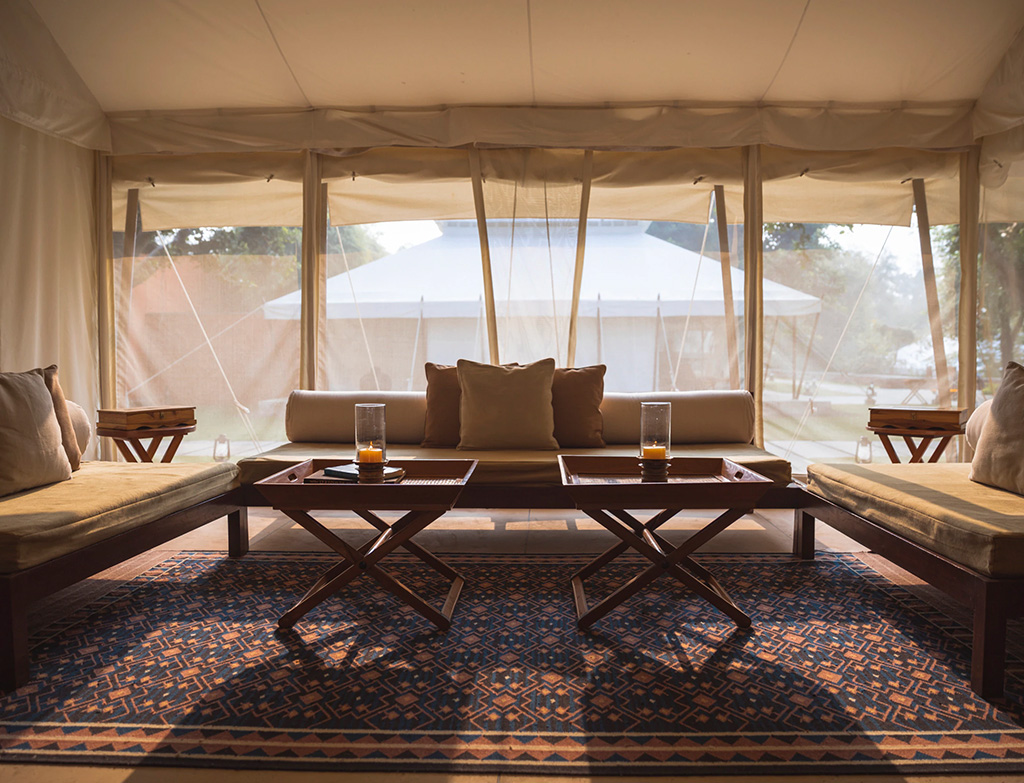 Credits –https://www.makemytrip.com
Aman-i-Khas is one of the best choices for wilderness glamping in India, managed by Aman–one of the world's most exclusive luxury hotel brands. Located in the dense forest at the edge of Ranthambore National Park in Rajasthan, this glamping tent offers a luxurious stay with its 10 deluxe air-conditioned tents with canopies draped in Moghul flair. They also provide separate tents for dining, spa treatments, and leisure. Available for visitors from October till the end of May every year, the best season for wildlife exploration. Enjoy a guided wildlife excursion to the park and discover various indigenous animals like crocodiles, chital deer, sloth bears and much more.
Know more at: https://www.aman.com
AL MAHA DESERT RESORT, UAE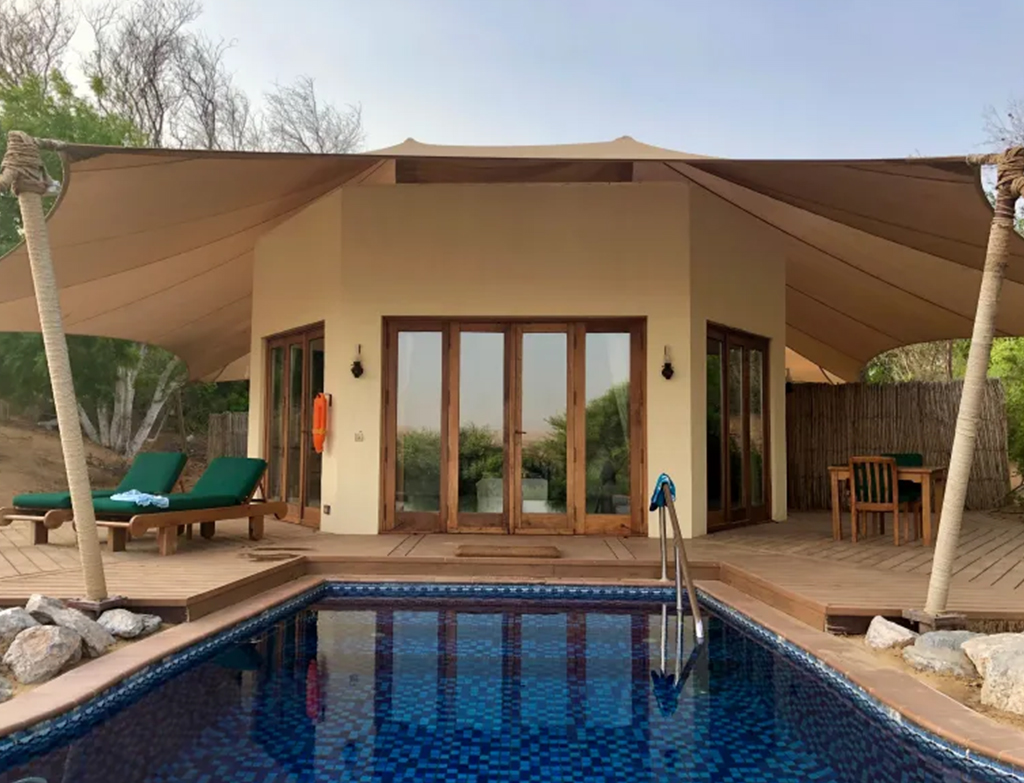 Credits –https://www.creditcardpediem.com/
Al Maha offers a plush desert adventure in Dubai's whimsical dune and desert landscape. The resort magnificently pays homage to the heritage and architecture of the Bedouins by providing an array of luxurious suites resembling the nomadic Bedouin tents. Elegantly furnished with a rare collection of original Arabian artifacts and relics, all the suites offer private pools and a phenomenal visual experience of the Dubai desert reserve and its wildlife.
Know more at: https://www.marriott.com
SINGITA SABORA TENTED CAMP, TANZANIA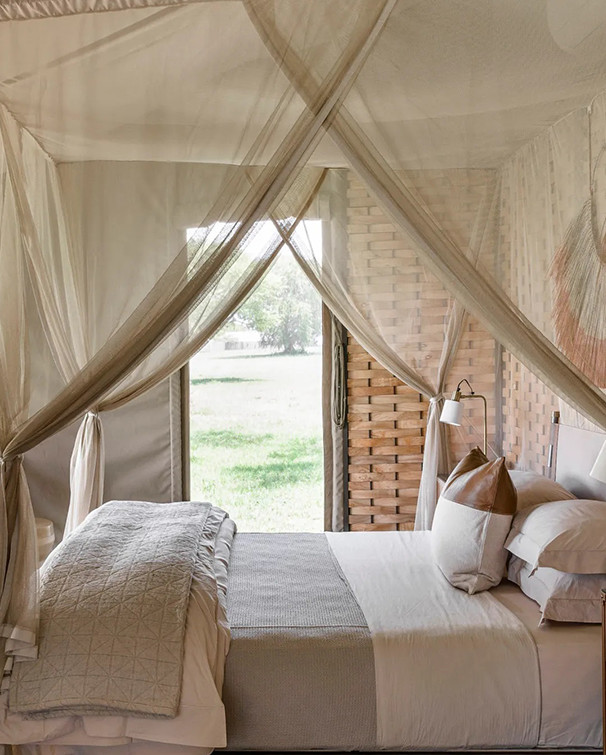 Credits –https://www.cntraveler.com/
Settled in the unscathed wilderness of the Grumeti Reserve, Singita Sabora is an exquisite tented camp located in northern Tanzania. Along with thrilling wildlife adventures, the majestic camp flaunts a cozy 1920s-themed interior resonating with the nostalgic ambiance of its 9 one-bedroom ensuite tents. Engulfed in its element, this plush camp welcomes its guests with opulent luxury, contrary to its surrounding rocky terrain of the Savannah plains.
Know more at: https://singita.com
FOUR SEASONS TENTED CAMP GOLDEN TRIANGLE, THAILAND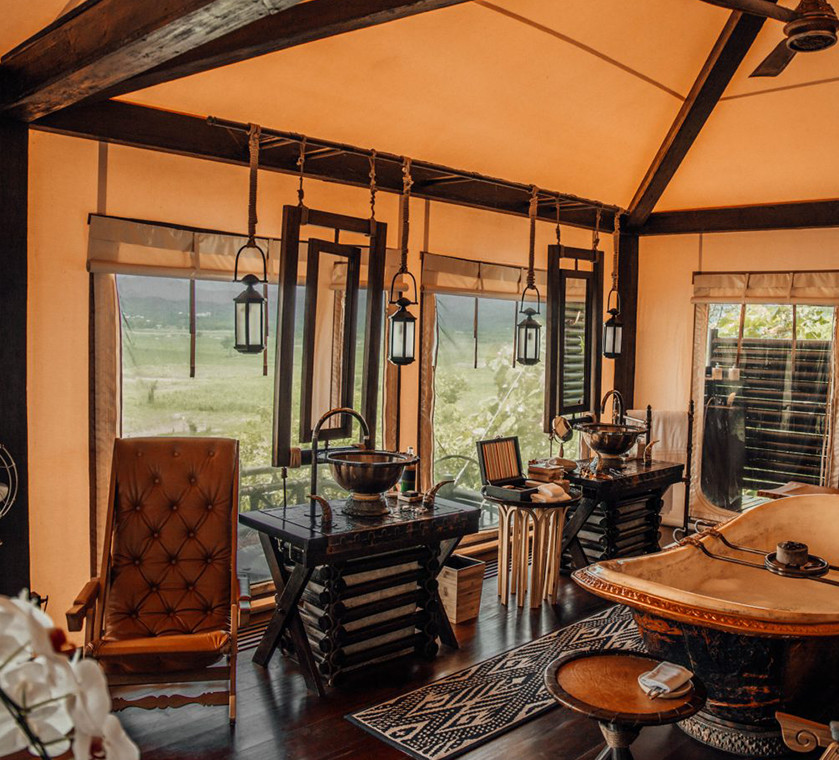 Credits –https://taramilktea.co
Placed in a magnificent forest belonging to Thailand's ancient civilizations, Four Seasons Tented Camp Golden Triangle is the ultimate nature wonderland. It offers 15 lavish tents accommodated with high-end leather and timber furnishings and a custom-built wooden hot tub provided on the outdoor deck. Surrounded by lofty mountains and lush greenery, here the guests can enjoy an elephant ride, explore the vast bamboo jungles and get a glimpse of Thailand's highly vibrant hill tribes.
Know more at: https://www.fourseasons.com
CAPELLA UBUD, BALI, INDONESIA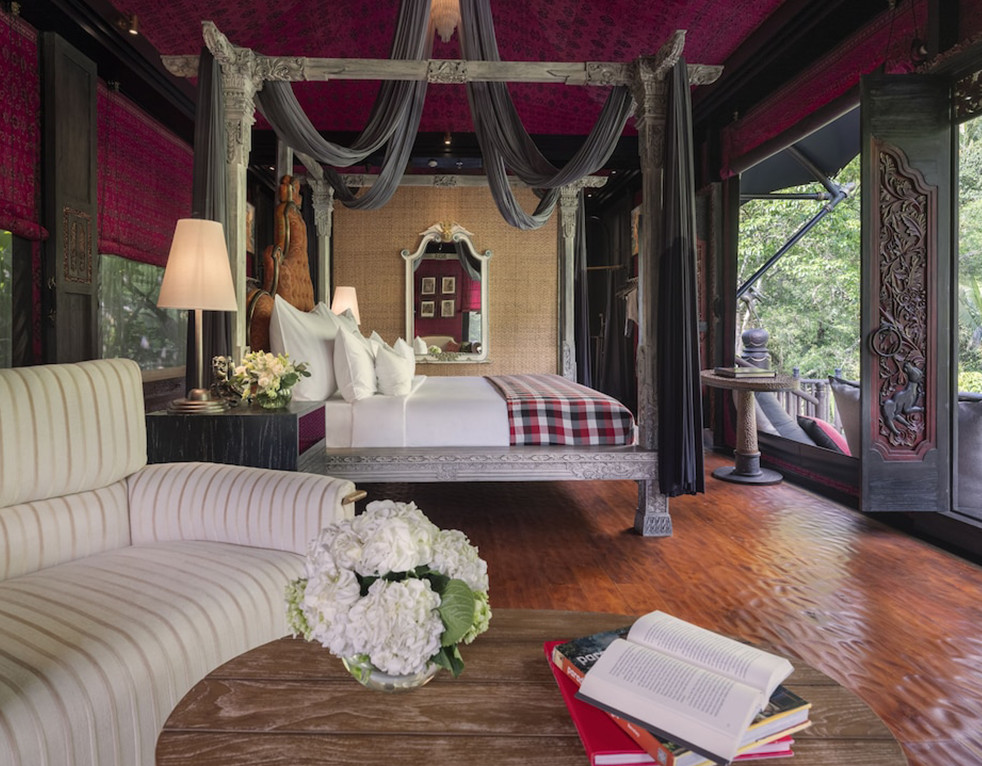 Credits –https://www.makemytrip.com/
Snuggled between the opulent Ubud forest and the beautiful rice paddies of Keliki village, the Capella Ubud is a luxury camp in Indonesia's Bali. One can reel in this enthralling unique journey of tropical adventure mixed with modern-day comfort. The camp provides 22 spacious tents that have interiors resembling the lifestyles of the early eighteenth-century Dutch colonials. Each tent flaunts an exclusive saltwater jacuzzi, a large outdoor deck with an espresso machine, plush bathrooms and lots more. Enjoy a splendid glamping experience along with exciting outdoor activities like the nocturnal jungle, paddy fields trekking, mud pilates and lots more.
Know more at: https://capellahotels.com


Add to favorites