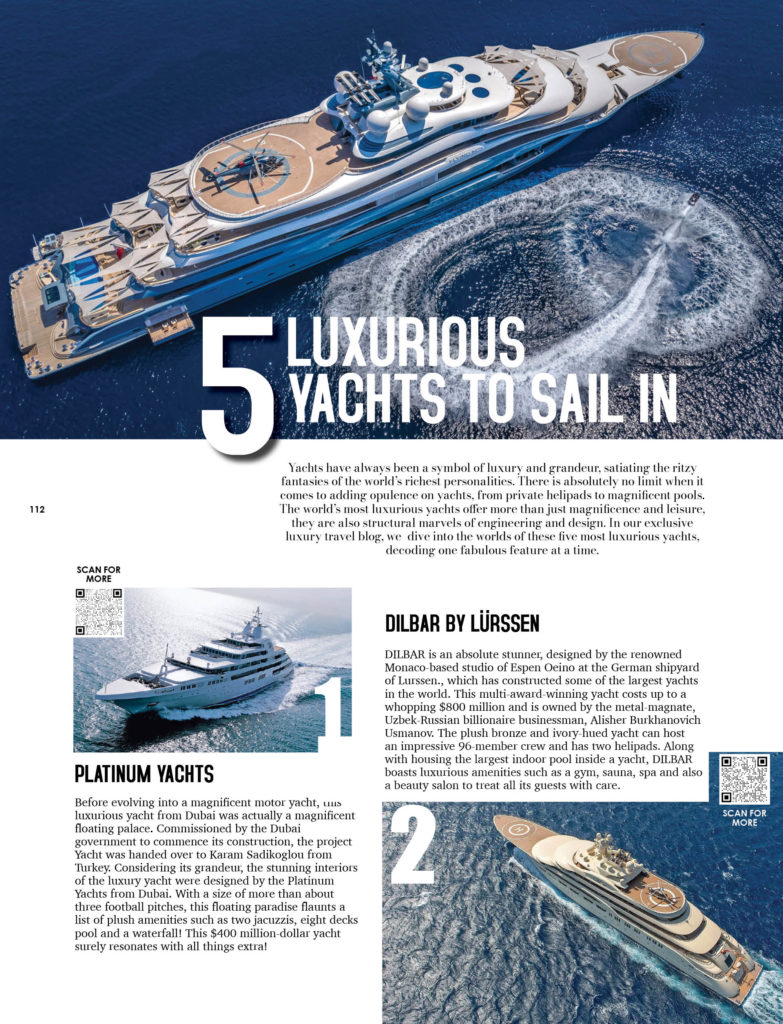 Yachts have always been a symbol of luxury and grandeur, satiating the ritzy fantasies of the world's richest personalities. There is absolutely no limit when it comes to adding opulence on yachts, from private helipads to magnificent pools. The world's most luxurious yachts offer more than just magnificence and leisure, they are also structural marvels of engineering and design. In our exclusive luxury travel blog, we dive into the worlds of these five most luxurious yachts, decoding one fabulous feature at a time.
Platinum Yachts
Before evolving into a magnificent motor yacht, this luxurious yacht from Dubai was actually a magnificent floating palace. Commissioned by the Dubai government to commence its construction, the project Yacht was handed over to Karam Sadikoglou from Turkey. Considering its grandeur, the stunning interiors of the luxury yacht were designed by the Platinum Yachts from Dubai. With a size of more than about three football pitches, this floating paradise flaunts a list of plush amenities such as two jacuzzis, eight decks pool and a waterfall! This $400 million-dollar yacht surely resonates with all things extra!
Dilbar by Lürssen
DILBAR is an absolute stunner, designed by the renowned Monaco-based studio of Espen Oeino at the German shipyard of Lurssen., which has constructed some of the largest yachts in the world. This multi-award-winning yacht costs up to a whopping $800 million and is owned by the metal-magnate, Uzbek-Russian billionaire businessman, Alisher Burkhanovich Usmanov. The plush bronze and ivory-hued yacht can host an impressive 96-member crew and has two helipads. Along with housing the largest indoor pool inside a yacht, DILBAR boasts luxurious amenities such as a gym, sauna, spa and also a beauty salon to treat all its guests with care.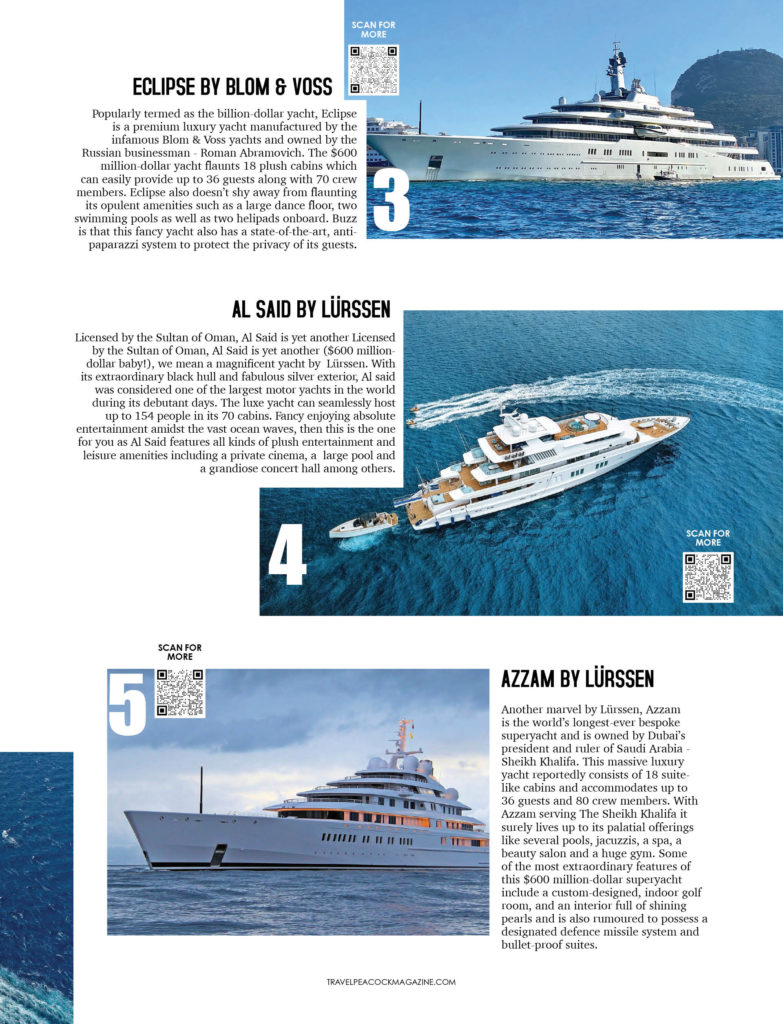 Eclipse by Blom & Voss
Popularly termed as the billion-dollar yacht, Eclipse is a premium luxury yacht manufactured by the infamous Blom & Voss yachts and owned by the Russian businessman – Roman Abramovich. The $600 million-dollar yacht flaunts 18 plush cabins which can easily provide up to 36 guests along with 70 crew members. Eclipse also doesn't shy away from flaunting its opulent amenities such as a large dance floor, two swimming pools as well as two helipads onboard. Buzz is that this fancy yacht also has a state-of-the-art, anti-paparazzi system to protect the privacy of its guests.
Al Said by Lürssen
Licensed by the Sultan of Oman, Al Said is yet another ($600 million-dollar baby!), we mean a magnificent yacht by Lürssen. With its extraordinary black hull and fabulous silver exterior, Al said was considered one of the largest motor yachts in the world during its debutant days. The luxe yacht can seamlessly host up to 154 people in its 70 cabins. Fancy enjoying absolute entertainment amidst the vast ocean waves, then this is the one for you as Al Said features all kinds of plush entertainment and leisure amenities including a private cinema, a large pool and a grandiose concert hall among others.
Azzam by Lürssen
Another marvel by Lürssen, Azzam is the world's longest-ever bespoke superyacht and is owned by Dubai's president and ruler of Saudi Arabia – Sheikh Khalifa. This massive luxury yacht reportedly consists of 18 suite-like cabins and accommodates up to 36 guests and 80 crew members. With Azzam serving The Sheikh Khalifa it surely lives up to its palatial offerings like several pools, jacuzzis, a spa, a beauty salon and a huge gym. Some of the most extraordinary features of this $600 million-dollar superyacht include a custom-designed, indoor golf room, and an interior full of shining pearls and is also rumoured to possess a designated defence missile system and bullet-proof suites.


Add to favorites