The world recently witnessed a four-day grand celebration to honour the Queen of the United Kingdom for completing 70 years on the throne. It was a long weekend for London from the 2nd to the 5th of June filled with street parties, open-air concerts, pageants, thanksgiving service and the Epsom Derby Race to commemorate the Platinum Jubilee with pomp and show.
The Queen's afternoon tea has been a prominent and well-known English tradition, which came into existence in the year 1840, courtesy of the seventh Duchess of Bedford. The dinner in her household would be served late in the evening, which would leave her feeling famished midafternoon. This is when the practice of having tea along with a light snack such as sandwiches, cake and scones started and soon became a social custom for the upper-class women who would get dressed in the best of gowns, hats and gloves and gather for high tea. This ritual is so famous that in the recent table of events a short sketch was performed starring the queen and the animated Paddington Bear bonding over tea, which was a crowd-pleaser.
If you are Vegan and have a fear of missing out on the special afternoon tea then check these must-visit restaurants in London that have got your back!

1. Brigit's Bakery – Central London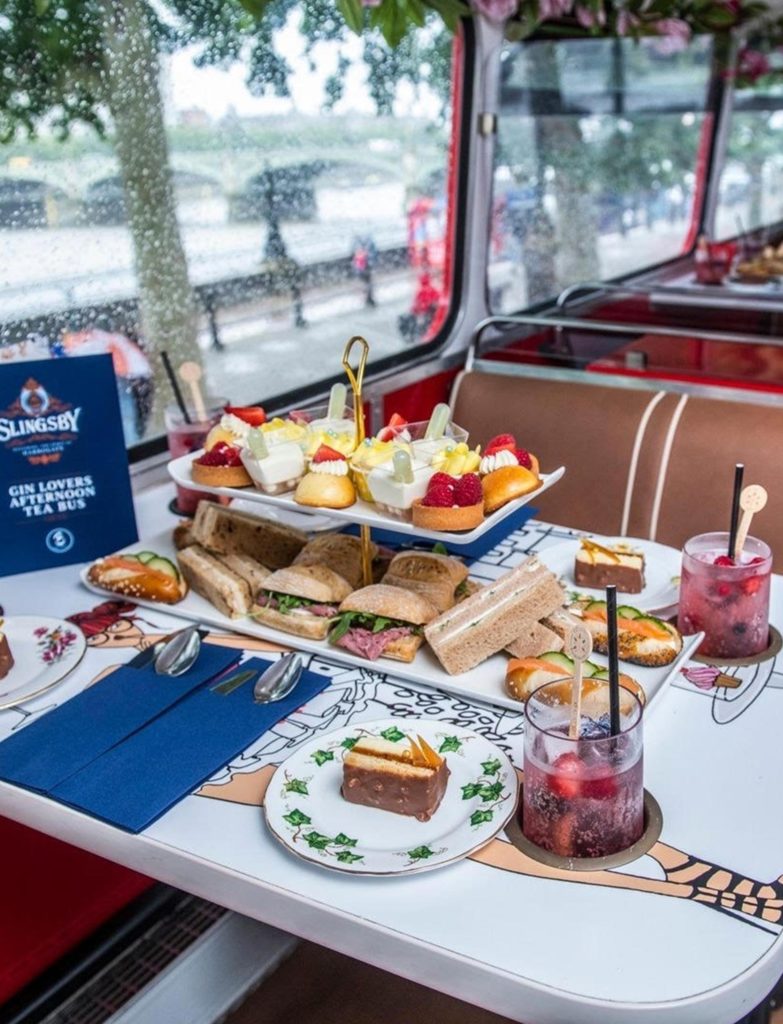 Ever imagined that you could devour a vegan quiche or a coconut pudding trifle with raspberry compote to satisfy your sweet tooth while looking at some of the city's most famous landmarks? This is all possible at Brigit's bus tour, bookings starting from £30. The special platinum jubilee edition is a unique way to entertain your royal spirits while indulging in some exquisite afternoon tea. The special menu comprises some interesting options such as the Royal Victoria Sponge with edible silver flakes. One can even visit their branch in Covent Garden to try all these items!

2. Farmacy – Notting Hill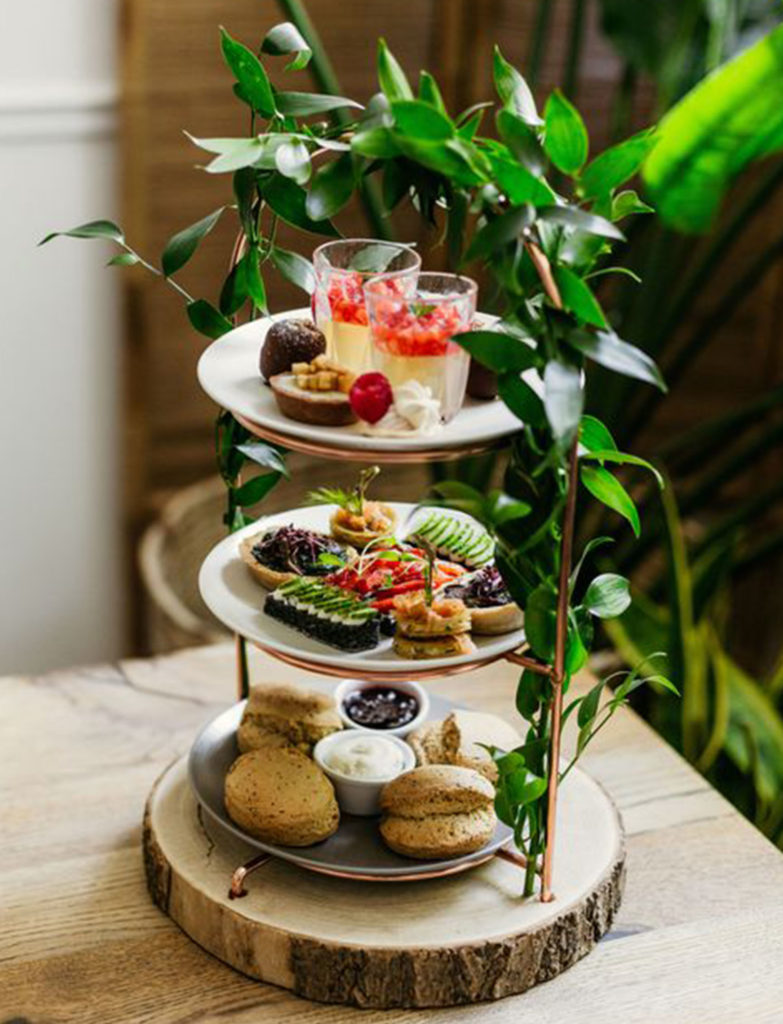 A restaurant that follows the farm-to-table concept and serves everything plant-based, dairy and chemical-free. Their carefully curated vegan high tea menu is a sustainable adaptation of the classic afternoon tea. They believe in experimentation which is evident from the kind of ingredients they use to put together a fancy dish. Some of the riveting products that are a part of the ensemble are nori dust, lemon-infused tofu cream, mango and prosecco jelly. You can even enjoy CBD-infused cocktails and chocolates all for £50 per person.

3. Dukes – Central London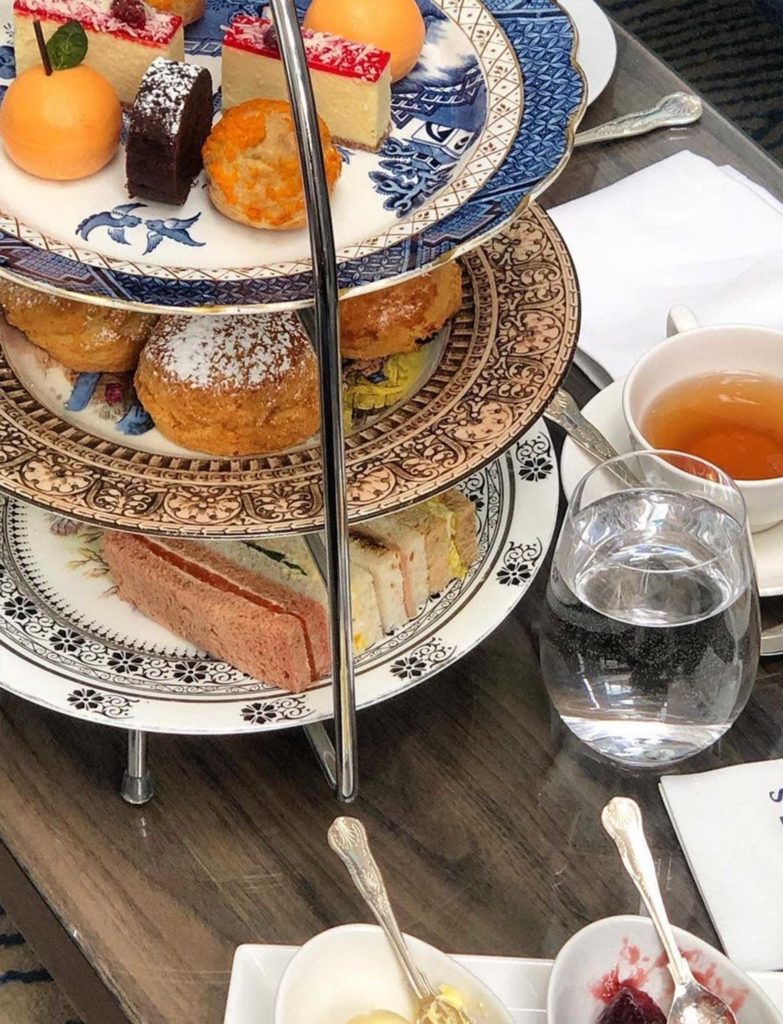 Savour your tea accompanied with a portion of peace at Duke's elegant drawing room that overlooks a courtyard garden and is an escape from the whirl of the city, located on 35 St, James's Place. Their vegan selection starting from £35 consists of a range of traditional sandwiches, cinnamon carrot cakes and scones with classic cream tea and champagne to go with. This is a perfect place to relax and treat yourself to award-winning hospitality.

4. Café Forty One – Hyde Park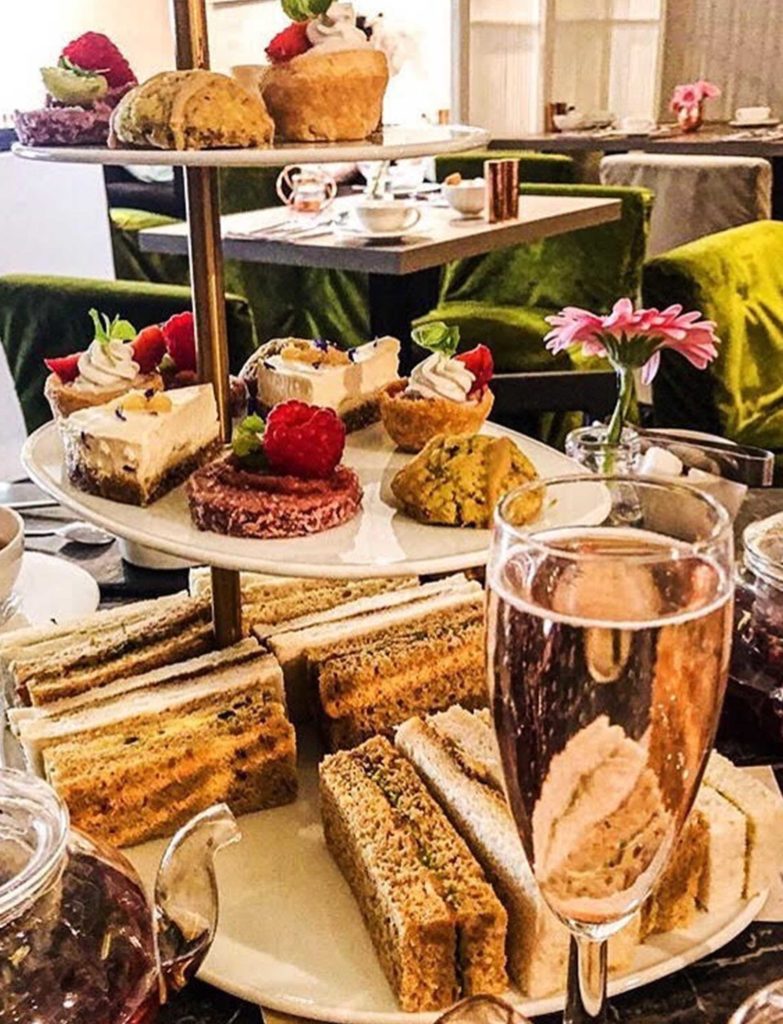 A seasonal and fresh vegan experience with a Japanese and Italian influence is the kind of experience that this self-proclaimed London's only entirely plant-based hotel is sure to provide. Their moreish vegan interpretations of millefeuilles and non-alcoholic fizz will leave you asking for more. They also serve irresistible desserts, specialist teas and kombuchas along with a customised plan for specific dietary requirements on a prior 24 hour notice period. The cost for one at this café at La Suite West hotel ranges from £35 to £40.

5. Egerton House Hotel – Chelsea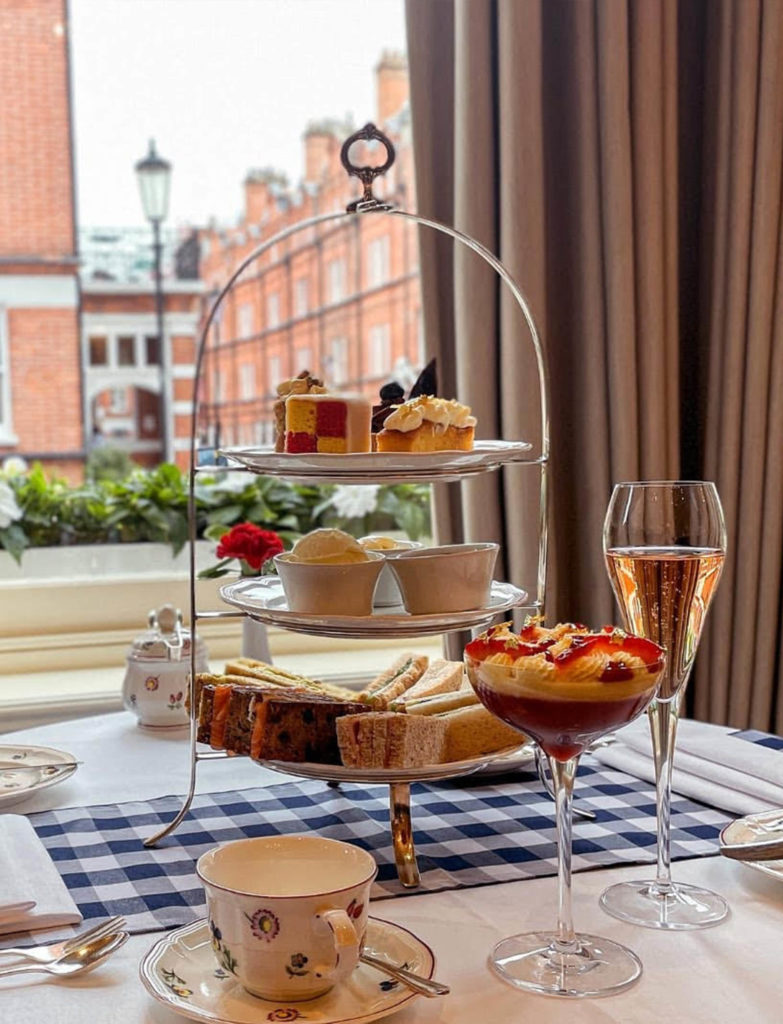 Sip and smell a fragrant pot of loose-leaf tea or guzzle down a glass of champagne in the aesthetic and rustic red-brick Victorian setting of Egerton house located in the royal borough of Kensington and Chelsea. Their £60 menu includes coffee-infused cakes, gin and dubonnet cocktails, and consists of exotic elements such as clotted and chantilly cream, orange marzipan, rosé jelly along with vanilla custard and a Lanson sponge. This boutique hotel also offers afternoon tea parties for kids and furry friends and is a perfect retreat.

6. Savoy – The Strand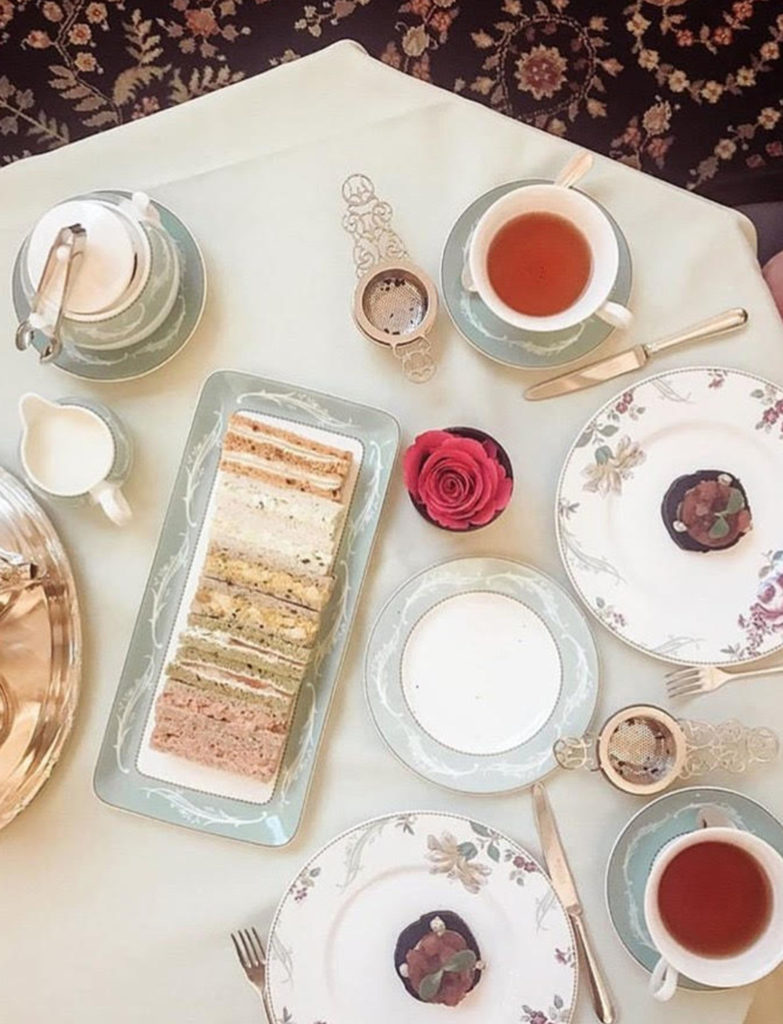 Owned by Fairmount, Savoy serves a world-class afternoon tea and has spectacular interiors with the warm sunshine penetrating through a glass dome atrium along with a mesmerizing atmosphere that is created owing to the pianist who plays during the day. They have an extensive range of teas and other features on their £95 menu such as Laurent-Perrier Champagne, sparkling wine, shaved asparagus and roasted peach confit coupled with a panoramic view of the Thames.

7. Cutter & Squidge – Soho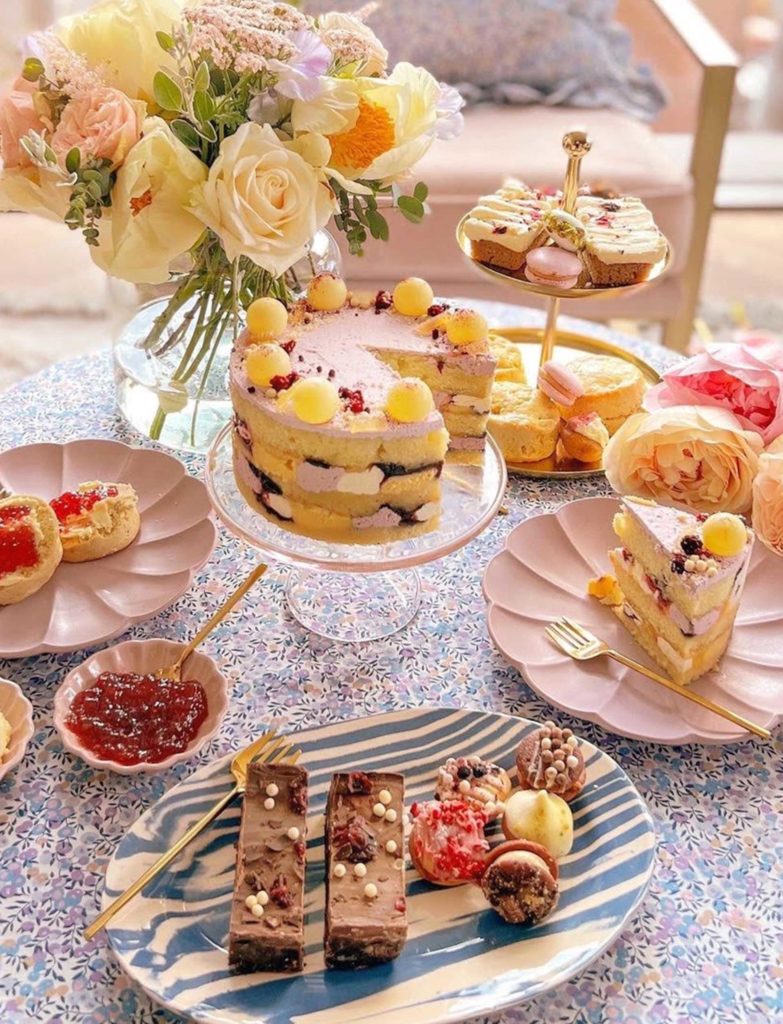 This restaurant whisks a magical afternoon tea experience that entails school-style desks, cloaks and a potions master. The experience comes with an interesting concoction of passion fruit, and hibiscus drinks that have amusing names such as galaxy juice and hubble bubble. They offer delectable food items such as edible rock cakes all at a starting price of £49.50 for adults and £39.50 for kids. Make sure to make your bookings in advance!