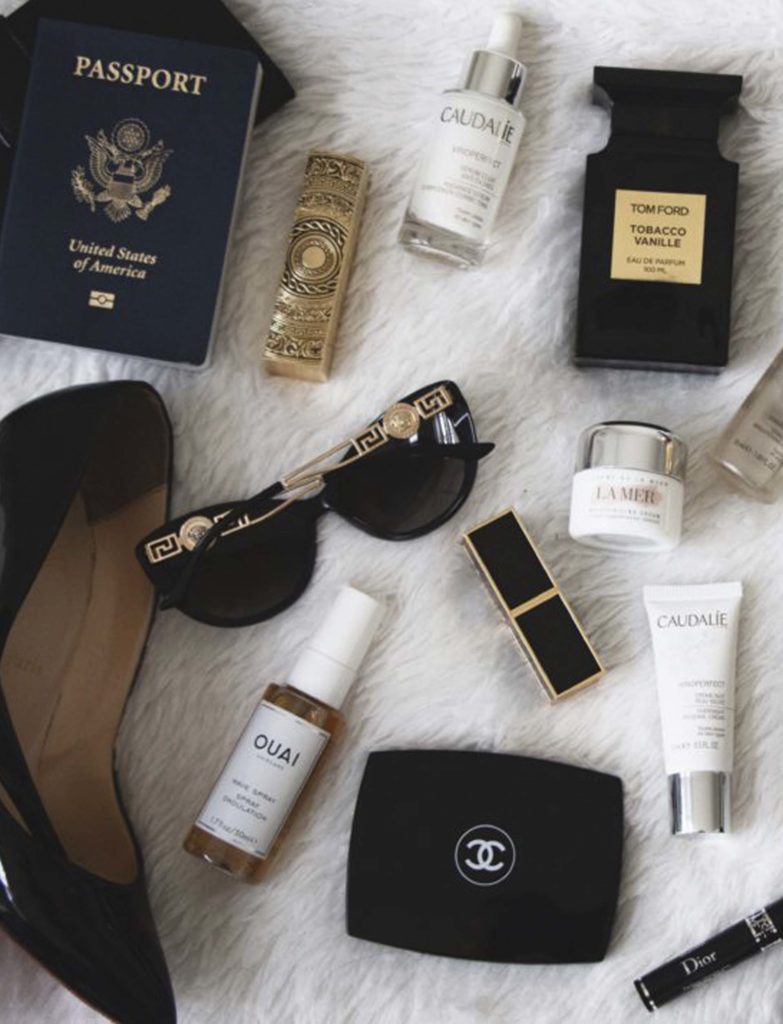 Image credits -www.bellavitaguide.com
Regime and routine has paved its way into people's minds in recent times. A healthy diet for your skin is as important as eating right; therefore beauty plays a major role in one's overall wellness. It is fairly easy to maintain a skin in the pink while at home but the balance might get disturbed when one has to travel. Worried that your skin care will go for a toss while travelling? Well, with products as good as these you can leave your skin woes behind!
Get your hands on these beauty essentials which are sure to make it to your travel must-have list –
1. Bobbi Brown – Primer plus SPF 50
This vegan primer glides on your skin and is light as a feather.  It has an added advantage of being sulphate and paraben-free along with fast absorbing properties. Providing a broad spectrum UVA/UVB protection it helps prevent damage by the sun and premature signs of ageing. The compact tube is a must have in your travel kit.
You can buy it here.
2. Givenchy Volume Disturbia Volume & Curve Mascara
This long wear mascara proffers intense volume and curls to your eyelashes. A dramatic look that lasts for 24 hours and is enough for a no makeup travel look. It comes in a captivating red package and is your selfie best friend.
You can buy it here.
3. Gucci Multipurpose Hydrating and Nourishing Balm 
One of Gucci's beauty concoctions, the fragrance-free versatile balm can be applied on the lips and other dry areas to soothe the skin in multiple ways. A perfect blend of natural, botanical oils and butter it is infused with antioxidant properties that can be put to work before or after applying makeup. It is also good for cuticle care and can be used by people with sensitive skin. A 100% natural-origin formula this balm is your quintessential healing partner that comes encased in a gold and aqua blue shell, flourished with the Gucci logo.
You can buy it here.
4. L'Occitane Immortelle Reset Serum
All the stress from travelling can cause the skin to look dull and lack radiance. The reset serum by L'Occitane gives a healthy glow and helps renew the skin cells with its strong natural ingredients. The 3000 antioxidant rich bubbles fasten the recovery process giving a smooth finish and revitalized complexion.
You can buy it here.
5. Jo Malone body and hand lotion
Emanate scent from your skin with the Jo Malone body and hand lotion that is enriched with coconut oil and readily absorbs in the skin giving it a matte finish. It comes in nine exciting and unique flavours such as blush suede and pomegranate noir that will take you to the seventh heaven. Jo Malone is the perfect travel buddy that one could ask for!
You can buy it here.
6. Grown Alchemist's Anti-Bacterial Hand Cream
Bid farewell to rough hands and say hello to the rich and aromatic moisturizer that works as a sanitizer and hand cream. Sanitizers have become a travel essential post the pandemic, but the regular ones often leave residues on the skin making it coarse. This anti-bacterial, non-greasy hand cream is a treat with aromatic and targeted bioactive ingredients that gives holistic and pure results. 
You can buy it here.
7. Tom Ford Ombre Leather 
Fragrance with hints of black leather, jasmine and violet flower is a splendid addition to your vanity. The Ombre Leather speaks of freedom and transformation that comes with exploring new places. The scent has notes of cool spices and the sleek casing makes it easy to carry anywhere you go.
You can buy it here.