Interiors have the capability to change the energy of a place. Designer being the trend, the interiors are not behind in this scheme. Apart from fashion and food, a beautifully done hotel with a carefully crafted living space is the most sought after luxury in today's time. While the aesthetics of the room is given much value, the bath area has become of equal importance. Sinking into a warm bubble bath with flower petals and a chilled glass of champagne is a tranquil affair like no other. Imagine being able to enjoy this along with a fancy view of the city or nature from your very own tub.
Experience luxury like never before at these lavish hotels with an extravagant view –


RAFFLES PRASLIN, SEYCHELLES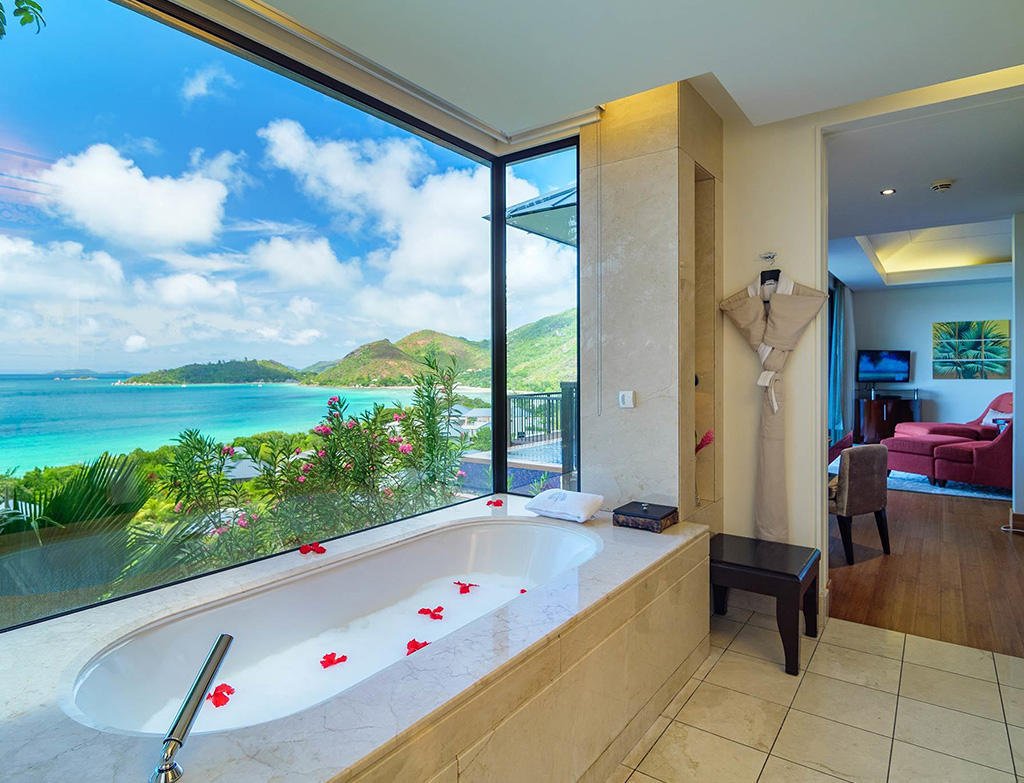 Credits- https://www.thehealthyholidaycompany.co.uk/

A room so comfortable you wouldn't want to leave! Raffles Praslin offers a magical stay within their luxurious private pools villas. The bathroom design deserves a special mention and the bathtub with a view of the opal-hued ocean and white sand. The amenities will transport you into a tranquil space and is recommended for family as well as solo travellers.


VILLA KALISHA, BALI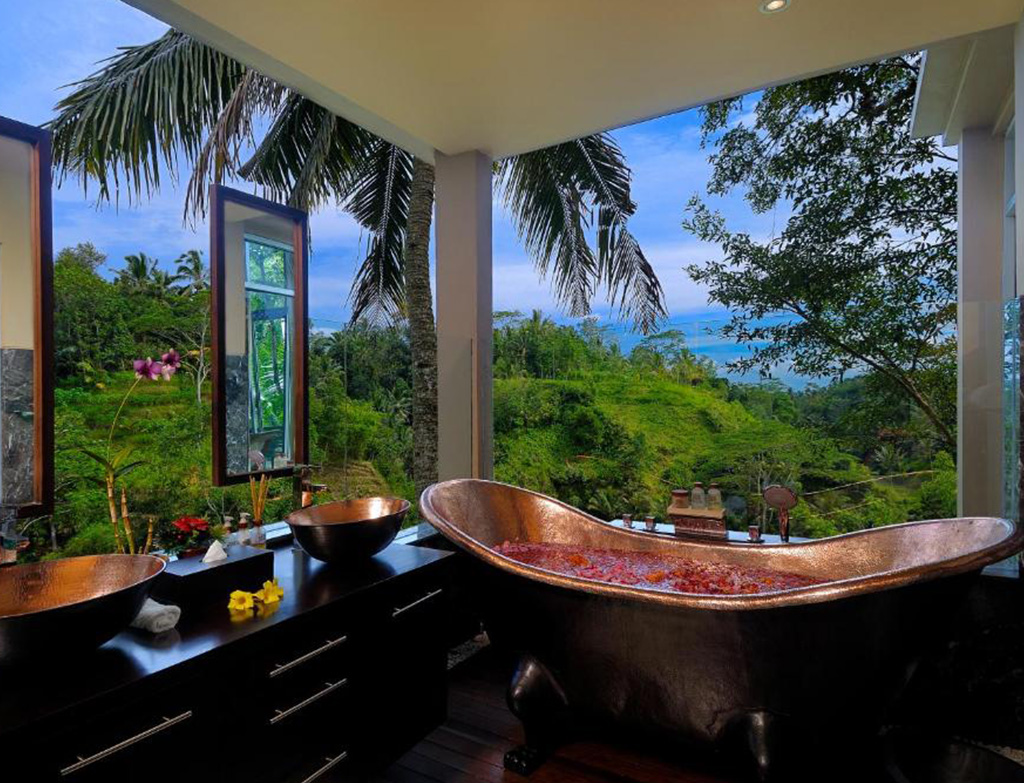 Credits- https://www.booking.com

A fully-serviced luxury villa with the utmost privacy—Villa Kalisha in Ubud is the ultimate romantic retreat. They have spectacular glass-walled washrooms with a fantastic sight of the rice fields and jungles. Some rooms provide access to the view of the volcanoes of Bali. The villa is surrounded by lush greenery and is a breathtaking location to go to.


SHANGRI-LA, PARIS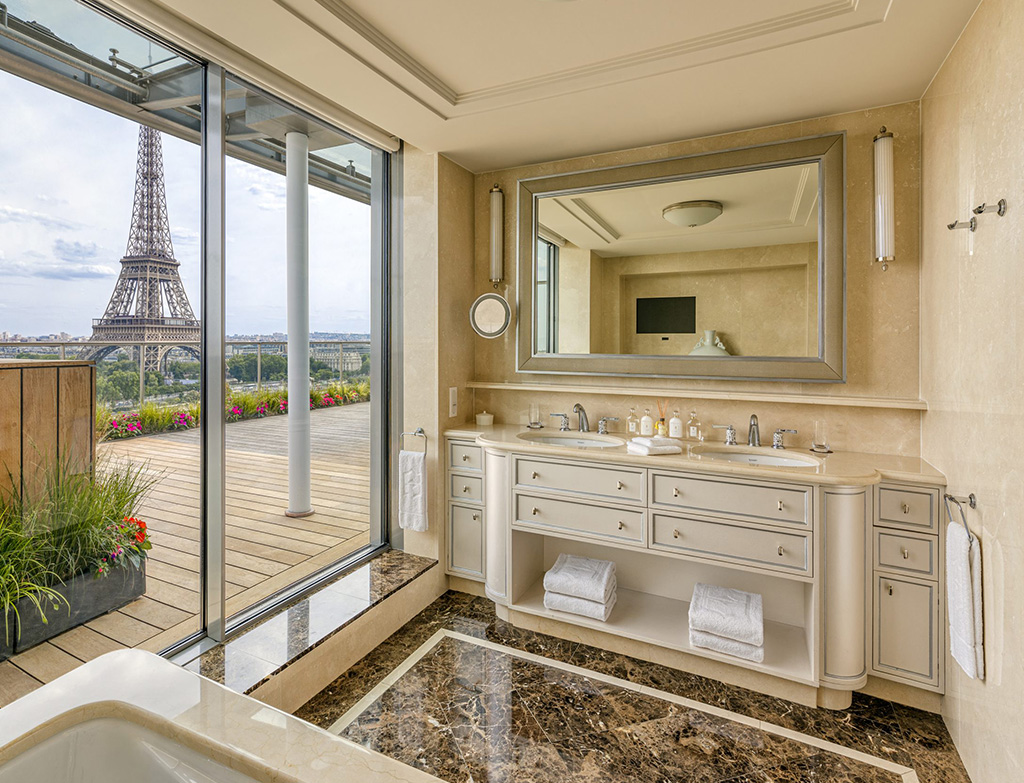 Credits- https://www.luxuryhotelawards.com/

Experience the Parisian luxury at Shangri-La in Paris that renders profound experience to its guests. A sanctum sanatorium of hospitality, one can retire in a warm bubble bath with a box of macaroons and can see the Eiffel Tower along with the River Seine. Centrally located, this 19th-century hotel has a Historique status and has won multiple accolades for their service.


SANCTUARY BAINES' CAMP, BOTSWANA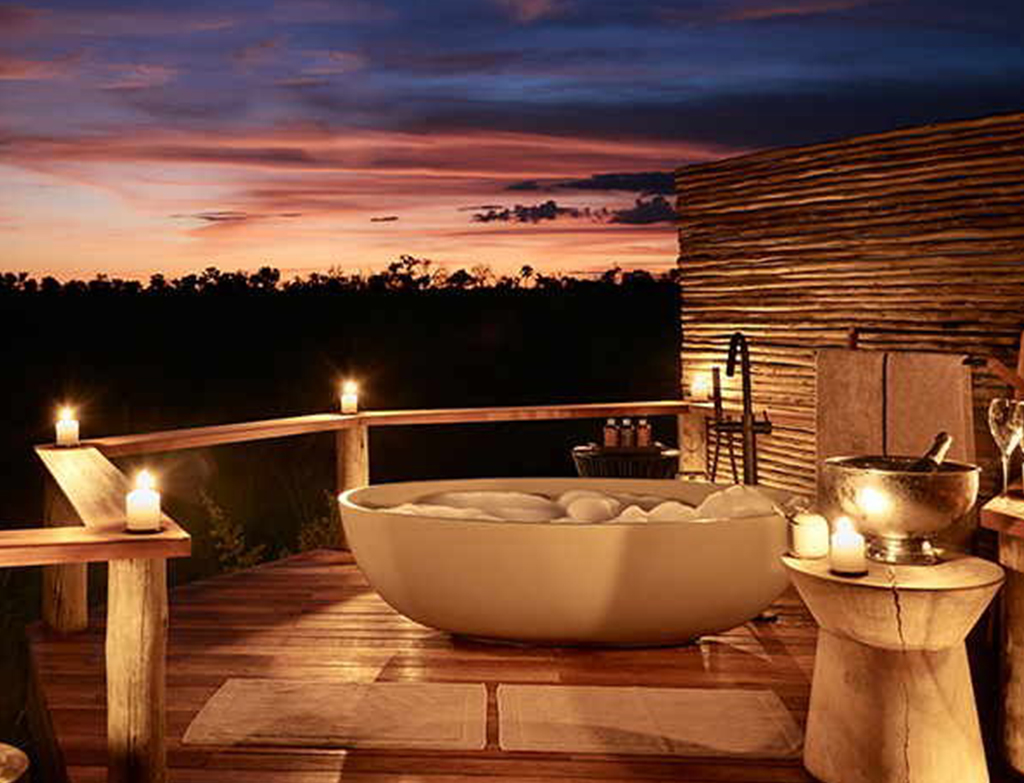 Credits- https://www.sanctuaryretreats.com

Nestled in between groves of trees, Sanctuary Baines' Camp in Botswana is eco-friendly and is made out of recycled cans. However, do not get tricked by the ecological aspect as the place is super luxurious. Enjoy a starry bath on your private deck and a romantic sky bed above the Boro River only at this oasis of romance.


THE TWELVE APOSTLES, SOUTH AFRICA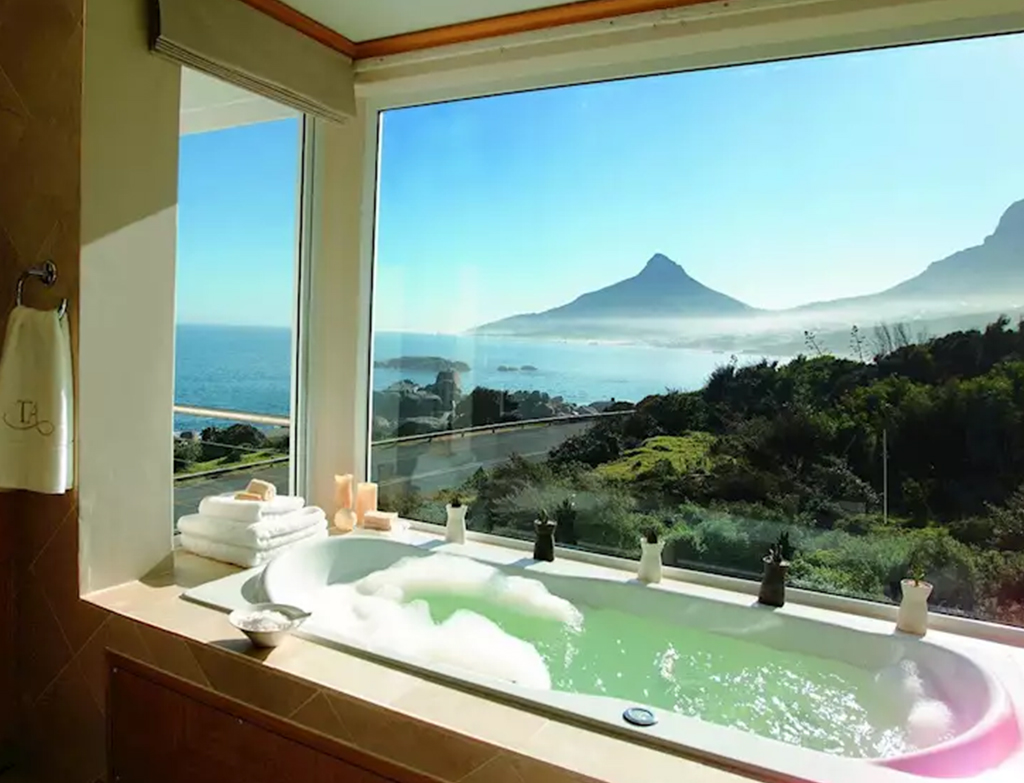 Credits- https://www.audleytravel.com

A boutique luxury hotel replete with beauty in different forms—The Twelve Apostles is poisely placed over the Atlantic Ocean. Thoughtful elegance is what comes to mind when you visit their charming estate. Apart from the holistic wellness and delicious dining, the rooms here are remarkable. Sink in your luxurious tub while watching the dramatic oceanic view and the flora and fauna of South Africa.


GRAND HOTEL TREMEZZO, ITALY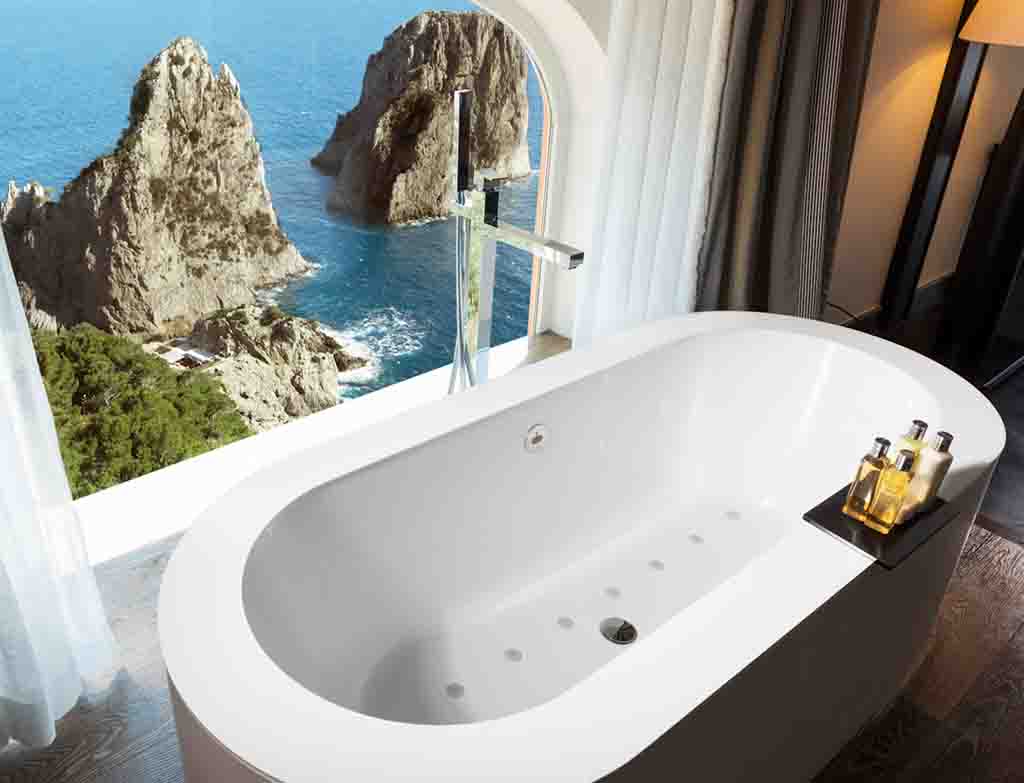 Credits- https://awol.com.au/

Set foot in one of the most instagrammable hotels at Lake Como in Italy. The Grand Tremezzo satisfies your lust for nature, art and travel. Offering an aristocratic luxury the place is a feast for your eyes. The rooms and villas are full of character and you can devour a view of the beautiful lake while relaxing in your bathtub with a glass of champagne.


HILTON FUKUOKA SEA HAWK, JAPAN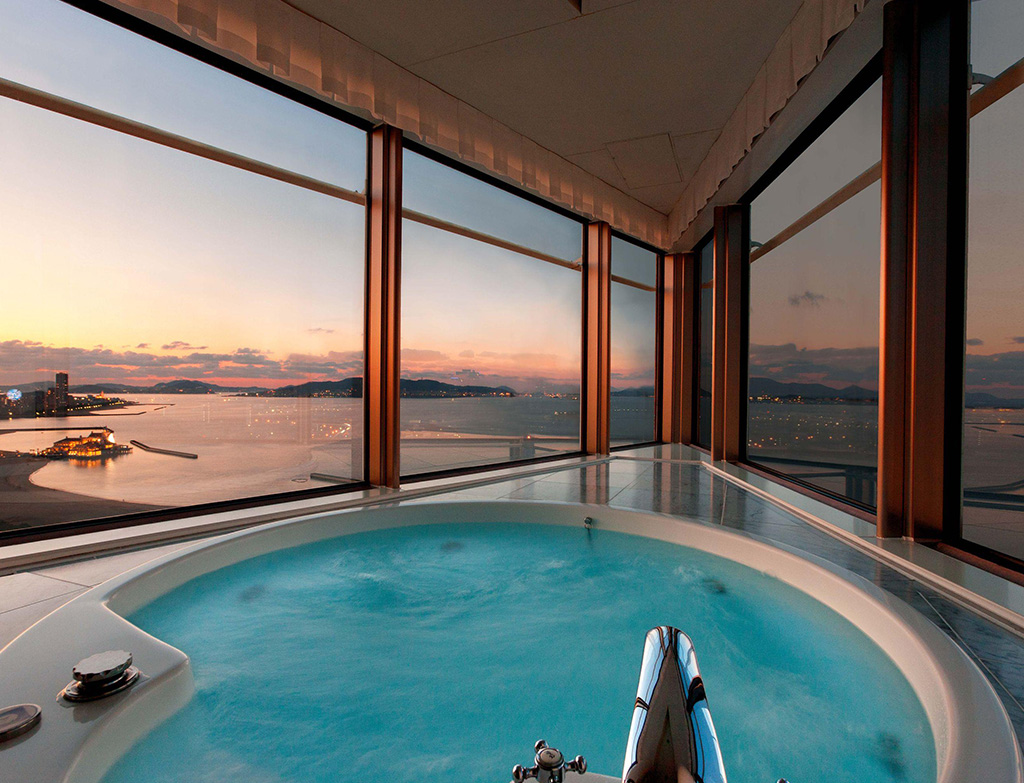 Credits- https://www.facebook.com

A great hotel for business travellers, the Hilton Fukuoka Sea Hawk has a contemporary and minimalist setting. The panoramic suites have the best view of the city. A good place to unwind after a long day of work is by having a hearty meal from one of their restaurants before immersing yourself in their luxurious bathtubs and the cosy beds for a true pampering experience


SUMAQ MACHU PICCHU HOTEL, PERU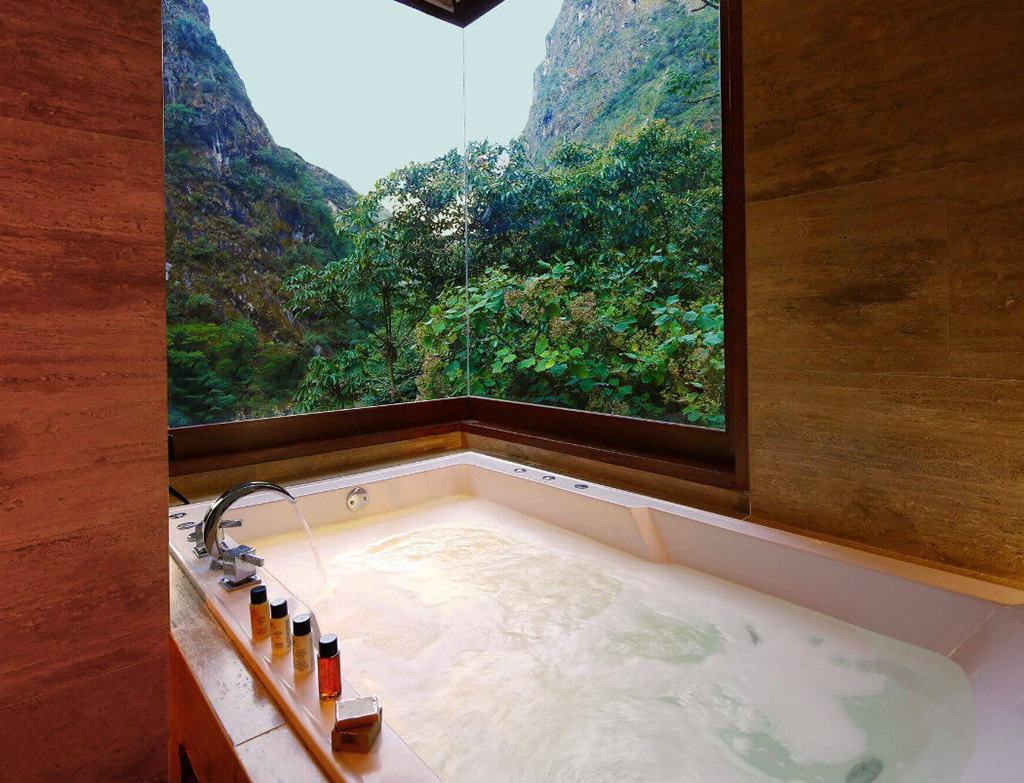 Credits- https://magazine.trivago.co.uk/

With an impressive view of the mountains and landscape, Sumaq's motive is to create transcendent moments in the lives of their visitors. Get a taste of the contemporary Andean style inspired by the ancient Peruvian cultures at this hotel in Machu Picchu. The view from the washroom is stunning and one can withdraw from the fast life in their private tub.Treat yourself to the Inca spa treatments and authentic cuisine while you are vacationing with them.


CONRAD, NEW YORK MIDTOWN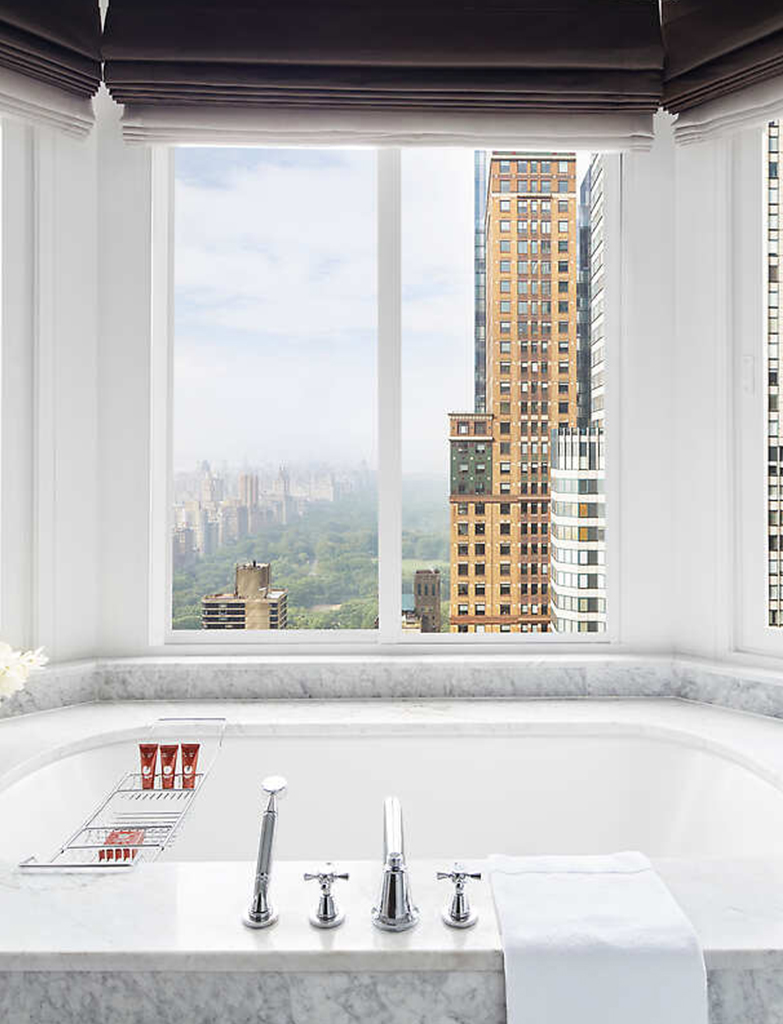 Credits- https://www.americanexpress.com/

Located in the heart of New York, Conrad features top class amenities like an on-site bar and a 24-hour health club. They promote luxury that anticipates your needs. Choose from a variety of suites that comprise plush furniture and Italian linens. The view from the rooms is fabulous with Central Park located 1640 feet away. One can even catch sight of the park and the skyscrapers while soaking your body in the warm water of your bathtub.



Add to favorites