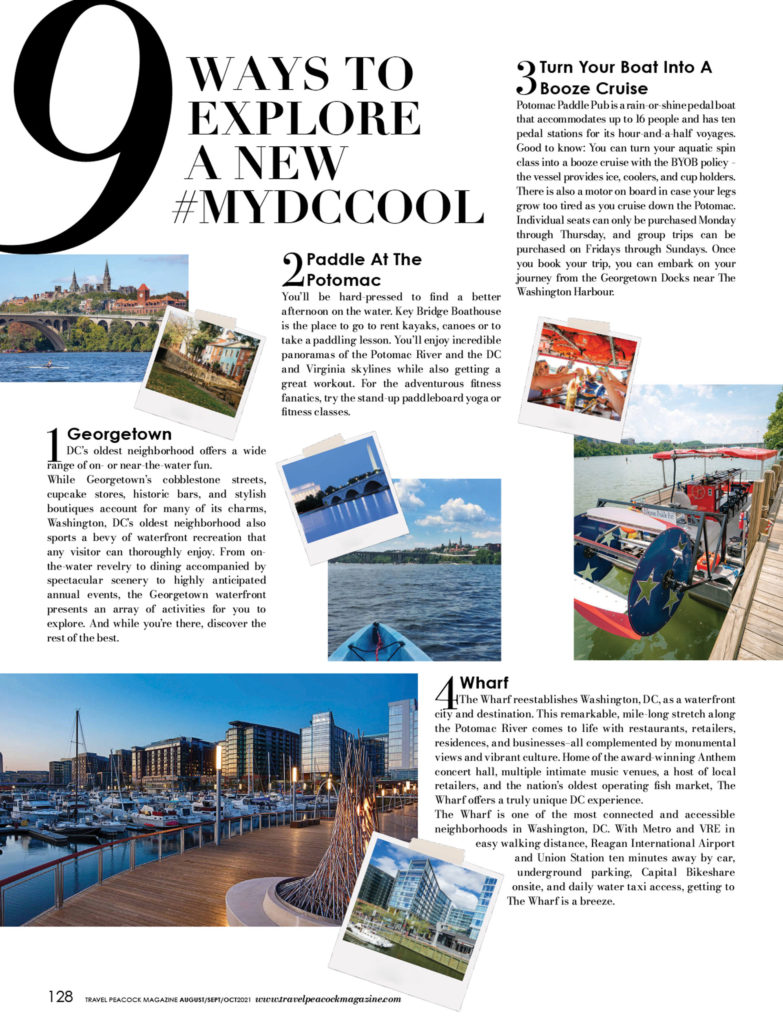 9 WAYS TO EXPLORE A NEW #MYDCCOOL
[1] Georgetown
DC's oldest neighbourhood offers a wide range of on- or near-the-water fun. While Georgetown's cobblestone streets, cupcake stores, historic bars, and stylish boutiques account for many of its charms, Washington, DC's oldest neighbourhood also sports a bevy of waterfront recreation that any visitor can thoroughly enjoy. From on-the-water revelry to dining accompanied by spectacular scenery to highly anticipated annual events, the Georgetown waterfront presents an array of activities for you to explore. And while you're there, discover the rest of the best.
[2] Paddle At The Potomac
You'll be hard-pressed to find a better afternoon on the water. Key Bridge Boathouse is the place to go to rent kayaks, canoes or to take a paddling lesson. You'll enjoy incredible panoramas of the Potomac River and the DC and Virginia skylines while also getting a great workout. For the adventurous fitness fanatics, try the stand-up paddleboard yoga or fitness classes.
[3] Turn Your Boat Into A Booze Cruise
Potomac Paddle Pub is a rain-or-shine pedal boat that accommodates up to 16 people and has ten pedal stations for its hour-and-a-half voyages. Good to know: You can turn your aquatic spin class into a booze cruise with the BYOB policy – the vessel provides ice, coolers, and cup holders. There is also a motor on board in case your legs grow too tired as you cruise down the Potomac. Individual seats can only be purchased Monday through Thursday, and group trips can be purchased on Fridays through Sundays. Once you book your trip, you can embark on your journey from the Georgetown Docks near The Washington Harbour.
[4] Wharf
The Wharf re-establishes Washington, DC, as a waterfront city and destination. This remarkable, mile-long stretch along the Potomac River comes to life with restaurants, retailers, residences, and businesses—all complemented by monumental views and vibrant culture. Home of the award-winning Anthem concert hall, multiple intimate music venues, a host of local retailers, and the nation's oldest operating fish market, The Wharf offers a truly unique DC experience. The Wharf is one of the most connected and accessible neighbourhoods in Washington, DC. With Metro and VRE in easy walking distance, Reagan International Airport and Union Station ten minutes away by car, underground parking, Capital Bikeshare onsite, and daily water taxi access, getting to The Wharf is a breeze.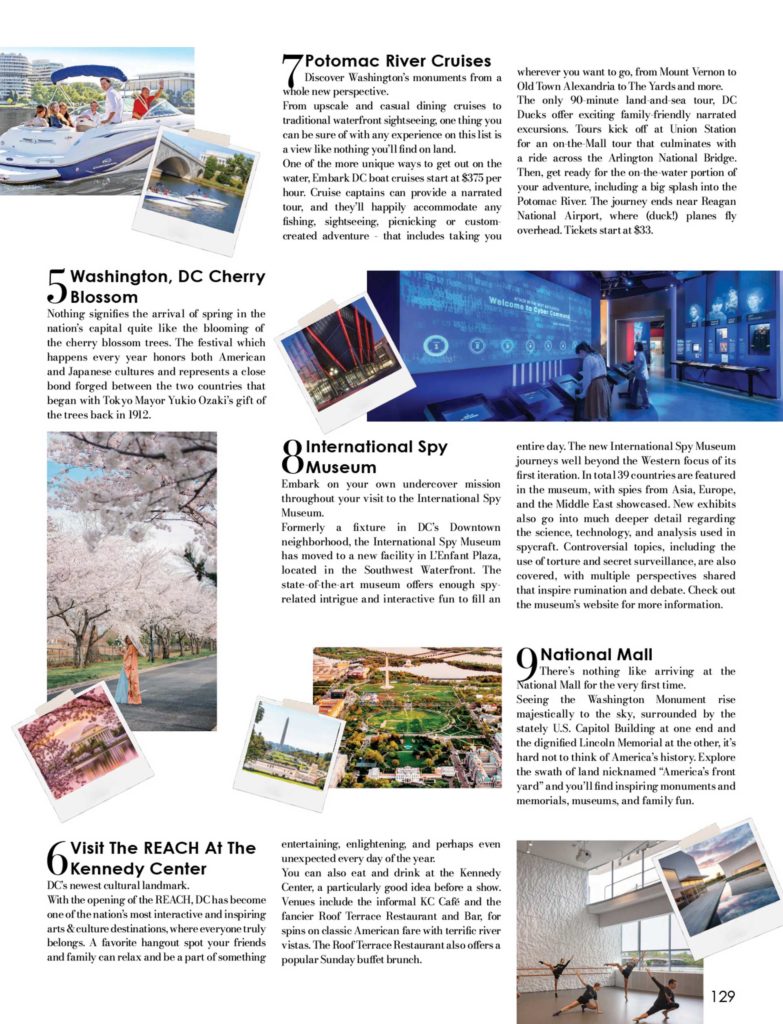 [5] Washington, DC Cherry Blossom
Nothing signifies the arrival of spring in the nation's capital quite like the blooming of the cherry blossom trees. The festival which happens every year honors both American and Japanese cultures and represents a close bond forged between the two countries that began with Tokyo Mayor Yukio Ozaki's gift of the trees back in 1912.
[6] Visit The REACH At The Kennedy Center
DC's newest cultural landmark. With the opening of the REACH, DC has become one of the nation's most interactive and inspiring arts & culture destinations, where everyone truly belongs. A favourite hangout spot your friends and family can relax and be a part of something entertaining, enlightening, and perhaps even unexpected every day of the year. You can also eat and drink at the Kennedy Centre, a particularly good idea before a show. Venues include the informal KC Café and the fancier Roof Terrace Restaurant and Bar, for spins on classic American fare with terrific river vistas. The Roof Terrace Restaurant also offers a popular Sunday buffet brunch.
[7] Potomac River Cruises
Discover Washington's monuments from a whole new perspective. From upscale and casual dining cruises to traditional waterfront sightseeing, one thing you can be sure of with any experience on this list is a view like nothing you'll find on land. One of the more unique ways to get out on the water, Embark DC boat cruises start at $375 per hour. Cruise captains can provide a narrated tour, and they'll happily accommodate any fishing, sightseeing, picnicking or custom-created adventure – that includes taking you wherever you want to go, from Mount Vernon to Old Town Alexandria to The Yards and more.The only 90-minute land-and-sea tour, DC Ducks offer exciting family-friendly narrated excursions. Tours kick off at Union Station for an on-the-Mall tour that culminates with a ride across the Arlington National Bridge. Then, get ready for the on-the-water portion of your adventure, including a big splash into the Potomac River. The journey ends near Reagan National Airport, where (duck!) planes fly overhead. Tickets start at $33.
[8] International Spy Museum
Embark on your own undercover mission throughout your visit to the International Spy Museum. Formerly a fixture in DC's Downtown neighbourhood, the International Spy Museum has moved to a new facility in L'Enfant Plaza, located in the Southwest Waterfront. The state-of-the-art museum offers enough spy-related intrigue and interactive fun to fill an entire day. The new International Spy Museum journeys well beyond the Western focus of its first iteration. In total 39 countries are featured in the museum, with spies from Asia, Europe, and the Middle East showcased. New exhibits also go into much deeper detail regarding the science, technology, and analysis used in spycraft. Controversial topics, including the use of torture and secret surveillance, are also covered, with multiple perspectives shared that inspire rumination and debate. Check out the museum's website for more information.
[9] National Mall
There's nothing like arriving at the National Mall for the very first time. Seeing the Washington Monument rise majestically to the sky, surrounded by the stately U.S. Capitol Building at one end and the dignified Lincoln Memorial at the other, it's hard not to think of America's history. Explore the swath of land nicknamed "America's front yard" and you'll find inspiring monuments and memorials, museums, and family fun.