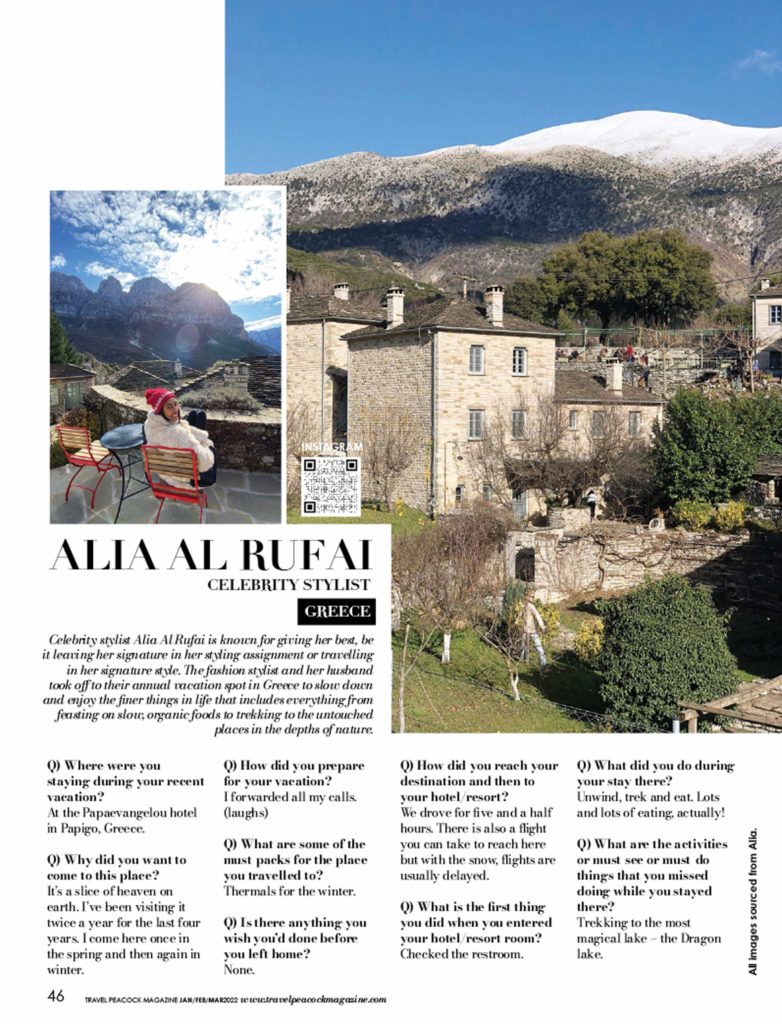 CREDITS – All images sourced from Alia
Celebrity stylist Alia Al Rufai is known for giving her best, be it leaving her signature in her styling assignment or travelling in her signature style. The fashion stylist and her husband took off to their annual vacation spot in Greece to slow down and enjoy the finer things in life that includes everything from feasting on slow, organic foods to trekking to the untouched places in the depths of nature.
[Q] Where were you staying during your recent vacation?
At the Papaevangelou hotel in Papigo, Greece.
[Q] Why did you want to come to this place?
It's a slice of heaven on earth. I've been visiting it twice a year for the last four years. I come here once in the spring and then again in winter.
[Q] How did you prepare for your vacation?
I forwarded all my calls. (laughs)
[Q] What are some of the must-packs for the place you travelled to?
Thermals for the winter.
[Q] Is there anything you wish you'd done before you left home?
None.
[Q] How did you reach your destination and then to your hotel/resort?
We drove for five and a half hours. There is also a flight you can take to reach here but with the snow, flights are usually delayed.
[Q] What is the first thing you did when you entered your hotel/resort room?
Checked the restroom.
[Q] What did you do during your stay there?
Unwind, trek and eat. Lots and lots of eating, actually!
[Q] What are the activities or must-see or must-do things that you missed doing while you stayed there?
Trekking to the most magical lake — the Dragon lake.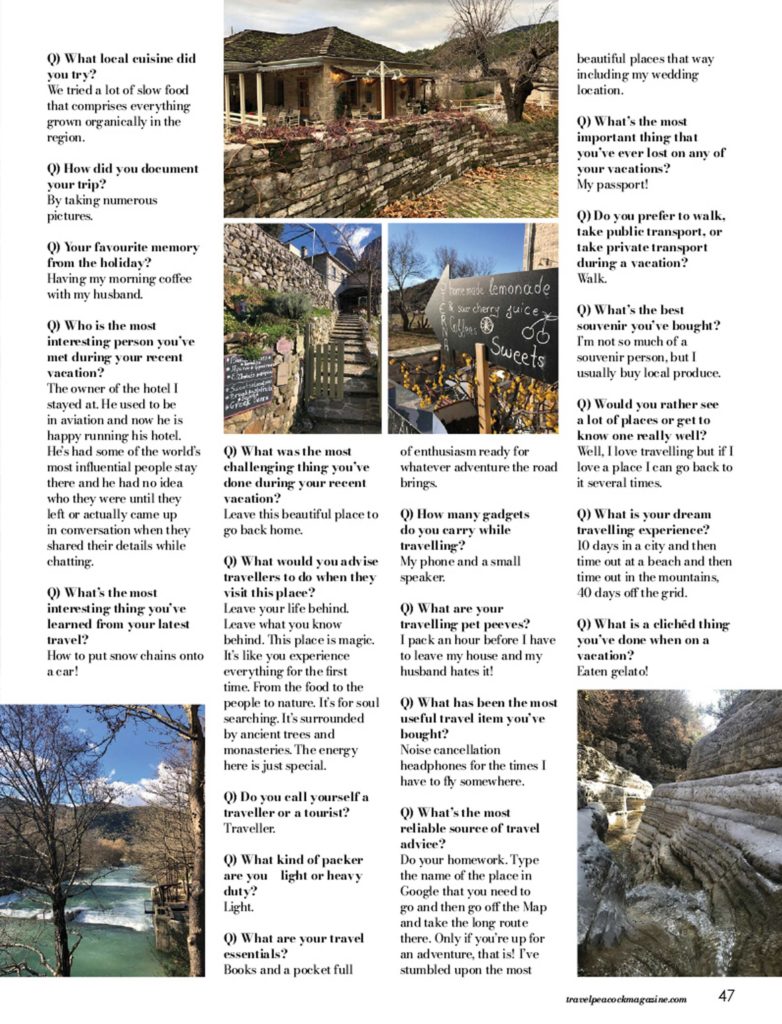 [Q] What local cuisine did you try?
We tried a lot of slow food that comprises everything grown organically in the region.
[Q] How did you document your trip?
By taking numerous pictures.
[Q] Your favourite memory from the holiday?
Having my morning coffee with my husband.
[Q] Who is the most interesting person you've met during your recent vacation?
The owner of the hotel I stayed at. He used to be in aviation and now he is happy running his hotel. He's had some of the world's most influential people stay there and he had no idea who they were until they left or actually came up in conversation when they shared their details while chatting.
[Q] What's the most interesting thing you've learned from your latest travel?
How to put snow chains onto a car!
[Q] What was the most challenging thing you've done during your recent vacation?
Leave this beautiful place to go back home.
[Q] What would you advise travellers to do when they visit this place?
Leave your life behind. Leave what you know behind. This place is magic. It's like you experience everything for the first time. From the food to the people to nature. It's for soul searching. It's surrounded by ancient trees and monasteries. The energy here is just special.
[Q] Do you call yourself a traveller or a tourist?
Traveller.
[Q] What kind of packer are you — light or heavy-duty?
Light.
[Q] What are your travel essentials?
Books and a pocket full of enthusiasm ready for whatever adventure the road brings.
[Q] How many gadgets do you carry while travelling?
My phone and a small speaker.
[Q] What are your travelling pet peeves?
I pack an hour before I have to leave my house and my husband hates it!
[Q] What has been the most useful travel item you've bought?
Noise cancellation headphones for the times I have to fly somewhere.
[Q] What's the most reliable source of travel advice?
Do your homework. Type the name of the place in Google that you need to go and then go off the Map and take the long route there. Only if you're up for an adventure, that is! I've stumbled upon the most beautiful places that way including my wedding location.
[Q] What's the most important thing that you've ever lost on any of your vacations?
My passport!
[Q] Do you prefer to walk, take public transport, or take private transport during a vacation?
Walk.
[Q] What's the best souvenir you've bought?
I'm not so much of a souvenir person, but I usually buy local produce.
[Q] Would you rather see a lot of places or get to know one really well?
Well, I love travelling but if I love a place I can go back to it several times.
[Q] What is your dream travelling experience?
10 days in a city and then time out at a beach and then time out in the mountains, 40 days off the grid.
[Q] What is a clichéd thing you've done when on a vacation?
Eaten gelato!




Add to favorites