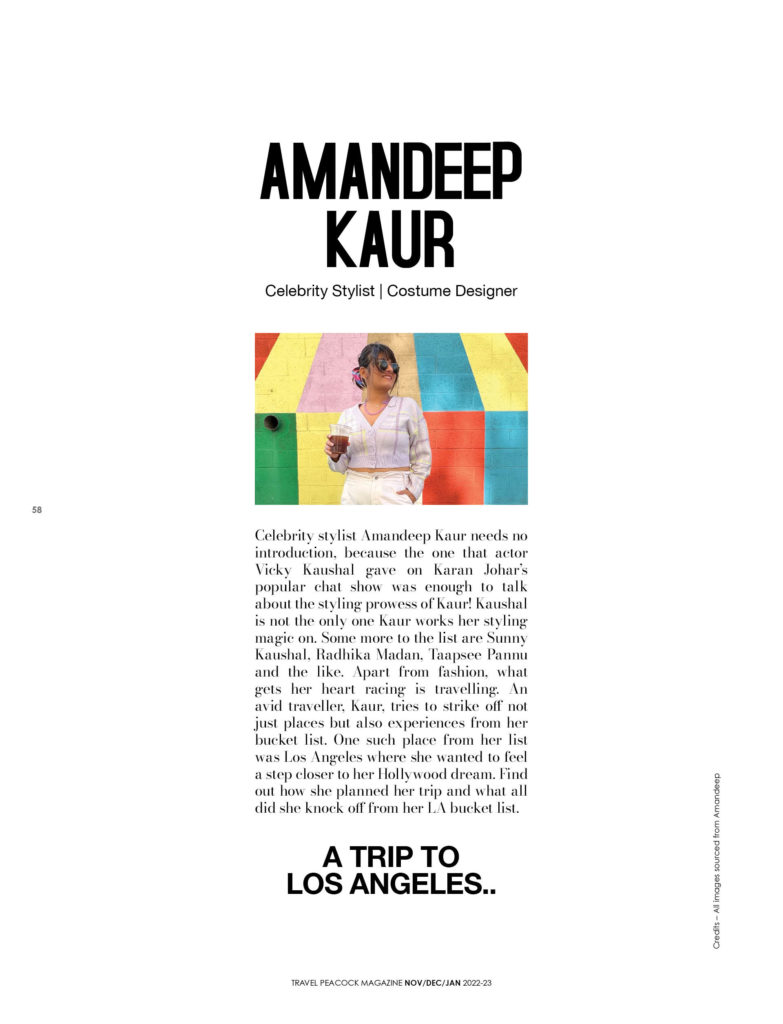 Celebrity stylist Amandeep Kaur needs no introduction, because the one that actor Vicky Kaushal gave on Karan Johar's popular chat show was enough to talk about the styling prowess of Kaur! Kaushal is not the only one Kaur works her styling magic on. Some more to the list are Sunny Kaushal, Radhika Madan, Taapsee Pannu and the like. Apart from fashion, what gets her heart racing is travelling. An avid traveller, Kaur, tries to strike off not just places but also experiences from her bucket list. One such place from her list was Los Angeles where she wanted to feel a step closer to her Hollywood dream. Find out how she planned her trip and what all did she knock off from her LA bucket list.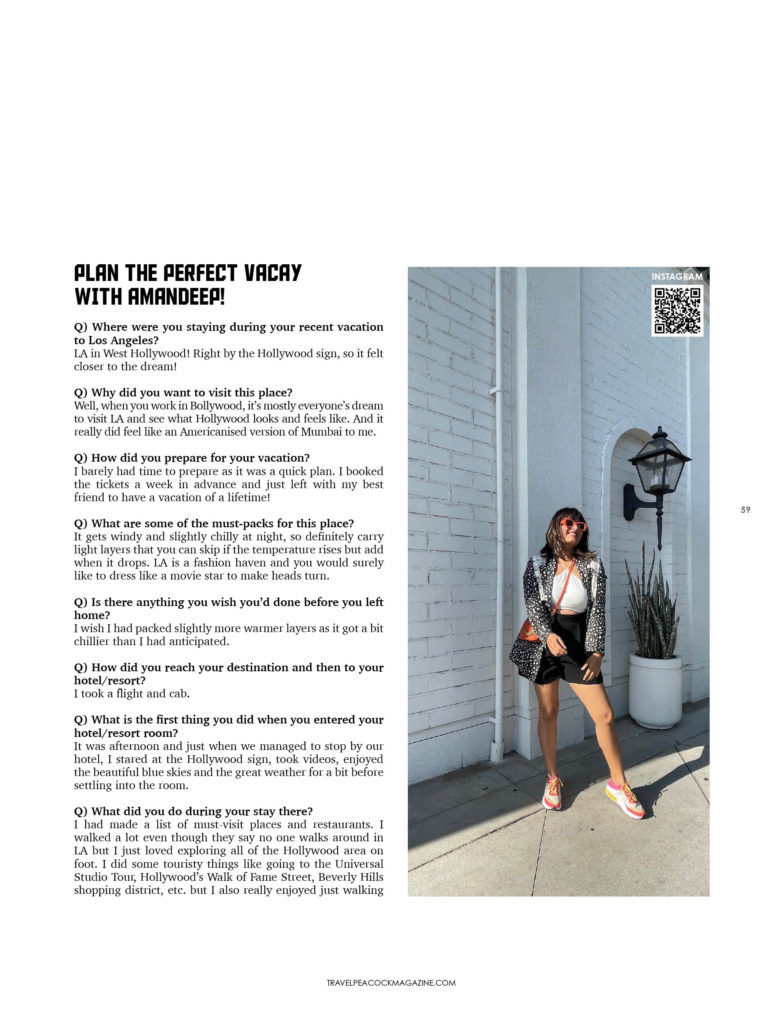 Q) Where were you staying during your recent vacation to Los Angeles?
LA in West Hollywood! Right by the Hollywood sign, so it felt closer to the dream!
Q) Why did you want to visit this place?
Well, when you work in Bollywood, it's mostly everyone's dream to visit LA and see what Hollywood looks and feels like. And it really did feel like an Americanised version of Mumbai to me.
Q) How did you prepare for your vacation?
I barely had time to prepare as it was a quick plan. I booked the tickets a week in advance and just left with my best friend to have a vacation of a lifetime!
Q) What are some of the must-packs for this place?
It gets windy and slightly chilly at night, so definitely carry light layers that you can skip if the temperature rises but add when it drops. LA is a fashion haven and you would surely like to dress like a movie star to make heads turn.
Q) Is there anything you wish you'd done before you left home?
I wish I had packed slightly more warmer layers as it got a bit chillier than I had anticipated.
Q) How did you reach your destination and then to your hotel/resort?
I took a flight and cab.
Q) What is the first thing you did when you entered your hotel/resort room?
It was afternoon and just when we managed to stop by our hotel, I stared at the Hollywood sign, took videos, enjoyed the beautiful blue skies and the great weather for a bit before settling into the room.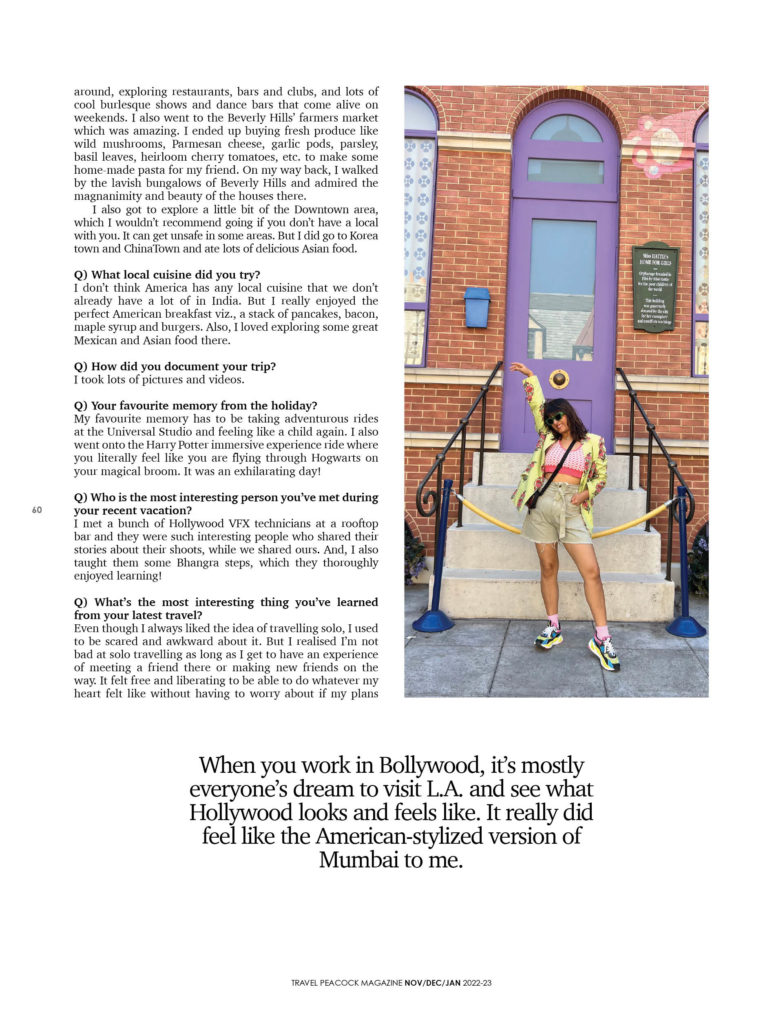 Q) What did you do during your stay there?
I had made a list of must-visit places and restaurants. I walked a lot even though they say no one walks around in LA but I just loved exploring all of the Hollywood area on foot. I did some touristy things like going to the Universal Studio Tour, Hollywood's Walk of Fame Street, Beverly Hills shopping district, etc. but I also really enjoyed just walking around, exploring restaurants, bars and clubs, and lots of cool burlesque shows and dance bars that come alive on weekends. I also went to the Beverly Hills' farmers market which was amazing. I ended up buying fresh produce like wild mushrooms, Parmesan cheese, garlic pods, parsley, basil leaves, heirloom cherry tomatoes, etc. to make some home-made pasta for my friend. On my way back, I walked by the lavish bungalows of Beverly Hills and admired the magnanimity and beauty of the houses there.
I also got to explore a little bit of the Downtown area, which I wouldn't recommend going if you don't have a local with you. It can get unsafe in some areas. But I did go to Korea town and ChinaTown and ate lots of delicious Asian food.
Q) What local cuisine did you try?
I don't think America has any local cuisine that we don't already have a lot of in India. But I really enjoyed the perfect American breakfast viz., a stack of pancakes, bacon, maple syrup and burgers. Also, I loved exploring some great Mexican and Asian food there.
Q) How did you document your trip?
I took lots of pictures and videos.
Q) Your favourite memory from the holiday?
My favourite memory has to be taking adventurous rides at the Universal Studio and feeling like a child again. I also went onto the Harry Potter immersive experience ride where you literally feel like you are flying through Hogwarts on your magical broom. It was an exhilarating day!
Q) Who is the most interesting person you've met during your recent vacation?
I met a bunch of Hollywood VFX technicians at a rooftop bar and they were such interesting people who shared their stories about their shoots, while we shared ours. And, I also taught them some Bhangra steps, which they thoroughly enjoyed learning!
Q) What's the most interesting thing you've learned from your latest travel?
Even though I always liked the idea of travelling solo, I used to be scared and awkward about it. But I realised I'm not bad at solo travelling as long as I get to have an experience of meeting a friend there or making new friends on the way. It felt free and liberating to be able to do whatever my heart felt like without having to worry about if my plans and dreams matched that of the other person's. I divided this trip into four parts, two parts with different friends, one part with my sister and one part was solo. It has given me courage to plan more solo trips in future.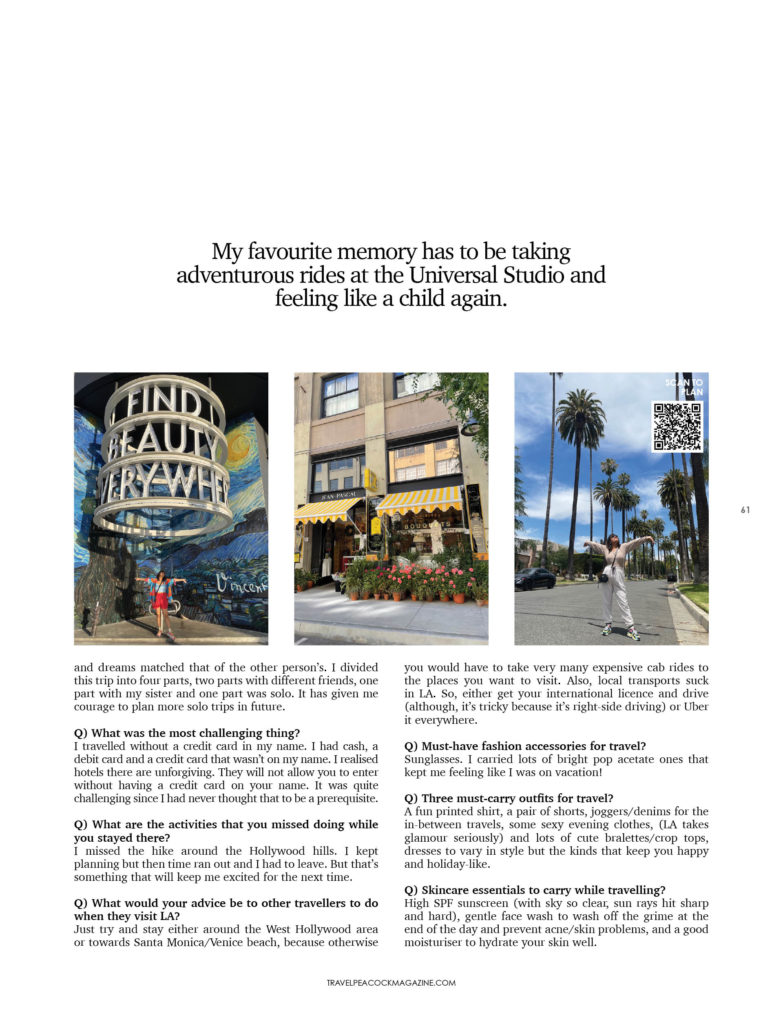 Q) What was the most challenging thing?
I travelled without a credit card in my name. I had cash, a debit card and a credit card that wasn't on my name. I realised hotels there are unforgiving. They will not allow you to enter without having a credit card on your name. It was quite challenging since I had never thought that to be a prerequisite.
Q) What are the activities that you missed doing while you stayed there?
I missed the hike around the Hollywood hills. I kept planning but then time ran out and I had to leave. But that's something that will keep me excited for the next time.
Q) What would your advice be to other travellers to do when they visit LA?
Just try and stay either around the West Hollywood area or towards Santa Monica/Venice beach, because otherwise you would have to take very many expensive cab rides to the places you want to visit. Also, local transports suck in LA. So, either get your international licence and drive (although, it's tricky because it's right-side driving) or Uber it everywhere.
Q) Must-have fashion accessories for travel?
Sunglasses. I carried lots of bright pop acetate ones that kept me feeling like I was on vacation!
Q) Three must-carry outfits for travel?
A fun printed shirt, a pair of shorts, joggers/denims for the in-between travels, some sexy evening clothes, (LA takes glamour seriously) and lots of cute bralettes/crop tops, dresses to vary in style but the kinds that keep you happy and holiday-like.
Q) Skincare essentials to carry while travelling?
High SPF sunscreen (with sky so clear, sun rays hit sharp and hard), gentle face wash to wash off the grime at the end of the day and prevent acne/skin problems, and a good moisturiser to hydrate your skin well.