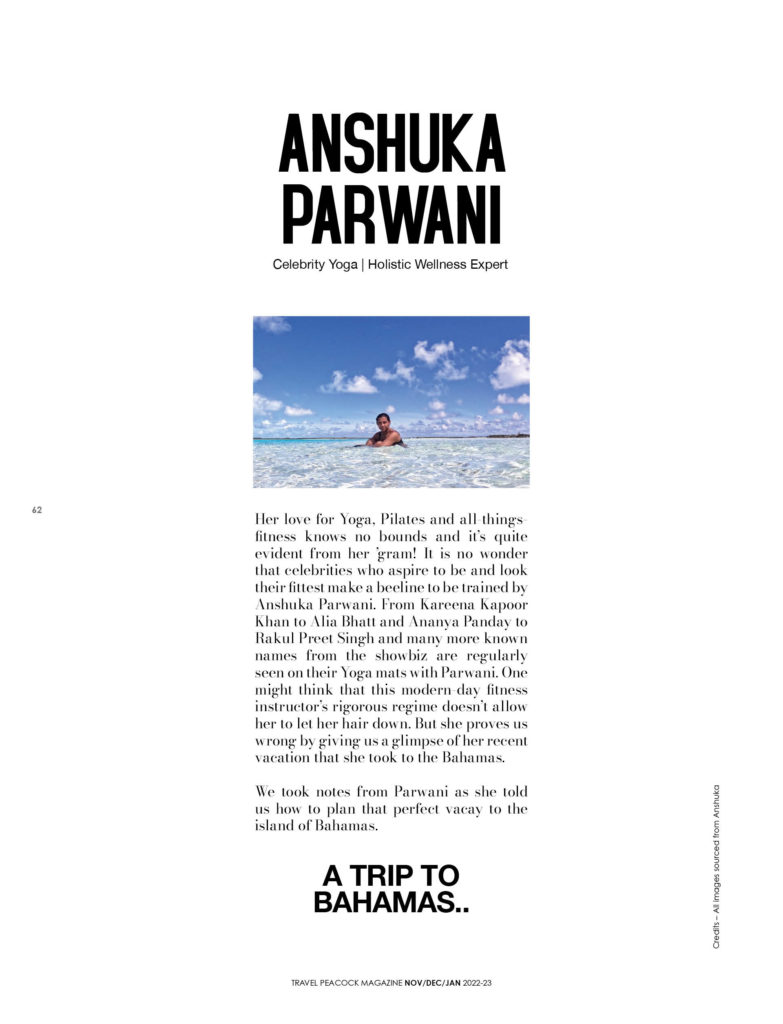 Credits – All images sourced from Anshuka Parwani
Her love for Yoga, Pilates and all-things-fitness knows no bounds and it's quite evident from her 'gram! It is no wonder that celebrities who aspire to be and look their fittest make a beeline to be trained by Anshuka Parwani. From Kareena Kapoor Khan to Alia Bhatt and Ananya Panday to Rakul Preet Singh and many more known names from the showbiz are regularly seen on their Yoga mats with Anshuka Parwani. One might think that this modern-day fitness instructor's rigorous regime doesn't allow her to let her hair down. But she proves us wrong by giving us a glimpse of her recent vacation that she took to the Bahamas.
We took notes from Parwani as she told us how to plan that perfect vacay to the island of Bahamas.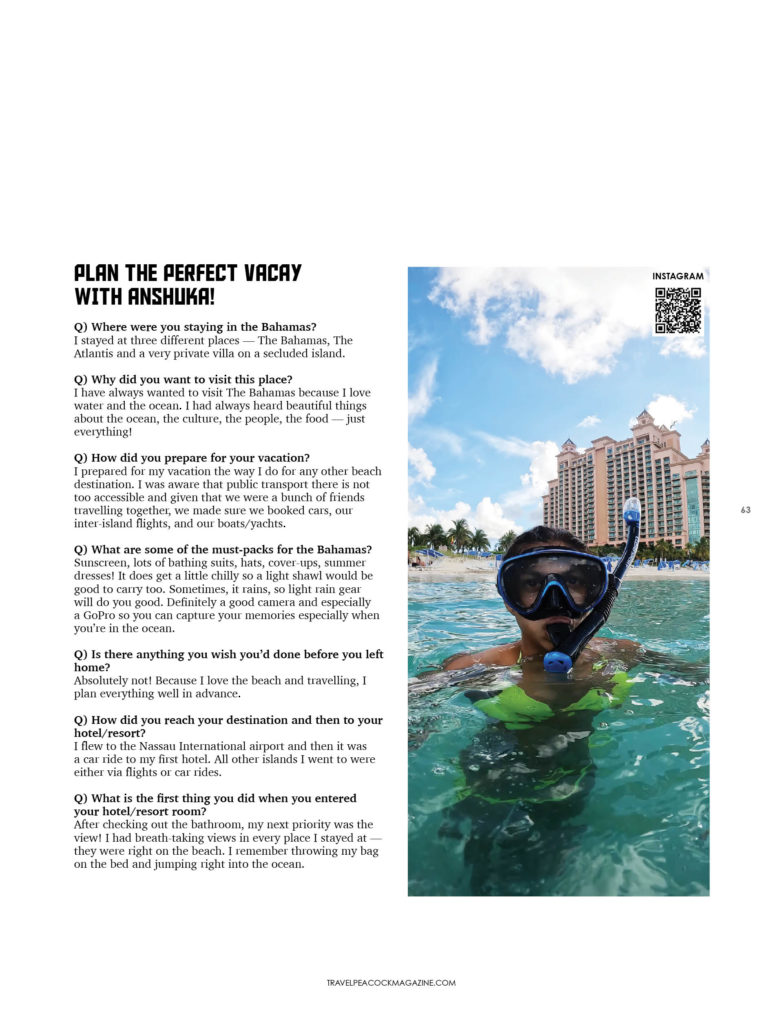 Q) Where were you staying in the Bahamas?
I stayed at three different places — The Bahamas, The Atlantis and a very private villa on a secluded island.
Q) Why did you want to visit this place?
I have always wanted to visit The Bahamas because I love water and the ocean. I had always heard beautiful things about the ocean, the culture, the people, the food — just everything!
Q) How did you prepare for your vacation?
I prepared for my vacation the way I do for any other beach destination. I was aware that public transport there is not too accessible and given that we were a bunch of friends travelling together, we made sure we booked cars, our inter-island flights, and our boats/yachts.
Q) What are some of the must-packs for the Bahamas?
Sunscreen, lots of bathing suits, hats, cover-ups, summer dresses! It does get a little chilly so a light shawl would be good to carry too. Sometimes, it rains, so light rain gear will do you good. Definitely a good camera and especially a GoPro so you can capture your memories especially when you're in the ocean.
Q) Is there anything you wish you'd done before you left home?
Absolutely not! Because I love the beach and travelling, I plan everything well in advance.
Q) How did you reach your destination and then to your hotel/resort?
I flew to the Nassau International airport and then it was a car ride to my first hotel. All other islands I went to were either via flights or car rides.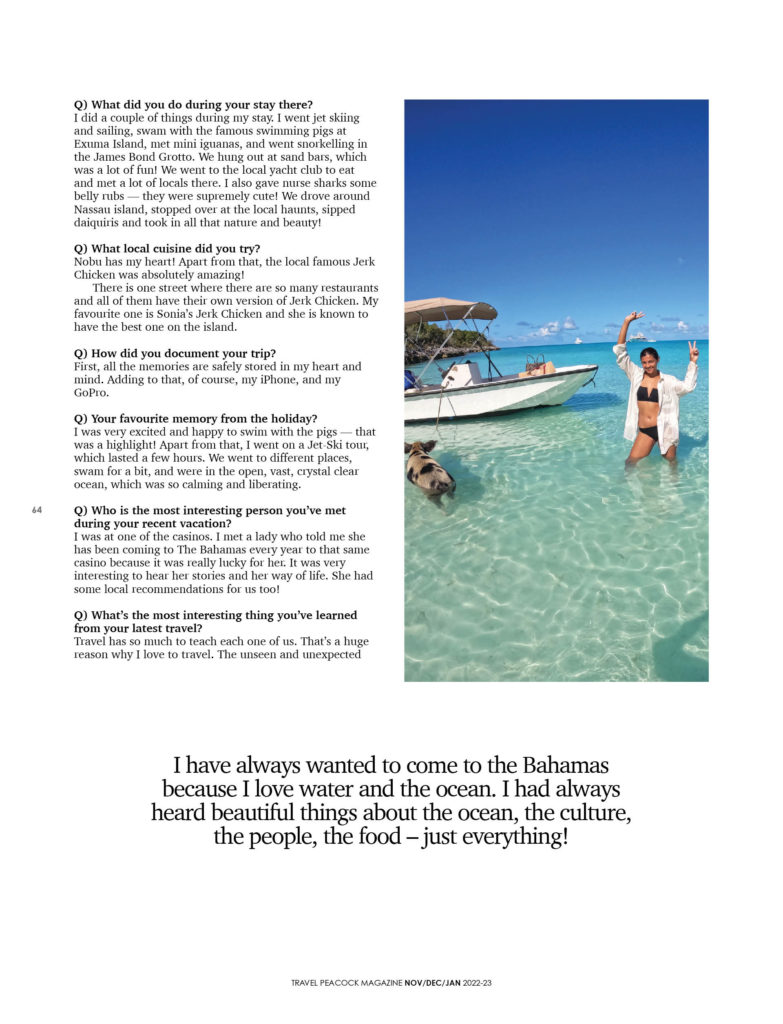 Q) What is the first thing you did when you entered your hotel/resort room?
After checking out the bathroom, my next priority was the view! I had breath-taking views in every place I stayed at — they were right on the beach. I remember throwing my bag on the bed and jumping right into the ocean.
Q) What did you do during your stay there?
I did a couple of things during my stay. I went jet skiing and sailing, swam with the famous swimming pigs at Exuma Island, met mini iguanas, and went snorkelling in the James Bond Grotto. We hung out at sand bars, which was a lot of fun! We went to the local yacht club to eat and met a lot of locals there. I also gave nurse sharks some belly rubs — they were supremely cute! We drove around Nassau island, stopped over at the local haunts, sipped daiquiris and took in all that nature and beauty!
Q) What local cuisine did you try?
Nobu has my heart! Apart from that, the local famous Jerk Chicken was absolutely amazing!
There is one street where there are so many restaurants and all of them have their own version of Jerk Chicken. My favourite one is Sonia's Jerk Chicken and she is known to have the best one on the island.
Q) How did you document your trip?
First, all the memories are safely stored in my heart and mind. Adding to that, of course, my iPhone, and my GoPro.
Q) Your favourite memory from the holiday?
I was very excited and happy to swim with the pigs — that was a highlight! Apart from that, I went on a Jet-Ski tour, which lasted a few hours. We went to different places, swam for a bit, and were in the open, vast, crystal clear ocean, which was so calming and liberating.
Q) Who is the most interesting person you've met during your recent vacation?
I was at one of the casinos. I met a lady who told me she has been coming to The Bahamas every year to that same casino because it was really lucky for her. It was very interesting to hear her stories and her way of life. She had some local recommendations for us too!
Q) What's the most interesting thing you've learned from your latest travel?
Travel has so much to teach each one of us. That's a huge reason why I love to travel. The unseen and unexpected carries its own charm. This time around, I learnt to just let go and be, and to go with the flow. I am a woman with a plan always and sometimes to not have a plan is okay too (only on vacation though!)
Q) What was the most challenging thing you've done during your recent vacation?
Swimming and diving brings me peace and calm. But, when we were snorkelling into the grotto, that was challenging for me because of my asthma. It also had a very narrow opening into it so that was a little intimidating in the beginning. But, I didn't let that hold me back and I am glad I still did it.
Q) What are the activities that you missed doing while you stayed there?
The Exuma Islands — even if you go for just a day. There are daily tours that operate so you can pack in a few attractions and activities there like swimming with the pigs, snorkelling in the grotto etc. The Bahamas are made up of a lot of islands so you should definitely try and explore the commercial and private ones if you can. They both have lots to offer.
Discover the local restaurants and bars — don't just eat at your hotel. Saunter into a random bar and discover how the locals live.
Q) What would your advice be to other travellers when they visit The Bahamas?
Just make sure you have all your bookings in place. Weather there can be unpredictable but if you plan properly and accordingly then you should be good to go. Do the grunt work of researching and planning before you go, so that when you're there it's all about having fun and relaxing. The Bahamas give you a mix of everything — Michelin-star restaurants, local eateries and shacks, adventure water sports, sunbeds on the beach to relax so you can make whatever you want of it.