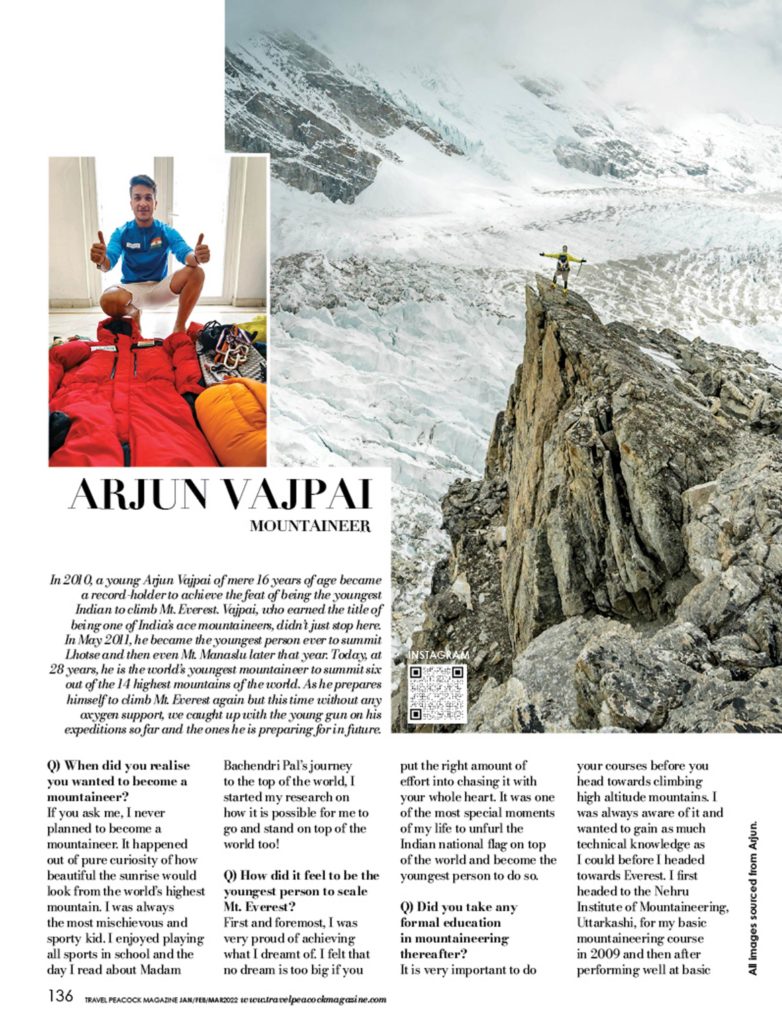 CREDITS – All images sourced from the mountaineer.

In 2010, a young Arjun Vajpai of mere 16 years of age became a record-holder to achieve the feat of being the youngest Indian to climb Mt. Everest. Vajpai, who earned the title of being one of India's ace mountaineers, didn't just stop here. In May 2011, he became the youngest person ever to summit Lhotse and then even Mt. Manaslu later that year. Today, at 28 years, he is the world's youngest mountaineer to summit six out of the 14 highest mountains of the world. As he prepares himself to climb Mt. Everest again but this time without any oxygen support, we caught up with the young gun on his expeditions so far and the ones he is preparing for in future.

[Q] When did you realise you wanted to become a mountaineer?
If you ask me, I never planned to become a mountaineer. It happened out of pure curiosity of how beautiful the sunrise would look from the world's highest mountain. I was always the most mischievous and sporty kid. I enjoyed playing all sports in school and the day I read about Madam Bachendri Pal's journey to the top of the world, I started my research on how it is possible for me to go and stand on top of the world too!
[Q] How did it feel to be the youngest person to scale Mt. Everest?
First and foremost, I was very proud of achieving what I dreamt of. I felt that no dream is too big if you put the right amount of effort into chasing it with your whole heart. It was one of the most special moments of my life to unfurl the Indian national flag on top of the world and become the youngest person to do so.
[Q] Did you take any formal education in mountaineering thereafter?
It is very important to do your courses before you head towards climbing high altitude mountains. I was always aware of it and wanted to gain as much technical knowledge as I could before I headed towards Everest. I first headed to the Nehru Institute of Mountaineering, Uttarkashi, for my basic mountaineering course in 2009 and then after performing well at basic level and securing A grade in the course, I qualified for the advanced course. It was during my advanced course that my instructors advised me to attempt Mt. Everest and make our country proud as they were the first ones to realise that I had the capability to do it while keeping myself safe in all possible conditions.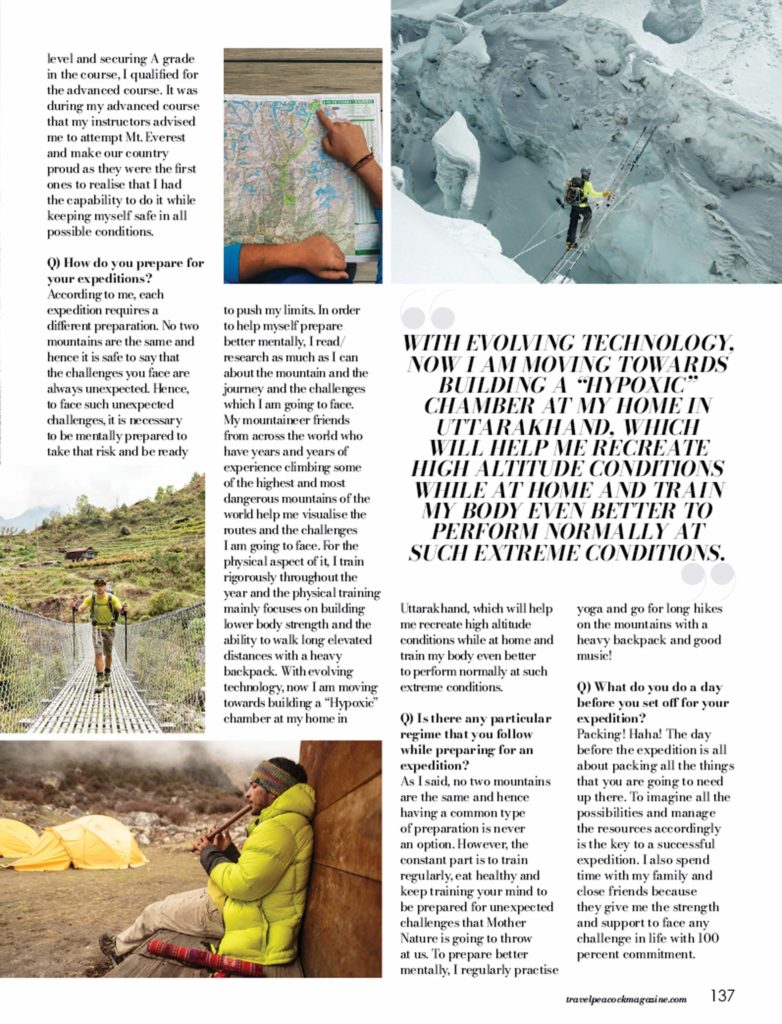 [Q] How do you prepare for your expeditions?
According to me, each expedition requires a different preparation. No two mountains are the same and hence it is safe to say that the challenges you face are always unexpected. Hence, to face such unexpected challenges, it is necessary to be mentally prepared to take that risk and be ready to push my limits. In order to help myself prepare better mentally, I read/research as much as I can about the mountain and the journey and the challenges which I am going to face. My mountaineer friends from across the world who have years and years of experience climbing some of the highest and most dangerous mountains of the world help me visualise the routes and the challenges I am going to face. For the physical aspect of it, I train rigorously throughout the year and the physical training mainly focuses on building lower body strength and the ability to walk long elevated distances with a heavy backpack. With evolving technology, now I am moving towards building a "Hypoxic" chamber at my home in Uttarakhand, which will help me recreate high altitude conditions while at home and train my body even better to perform normally at such extreme conditions.
[Q] Is there any particular regime that you follow while preparing for an expedition?
As I said, no two mountains are the same and hence having a common type of preparation is never an option. However, the constant part is to train regularly, eat healthy and keep training your mind to be prepared for unexpected challenges that Mother Nature is going to throw at us. To prepare better mentally, I regularly practise yoga and go for long hikes on the mountains with a heavy backpack and good music!
[Q] What do you do a day before you set off for your expedition?
Packing! Haha! The day before the expedition is all about packing all the things that you are going to need up there. To imagine all the possibilities and manage the resources accordingly is the key to a successful expedition. I also spend time with my family and close friends because they give me the strength and support to face any challenge in life with 100 percent commitment.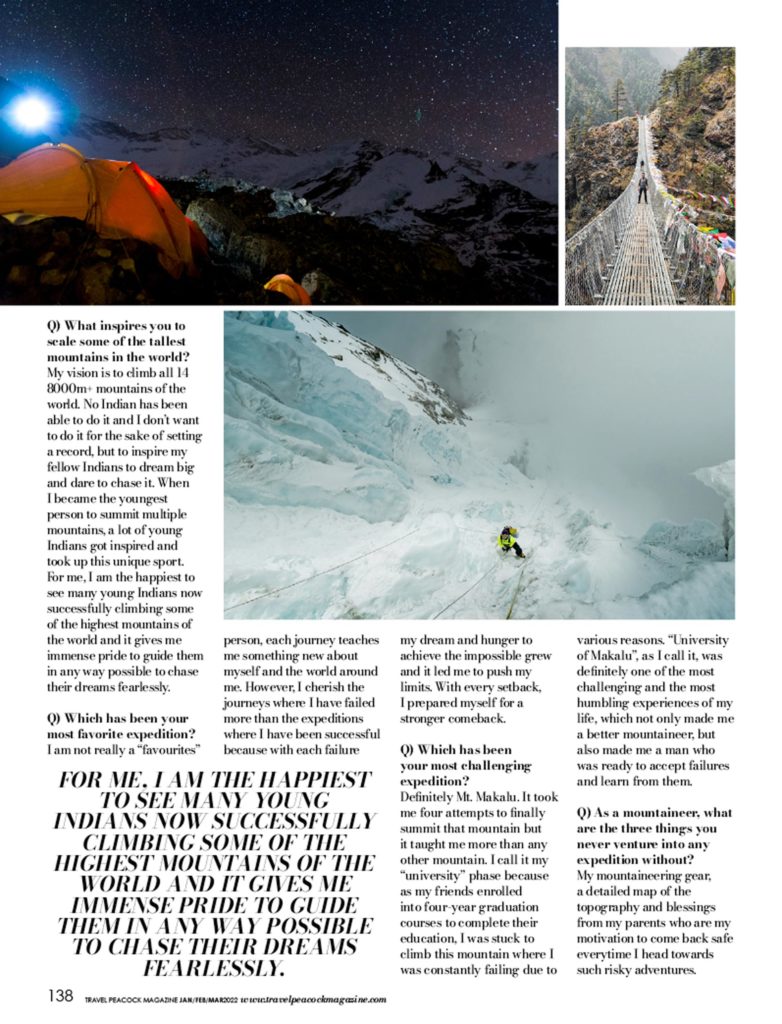 [Q] What inspires you to scale some of the tallest mountains in the world?
My vision is to climb all 14 8000m+ mountains of the world. No Indian has been able to do it and I don't want to do it for the sake of setting a record, but to inspire my fellow Indians to dream big and dare to chase it. When I became the youngest person to summit multiple mountains, a lot of young Indians got inspired and took up this unique sport. For me, I am the happiest to see many young Indians now successfully climbing some of the highest mountains of the world and it gives me immense pride to guide them in any way possible to chase their dreams fearlessly.
[Q] Which has been your most favorite expedition?
I am not really a "favourites" person, each journey teaches me something new about myself and the world around me. However, I cherish the journeys where I have failed more than the expeditions where I have been successful because with each failure my dream and hunger to achieve the impossible grew and it led me to push my limits. With every setback, I prepared myself for a stronger comeback.
[Q] Which has been your most challenging expedition?
Definitely Mt. Makalu. It took me four attempts to finally summit that mountain but it taught me more than any other mountain. I call it my "university" phase because as my friends enrolled into four-year graduation courses to complete their education, I was stuck to climb this mountain where I was constantly failing due to various reasons. "University of Makalu", as I call it, was definitely one of the most challenging and the most humbling experiences of my life, which not only made me a better mountaineer, but also made me a man who was ready to accept failures and learn from them.
[Q] As a mountaineer, what are the three things you never venture into any expedition without?
My mountaineering gear, a detailed map of the topography and blessings from my parents who are my motivation to come back safe everytime I head towards such risky adventures.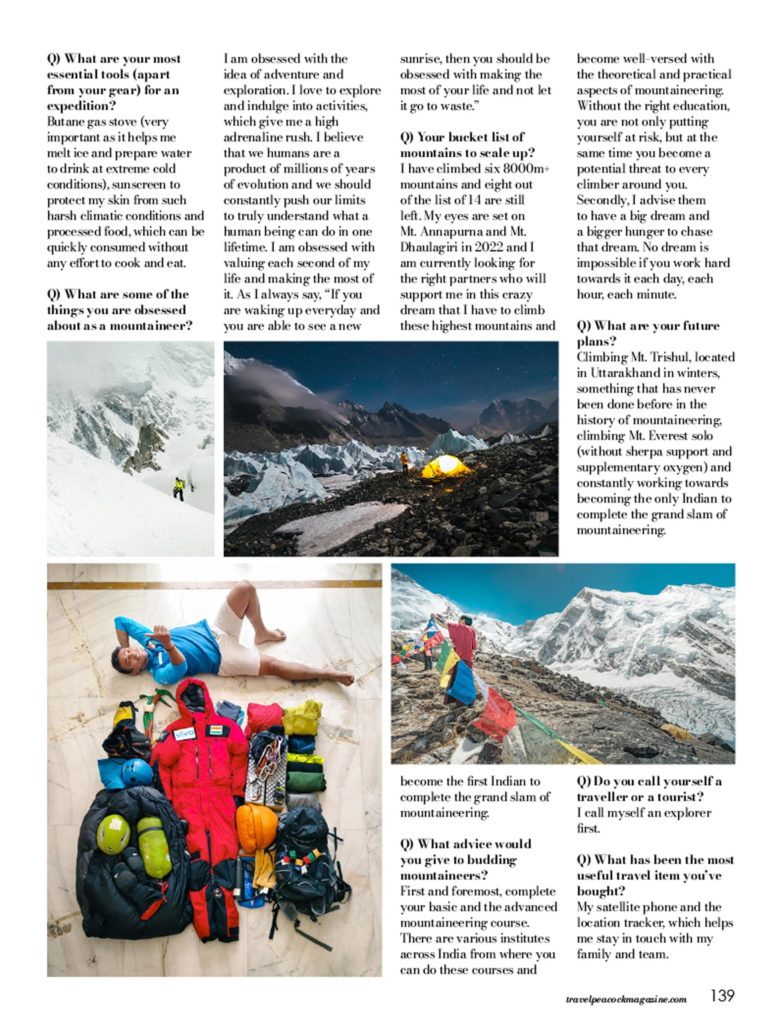 [Q] What are your most essential tools (apart from your gear) for an expedition?
Butane gas stove (very important as it helps me melt ice and prepare water to drink at extreme cold conditions), sunscreen to protect my skin from such harsh climatic conditions and processed food, which can be quickly consumed without any effort to cook and eat.
[Q] What are some of the things you are obsessed about as a mountaineer?
I am obsessed with the idea of adventure and exploration. I love to explore and indulge into activities, which give me a high adrenaline rush. I believe that we humans are a product of millions of years of evolution and we should constantly push our limits to truly understand what a human being can do in one lifetime. I am obsessed with valuing each second of my life and making the most of it. As I always say, "If you are waking up everyday and you are able to see a new sunrise, then you should be obsessed with making the most of your life and not let it go to waste."
[Q] Your bucket list of mountains to scale up?
I have climbed six 8000m+ mountains and eight out of the list of 14 are still left. My eyes are set on Mt. Annapurna and Mt. Dhaulagiri in 2022 and I am currently looking for the right partners who will support me in this crazy dream that I have to climb these highest mountains and become the first Indian to complete the grand slam of mountaineering.
[Q] What advice would you give to budding mountaineers?
First and foremost, complete your basic and the advanced mountaineering course. There are various institutes across India from where you can do these courses and become well-versed with the theoretical and practical aspects of mountaineering. Without the right education, you are not only putting yourself at risk, but at the same time you become a potential threat to every climber around you. Secondly, I advise them to have a big dream and a bigger hunger to chase that dream. No dream is impossible if you work hard towards it each day, each hour, each minute.
[Q] What are your future plans?
Climbing Mt. Trishul, located in Uttarakhand in winters, something that has never been done before in the history of mountaineering, climbing Mt. Everest solo (without sherpa support and supplementary oxygen) and constantly working towards becoming the only Indian to complete the grand slam of mountaineering.
[Q] Do you call yourself a traveller or a tourist?
I call myself an explorer first.
[Q] What kind of packer are you — light or heavy-duty?
I am a smart packer, I research about the circumstances I might face during my journey and prepare myself accordingly. However, Mother Nature always has ways to surprise you when you are attempting to do something which has never been done before.
[Q] What are your travel essentials?
A sunscreen is always a must and good music always keeps me in the good spirit!
[Q] How many gadgets do you carry while travelling?
I carry a satellite phone, which helps me stay connected to my family and my team managing the expedition from Kathmandu/Delhi, my phone which has all the good music, my camera which helps me document my journey and a compass, which helps us navigate through different glaciers and unknown valleys in the Himalayas.
[Q] What has been the most useful travel item you've bought?
My satellite phone and the location tracker, which helps me stay in touch with my family and team.