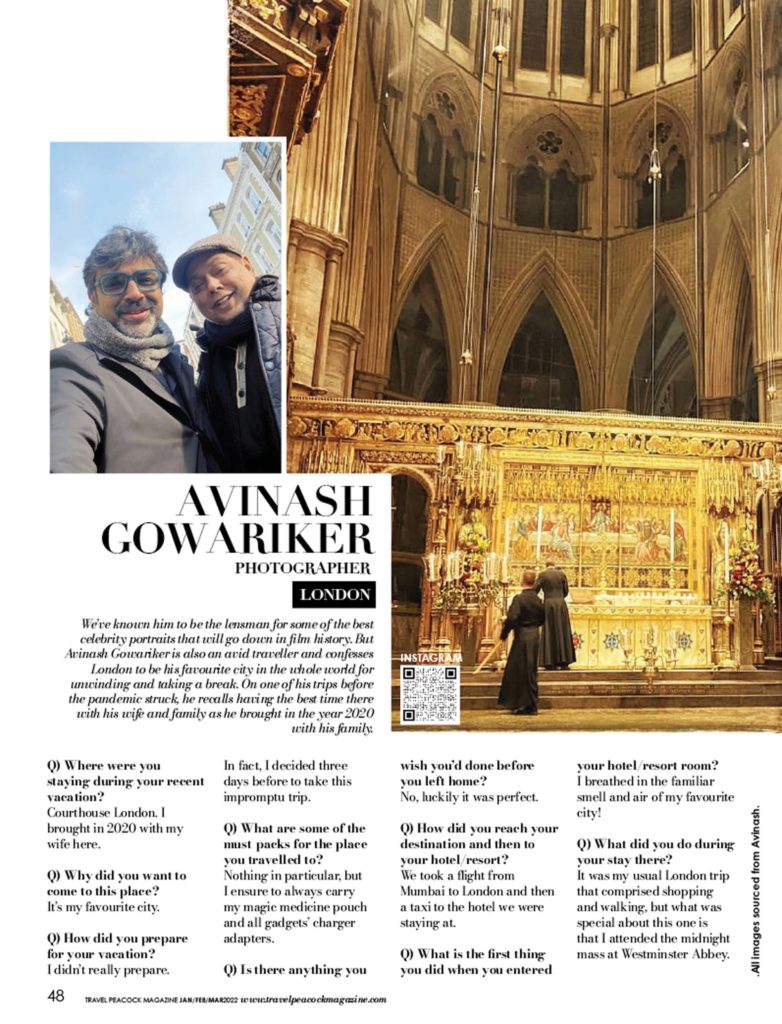 CREDITS – All images sourced from Avinash

We've known him to be the lensman for some of the best celebrity portraits that will go down in film history. But Avinash Gowariker is also an avid traveller and confesses London to be his favourite city in the whole world for unwinding and taking a break. On one of his trips before the pandemic struck, he recalls having the best time there with his wife and family as he brought in the year 2020 with his family.

[Q] Where were you staying during your recent vacation?
Courthouse London. I brought in 2020 with my wife here.
[Q] Why did you want to come to this place?
It's my favourite city.
[Q] How did you prepare for your vacation?
I didn't really prepare. In fact, I decided three days before to take this impromptu trip.
[Q] What are some of the must-packs for the place you travelled to?
Nothing in particular, but I ensure to always carry my magic medicine pouch and all gadgets' charger adapters.
[Q] Is there anything you wish you'd done before you left home?
No, luckily it was perfect.
[Q] How did you reach your destination and then to your hotel/resort?
We took a flight from Mumbai to London and then a taxi to the hotel we were staying at.
[Q] What is the first thing you did when you entered your hotel/resort room?
I breathed in the familiar smell and air of my favourite city!
[Q] What did you do during your stay there?
It was my usual London trip that comprised shopping and walking, but what was special about this one is that I attended the midnight mass at Westminster Abbey.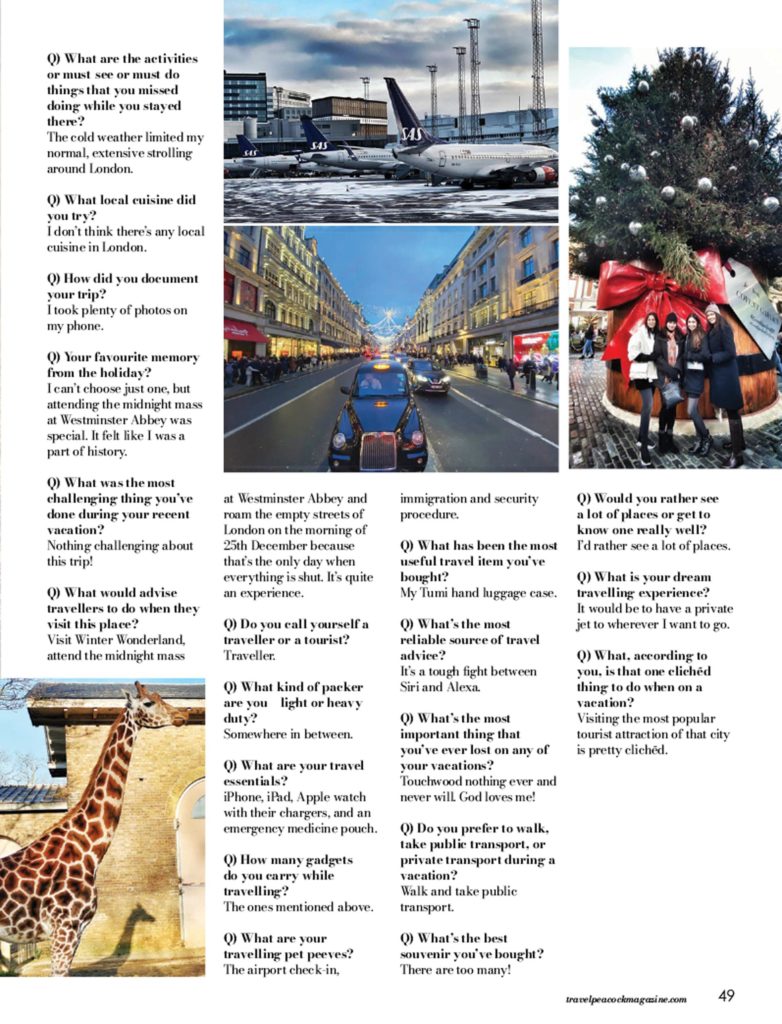 [Q] What are the activities or must-see or must-do things that you missed doing while you stayed there?
The cold weather limited my normal, extensive strolling around London.
[Q] What local cuisine did you try?
I don't think there's any local cuisine in London.
[Q] How did you document your trip?
I took plenty of photos on my phone.
[Q] Your favourite memory from the holiday?
I can't choose just one, but attending the midnight mass at Westminster Abbey was special. It felt like I was a part of history.
[Q] What was the most challenging thing you've done during your recent vacation?
Nothing challenging about this trip!
[Q] What would advise travellers to do when they visit this place?
Visit Winter Wonderland, attend the midnight mass at Westminster Abbey and roam the empty streets of London on the morning of 25th December because that's the only day when everything is shut. It's quite an experience.
[Q] Do you call yourself a traveller or a tourist?
Traveller.
[Q] What kind of packer are you — light or heavy-duty?
Somewhere in between.
[Q] What are your travel essentials?
iPhone, iPad, Apple watch with their chargers, and an emergency medicine pouch.
[Q] How many gadgets do you carry while travelling?
The ones mentioned above.
[Q] What are your travelling pet peeves?
The airport check-in, immigration and security procedure.
[Q] What has been the most useful travel item you've bought?
My Tumi hand luggage case.
[Q] What's the most reliable source of travel advice?
It's a tough fight between Siri and Alexa.
[Q] What's the most important thing that you've ever lost on any of your vacations?
Touchwood nothing ever and never will. God loves me!
[Q] Do you prefer to walk, take public transport, or private transport during a vacation?
Walk and take public transport.
[Q] What's the best souvenir you've bought?
There are too many!
[Q] Would you rather see a lot of places or get to know one really well?
I'd rather see a lot of places.
[Q] What is your dream travelling experience?
It would be to have a private jet to wherever I want to go.
[Q] What, according to you, is that one clichéd thing to do when on a vacation?
Visiting the most popular tourist attraction of that city is pretty clichéd.




Add to favorites