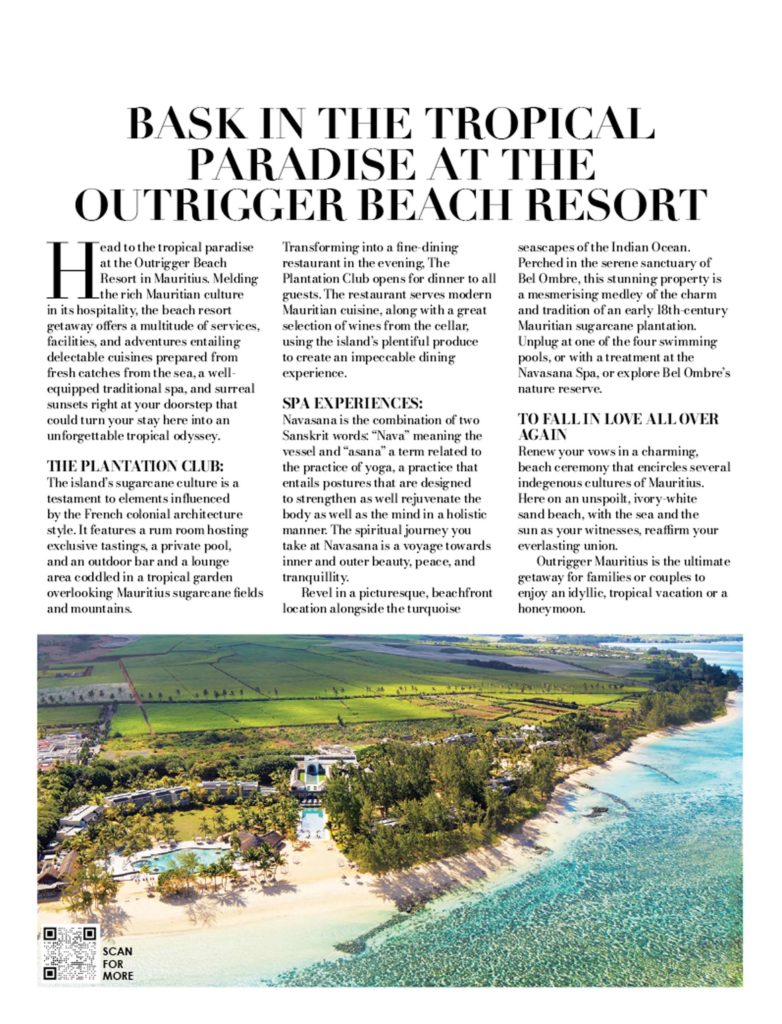 Head to the tropical paradise at the Outrigger Beach Resort in Mauritius. Melding the rich Mauritian culture in its hospitality, the beach resort getaway offers a multitude of services, facilities, and adventures entailing delectable cuisines prepared from fresh catches from the sea, a well-equipped traditional spa, and surreal sunsets right at your doorstep that could turn your stay here into an unforgettable tropical odyssey.

The Plantation Club:
The island's sugarcane culture is a testament to elements influenced by the French colonial architecture style. It features a rum room hosting exclusive tastings, a private pool, and an outdoor bar and a lounge area coddled in a tropical garden overlooking Mauritius sugarcane fields and mountains.
Transforming into a fine-dining restaurant in the evening, The Plantation Club opens for dinner to all guests. The restaurant serves modern Mauritian cuisine, along with a great selection of wines from the cellar, using the island's plentiful produce to create an impeccable dining experience.

SPA Experiences:
Navasana is the combination of two Sanskrit words: "Nava" meaning the vessel and "asana" a term related to the practice of yoga, a practice that entails postures that are designed to strengthen as well rejuvenate the body as well as the mind in a holistic manner. The spiritual journey you take at Navasana is a voyage towards inner and outer beauty, peace, and tranquillity.
Revel in a picturesque, beachfront location alongside the turquoise seascapes of the Indian Ocean. Perched in the serene sanctuary of Bel Ombre, this stunning property is a mesmerising medley of the charm and tradition of an early 18th-century Mauritian sugarcane plantation. Unplug at one of the four swimming pools, or with a treatment at the Navasana Spa, or explore Bel Ombre's nature reserve.

To fall in love all over again
Renew your vows in a charming, beach ceremony that encircles several indegenous cultures of Mauritius. Here on an unspoilt, ivory-white sand beach, with the sea and the sun as your witnesses, reaffirm your everlasting union.
Outrigger Mauritius is the ultimate getaway for families or couples to enjoy an idyllic, tropical vacation or a honeymoon.