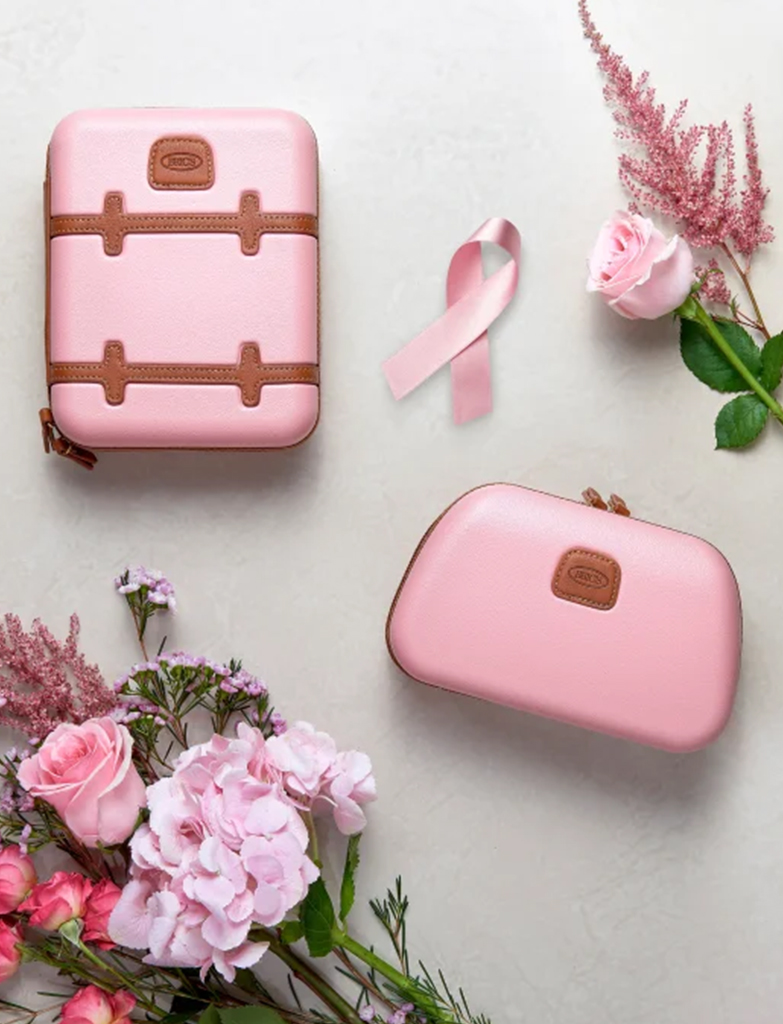 Travelling in luxury and leisure is the dream of every globe-trotter and flying first class is an escapade like no other. And part of the experience includes the luxurious amenities offered by the airlines. One of the most exciting perks of first-class travel is getting access to the exclusive amenity kits which include an array of high-end products and designer travel accessories. These deluxe kits or 'amenity bags' as they are often referred to, add an element of extravagance to your journey whilst making it comfortable. From bespoke skincare products and accessories to designer brands, these kits reflect the sheer commitment of the airlines to providing their passengers with world-class leisurely travel experiences. In our special travel-hacks blog, we will take you on a visual – unpacking session involving some of the opulent first-class amenity kits offered by some of the top-notch airline services in the world. So, buckle up and brace yourselves for a fancy air time as we list out some of the swankiest, first-class amenity kits offered by these 5 airlines.


LUFTHANSA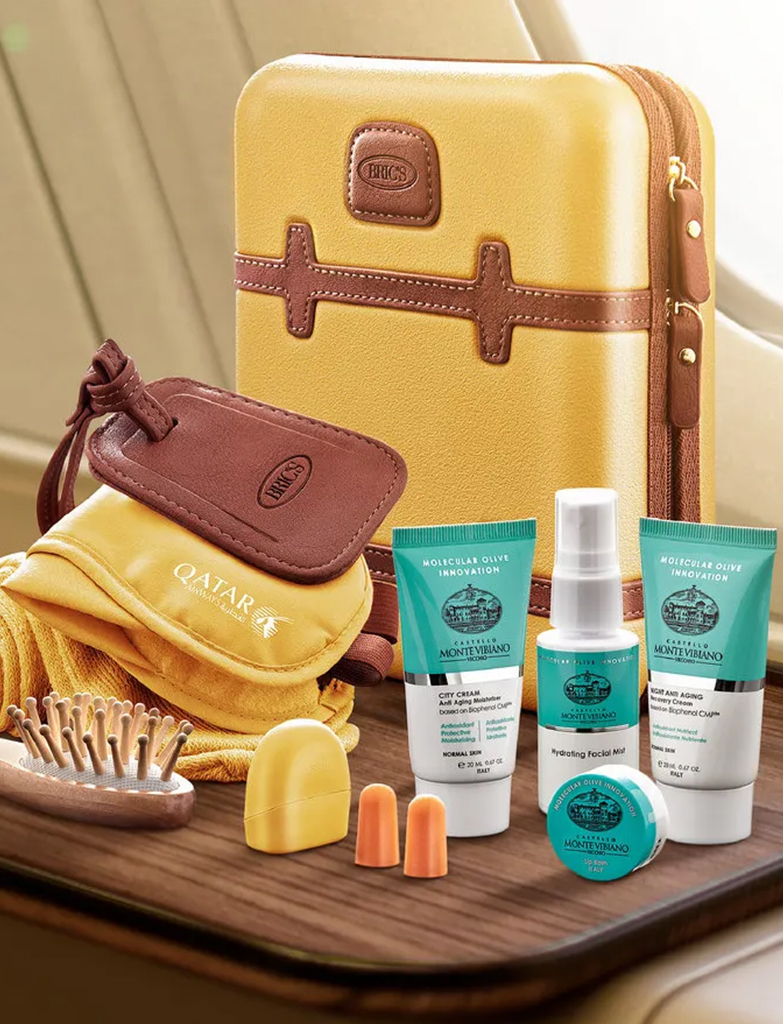 Credits- https://travelprnews.com

The airline offers a high-quality and practical amenity kit to enhance passengers' inflight experience. The high-durability amenity kit comes in a sleek, contemporary case that is designed to be multifunctional and can be used as a travel organizer and is available in various tones, such as black, navy and grey, all made from recycled leather. Inside the amenity kit, passengers can find a range of products from the German skincare brand La Prairie. The kit includes lip balm, hand cream, and eye cream, which are perfect for keeping the skin hydrated during the flight. 


ALL NIPPON AIRLINES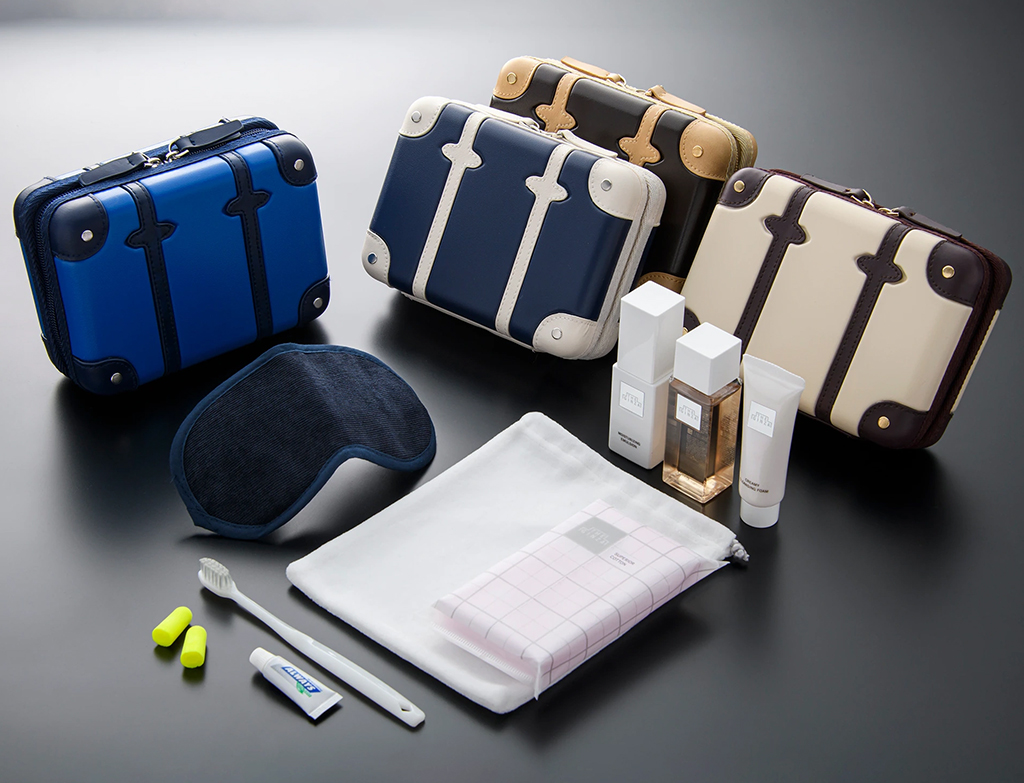 Credits- https://www.ana.co.jp

The ANA(All Nippon Airlines) first pamper their first-class passengers with a lovely set of eco-friendly knitted loungewear and matching grey slippers. Then, come all the comfy offerings including, a down comforter with a 100% pure Egyptian cotton cover, and a high-quality, Hungarian cotton pillow. Each amenity bag possesses a vintage, hard-shell leather suitcase made by premium luggage brand Globe-Trotter, and it comes in one of five colours that keep on changing throughout the year. The luxe pouch also inhibits some of the best skincare products from Ginza – a creamy cleanser, night cream, and day cream.


BRITISH AIRWAYS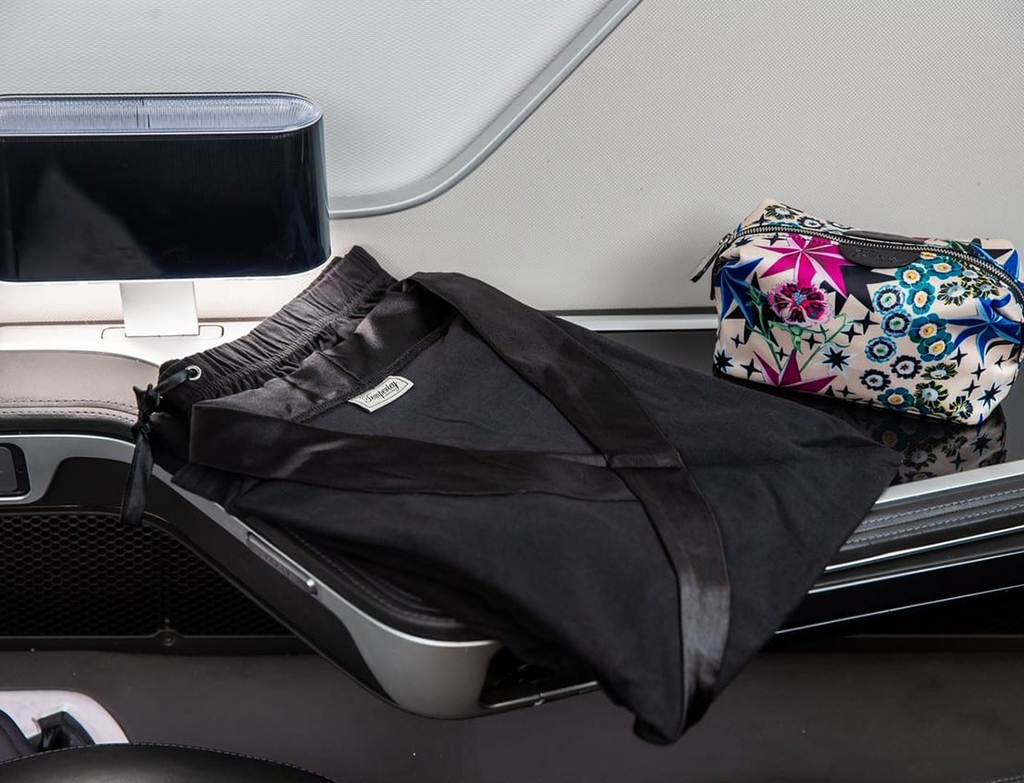 Credits- www.godsavethepoints.com

British Airways for their first-class travellers have come up with elegant and sophisticated cerulean-blue loungewear from the British high-fashion brand – Temperley London. Along with the super comfy PJs, they also offer a fabulous and fancy amenities bag. Inside every amenity kit,  there exist an exclusive array of skincare offerings from luxury brand ELEMIS, including an anti-ageing serum, eye balm, mist, lip balm, and a cleansing and rehydrating face wipe as we need all that moisture and we all know how long hours of flight can make our skin feel!


EMIRATES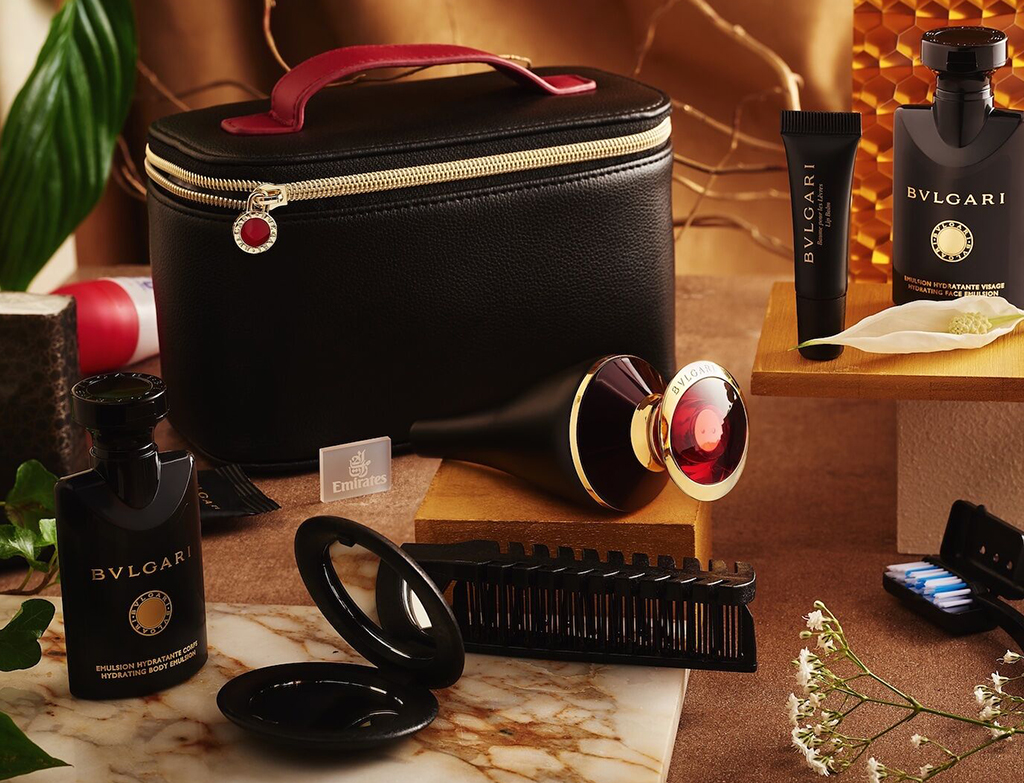 Credits- https://matadornetwork.com

This luxurious airline has a well-earned reputation for all the swanky offerings they shower their fliers with, but nothing tops the fancy amenity kits featuring BVLGARI's exquisite Le Gemme collection and Emirates-exclusive BYREDO skincare. The amenity bag also flaunts a pair of noise-cancelling Bowers & Wilkins E1 headphones. The exquisite skincare collection by BYREDO hydrates and soothes dehydrated skin with vitamins, amino acids, and chamomile extracts. Apart from skincare, the bag also includes the most enticing fragrances –  Rubinia eau de parfum(female), which exudes a mild, amber fragrance and for males, the brand picks out Tygar eau de parfum, which is a masculine citrus boost with notes of mush and vetiver.


DELTA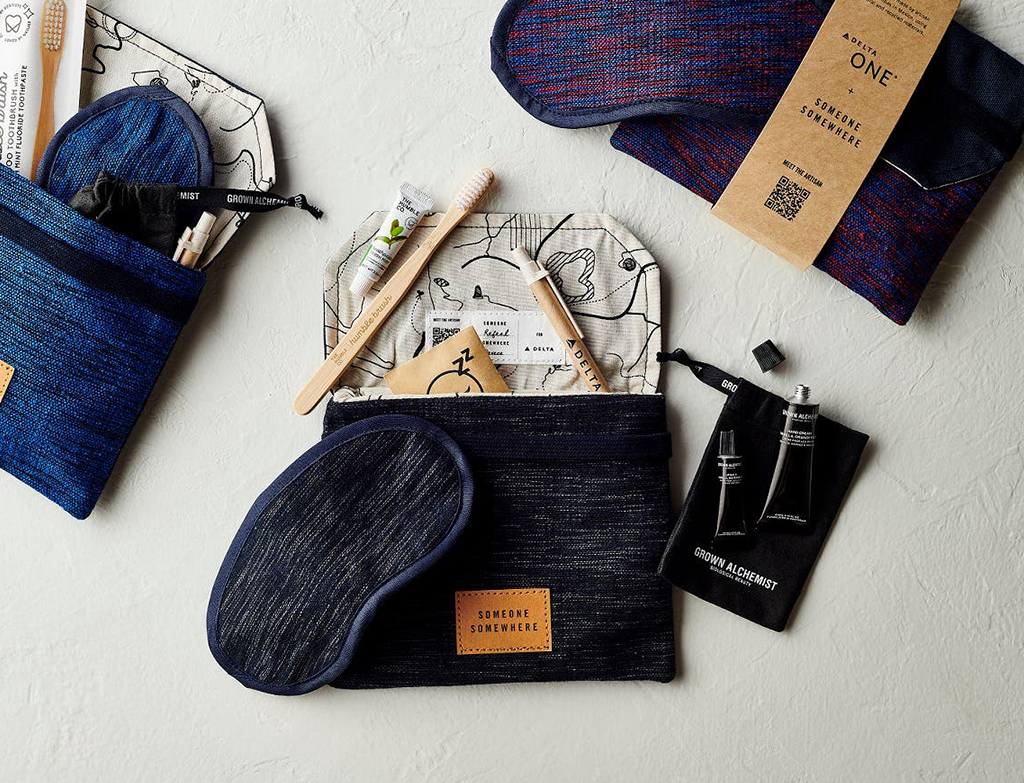 Credits- https://thedesignair.net

Delta airlines have created a splendid collaboration with Someone Somewhere – an artisanal brand from Mexico, that specializes in providing handmade and sustainable, first-class amenity kits. Each amenity bag is made with the tedious work of skilled Mexican artisans, and passengers can scan a QR code on the bag's seal to learn more about the artist who created their kit. Inside the amenity bag, first-class fliers will find a handmade eye mask, ear plugs, a bamboo toothbrush and mint toothpaste from The Humble Co, along with a lip balm and hand cream from an organic and eco-friendly beauty brand called the Grown Alchemist.  Delta's other plush amenities include a memory foam pillow, noise-cancelling headsets, and a super-soft blanket made from recycled materials.




Add to favorites