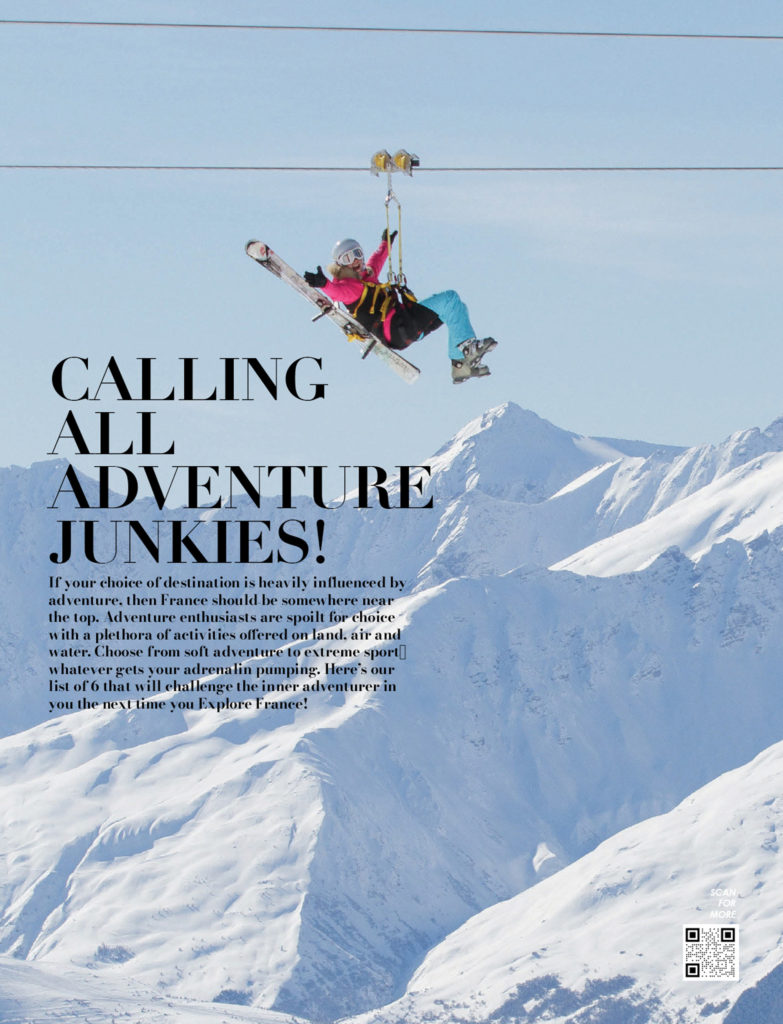 Calling… All Adventure Junkies
If your choice of destination is heavily influenced by adventure, then France should be somewhere near the top. Adventure enthusiasts are spoilt for choice with a plethora of activities offered on land, air and water. Choose from soft adventure to extreme sport… whatever gets your adrenalin pumping. Here's our list of 6 that will challenge the inner adventurer in you the next time you Explore France!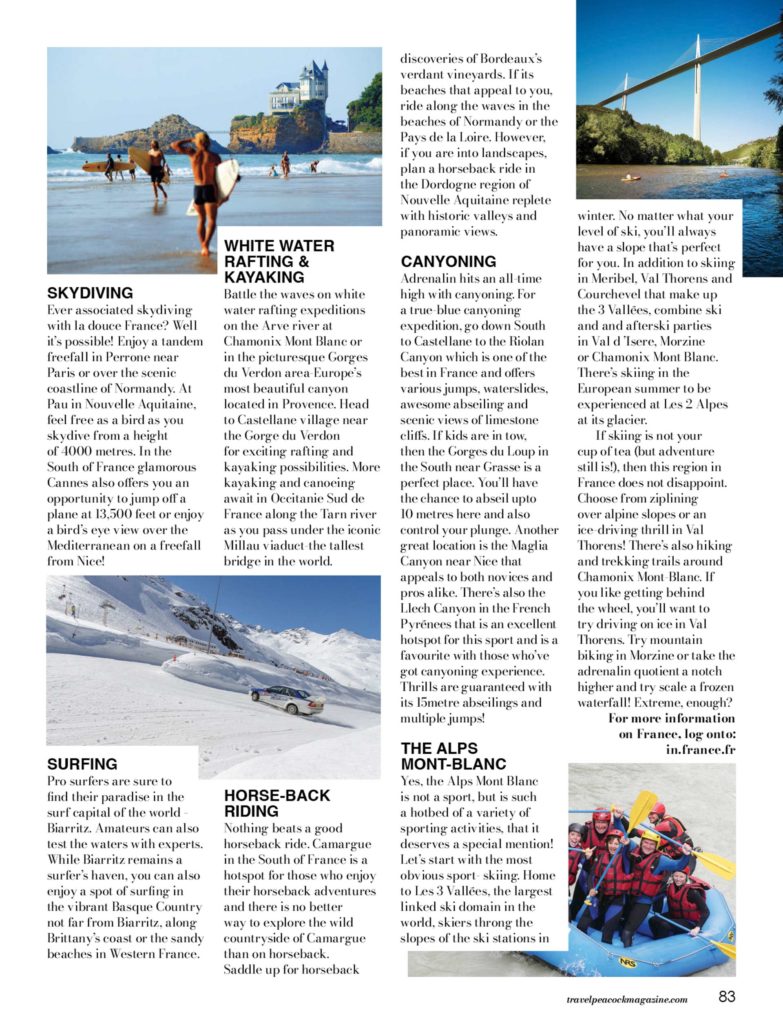 Skydiving
Ever associated skydiving with la douce France? Well it's possible! Enjoy a tandem freefall in Perrone near Paris or over the scenic coastline of Normandy. At Pau in Nouvelle Aquitaine, feel free as a bird as you skydive from a height of 4000 metres. In the South of France glamorous Cannes also offers you an opportunity to jump off a plane at 13,500 feet or enjoy a bird's eye view over the Mediterranean on a freefall from Nice!
Surfing
Pro surfers are sure to find their paradise in the surf capital of the world – Biarritz. Amateurs can also test the waters with experts. While Biarritz remains a surfer's haven, you can also enjoy a spot of surfing in the vibrant Basque Country not far from Biarritz, along Brittany's coast or the sandy beaches in Western France.
White Water Rafting & Kayaking
Battle the waves on white water rafting expeditions on the Arve river at Chamonix Mont Blanc or in the picturesque Gorges du Verdon area-Europe's most beautiful canyon located in Provence. Head to Castellane village near the Gorge du Verdon for exciting rafting and kayaking possibilities. More kayaking and canoeing await in Occitanie Sud de France along the Tarn river as you pass under the iconic Millau viaduct-the tallest bridge in the world.
Horse-Back Riding
Nothing beats a good horseback ride. Camargue in the South of France is a hotspot for those who enjoy their horseback adventures and there is no better way to explore the wild countryside of Camargue than on horseback. Saddle up for horseback discoveries of Bordeaux's verdant vineyards. If its beaches that appeal to you, ride along the waves in the beaches of Normandy or the Pays de la Loire. However, if you are into landscapes, plan a horseback ride in the Dordogne region of Nouvelle Aquitaine replete with historic valleys and panoramic views.
Canyoning
Adrenalin hits an all-time high with canyoning. For a true-blue canyoning expedition, go down South to Castellane to the Riolan Canyon which is one of the best in France and offers various jumps, waterslides, awesome abseiling and scenic views of limestone cliffs. If kids are in tow, then the Gorges du Loup in the South near Grasse is a perfect place. You'll have the chance to abseil upto 10 metres here and also control your plunge. Another great location is the Maglia Canyon near Nice that appeals to both novices and pros alike. There's also the Llech Canyon in the French Pyrénees that is an excellent hotspot for this sport and is a favourite with those who've got canyoning experience. Thrills are guaranteed with its 15metre abseilings and multiple jumps!
The Alps Mont-Blanc
Yes, the Alps Mont Blanc is not a sport, but is such a hotbed of a variety of sporting activities, that it deserves a special mention! Let's start with the most obvious sport- skiing. Home to Les 3 Vallées, the largest linked ski domain in the world, skiers throng the slopes of the ski stations in winter. No matter what your level of ski, you'll always have a slope that's perfect for you. In addition to skiing in Meribel, Val Thorens and Courchevel that make up the 3 Vallées, combine ski and and afterski parties in Val d 'Isere, Morzine or Chamonix Mont Blanc. There's skiing in the European summer to be experienced at Les 2 Alpes at its glacier.
If skiing is not your cup of tea (but adventure still is!), then this region in France does not disappoint. Choose from ziplining over alpine slopes or an ice-driving thrill in Val Thorens! There's also hiking and trekking trails around Chamonix Mont-Blanc. If you like getting behind the wheel, you'll want to try driving on ice in Val Thorens. Try mountain biking in Morzine or take the adrenalin quotient a notch higher and try scale a frozen waterfall! Extreme, enough?
For more information on France, log onto: in.france.fr