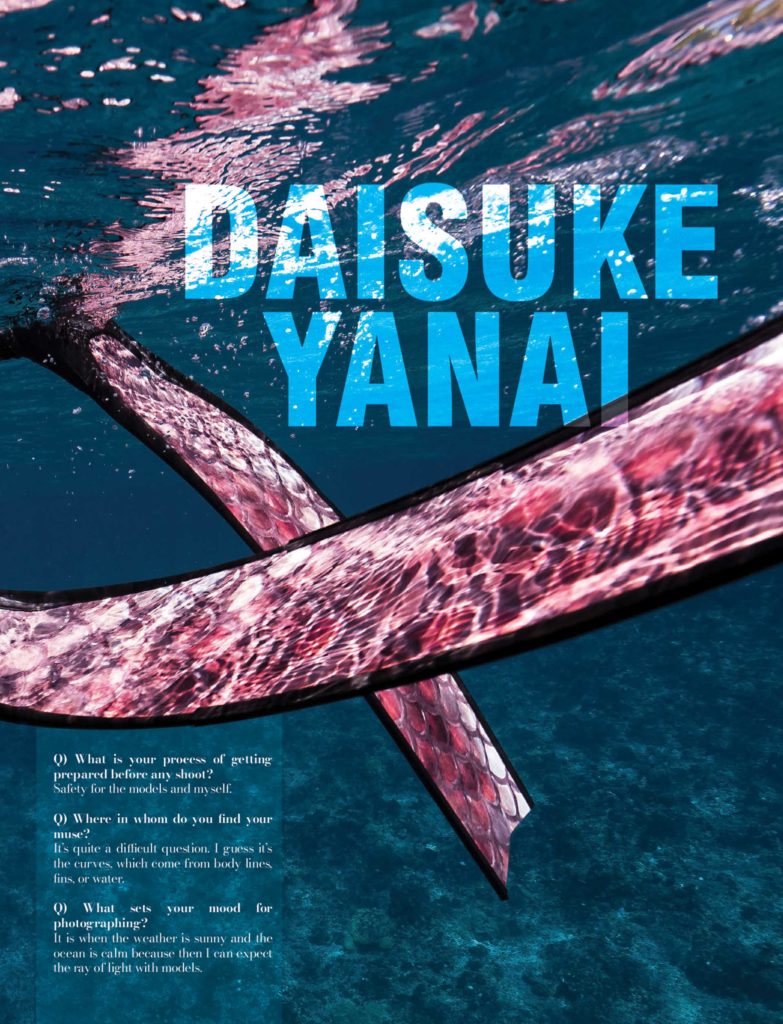 DAISUKE YANAI – UNDERWATER PHOTOGRAPHER
Credits – All images sourced from the artist.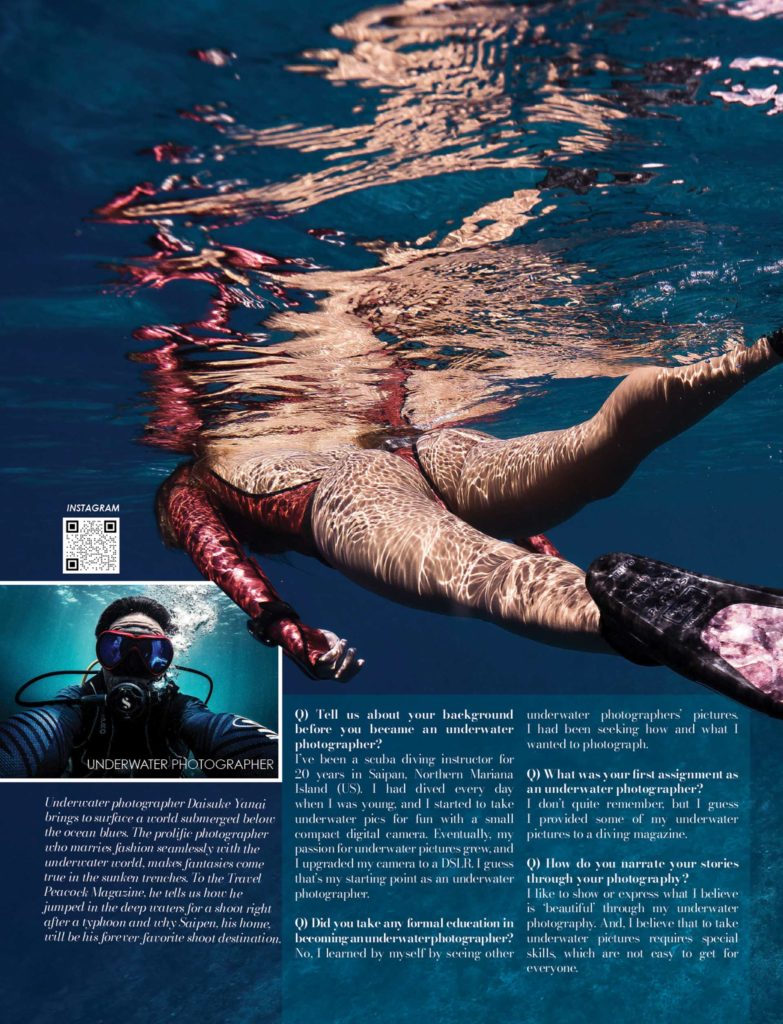 Underwater photographer Daisuke Yanai brings to surface a world submerged below the ocean blues. The prolific photographer who marries fashion seamlessly with the underwater world, makes fantasies come true in the sunken trenches. To the Travel Peacock Magazine, he tells us how he jumped in the deep waters for a shoot right after a typhoon and why Saipen, his home, will be his forever-favorite shoot destination.
[Q] Tell us about your background before you became an underwater photographer?
I've been a scuba diving instructor for 20 years in Saipan, Northern Mariana Island (US). I had dived every day when I was young, and I started to take underwater pics for fun with a small compact digital camera. Eventually, my passion for underwater pictures grew, and I upgraded my camera to a DSLR. I guess that's my starting point as an underwater photographer.
[Q] Did you take any formal education in becoming an underwater photographer?
No, I learned by myself by seeing other underwater photographers' pictures. I had been seeking how and what I wanted to photograph.
[Q] What was your first assignment as an underwater photographer?
I don't quite remember, but I guess I provided some of my underwater pictures to a diving magazine.
[Q] How do you narrate your stories through your photography?
I like to show or express what I believe is 'beautiful' through my underwater photography. And, I believe that to take underwater pictures requires special skills, which are not easy to get for everyone.
[Q] What is your process of getting prepared before any shoot?
Safety for the models and myself.
[Q] Where/in whom do you find your muse?
It's quite a difficult question. I guess it's the curves, which come from body lines, fins, or water.
[Q] What sets your mood for photographing?
It is when the weather is sunny and the ocean is calm because then I can expect the ray of light with models.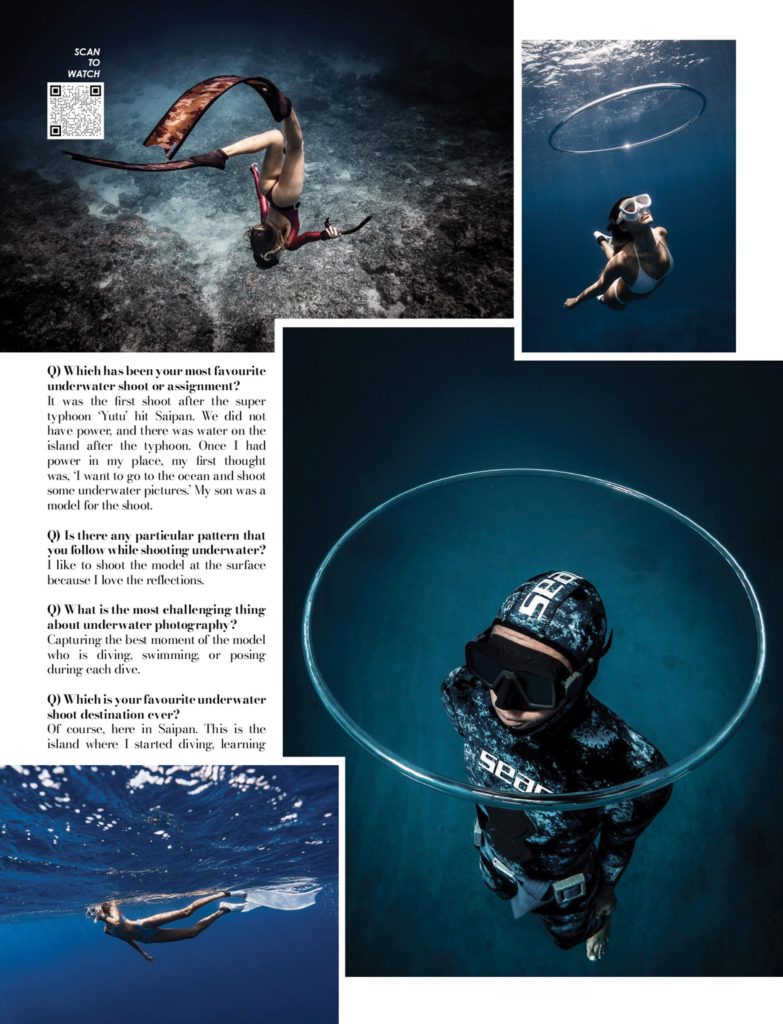 [Q] Which has been your most favourite underwater shoot or assignment?
It was the first shoot after the super typhoon 'Yutu' hit Saipan. We did not have power, and there was water on the island after the typhoon. Once I had power in my place, my first thought was, 'I want to go to the ocean and shoot some underwater pictures.' My son was a model for the shoot.
[Q] Is there any particular pattern that you follow while shooting underwater?
I like to shoot the model at the surface because I love the reflections.
[Q] What is the most challenging thing about underwater photography?
Capturing the best moment of the model who is diving, swimming, or posing during each dive.
[Q] Which is your favourite underwater shoot destination ever?
Of course, here in Saipan. This is the island where I started diving, learning photography and taking most of my pictures. And, I really love the colour and the clear waters here.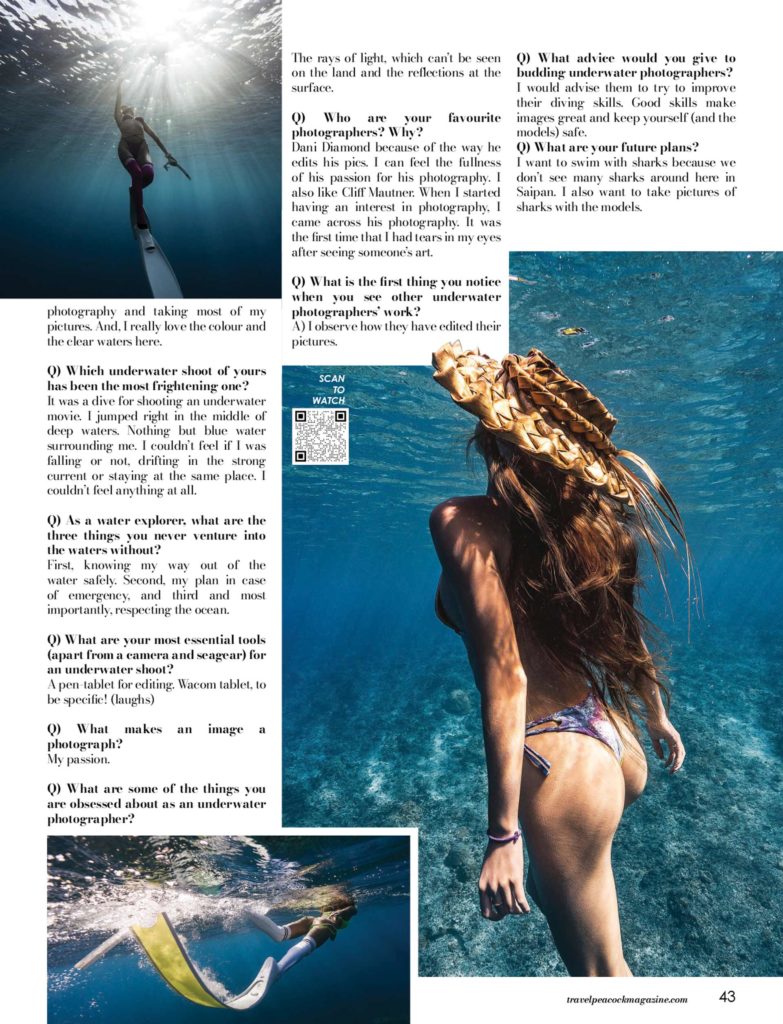 [Q] Which underwater shoot of yours has been the most frightening one?
It was a dive for shooting an underwater movie. I jumped right in the middle of deep waters. Nothing but blue water surrounding me. I couldn't feel if I was falling or not, drifting in the strong current or staying at the same place. I couldn't feel anything at all.
[Q] As a water explorer, what are the three things you never venture into the waters without?
First, knowing my way out of the water safely. Second, my plan in case of emergency, and third and most importantly, respecting the ocean.
[Q] What are your most essential tools (apart from a camera and seagear) for an underwater shoot?
A pen-tablet for editing. Wacom tablet, to be specific! (laughs)
[Q] What makes an image a photograph?
My passion.
[Q] What are some of the things you are obsessed about as an underwater photographer?
The rays of light, which can't be seen on the land and the reflections at the surface.
[Q] Who are your favourite photographers? Why?
Dani Diamond because of the way he edits his pics. I can feel the fullness of his passion for his photography. I also like Cliff Mautner. When I started having an interest in photography, I came across his photography. It was the first time that I had tears in my eyes after seeing someone's art.
[Q] What is the first thing you notice when you see other underwater photographers' work?
A) I observe how they have edited their pictures.
[Q] What advice would you give to budding underwater photographers?
I would advise them to try to improve their diving skills. Good skills make images great and keep yourself (and the models) safe.
[Q] What are your future plans?
I want to swim with sharks because we don't see many sharks around here in Saipan. I also want to take pictures of sharks with the models.