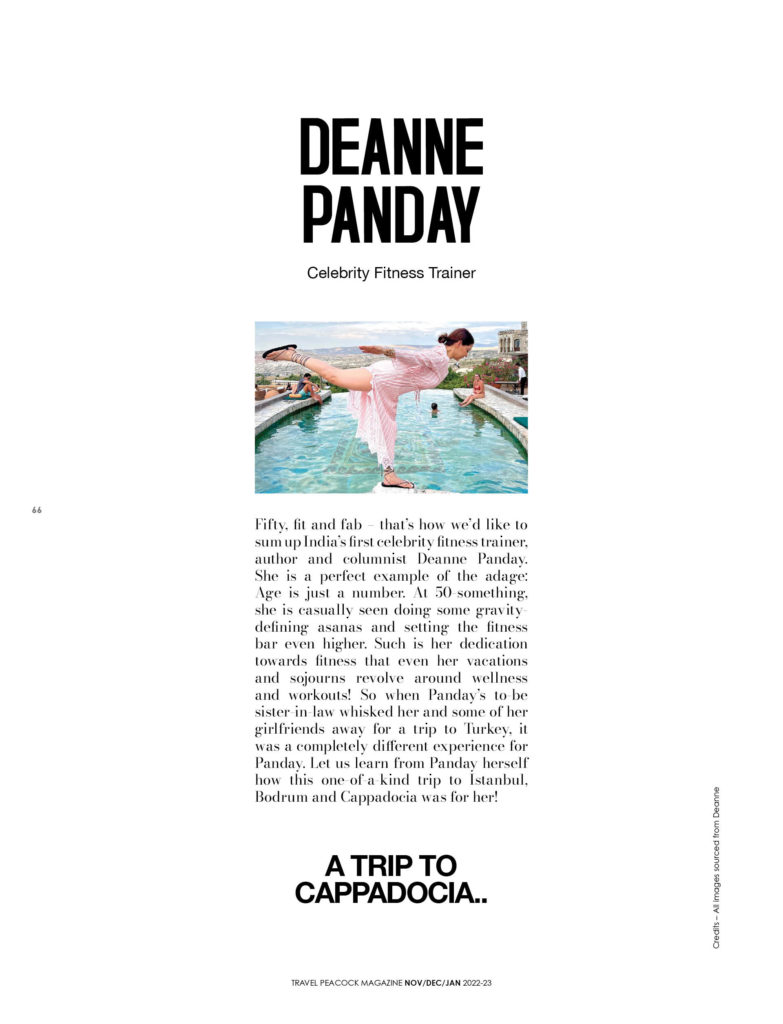 Fifty, fit and fab — that's how we'd like to sum up India's first celebrity fitness trainer, author and columnist Deanne Panday. She is a perfect example of the adage: Age is just a number. At 50-something, she is casually seen doing some gravity-defining asanas and setting the fitness bar even higher. Such is her dedication towards fitness that even her vacations and sojourns revolve around wellness and workouts! So when Panday's to-be sister-in-law whisked her and some of her girlfriends away for a trip to Turkey, it was a completely different experience for Panday. Let us learn from Panday herself how this one-of-a-kind trip to Istanbul, Bodrum and Cappadocia was for her!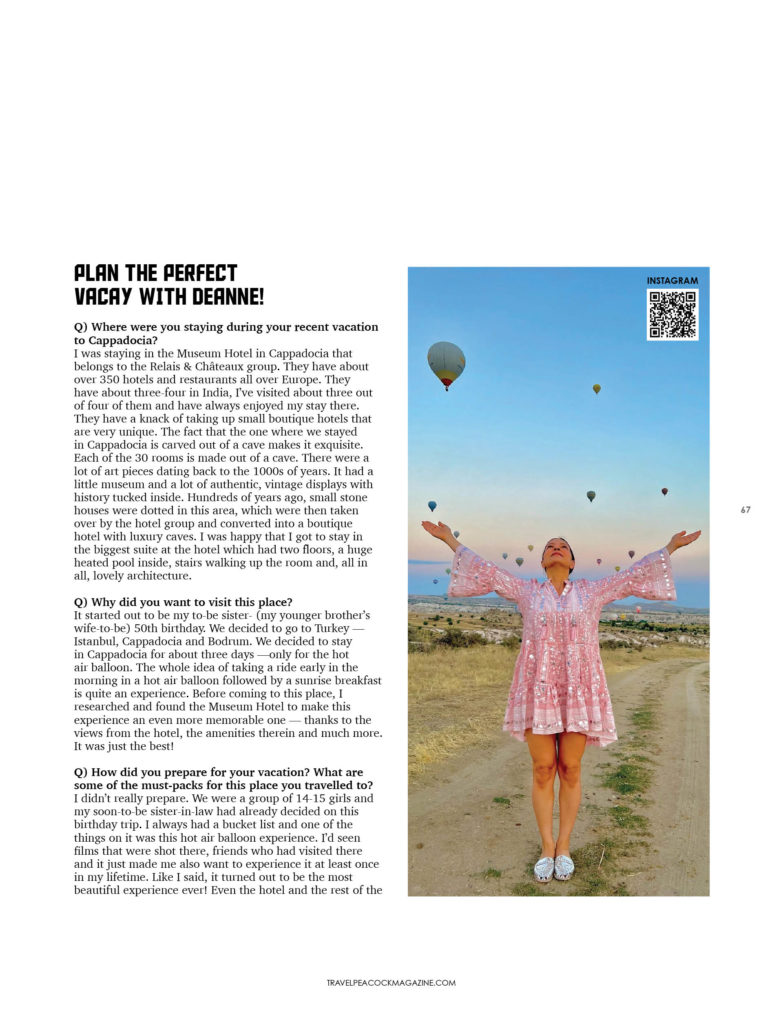 Q) Where were you staying during your recent vacation to Cappadocia?
I was staying in the Museum Hotel in Cappadocia that belongs to the Relais & Châteaux group. They have about over 350 hotels and restaurants all over Europe. They have about three-four in India, I've visited about three out of four of them and have always enjoyed my stay there. They have a knack of taking up small boutique hotels that are very unique. The fact that the one where we stayed in Cappadocia is carved out of a cave makes it exquisite. Each of the 30 rooms is made out of a cave. There were a lot of art pieces dating back to the 1000s of years. It had a little museum and a lot of authentic, vintage displays with history tucked inside. Hundreds of years ago, small stone houses were dotted in this area, which were then taken over by the hotel group and converted into a boutique hotel with luxury caves. I was happy that I got to stay in the biggest suite at the hotel which had two floors, a huge heated pool inside, stairs walking up the room and, all in all, lovely architecture.
Q) Why did you want to visit this place?
It started out to be my to-be sister- (my younger brother's wife-to-be) 50th birthday. We decided to go to Turkey — Istanbul, Cappadocia and Bodrum. We decided to stay in Cappadocia for about three days —only for the hot air balloon. The whole idea of taking a ride early in the morning in a hot air balloon followed by a sunrise breakfast is quite an experience. Before coming to this place, I researched and found the Museum Hotel to make this experience an even more memorable one — thanks to the views from the hotel, the amenities therein and much more. It was just the best!
Q) How did you prepare for your vacation? What are some of the must-packs for this place you travelled to?
I didn't really prepare. We were a group of 14-15 girls and my soon-to-be sister-in-law had already decided on this birthday trip. I always had a bucket list and one of the things on it was this hot air balloon experience. I'd seen films that were shot there, friends who had visited there and it just made me also want to experience it at least once in my lifetime. Like I said, it turned out to be the most beautiful experience ever! Even the hotel and the rest of the city turned out to be phenomenal.
I carried a lot of flowy, maxi dresses. The weather is quite hot so I carried thin, linen, cotton clothes and cute flip-flops as you can't wear heels because you have to walk around a lot, especially if you're going for a trek in the valleys or to the market. I also carried a lot of jewellery as I like wearing chains, bracelets, and earrings.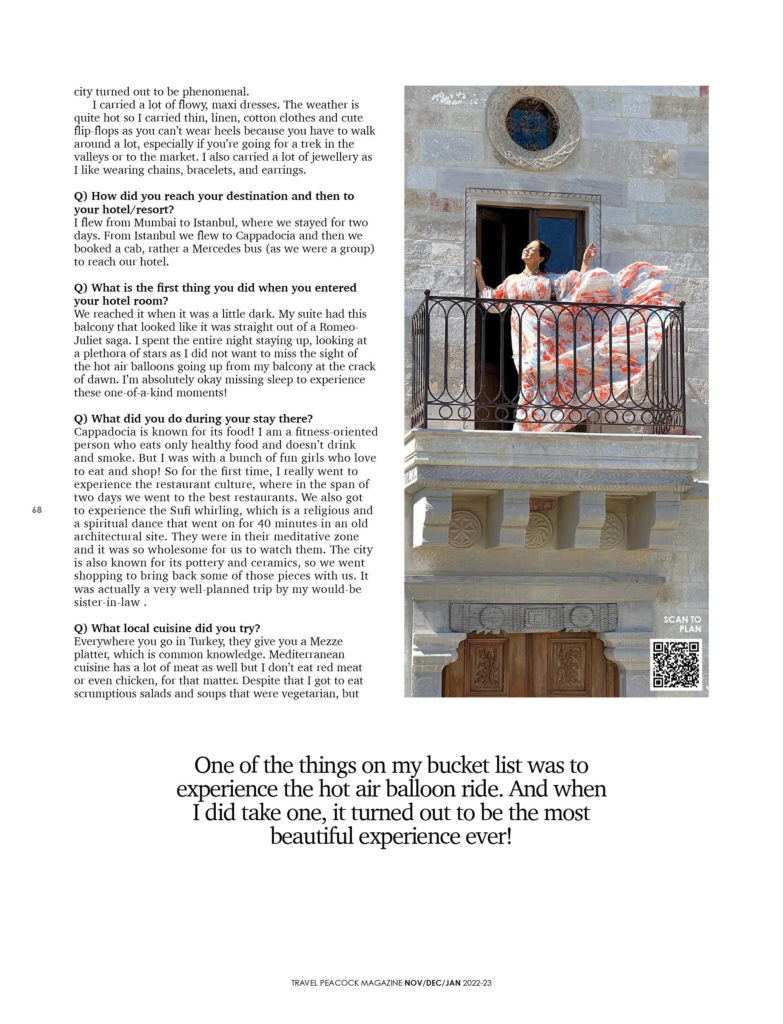 Q) How did you reach your destination and then to your hotel/resort?
I flew from Mumbai to Istanbul, where we stayed for two days. From Istanbul we flew to Cappadocia and then we booked a cab, rather a Mercedes bus (as we were a group) to reach our hotel.
Q) What is the first thing you did when you entered your hotel room?
We reached it when it was a little dark. My suite had this balcony that looked like it was straight out of a Romeo-Juliet saga. I spent the entire night staying up, looking at a plethora of stars as I did not want to miss the sight of the hot air balloons going up from my balcony at the crack of dawn. I'm absolutely okay missing sleep to experience these one-of-a-kind moments!
Q) What did you do during your stay there?
Cappadocia is known for its food! I am a fitness-oriented person who eats only healthy food and doesn't drink and smoke. But I was with a bunch of fun girls who love to eat and shop! So for the first time, I really went to experience the restaurant culture, where in the span of two days we went to the best restaurants. We also got to experience the Sufi whirling, which is a religious and a spiritual dance that went on for 40 minutes in an old architectural site. They were in their meditative zone and it was so wholesome for us to watch them. The city is also known for its pottery and ceramics, so we went shopping to bring back some of those pieces with us. It was actually a very well-planned trip by my would-be sister-in-law .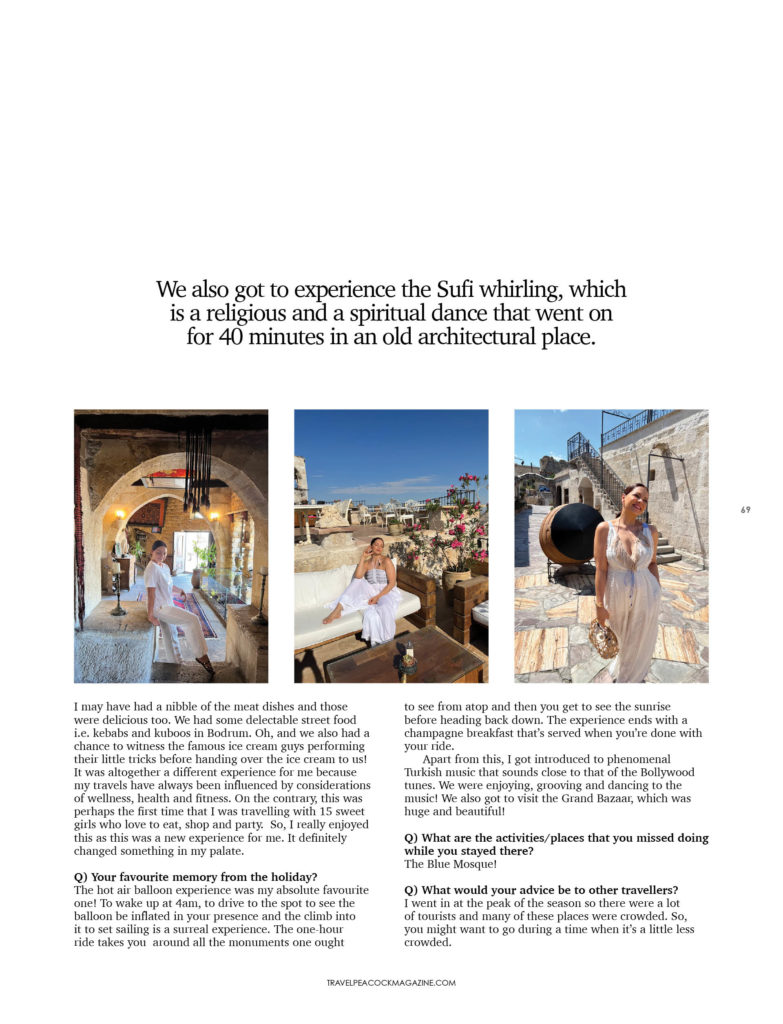 Q) What local cuisine did you try?
Everywhere you go in Turkey, they give you a Mezze platter, which is common knowledge. Mediterranean cuisine has a lot of meat as well but I don't eat red meat or even chicken, for that matter. Despite that I got to eat scrumptious salads and soups that were vegetarian, but I may have had a nibble of the meat dishes and those were delicious too. We had some delectable street food i.e. kebabs and kuboos in Bodrum. Oh, and we also had a chance to witness the famous ice cream guys performing their little tricks before handing over the ice cream to us! It was altogether a different experience for me because my travels have always been influenced by considerations of wellness, health and fitness. On the contrary, this was perhaps the first time that I was travelling with 15 sweet girls who love to eat, shop and party. So, I really enjoyed this as this was a new experience for me. It definitely changed something in my palate.
Q) Your favourite memory from the holiday?
The hot air balloon experience was my absolute favourite one! To wake up at 4am, to drive to the spot to see the balloon be inflated in your presence and the climb into it to set sailing is a surreal experience. The one-hour ride takes you around all the monuments one ought to see from atop and then you get to see the sunrise before heading back down. The experience ends with a champagne breakfast that's served when you're done with your ride.
Apart from this, I got introduced to phenomenal Turkish music that sounds close to that of the Bollywood tunes. We were enjoying, grooving and dancing to the music! We also got to visit the Grand Bazaar, which was huge and beautiful!
Q) What was the most challenging thing you've done during your recent vacation?
My holidays have always been centred around wellness, yoga, workout, spa, relaxing, etc.. It was my first holiday where I ate a lot, went out and about to explore the place, shopped, leaving me with no time to rest. While it was quite a high, I thought I needed a holiday from that holiday because I got so tired (laughs) even though I had a lot of fun. I told my girls that no matter what, I'm doing a holiday with them because they are just so much fun!
Q) What are the activities that you missed doing while you stayed there?
The Blue Mosque! When we were in Bodrum, I was supposed to fly back to Istanbul for two days to see all that I had missed but our flight got cancelled and they never gave us any other flight, so I had to fly back to Dubai and then to Mumbai.
Q) What would your advice be to other travellers?
I went in at the peak of the season so there were a lot of tourists and many of these places were crowded. So, you might want to go during a time when it's a little less crowded.