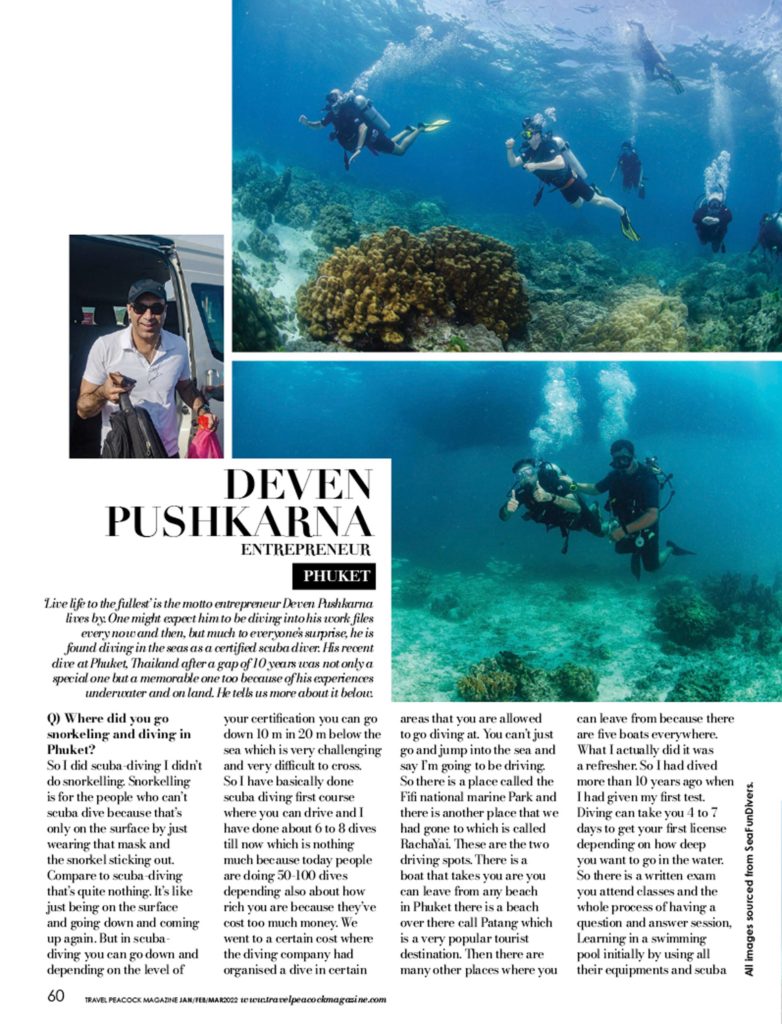 CREDITS: All images sourced from SeaFunDivers.
EDITED EXCERPTS:
'Live life to the fullest' is the motto entrepreneur Deven Pushkarna lives by. One might expect him to be diving into his work files every now and then, but much to everyone's surprise, he is found diving in the seas as a certified scuba diver. His recent dive at Phuket, Thailand after a gap of 10 years was not only a special one but a memorable one too because of his experiences underwater and on land. He tells us more about it below.
[Q] Tell us about your scuba diving experience in Phuket?
So, I had dived more than 10 years ago when I had given my first test. It takes four-seven days to get your first license depending on how deep you want to go in the water. You have to attend classes, the Q&A sessions, write an exam and then learn in the controlled environment of a swimming pool with all the equipment and scuba gear. Because I had dived years ago, I needed a refresher course to renew my license. I have the Professional Association of Diving Instructors (PADI) certificate, which is given by the agency who approves you as a diver. Depending on your level of certification, you can go deep into the waters for scuba diving. I've done six-eight dives till date and the most recent one being in Phuket. We went to this spot called RachaYai, which can be reached by boat. I then dived into the waters with my diving buddy.
[Q] What is the best time of the year to go snorkeling and diving in Phuket?
You can go at any given point of time. Just look out for the weather though. A little drizzle is fine but if you find any signs of storms, cyclones or tsunami, steer away from the shores.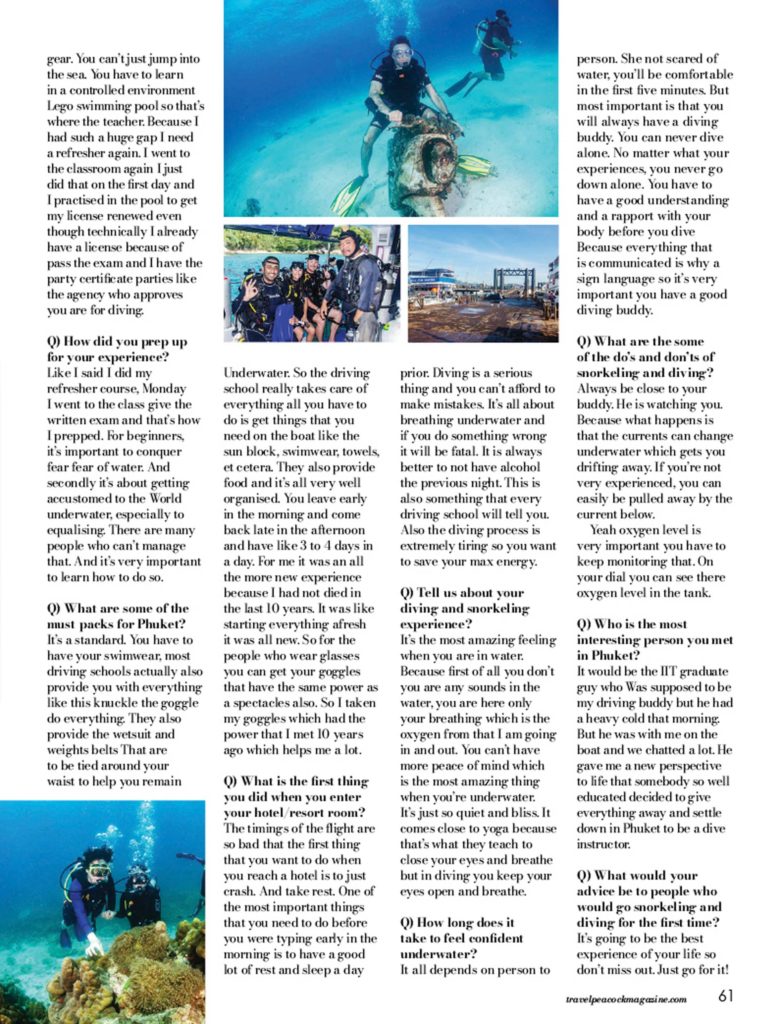 [Q] How did you prepare for your experience?
Like I said, I did my refresher course beforehand. I went to the class and gave the written exam. For beginners, it's important to conquer the fear of water. And secondly, it's necessary to get accustomed to the world underwater, especially to equalise. There are many people who can't manage that, and it's crucial to learn how to do so.
[Q] What are some of the must-packs for Phuket?
Thankfully, the diving schools provide you with almost everything you need for the dives, right from goggles to gear, wetsuit, waist weights belt, etc. All you have to do is take your swimwear, towels, sunblock and all other things that you might feel is necessary. Pro-tip: If you wear spectacles, then it is advisable to get your goggles made with lenses that have power. I got mine made 10 years ago and honestly, it has helped me a lot.
[Q] Is there anything you wish you'd done before you left home?
Luckily, I had done enough research and had spoken to someone who had gone diving before with the same diving school and knew the people well, so I didn't have much of this issue.
[Q] How did you reach your destination and then to your hotel/resort?
I took a direct flight from Bombay to Phuket. Of course, now due to the pandemic the flights may not be functional. Then I took a cab from the airport to the hotel.
[Q] What was the first thing you did when you entered your hotel/resort room?
The timings of the flight are erratic, so the first thing that you want to do when you reach a hotel is to just crash and rest. Diving is a serious thing and you can't afford to make mistakes, especially when you're breathing underwater. So, I and many diving schools would advise getting a good sleep the night prior and not having alcohol. Also, diving is an extremely tiring process and you need to save as much energy as you can for that.
[Q] Tell us about your diving and snorkeling experience?
It's the most amazing feeling when you are in water. First of all, you don't hear any sounds in the water, you can only hear your breathing, which is the oxygen going in and out of the tank. You can't have more peace of mind than this. It's just so quiet and bliss. It comes close to yoga because that's what they teach to close your eyes and breathe but in diving you keep your eyes open and breathe. (laughs!)
[Q] How long does it take to feel confident underwater?
It all depends from person to person. If you're not scared of water, you'll be comfortable in the first five minutes. That said, you will always have a diving buddy with you at all times. You can never dive alone. No matter what your experience is, you never go in the waters alone. You have to have a good understanding and a rapport with your buddy before you dive. Since everything is communicated with sign language under water, it's very important you have a good diving buddy.
[Q] What are some of the dos and don'ts of snorkeling and diving?
1. Always stick to your buddy when underwater. He will watch over you. Sometimes, the currents can change underwater which gets you drifting away. If you're not very experienced, you can easily be pulled away by the current below. In such cases, your buddy will be there for you.
2. Your oxygen level is very important and you have to keep monitoring that. There is a dial on which you can see the oxygen level in the tank.
[Q] What are the activities or must-see or must-dos that you'd recommend apart from snorkeling and diving? What local cuisine did you try?
Phuket has so many options like the nature trails and parks that you can visit. You can go rappelling and take the zip line. I mostly dived and ate a lot of Thai food. Thai food is one of my favourite cuisines. I mostly eat street food made by the locals. It was delicious!
[Q] How did you document your trip?
The diving school had a team who was filming us throughout our dive underwater. You can later buy that film from them if you want. If you're interested, you can even ask them to come and film you every time you go diving. Each boat will have a professional photographer who will dive with you to get some pictures and videos of yours.
[Q] Your favourite memory from your Phuket vacation?
It would, of course, be diving and watching the moray eel quite closely. It looked like a sea snake. I wish I had seen a whale shark but I couldn't. That's on my bucket list now.
[Q] Who is the most interesting person you met in Phuket?
It would be this Indian guy who went to the Indian Institute of Technology (IIT) and worked for a couple of years before settling down in Phuket as a diving instructor. He was supposed to be my diving buddy but he had a severe cold that morning and had to cancel. But he was with me on the boat and we chatted a lot. He gave me a new perspective to life, that somebody so well-educated decided to give everything away and settle down in Phuket to be a diving instructor to lead a peaceful life.
[Q] Which other spots would you want to go diving the next time you are in Phuket?
I would not want to go to Phuket again. There are so many other options like Koh Samui, etc. and I'd like to explore them.
[Q] What would your advice be to people who would go snorkeling and diving for the first time?
I would say, 'It's going to be the best experience of your life so don't miss out. Just go for it!'
[Q] What would you prefer when in Phuket — budget travel or a luxurious one?
Phuket is a very reasonable and affordable place. It has a plethora of options for budget travel as well as luxury travels. It depends on one's choice and the duration of their stay there. Personally, I prefer to go to a hotel that is all about comfort and great hospitality. For me that is more important than luxury.