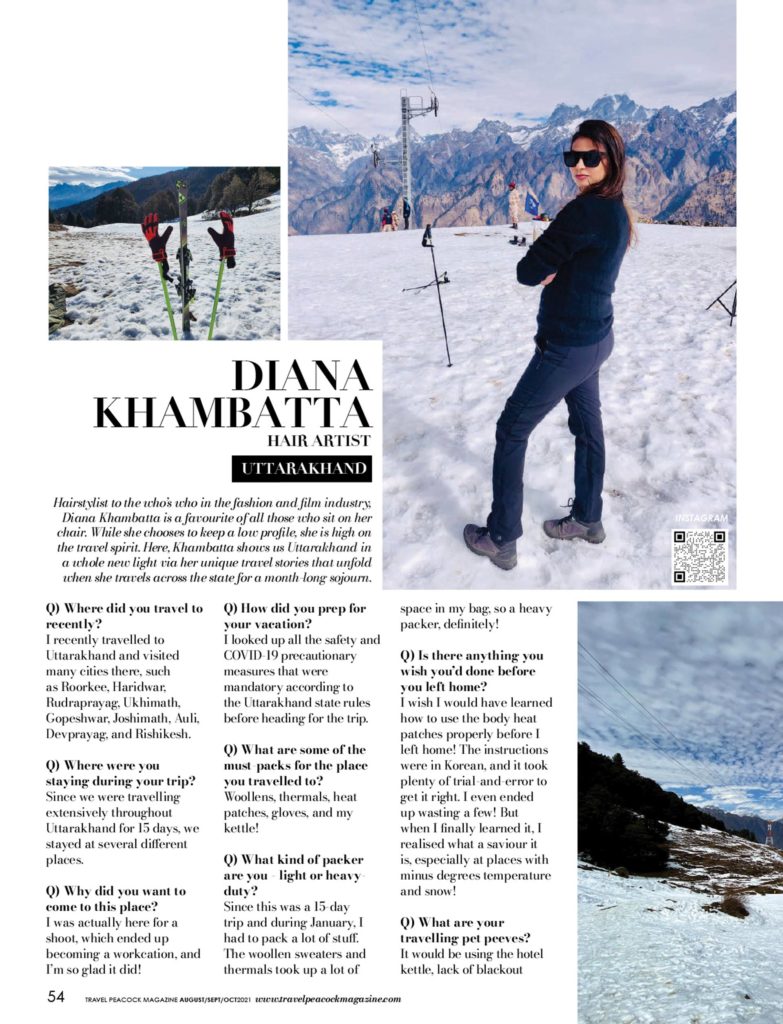 DIANA KHAMBATTA IN UTTARAKHAND – HAIR ARTIST
CREDITS – All images sourced from Diana
Hairstylist to the who's who in the fashion and film industry, Diana Khambatta is a favourite of all those who sit on her chair. While she chooses to keep a low profile, she is high on the travel spirit. Here, Khambatta shows us Uttarakhand in a whole new light via her unique travel stories that unfold when she travels across the state for a month-long sojourn.
[Q] Where did you travel to recently?
I recently travelled to Uttarakhand and visited many cities there, such as Roorkee, Haridwar, Rudraprayag, Ukhimath, Gopeshwar, Joshimath, Auli, Devprayag, and Rishikesh.
[Q] Where were you staying during your trip?
Since we were travelling extensively throughout Uttarakhand for 15 days, we stayed at several different places.
[Q] Why did you want to come to this place?
I was actually here for a shoot, which ended up becoming a workcation, and I'm so glad it did!
[Q] How did you prep for your vacation?
I looked up all the safety and COVID-19 precautionary measures that were mandatory according to the Uttarakhand state rules before heading for the trip.
[Q] What are some of the must-packs for the place you travelled to?
Woollens, thermals, heat patches, gloves, and my kettle!
[Q] What kind of packer are you – light or heavy-duty?
Since this was a 15-day trip and during January, I had to pack a lot of stuff. The woollen sweaters and thermals took up a lot of space in my bag, so a heavy packer, definitely!
[Q] Is there anything you wish you'd done before you left home?
I wish I would have learned how to use the body heat patches properly before I left home! The instructions were in Korean, and it took plenty of trial-and-error to get it right. I even ended up wasting a few! But when I finally learned it, I realised what a saviour it is, especially at places with minus degrees temperature and snow!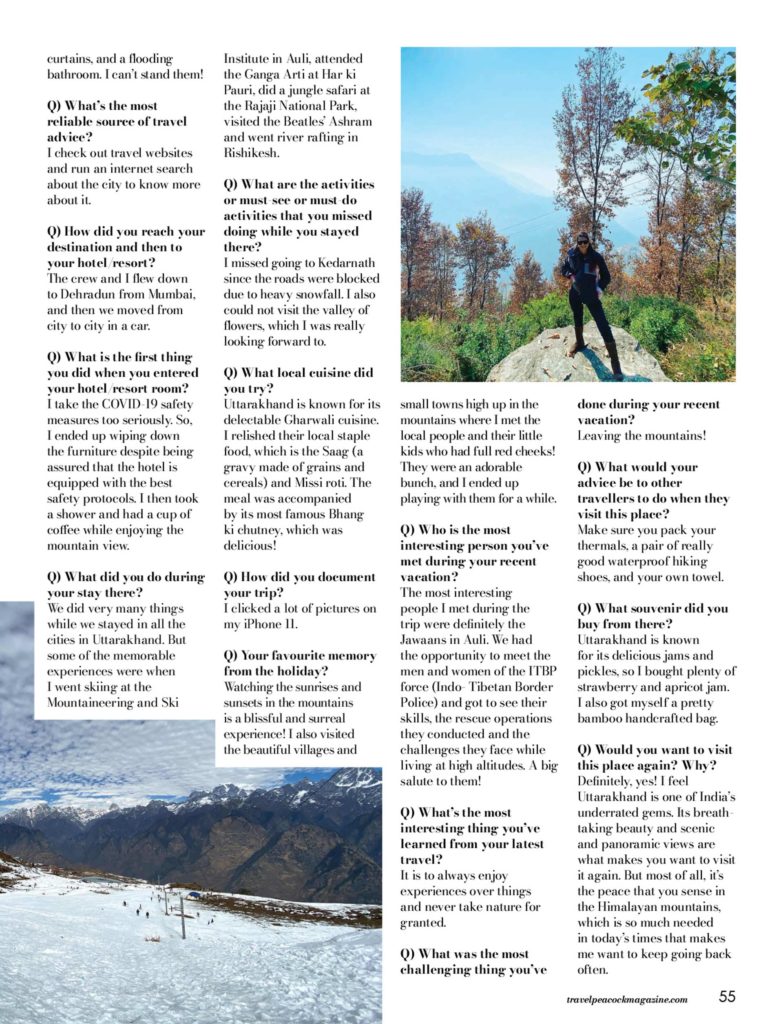 [Q] What are your travelling pet peeves?
It would be using the hotel kettle, lack of blackout curtains, and a flooding bathroom. I can't stand them!
[Q] What's the most reliable source of travel advice?
I check out travel websites and run an internet search about the city to know more about it.
[Q] How did you reach your destination and then to your hotel/resort?
The crew and I flew down to Dehradun from Mumbai, and then we moved from city to city in a car.
[Q] What is the first thing you did when you entered your hotel/resort room?
I take the COVID-19 safety measures too seriously. So, I ended up wiping down the furniture despite being assured that the hotel is equipped with the best safety protocols. I then took a shower and had a cup of coffee while enjoying the mountain view.
[Q] What did you do during your stay there?
We did very many things while we stayed in all the cities in Uttarakhand. But some of the memorable experiences were when I went skiing at the Mountaineering and Ski Institute in Auli, attended the Ganga Arti at Har ki Pauri, did a jungle safari at the Rajaji National Park, visited the Beatles' Ashram and went river rafting in Rishikesh.
[Q] What are the activities or must-see or must-do activities that you missed doing while you stayed there?
I missed going to Kedarnath since the roads were blocked due to heavy snowfall. I also could not visit the valley of flowers, which I was really looking forward to.
[Q] What local cuisine did you try?
Uttarakhand is known for its delectable Gharwali cuisine. I relished their local staple food, which is the Saag (a gravy made of grains and cereals) and Missi roti. The meal was accompanied by its most famous Bhang ki chutney, which was delicious!
[Q] How did you document your trip?
I clicked a lot of pictures on my iPhone 11.
[Q] Your favourite memory from the holiday?
Watching the sunrises and sunsets in the mountains is a blissful and surreal experience! I also visited the beautiful villages and small towns high up in the mountains where I met the local people and their little kids who had full red cheeks! They were an adorable bunch, and I ended up playing with them for a while.
[Q] Who is the most interesting person you've met during your recent vacation?
The most interesting people I met during the trip were definitely the Jawaans in Auli. We had the opportunity to meet the men and women of the ITBP force (Indo- Tibetan Border Police) and got to see their skills, the rescue operations they conducted and the challenges they face while living at high altitudes. A big salute to them!
[Q] What's the most interesting thing you've learned from your latest travel?
It is to always enjoy experiences over things and never take nature for granted.
[Q] What was the most challenging thing you've done during your recent vacation?
Leaving the mountains!
[Q] What would your advice be to other travellers to do when they visit this place?
Make sure you pack your thermals, a pair of really good waterproof hiking shoes, and your own towel.
[Q] What souvenir did you buy from there?
Uttarakhand is known for its delicious jams and pickles, so I bought plenty of strawberry and apricot jam. I also got myself a pretty bamboo handcrafted bag.
[Q] Would you want to visit this place again? Why?
Definitely, yes! I feel Uttarakhand is one of India's underrated gems. Its breath-taking beauty and scenic and panoramic views are what makes you want to visit it again. But most of all, it's the peace that you sense in the Himalayan mountains, which is so much needed in today's times that makes me want to keep going back often.