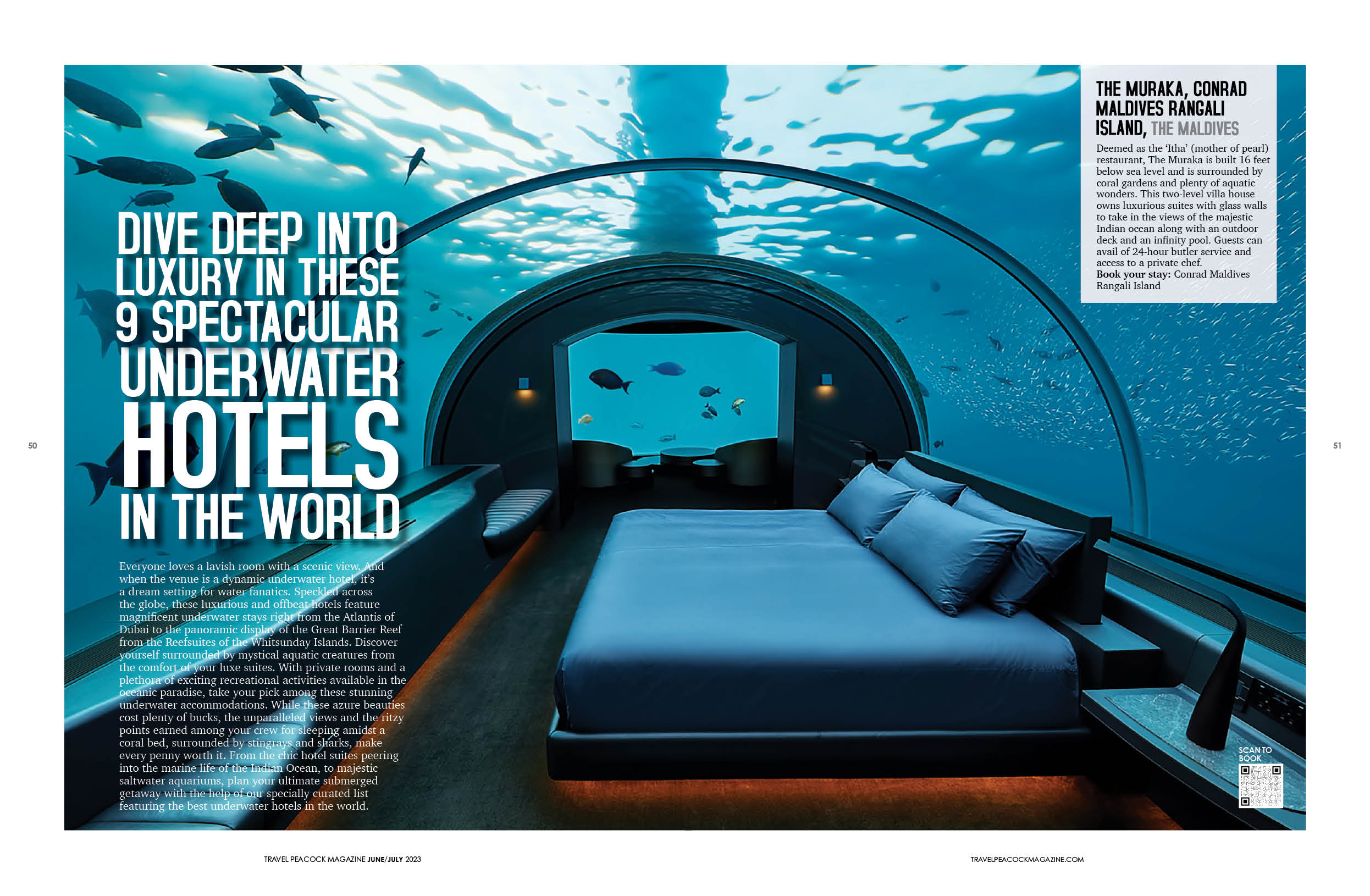 Everyone loves a lavish room with a scenic view. And when the venue is a dynamic underwater hotel, it's a dream setting for water fanatics. Speckled across the globe, these luxurious and offbeat hotels feature magnificent underwater stays right from the Atlantis of Dubai to the panoramic display of the Great Barrier Reef from the Reefsuites of the Whitsunday Islands. Discover yourself surrounded by mystical aquatic creatures from the comfort of your luxe suites. With private rooms and a plethora of exciting recreational activities available in the oceanic paradise, take your pick among these stunning underwater accommodations. While these azure beauties cost plenty of bucks, the unparalleled views and the ritzy points earned among your crew for sleeping amidst a coral bed, surrounded by stingrays and sharks, make every penny worth it. From the chic hotel suites peering into the marine life of the Indian Ocean, to majestic saltwater aquariums, plan your ultimate submerged getaway with the help of our specially curated list featuring the best underwater hotels in the world.
The Muraka, Conrad Maldives Rangali Island, the Maldives
Deemed as the 'Itha' (mother of pearl) restaurant, The Muraka is built 16 feet below sea level and is surrounded by coral gardens and plenty of aquatic wonders. This two-level villa house owns luxurious suites with glass walls to take in the views of the majestic Indian ocean along with an outdoor deck and an infinity pool. Guests can avail of 24-hour butler service and access to a private chef.
Book your stay: Conrad Maldives Rangali Island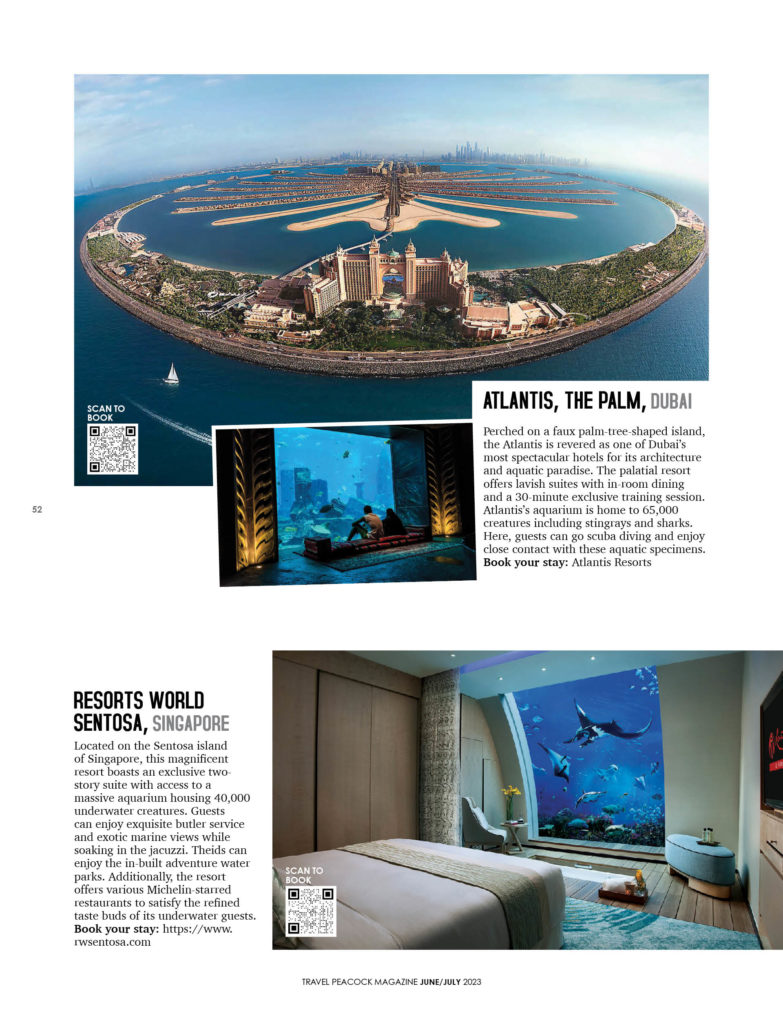 Atlantis, The Palm, Dubai
Perched on a faux palm-tree-shaped island, the Atlantis is revered as one of Dubai's most spectacular hotels for its architecture and aquatic paradise. The palatial resort offers lavish suites with in-room dining and a 30-minute exclusive training session. Atlantis's aquarium is home to 65,000 creatures including stingrays and sharks. Here, guests can go scuba diving and enjoy close contact with these aquatic specimens.
Book your stay: Atlantis Resorts

Resorts World Sentosa, Singapore
Located on the Sentosa island of Singapore, this magnificent resort boasts an exclusive two-story suite with access to a massive aquarium housing 40,000 underwater creatures. Guests can enjoy exquisite butler service and exotic marine views while soaking in the jacuzzi. Theids can enjoy the in-built adventure water parks. Additionally, the resort offers various Michelin-starred restaurants to satisfy the refined taste buds of its underwater guests.
Book your stay: www.rwsentosa.com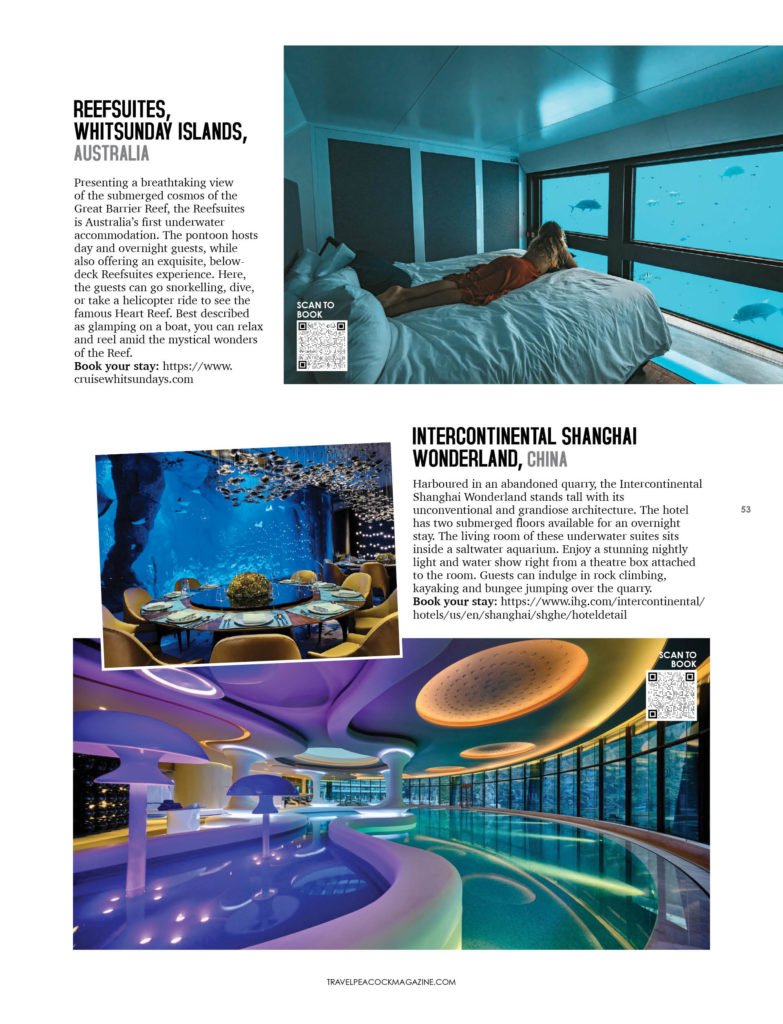 Reefsuites, Whitsunday Islands, Australia
Presenting a breathtaking view of the submerged cosmos of the Great Barrier Reef, the Reefsuites is Australia's first underwater accommodation. The pontoon hosts day and overnight guests, while also offering an exquisite, below-deck Reefsuites experience. Here, the guests can go snorkelling, dive, or take a helicopter ride to see the famous Heart Reef. Best described as glamping on a boat, you can relax and reel amid the mystical wonders of the Reef.
Book your stay: www.cruisewhitsundays.com

Intercontinental Shanghai Wonderland, China
Harboured in an abandoned quarry, the Intercontinental Shanghai Wonderland stands tall with its unconventional and grandiose architecture. The hotel has two submerged floors available for an overnight stay. The living room of these underwater suites sits inside a saltwater aquarium. Enjoy a stunning nightly light and water show right from a theatre box attached to the room. Guests can indulge in rock climbing, kayaking and bungee jumping over the quarry.
Book your stay: https://www.ihg.com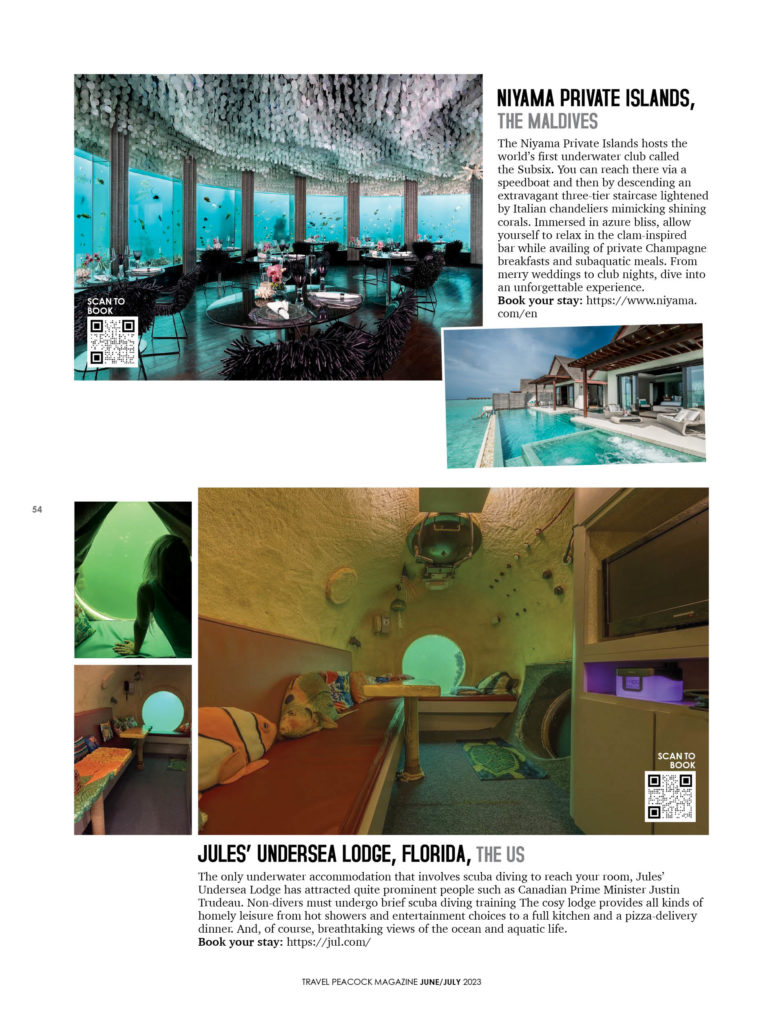 Niyama Private Islands, the Maldives
The Niyama Private Islands hosts the world's first underwater club called the Subsix. You can reach there via a speedboat and then by descending an extravagant three-tier staircase lightened by Italian chandeliers mimicking shining corals. Immersed in azure bliss, allow yourself to relax in the clam-inspired bar while availing of private Champagne breakfasts and subaquatic meals. From merry weddings to club nights, dive into an unforgettable experience.
Book your stay: www.niyama.com
Jules' Undersea Lodge, Florida, the US
The only underwater accommodation that involves scuba diving to reach your room, Jules' Undersea Lodge has attracted quite prominent people such as Canadian Prime Minister Justin Trudeau. Non-divers must undergo brief scuba diving training The cosy lodge provides all kinds of homely leisure from hot showers and entertainment choices to a full kitchen and a pizza-delivery dinner. And, of course, breathtaking views of the ocean and aquatic life.
Book your stay: https://jul.com/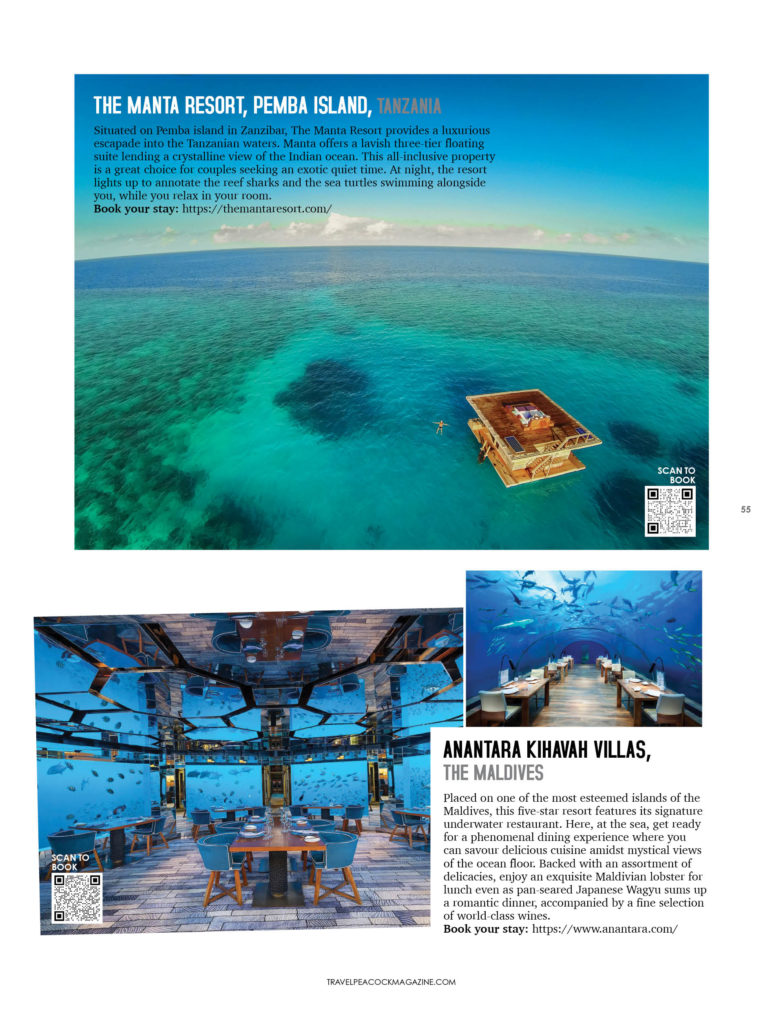 The Manta Resort, Pemba Island, Tanzania
Situated on Pemba island in Zanzibar, The Manta Resort provides a luxurious escapade into the Tanzanian waters. Manta offers a lavish three-tier floating suite lending a crystalline view of the Indian ocean. This all-inclusive property is a great choice for couples seeking an exotic quiet time. At night, the resort lights up to annotate the reef sharks and the sea turtles swimming alongside you, while you relax in your room.
Book your stay: https://themantaresort.com/


Anantara Kihavah Villas, the Maldives
Placed on one of the most esteemed islands of the Maldives, this five-star resort features its signature underwater restaurant. Here, at the sea, get ready for a phenomenal dining experience where you can savour delicious cuisine amidst mystical views of the ocean floor. Backed with an assortment of delicacies, enjoy an exquisite Maldivian lobster for lunch even as pan-seared Japanese Wagyu sums up a romantic dinner, accompanied by a fine selection of world-class wines.
Book your stay: https://www.anantara.com/


Add to favorites