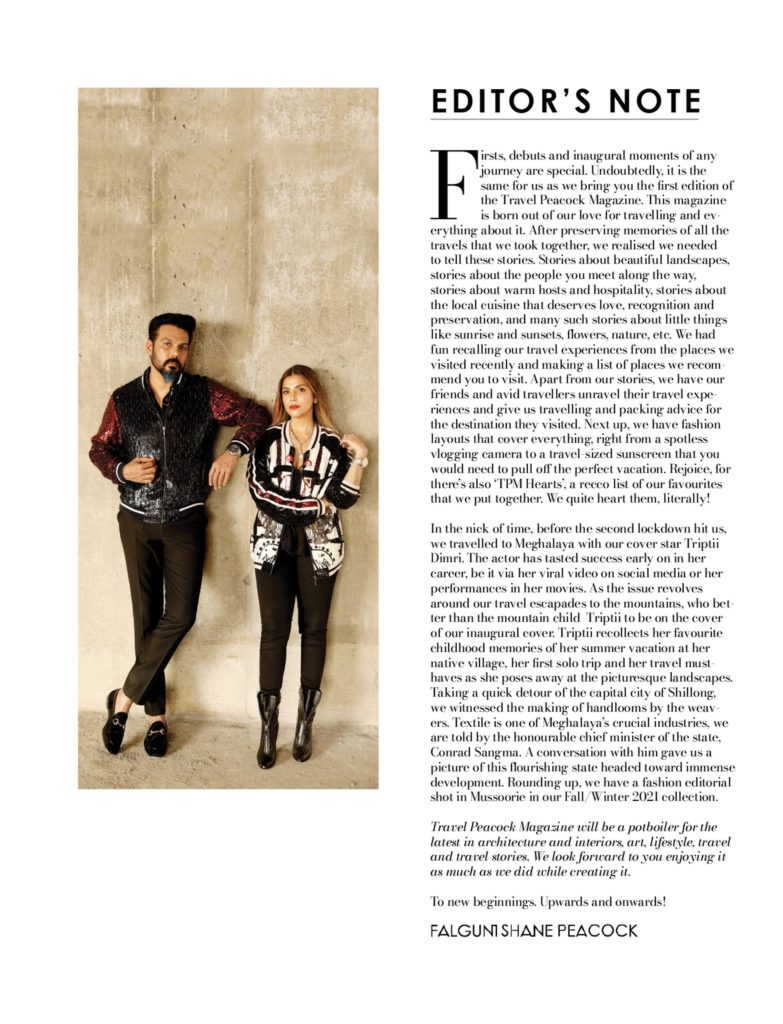 AUG/SEP/OCT 2021 | EDITORS NOTE
Firsts, debuts and inaugural moments of any journey are special. Undoubtedly, it is the same for us as we bring you the first edition of the Travel Peacock Magazine. This magazine is born out of our love for travelling and everything about it. After preserving memories of all the travels that we took together, we realised we needed to tell these stories. Stories about beautiful landscapes, stories about the people you meet along the way, stories about warm hosts and hospitality, stories about the local cuisine that deserves love, recognition and preservation, and many such stories about little things like sunrise and sunsets, flowers, nature, etc. We had fun recalling our travel experiences from the places we visited recently and making a list of places we recommend you to visit. Apart from our stories, we have our friends and avid travellers unravel their travel experiences and give us travelling and packing advice for the destination they visited. Next up, we have fashion layouts that cover everything, right from a spotless vlogging camera to a travel-sized sunscreen that you would need to pull off the perfect vacation. Rejoice, for there's also 'TPM Hearts', a recco list of our favourites that we put together. We quite heart them, literally!
In the nick of time, before the second lockdown hit us, we travelled to Meghalaya with our cover star Triptii Dimri. The actor has tasted success early on in her career, be it via her viral video on social media or her performances in her movies. As the issue revolves around our travel escapades to the mountains, who better than the mountain child Triptii to be on the cover of our inaugural cover. Triptii recollects her favourite childhood memories of her summer vacation at her native village, her first solo trip and her travel must-haves as she poses away at the picturesque landscapes. Taking a quick detour of the capital city of Shillong, we witnessed the making of handlooms by the weavers. Textile is one of Meghalaya's crucial industries, we are told by the honourable chief minister of the state, Conrad Sangma. A conversation with him gave us a picture of this flourishing state headed toward immense development. Rounding up, we have a fashion editorial shot in Mussoorie in our Fall/Winter 2021 collection.
Travel Peacock Magazine will be a potboiler for the latest in architecture and interiors, art, lifestyle, travel and travel stories. We look forward to you enjoying it as much as we did while creating it.
To new beginnings. Upwards and onwards!