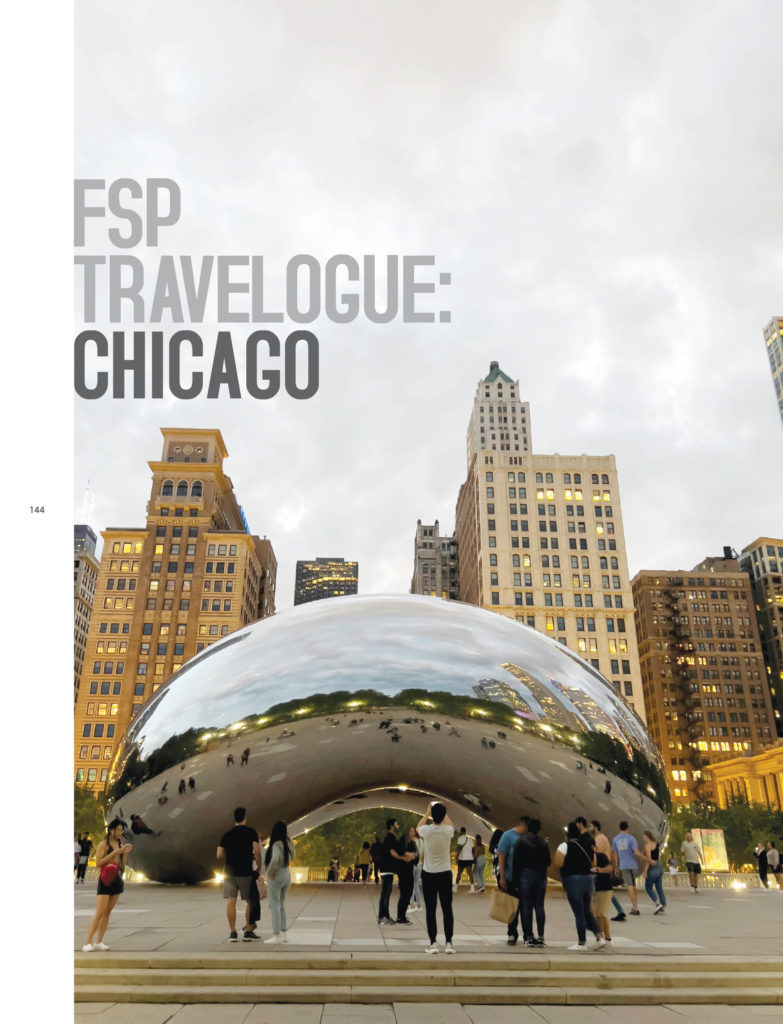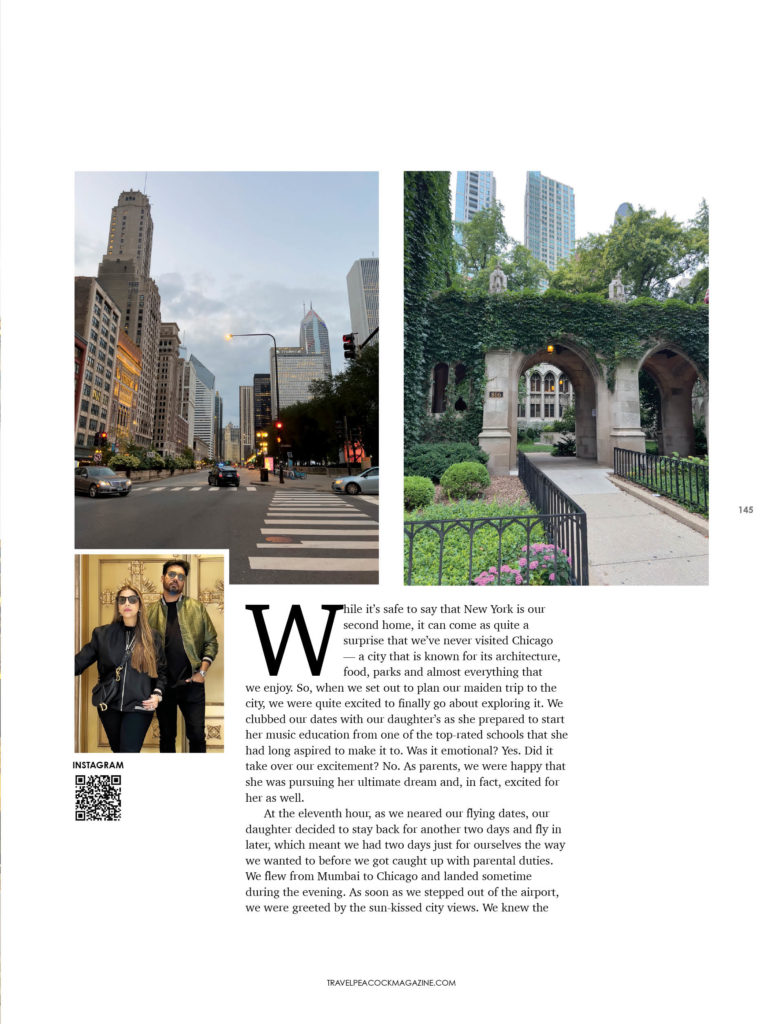 While it's safe to say that New York is our second home, it can come as quite a surprise that we've never visited Chicago — a city that is known for its architecture, food, parks and almost everything that we enjoy. So, when we set out to plan our maiden trip to the city, we were quite excited to finally go about exploring it. We clubbed our dates with our daughter's as she prepared to start her music education from one of the top-rated schools that she had long aspired to make it to. Was it emotional? Yes. Did it take over our excitement? No. As parents, we were happy that she was pursuing her ultimate dream and, in fact, excited for her as well.
At the eleventh hour, as we neared our flying dates, our daughter decided to stay back for another two days and fly in later, which meant we had two days just for ourselves the way we wanted to before we got caught up with parental duties. We flew from Mumbai to Chicago and landed sometime during the evening. As soon as we stepped out of the airport, we were greeted by the sun-kissed city views. We knew the drive to our hotel would be a beautiful one. The setting sun shone bright on the skyscrapers that passed by. We were told the glorious skyline has many stories to tell; we knew we wanted to hear some of them if not all. We reached our hotel and checked into our hotel. After making ourselves comfortable at the hotel, which was our home for the next few days, we stepped out for dinner to this quaint vegan café for some delectable food. A long flight and some wholesome delicious dinner is good enough to induce one to sleep, and so we called it a day.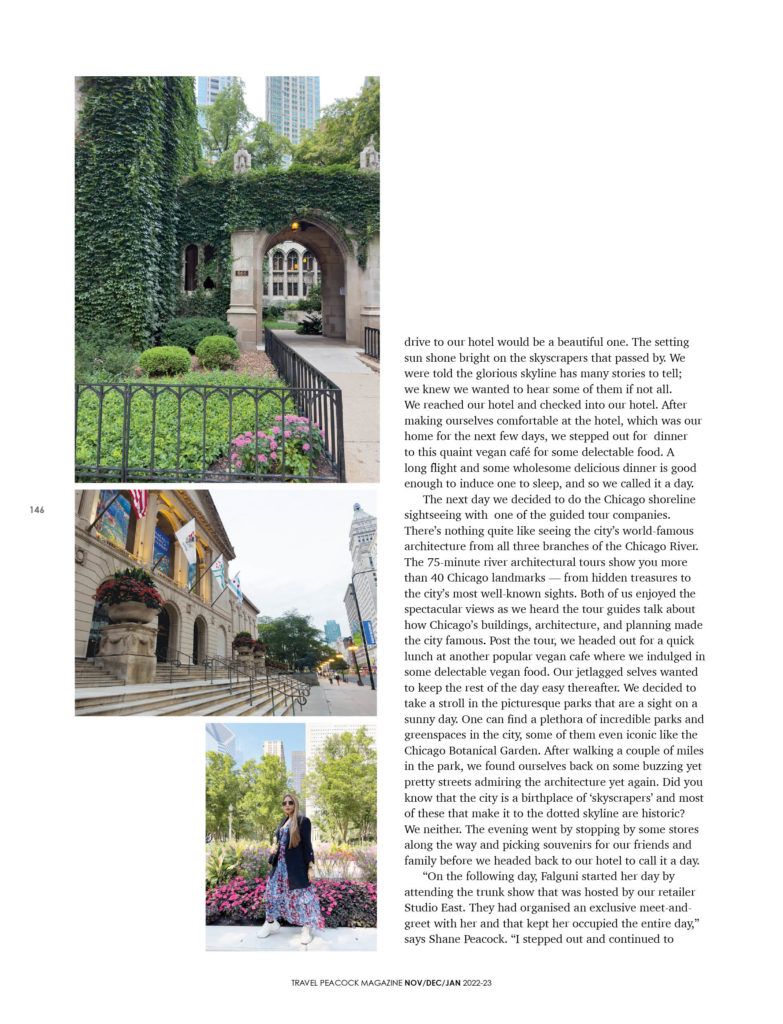 The next day we decided to do the Chicago shoreline sightseeing with one of the guided tour companies. There's nothing quite like seeing the city's world-famous architecture from all three branches of the Chicago River. The 75-minute river architectural tours show you more than 40 Chicago landmarks — from hidden treasures to the city's most well-known sights. Both of us enjoyed the spectacular views as we heard the tour guides talk about how Chicago's buildings, architecture, and planning made the city famous. Post the tour, we headed out for a quick lunch at another popular vegan cafe where we indulged in some delectable vegan food. Our jetlagged selves wanted to keep the rest of the day easy thereafter. We decided to take a stroll in the picturesque parks that are a sight on a sunny day. One can find a plethora of incredible parks and greenspaces in the city, some of them even iconic like the Chicago Botanical Garden. After walking a couple of miles in the park, we found ourselves back on some buzzing yet pretty streets admiring the architecture yet again. Did you know that the city is a birthplace of 'skyscrapers' and most of these that make it to the dotted skyline are historic? We neither. The evening went by stopping by some stores along the way and picking souvenirs for our friends and family before we headed back to our hotel to call it a day.
"On the following day, Falguni started her day by attending the trunk show that was hosted by our retailer Studio East. They had organised an exclusive meet-and-greet with her and that kept her occupied the entire day," says Shane Peacock. "I stepped out and continued to explore the city on foot before heading to the airport to pick our daughter up. After receiving her at the airport, we headed back to the hotel to check her in where Falguni joined us. We soon headed out for dinner," he added.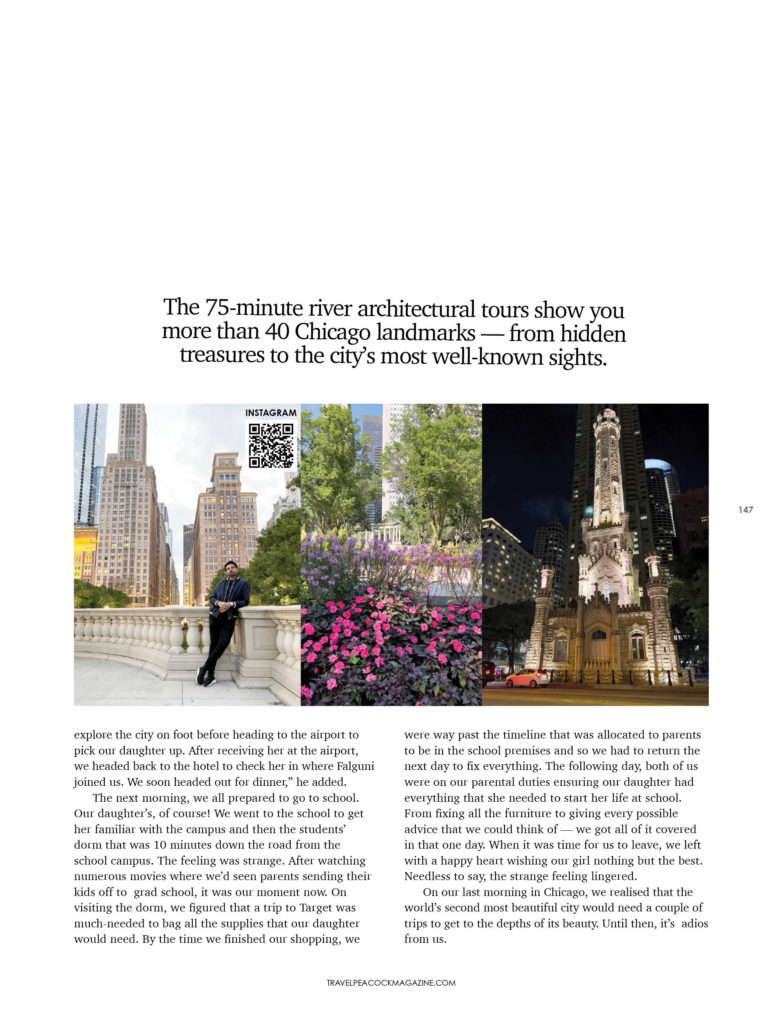 The next morning, we all prepared to go to school. Our daughter's, of course! We went to the school to get her familiar with the campus and then the students' dorm that was 10 minutes down the road from the school campus. The feeling was strange. After watching numerous movies where we'd seen parents sending their kids off to grad school, it was our moment now. On visiting the dorm, we figured that a trip to Target was much-needed to bag all the supplies that our daughter would need. By the time we finished our shopping, we were way past the timeline that was allocated to parents to be in the school premises and so we had to return the next day to fix everything. The following day, both of us were on our parental duties ensuring our daughter had everything that she needed to start her life at school. From fixing all the furniture to giving every possible advice that we could think of — we got all of it covered in that one day. When it was time for us to leave, we left with a happy heart wishing our girl nothing but the best. Needless to say, the strange feeling lingered.
On our last morning in Chicago, we realised that the world's second most beautiful city would need a couple of trips to get to the depths of its beauty. Until then, it's adios from us.