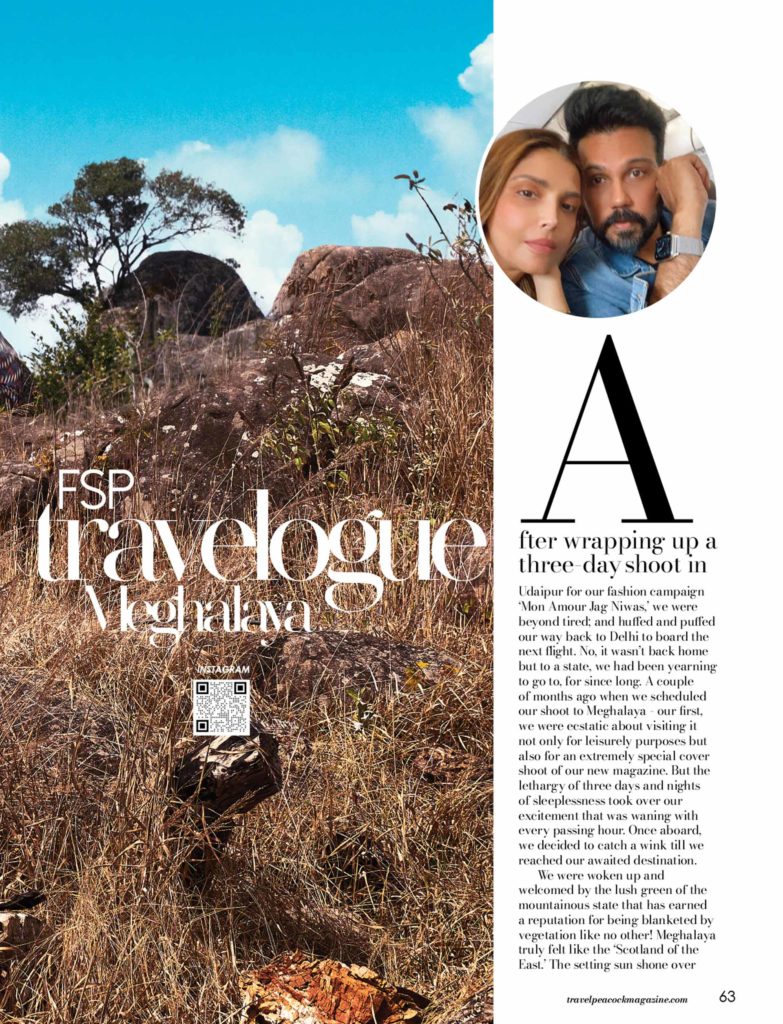 After wrapping up a three-day shoot in Udaipur, Rajasthan, for our fashion campaign 'Mon Amour Jag Niwas,' we were beyond tired; and huffed and puffed on our way back to Delhi to board the next flight. No, we weren't scheduled to go back home but to a state we had been yearning to go to for a long time. A couple of months ago when we scheduled our shoot in Meghalaya — our first — we were ecstatic about visiting it not only for leisurely purposes but also for an extremely special cover shoot for our new magazine. But we were taken over by the lethargy and sleeplessness of three days and nights with our excitement waning with every passing hour. Once aboard, we decided to catch a wink till we reached our awaited destination.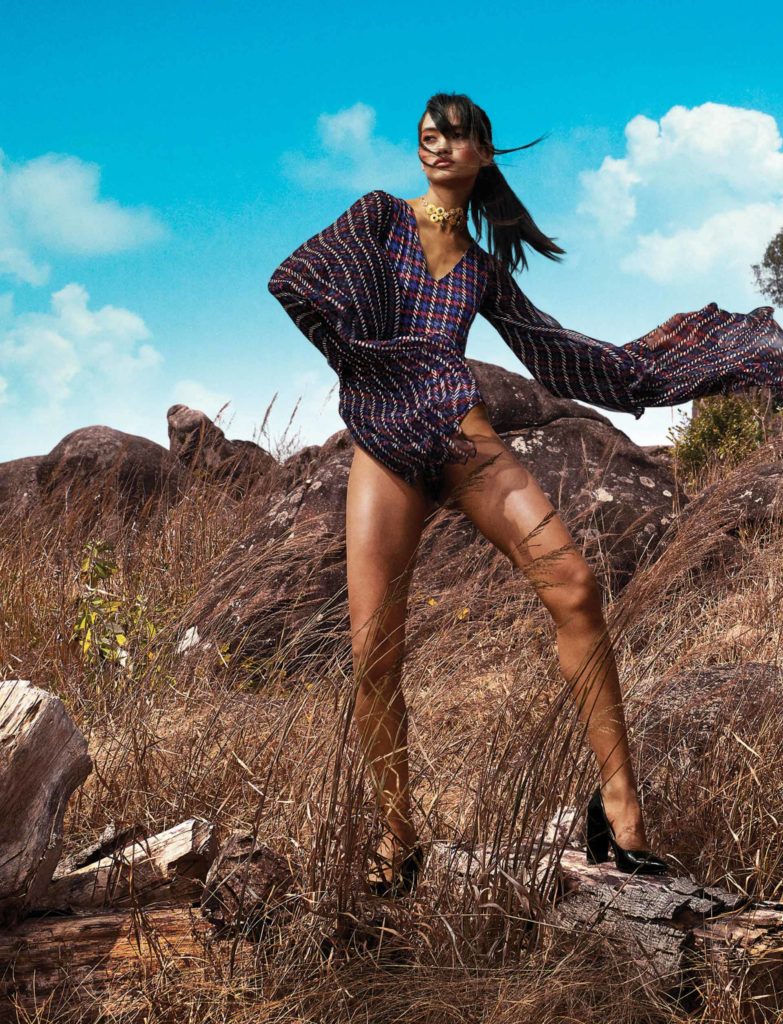 We were woken up and welcomed by the lush greens of the mountainous state that has earned a reputation for being blanketed by vegetation like no other! Meghalaya truly felt like the 'Scotland of the East.' The setting sun shone over the valleys and we were in awe of it for it was like no other! Finally, the same zeal and enthusiasm that had gripped us while planning this trip filled our hearts. The honourable Chief Minister, Conrad Sangma, invited us to the dinner party he had hosted to welcome us to his beautiful state. It was a welcome so warm that we felt we were catching up with old friends after a long time. The evening was engulfed in conversations and hearty laughter.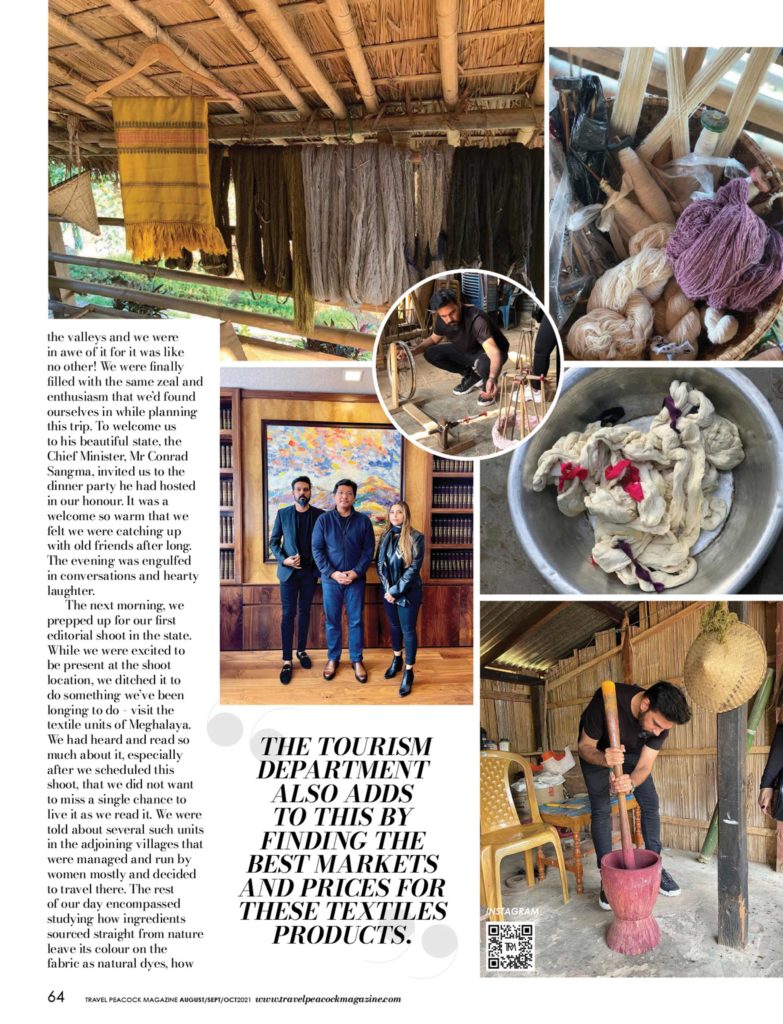 The next morning, we prepped up for our first editorial shoot in the state. While we were excited to be present at the shoot location, we ditched it to do something we've been longing to do — visit the textile units of Meghalaya. We had heard and read so much about it, especially after we scheduled this shoot, that we did not want to miss a single chance to live it as we read it. We were told about several such units in the adjoining villages that were managed and run by women mostly, and so we decided to travel there. The rest of our day encompassed studying how ingredients sourced straight from nature leave their colour on the fabric as natural dyes, how intricate designs that need utmost precision are boldly crafted on the yarn by the craftswomen without sketching or drawing it beforehand, and everything that goes in fabric creation. What amazed us was the fact that these units stand to be exemplary examples of women empowerment. The craft that we had witnessed dates back to 200 years, and like most of the crafts in the country, it too, is fading away. To revive its fate, the state government has started compensating people, especially women, to pursue it and carry forward the legacy. The tourism department also adds to this by finding the best markets and prices for these textile products. Looking at everyone's persistent efforts in reviving the textile tradition, we too decided to do something about it rather than merely being spectators. But that's an announcement for later! The day came to its closing and we headed back to the gorgeous Tripura castle where we were put up. Upon arrival, we were asked to dress up for another gala dinner that was hosted by Mr Conrad Sangma to give us a glimpse of the state's culture. Numerous folk dancers showed us the traditional dance moves while the choir singers crooned in their melodious voices. The stage was then taken over by the guests one after the other till we all chimed in before calling it a night.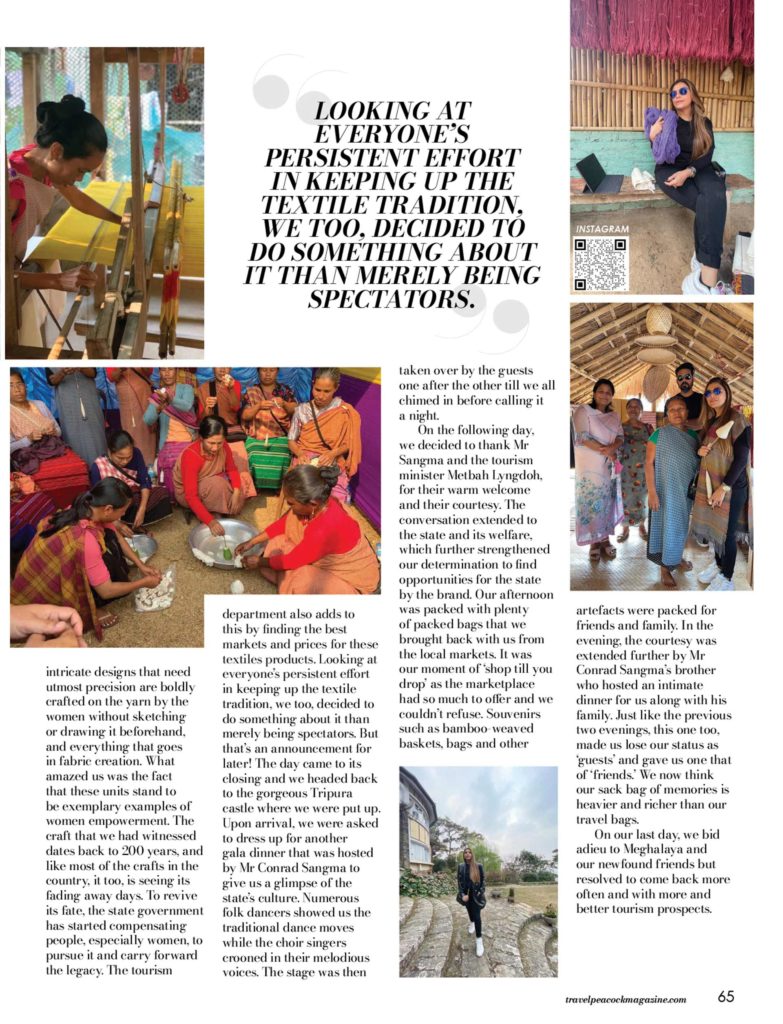 On the following day, we decided to thank Mr Sangma and the Tourism Minister Metbah Lyngdoh for their warm welcome and their courtesy. The conversation extended to the state and its welfare, which further strengthened our determination to find opportunities for the state as part of our brand. Our afternoon was packed with plenty of packed bags that we brought back with us from the local markets. It was our moment of 'shop till you drop' as the marketplace had so much to offer and we couldn't refuse. Souvenirs such as bamboo-weaved baskets, bags and other artefacts were packed for friends and family. In the evening, the courtesy was extended further by Mr Conrad Sangma's brother who hosted an intimate dinner for us along with his family. Just like the previous two evenings, this one too, made us lose our status as 'guests' and gave us one that was 'friends.' We now think our sack bag of memories is heavier and richer than our travel bags.
On our last day, we bid adieu to Meghalaya and our newfound friends but resolved to come back more often and with more and better tourism prospects.


Add to favorites