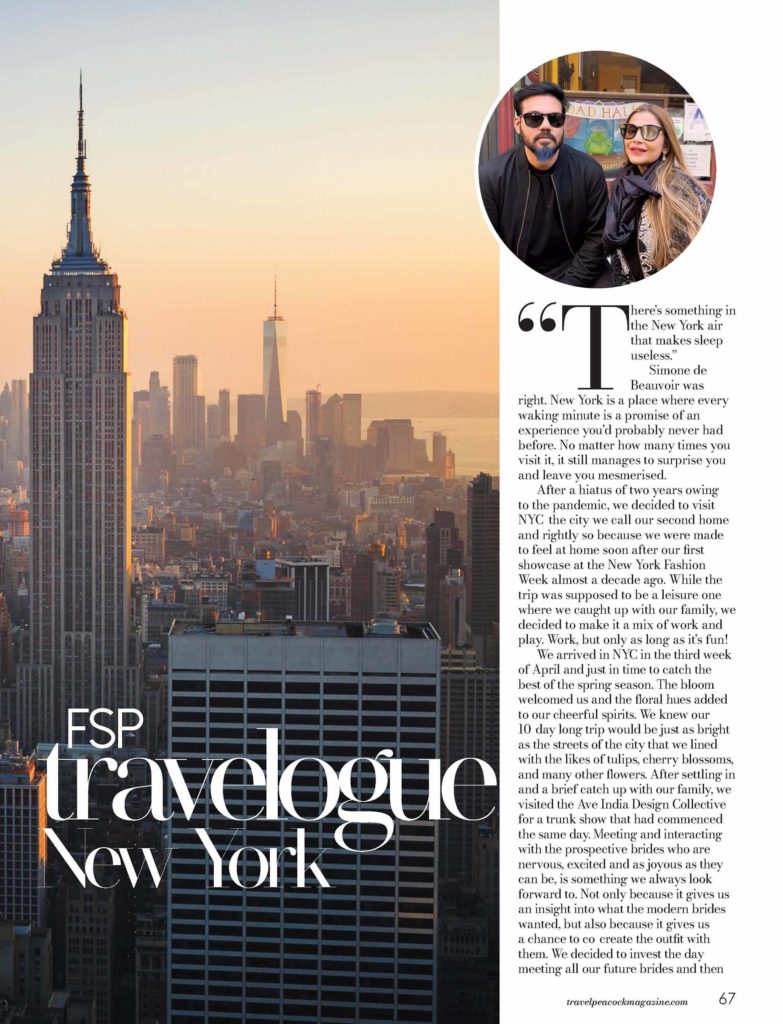 "There's something in the New York air that makes sleep useless."

Simone de Beauvoir was right. New York is a place where every waking minute is a promise of an experience you'd probably never had before. No matter how many times you visit it, it still manages to surprise you and leave you mesmerised.
After a hiatus of two years owing to the pandemic, we decided to visit NYC–the city we call our second home and rightly so because we were made to feel at home soon after our first showcase at the New York Fashion Week almost a decade ago. While the trip was supposed to be a leisure one where we caught up with our family, we decided to make it a mix of work and play. Work, but only as long as it's fun – was the memo and we did stick to it.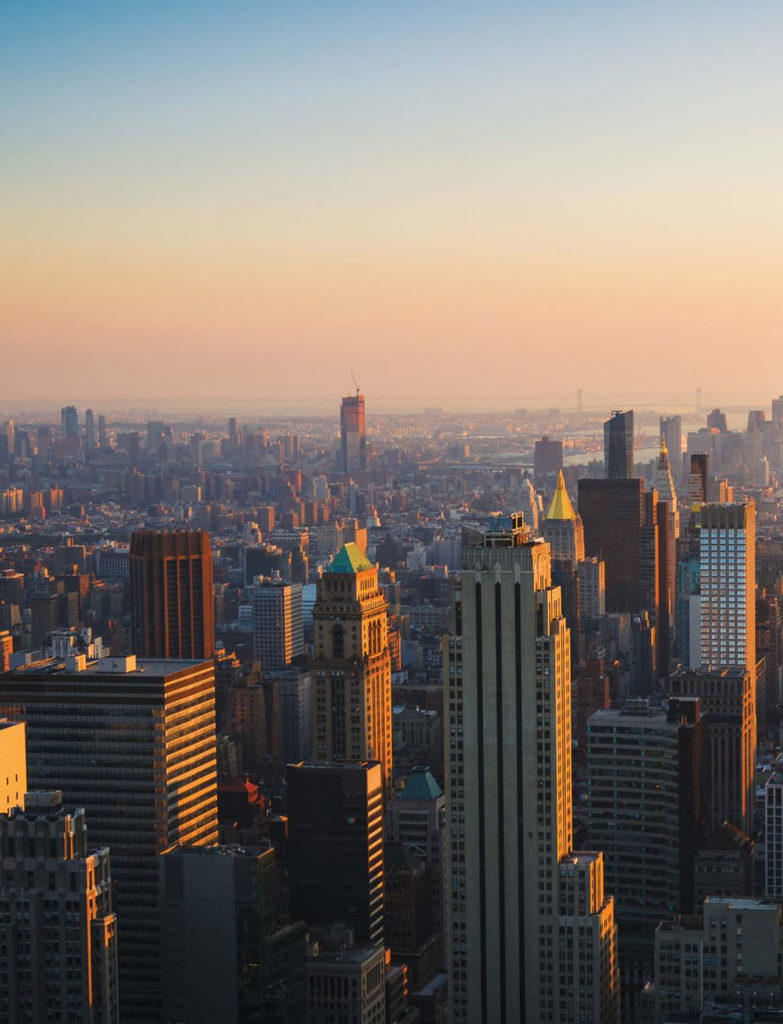 We arrived in NYC in the third week of April and just in time to catch the best of the spring season. The bloom welcomed us and the floral hues added to our cheerful spirits. We knew our 10-day long trip would be just as bright as the streets of the city that we lined with the likes of tulips, cherry blossoms, and many other flowers whose names we had to look up. After settling in and a brief catch up with our family, we visited the Ave India Design Collective for a trunk show that had commenced the same day. Meeting and interacting with the prospective brides who are nervous, excited and as joyous as they can be, is something we always look forward to. Not only because it gives us an insight into what the modern bride wanted, but also because it gives us a chance to co-create the outfit with her. We decided to invest the day meeting all our future brides and then called it a day.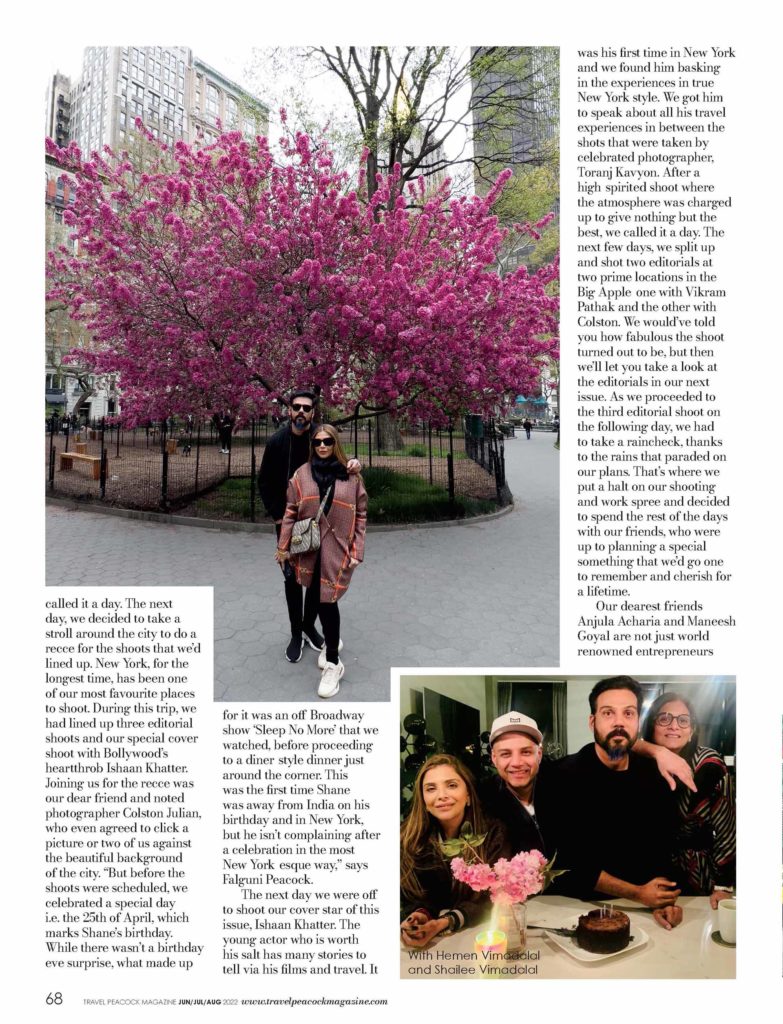 The next day, we decided to take a stroll around the city to do a recce for the shoots that we'd lined up. New York, for the longest time, has been one of our most favourite places to shoot. During this trip, we had lined up three editorial shoots and our special cover shoot with Bollywood's heartthrob Ishaan Khatter. Joining us for the recce was our dear friend and noted photographer Colston Julian, who even agreed to click a picture or two of us against the beautiful background of the city. "But before the shoots were scheduled, we celebrated a special day i.e. the 25th of April, which marks Shane's birthday. While there wasn't a birthday eve surprise, what made up for it was an off-Broadway show 'Sleep No More' that we watched with our family, before proceeding to a diner-style dinner just around the corner. This was the first time Shane was away from India on his birthday and in New York, but he isn't complaining after a celebration in the most New York-esque way," says Falguni Peacock.
The next day we were off to shoot our cover star of this issue, Ishaan Khatter. The young actor who is worth his salt has many stories to tell via his films and travel. It was his first time in New York and we found him basking in the experiences in true New York style. We got him to speak about all his travel experiences in between the shots that were taken by celebrated photographer, Toranj Kavyon. After a high-spirited shoot where the atmosphere was charged up to give nothing but the best, we called it a day. The next few days, we split up and shot two editorials at two prime locations in the Big Apple–one with Vikram Pathak and the other with Colston. We would've told you how fabulous the shoot turned out to be, but then we'll let you take a look at the editorials in our next issue. As we proceeded to the third editorial shoot on the following day, we had to take a raincheck, thanks to the rains that paraded on our plans. That's where we put a halt on our shooting and work spree and decided to spend the rest of the days with our friends, who were up to planning a special something that we'd go one to remember and cherish for a lifetime.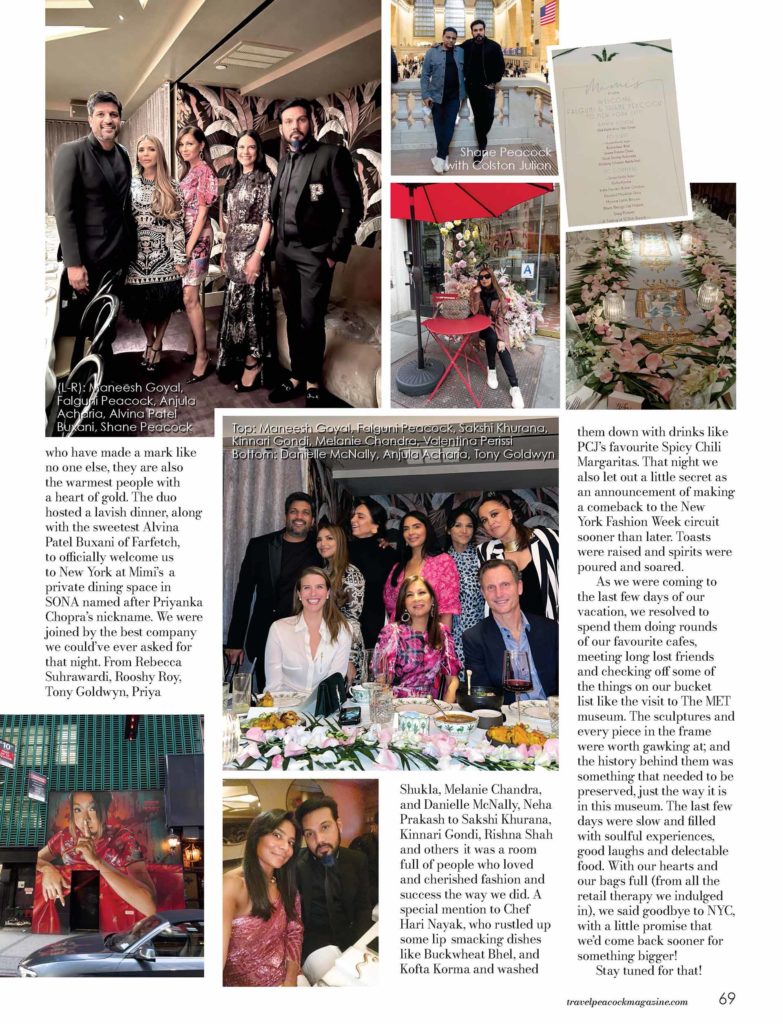 Our dearest friends Anjula Acharia and Maneesh Goyal are not just world-renowned entrepreneurs who have made a mark like no one else, they are also the warmest people with a heart of gold. The duo hosted a lavish dinner, along with the sweetest Alvina Patel Buxani to officially welcome us to New York at Mimi's–a private dining space in SONA named after Priyanka Chopra's nickname. We were joined by the best company we could've ever asked for that night. From Rebecca Suhrawardi, Rooshy Roy, Tony Goldwyn, Priya Shukla, Melanie Chandra, and Danielle McNally to Sakshi Khurana, Kinnari Gondi and others–it was a room full of people who loved and cherished fashion and success the way we did. A special mention to Chef Hari Nayak (of JHOL Bangkok and Alchemy Bangalore), who rustled up some lip-smacking dishes like Buckwheat Bhel, and Kofta Korma and washed them down with drinks like PCJ's favourite Spicy Chili Margaritas. That night we also let out a little secret as an announcement of making a comeback to the New York Fashion Week circuit sooner than later. Toasts were raised and spirits were poured and soared.
As we were coming to the last few days of our vacation, we resolved to spend them doing rounds of our favourite cafes, meeting long lost friends and checking off some of the things on our bucket list like the visit to The MET museum. The sculptures and every piece in the frame were worth gawking at; and the history behind them was something that needed to be preserved, just the way it is in this museum. The last few days were slow and filled with soulful experiences, good laughs and delectable food. With our hearts and our bags full (from all the retail therapy we indulged in), we said goodbye to NYC, with a little promise that we'd come back sooner for something bigger! Stay tuned for that!



Add to favorites