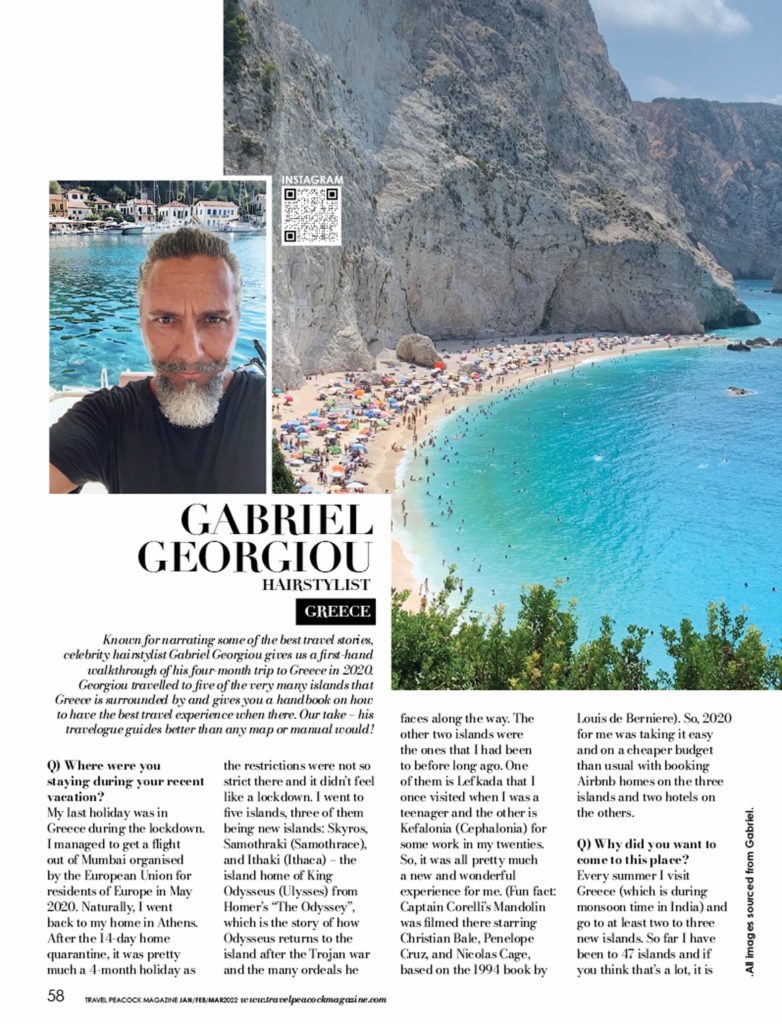 CREDITS – All images sourced from Gabriel
Known for narrating some of the best travel stories, celebrity hairstylist Gabriel Georgiou gives us a first-hand walkthrough of his four-month trip to Greece in 2020. Georgiou travelled to five of the very many islands that Greece is surrounded by and gives you a handbook on how to have the best travel experience when there. Our take — his travelogue guides better than any map or manual would!
[Q] Where were you staying during your recent vacation?
My last holiday was in Greece during the lockdown. I managed to get a flight out of Mumbai organised by the European Union for residents of Europe in May 2020. Naturally, I went back to my home in Athens. After the 14-day home quarantine, it was pretty much a 4-month holiday as the restrictions were not so strict there and it didn't feel like a lockdown. I went to five islands, three of them being new islands: Skyros, Samothraki (Samothrace), and Ithaki (Ithaca) — the island home of King Odysseus (Ulysses) from Homer's "The Odyssey", which is the story of how Odysseus returns to the island after the Trojan war and the many ordeals he faces along the way. The other two islands were the ones that I had been to before long ago. One of them is Lefkada that I once visited when I was a teenager and the other is Kefalonia (Cephalonia) for some work in my twenties. So, it was all pretty much a new and wonderful experience for me. (Fun fact: Captain Corelli's Mandolin was filmed there starring Christian Bale, Penelope Cruz, and Nicolas Cage, based on the 1994 book by Louis de Berniere). So, 2020 for me was taking it easy and on a cheaper budget than usual with booking Airbnb homes on the three islands and two hotels on the others.
[Q] Why did you want to come to this place?
Is that a trick question? It's the Greek islands and you can't go wrong. Good food, beautiful weather, amazing waters, diverse beaches, amazing hospitality and people and the best of all, lots of unspoilt nature. It's where mountains meet the sea. Every summer I visit Greece (which is during monsoon time in India) and go to at least two to three new islands. So far I have been to 47 islands and if you think that's a lot, it is nothing compared to the six thousand islands of which only 227 are inhabited. There are the very touristy ones and the very quiet chill ones too. So many more to experience!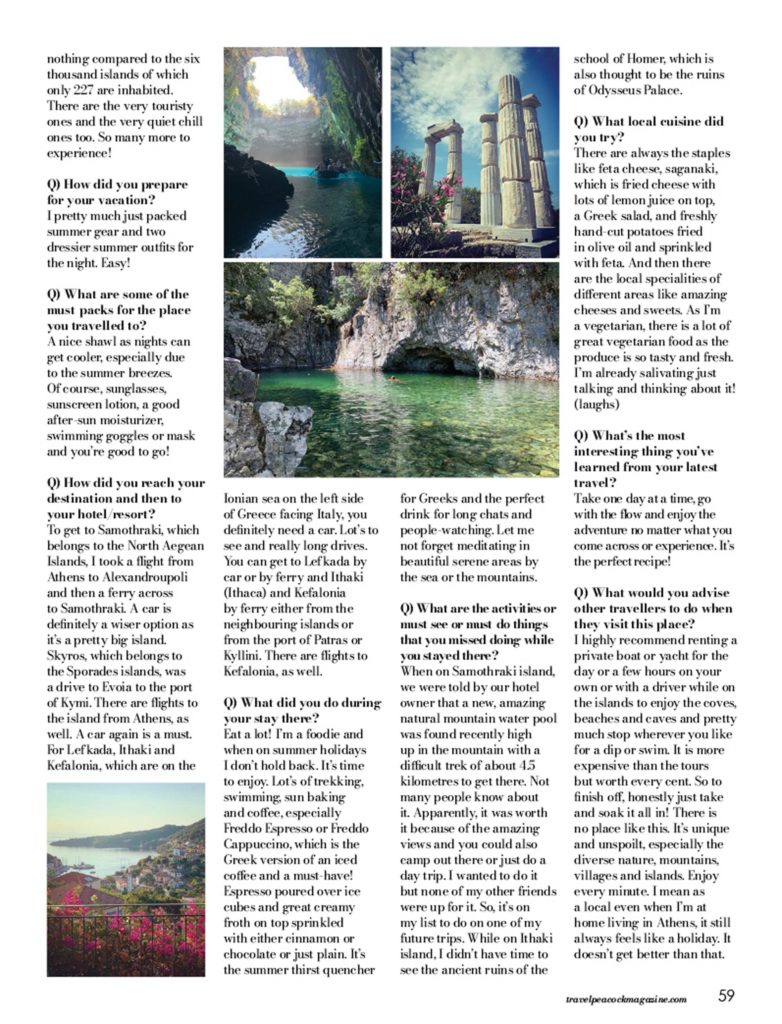 [Q] How did you prepare for your vacation?
I pretty much just packed summer gear and two dressier summer outfits for the night. Easy!
[Q] What are some of the must-packs for the place you travelled to?
A nice shawl as nights can get cooler, especially due to the summer breezes. Of course, sunglasses, sunscreen lotion, a good after-sun moisturizer, swimming goggles or mask and you're good to go!
[Q] Is there anything you wish you'd done before you left home?
No, I pretty much always got it covered!
[Q] How did you reach your destination and then to your hotel/resort?
To get to Samothraki, which belongs to the North Aegean Islands, I took a flight from Athens to Alexandroupoli and then a ferry across to Samothraki. A car is definitely a wiser option as it's a pretty big island.
Skyros, which belongs to the Sporades islands, was a drive to Evoia to the port of Kymi. There are flights to the island from Athens, as well. A car again is a must. For Lefkada, Ithaki and Kefalonia, which are on the Ionian sea on the left side of Greece facing Italy, you definitely need a car. Lot's to see and really long drives. You can get to Lefkada by car or by ferry and Ithaki (Ithaca) and Kefalonia by ferry either from the neighbouring islands or from the port of Patras or Kyllini. There are flights to Kefalonia, as well.
[Q] What is the first thing you do when you enter your hotel/resort room?
First, I check out the rooms and the views. I then unpack and put all my gear in place. It's home for the next few days so I have to be comfortable and organised.
[Q] What did you do during your stay there?
Eat a lot! I'm a foodie and when on summer holidays I don't hold back. It's time to enjoy. Lot's of trekking, swimming, sun baking and coffee, especially Freddo Espresso or Freddo Cappuccino, which is the Greek version of an iced coffee and a must-have! Espresso poured over ice cubes and great creamy froth on top sprinkled with either cinnamon or chocolate or just plain. It's the summer thirst quencher for Greeks and the perfect drink for long chats and people-watching. Let me not forget meditating in beautiful serene areas by the sea or the mountains.
[Q] What are the activities or must-see or must-do things that you missed doing while you stayed there?
When on Samothraki island, we were told by our hotel owner that a new, amazing natural mountain water pool was found recently high up in the mountain with a difficult trek of about 4.5 kilometres to get there. Not many people know about it. Apparently, it was worth it because of the amazing views and you could also camp out there or just do a day trip. I wanted to do it but none of my other friends were up for it. So, it's on my list to do on one of my future trips. While on Ithaki island, I didn't have time to see the ancient ruins of the school of Homer, which is also thought to be the ruins of Odysseus Palace.
[Q] What local cuisine did you try?
There are always the staples like feta cheese, saganaki, which is fried cheese with lots of lemon juice on top, a Greek salad, and freshly hand-cut potatoes fried in olive oil and sprinkled with feta. And then there are the local specialities of different areas like amazing cheeses and sweets. As I'm a vegetarian, there is a lot of great vegetarian food as the produce is so tasty and fresh. I'm already salivating just talking and thinking about it! (laughs)
[Q] How did you document your trip?
With pictures! I always take lots of great pictures whether it's locations or food or selfies with friends.
[Q] Your favourite memory from the holiday?
All of it!
[Q] Who is the most interesting person you've met during your recent vacation?
Many! I came across lots of interesting people like locals from the specific island or Greeks from other parts of the country or tourists. There is always a great story to hear and a great experience to be had.
[Q] What's the most interesting thing you've learned from your latest travel?
Take one day at a time, go with the flow and enjoy the adventure no matter what you come across or experience. It's the perfect recipe!
[Q] What was the most challenging thing you've done during your recent vacation?
Trekking! One was a long and tiring walk down the road to Egremni Beach on Lefkada island. Since the earthquake in 2015, the road has been blocked and is still being fixed. Eventually, you get to the end and then have to climb down with a rope and it's quite steep. A word of advice — wear sneakers! Going down is fine but the way up is another story. Yes, it was worth it as it's just amazing and worth spending a few hours if not more. Make sure you stock up with drinks and snacks as there are no shops or shacks. It's just you and nature. According to a leading travel magazine, it is one of the 13 places where you can see the bluest water in the world. Another great trek was on Samothraki island to the Fonias waterfall, for an amazing swim in cold mountain waters. It's a good trek along the river till you get there and from there onwards there are many natural pools to get into and see depending on your stamina and endurance.
[Q] What would you advise other travellers to do when they visit this place?
I highly recommend renting a private boat or yacht for the day or a few hours on your own or with a driver while on the islands to enjoy the coves, beaches and caves and pretty much stop wherever you like for a dip or swim. It is more expensive than the tours but worth every cent. So to finish off, honestly just take and soak it all in! There is no place like this. It's unique and unspoilt, especially the diverse nature, mountains, villages and islands. Enjoy every minute. I mean as a local even when I'm at home living in Athens, it still always feels like a holiday. It doesn't get better than that.
[Q] Do you call yourself a traveller or a tourist?
Definitely a traveller!
[Q] What kind of packer are you — light or heavy-duty?
Well, that depends on the travel and the duration of the trip. If it's just a week or so and a summer holiday, then definitely light. In saying that, it still is a check-in suitcase,
a carry-on and a backpack.
[Q] What are your travel essentials?
My toiletries, of course! A backpack, if it's a summer holiday then a good beach bag, comfortable but chic travel clothes because you always have to look good and last but not least, a good attitude!
[Q] How many gadgets do you carry while travelling?
Definitely my phone and my laptop.
[Q] What are your travelling pet peeves?
Smelly people sitting next to me on the plane, babies crying or screaming on the plane. Open-mouthed and loud chewers. Poor, slow and arrogant customer service. Chaotic, dirty and loud places.
[Q] What has been the most useful item you've bought while travelling?
Let's just say whatever I buy is useful for decorative purposes as I usually buy something for the house from every trip. It could be a piece of art from an antique shop or a pillow, a rug, or something that I've been drawn to, as I love interior design. Over the years, I have collected great stuff and there is such joy in putting together and creating interesting and unique spaces. An example would be a Tibetan horn that monks use in the monasteries, which I found in an antique shop in LA., or a beautiful frame of a coral lithograph from a nautical antique shop in Corsica, which I put in my bathroom.
[Q] What's the most reliable source of travel advice?
Just do your research. I prefer to eat vegan or vegetarian, so I will see what's best around. If that's not available, I generally check the best places to eat. Then it's Google Maps and off I go. Same with what's worth experiencing or seeing where I'm at and then letting every day be a new adventure whether a relaxed one or intense.
[Q] What's the most important thing that you've ever lost on any of your vacations?
Not really important things but close calls and at different scenarios. Like once, I was in a taxi and had just left the airport in Istanbul and halfway to town realised my passport was missing. I turned around and went back to the airport and luckily someone had found it and turned it in. Thank goodness! Another time in Greece, I picked up my friends from the airport and on our way to the Peloponnese (southern Greece) to see a friend, I stopped and went for a dip in the sea and by the time we came back to the car, the window had been smashed by either gypsies, Albanians or refugees and two suitcases full of our summer gear had been gone, amongst which was my beautiful Missoni beach towel that I had recently bought from New York and all my summer clothes, swimwear, etc. At the end of the day, it's just stuff and I had to take it easy, suck it up and see it as part of the adventure. It's stuff that's replaceable and no-loss-no-gain, could be repaying a karmic debt, I say! So, all is ok at the end of the day. Remember what I said before about a good attitude? You have to look at everything in a positive manner — the glass is always half full and not half empty.
[Q] Do you prefer to walk, take public transport, or take private transport during a vacation?
I love to walk! It's the only way to get a vibe of the place you are at, especially cities. You get to feel the energy, see the people, the way they dress and behave, the shops, architecture, etc. I also prefer hiring a car and driving around if there is sightseeing to be done, like finding an amazing beach or going to or an amazing restaurant in a village somewhere.
[Q] What's the best souvenir you've bought?
I always buy beautiful eclectic fridge magnets from every place as my fridge itself is an interesting collage of colours and places. Each magnet has a story and a memory. They're not the cheap and ugly, generic touristy ones. Also, a very useful buy for my travels (not a souvenir as such) was the Bose noise-cancelling, wireless Bluetooth headphones. It helps with people not bothering you, especially on planes. It gives me peace as I'm not a fan of loud noises, and am able to listen to my Falun Dafa audio lectures that help me stay centred and positive or I just listen to some music. It's a befitting travel partner and a cool accessory with any outfit.
[Q] Would you rather see a lot of places or get to know one really well?
That depends on the mood and the time out for the specific trip. It could be either or. You got to go with the flow!
[Q] What is your dream travelling experience?
Quality and not quantity of company. A few good friends, like-minded or on my own. Happy either way.
[Q] What, according to you, is that one most clichéd thing to do when on a vacation?
Go on the tourist group tours. An example being the group ferry boat trips around islands where you are squashed like a sardine and then there are too many people on the beach that you have visited.