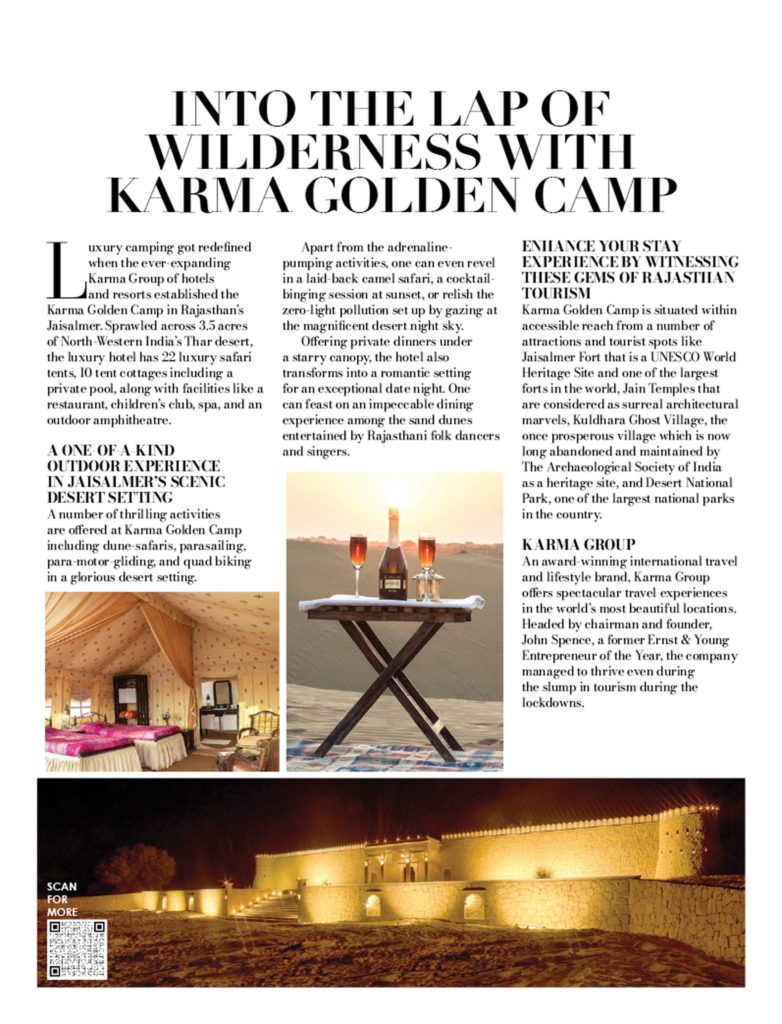 Luxury camping got redefined when the ever-expanding Karma Group of hotels and resorts established the Karma Golden Camp in Rajasthan's Jaisalmer. Sprawled across 3.5 acres of North-Western India's Thar desert, the luxury hotel has 22 luxury safari tents, 10 tent cottages including a private pool, along with facilities like a restaurant, children's club, spa, and an outdoor amphitheatre.

A ONE-OF-A-KIND OUTDOOR EXPERIENCE IN JAISALMER'S SCENIC DESERT SETTING
A number of thrilling activities are offered at Karma Golden Camp including dune-safaris, parasailing, para-motor-gliding, and quad biking in a glorious desert setting.
Apart from the adrenaline-pumping activities, one can even revel in a laid-back camel safari, a cocktail-binging session at sunset, or relish the zero-light pollution set up by gazing at the magnificent desert night sky.
Offering private dinners under a starry canopy, the hotel also transforms into a romantic setting for an exceptional date night. One can feast on an impeccable dining experience among the sand dunes entertained by Rajasthani folk dancers and singers.
ENHANCE YOUR STAY EXPERIENCE BY WITNESSING THESE GEMS OF RAJASTHAN TOURISM
Karma Golden Camp is situated within accessible reach from a number of attractions and tourist spots like Jaisalmer Fort that is a UNESCO World Heritage Site and one of the largest forts in the world, Jain Temples that are considered as surreal architectural marvels, Kuldhara Ghost Village, the once prosperous village which is now long abandoned and maintained by The Archaeological Society of India as a heritage site, and Desert National Park, one of the largest national parks in the country.
KARMA GROUP
An award-winning international travel and lifestyle brand, Karma Group offers spectacular travel experiences in the world's most beautiful locations. Headed by chairman and founder, John Spence, a former Ernst & Young Entrepreneur of the Year, the company managed to thrive even during the slump in tourism during the lockdowns.