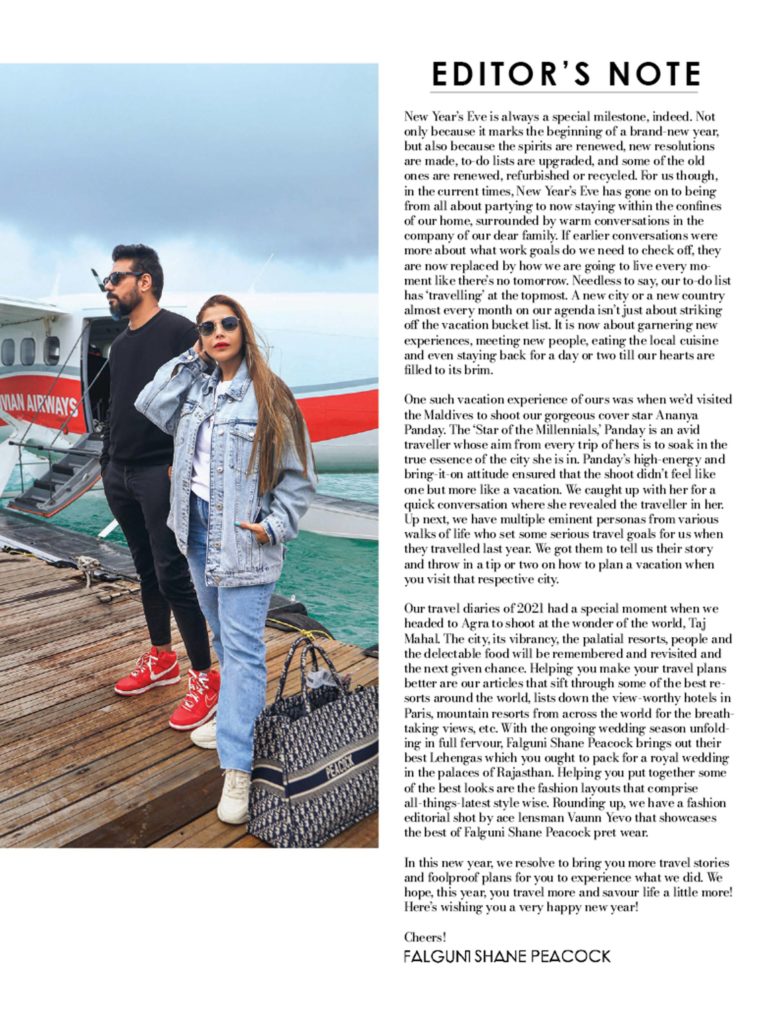 JAN/FEB/MAR 2022 | EDITORS NOTE
New Year's Eve is always a special milestone, indeed. Not only because it marks the beginning of a brand-new year, but also because the spirits are renewed, new resolutions are made, to-do lists are upgraded, and some of the old ones are renewed, refurbished or recycled. For us though, in the current times, New Year's Eve has gone on to being from all about partying to now staying within the confines of our home, surrounded by warm conversations in the company of our dear family. If earlier conversations were more about what work goals do we need to check off, they are now replaced by how we are going to live every moment like there's no tomorrow. Needless to say, our to-do list has 'travelling' at the topmost. A new city or a new country almost every month on our agenda isn't just about striking off the vacation bucket list. It is now about garnering new experiences, meeting new people, eating the local cuisine and even staying back for a day or two till our hearts are filled to its brim.
One such vacation experience of ours was when we'd visited the Maldives to shoot our gorgeous cover star Ananya Panday. The 'Star of the Millennials,' Panday is an avid traveller whose aim from every trip of hers is to soak in the true essence of the city she is in. Panday's high-energy and bring-it-on attitude ensured that the shoot didn't feel like one but more like a vacation. We caught up with her for a quick conversation where she revealed the traveller in her. Up next, we have multiple eminent personas from various walks of life who set some serious travel goals for us when they travelled last year. We got them to tell us their story and throw in a tip or two on how to plan a vacation when you visit that respective city.
Our travel diaries of 2021 had a special moment when we headed to Agra to shoot at the wonder of the world, Taj Mahal. The city, its vibrancy, the palatial resorts, people and the delectable food will be remembered and revisited and the next given chance. Helping you make your travel plans better are our articles that sift through some of the best resorts around the world, lists down the view-worthy hotels in Paris, mountain resorts from across the world for the breathtaking views, etc. With the ongoing wedding season unfolding in full fervour, Falguni Shane Peacock brings out their best Lehengas which you ought to pack for a royal wedding in the palaces of Rajasthan. Helping you put together some of the best looks are the fashion layouts that comprise all-things-latest style wise. Rounding up, we have a fashion editorial shot by ace lensman Vaunn Yevo that showcases the best of Falguni Shane Peacock pret wear.
In this new year, we resolve to bring you more travel stories and foolproof plans for you to experience what we did. We hope, this year, you travel more and savour life a little more! Here's wishing you a very happy new year! Cheers!




Add to favorites