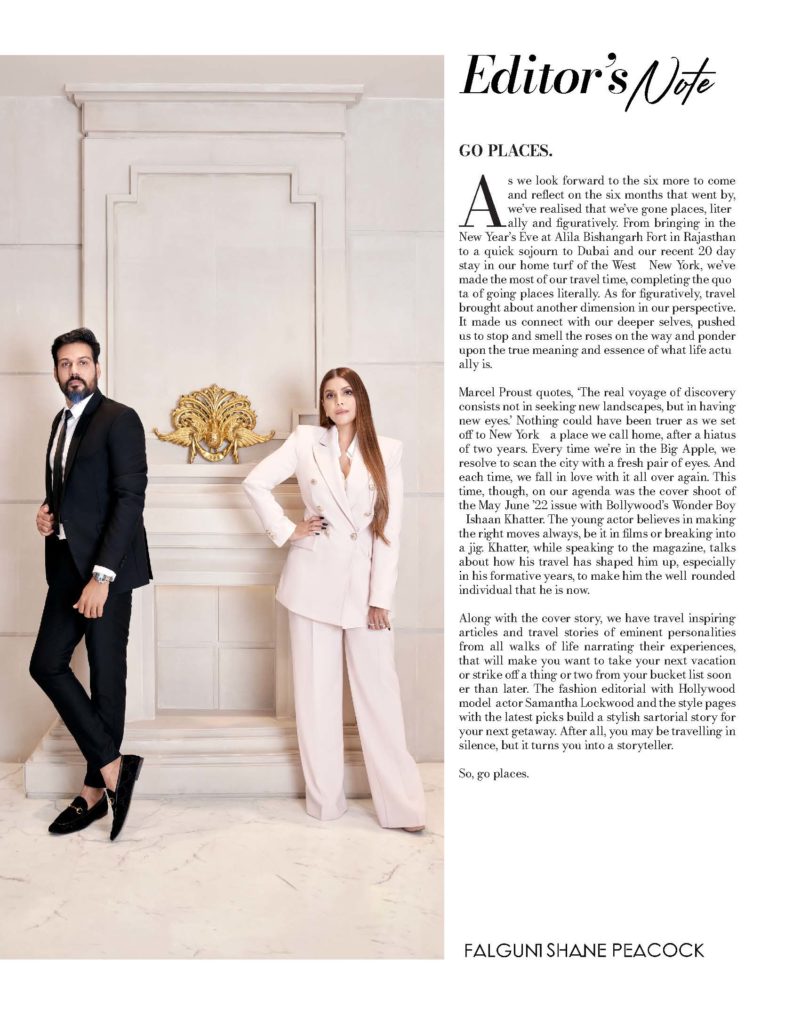 JUN/JUL/AUG 2022 | EDITORS NOTE
GO PLACES.
As we look forward to the six more to come and reflect on the six months that went by, we've realised that we've gone places, literally and figuratively. From bringing in the New Year's Eve at Alila Bishangarh Fort in Rajasthan to a quick sojourn to Dubai and our recent 20-day stay in our home turf of the West – New York, we've made the most of our travel time, completing the quota of going places literally. As for figuratively, travel brought about another dimension in our perspective. It made us connect with our deeper selves, pushed us to stop and smell the roses on the way and ponder upon the true meaning and essence of what life actually is.
Marcel Proust quotes, 'The real voyage of discovery consists not in seeking new landscapes, but in having new eyes.' Nothing could have been truer as we set off to New York – a place we call home, after a hiatus of two years. Every time we're in the Big Apple, we resolve to scan the city with a fresh pair of eyes. And each time, we fall in love with it all over again. This time, though, on our agenda was the cover shoot of the May-June '22 issue with Bollywood's Wonder Boy – Ishaan Khatter. The young actor believes in making the right moves always, be it in films or breaking into a jig. Khatter, while speaking to the magazine, talks about how his travel has shaped him up, especially in his formative years, to make him the well-rounded individual that he is now.
Along with the cover story, we have travel-inspiring articles and travel stories of eminent personalities from all walks of life narrating their experiences, that will make you want to take your next vacation or strike off a thing or two from your bucket list sooner than later. The fashion editorial with Hollywood model-actor Samantha Lockwood and the style pages with the latest picks build a stylish sartorial story for your next getaway. After all, you may be travelling in silence, but it turns you into a storyteller.
So, go places.




Add to favorites