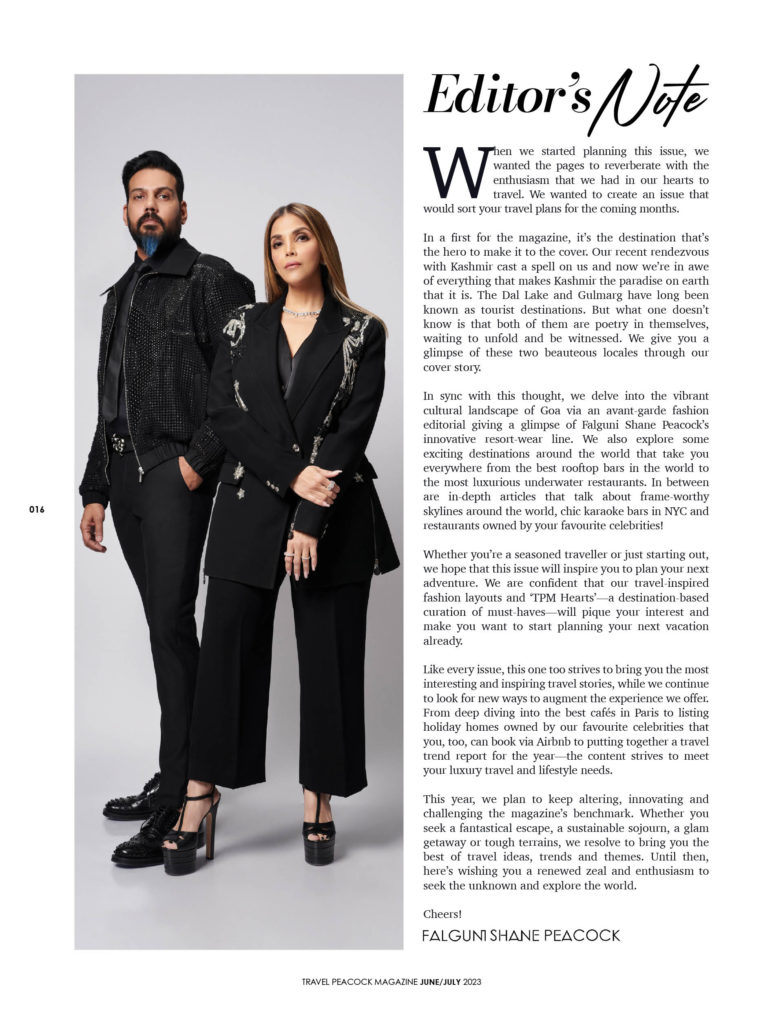 JUNE/JULY 2023 | EDITORS NOTE
'Travel more' was one of the first things we jotted down when we set out to make our resolutions for 2023. Sure, resolutions are a passé and half of them go for a toss by the end of January itself—but for us, resolutions, especially those related to travel, make us want to look forward to the rest of the year with a renewed zeal and get into the lovely hustle of planning.
Naturally, when we started planning this issue, we wanted the pages to reverberate with the enthusiasm that we had in our hearts. We wanted to create an issue that would sort your travel plans for the coming months.
In a first for the magazine, it's the destination that's the hero to make it to the cover. Our recent rendezvous with Kashmir cast a spell on us, and now we're in awe of everything that makes Kashmir the paradise on earth that it is. The Dal Lake and Gulmarg have long been known as tourist destinations. But what one doesn't know is that both of them are poetry in themselves, waiting to unfold and be witnessed. We give you a glimpse of these two beauteous locales through our cover story.
In sync with this thought, we delve into the vibrant cultural landscape of Goa via an avant-garde fashion editorial giving a glimpse of Falguni Shane Peacock's innovative resort-wear line. We also explore some exciting destinations around the world that take you everywhere from the best rooftop bars in the world to the most luxurious underwater restaurants. In between are in-depth articles that talk about frame-worthy skylines around the world, chic karaoke bars in NYC and restaurants owned by your favourite celebrities!
Whether you're a seasoned traveller or just starting out, we hope that this issue will inspire you to plan your next adventure. We are confident that our travel-inspired fashion layouts and 'TPM Hearts'—a destination-based curation of must-haves—will pique your interest and make you want to start planning your next vacation already.
Like every issue, this one too strives to bring you the most interesting and inspiring travel stories, while we continue to look for new ways to augment the experience we offer. Expect to witness glimmers of hope, serenity and dazzle shining through the pages. From deep diving into the best cafés in Paris to listing holiday homes owned by our favourite celebrities that you, too, can book via Airbnb to putting together a travel trend report for the year—the content strives to meet your luxury travel and lifestyle needs.
This year, we plan to keep altering, innovating and challenging the magazine's benchmark. Whether you seek a fantastical escape, a sustainable sojourn, a glam getaway or tough terrains, we resolve to bring you the best of travel ideas, trends and themes. Until then, here's wishing you a renewed zeal and enthusiasm to seek the unknown and explore the world.
Cheers!