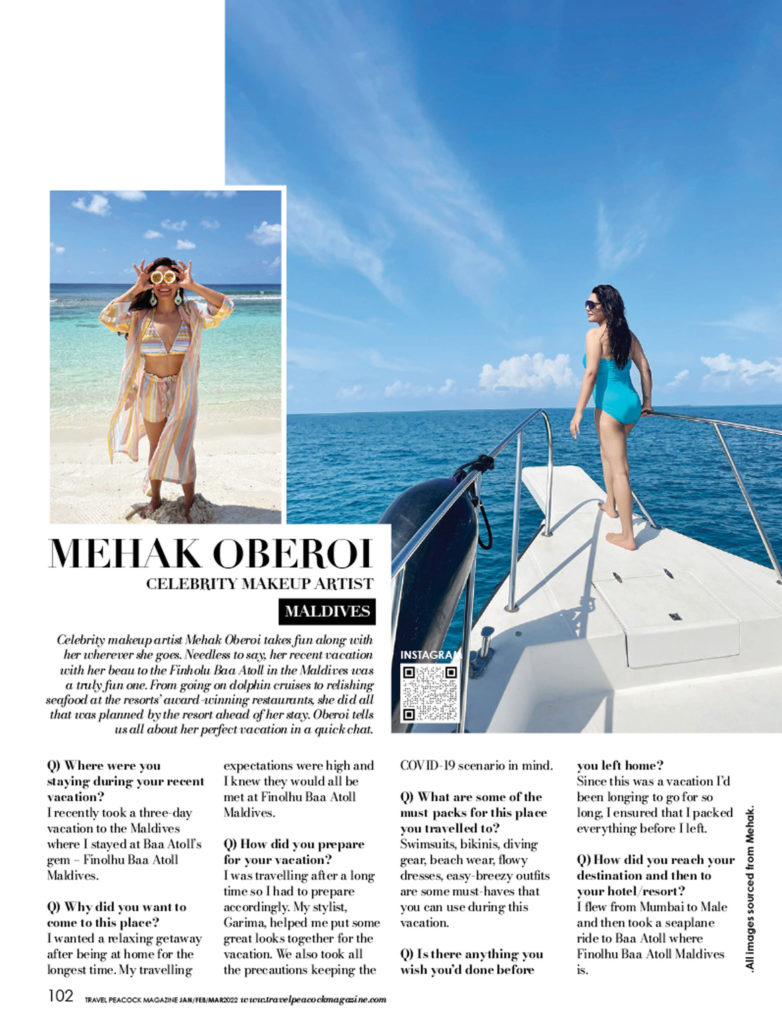 Celebrity makeup artist Mehak Oberoi takes fun along with her wherever she goes. Needless to say, her recent vacation with her beau to the Finholu Baa Atoll in the Maldives was a truly fun one. From going on dolphin cruises to relishing seafood at the resorts' award-winning restaurants, she did all that was planned by the resort ahead of her stay. Oberoi tells us all about her perfect vacation in a quick chat.
[Q] Where were you staying during your recent vacation?
I recently took a three-day vacation to the Maldives where I stayed at Baa Atoll's gem — Finolhu Baa Atoll Maldives.
[Q] Why did you want to come to this place?
I wanted a relaxing getaway after being at home for the longest time. My travelling expectations were high and I knew they would all be met at Finolhu Baa Atoll Maldives.
[Q] How did you prepare for your vacation?
I was travelling after a long time so I had to prepare accordingly. My stylist, Garima, helped me put some great looks together for the vacation. We also took all the precautions keeping the COVID-19 scenario in mind.
[Q] What are some of the must-packs for this place you travelled to?
Swimsuits, bikinis, diving gear, beach wear, flowy dresses, easy-breezy outfits are some must-haves that you can use during this vacation.
[Q] Is there anything you wish you'd done before you left home?
Since this was a vacation I'd been longing to go for so long, I ensured that I packed everything before I left.
[Q] How did you reach your destination and then to your hotel/resort?
I flew from Mumbai to Male and then took a seaplane ride to Baa Atoll where Finolhu Baa Atoll Maldives is.
[Q] What is the first thing you did when you entered your hotel/resort room?
The warm hotel staff welcomed us with some amazing wine when we entered the property. On entering the room, we were mesmerised by the view and spent some time lounging and relaxing, post which I took a dip in our private pool.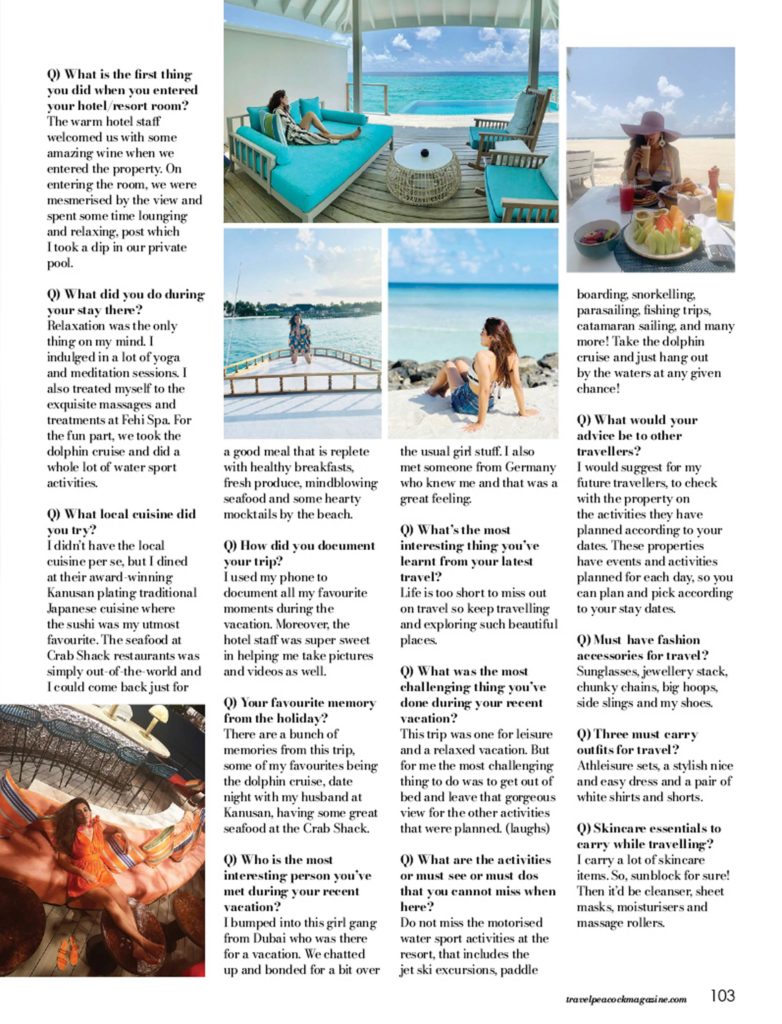 [Q] What did you do during your stay there?
Relaxation was the only thing on my mind. I indulged in a lot of yoga and meditation sessions. I also treated myself to the exquisite massages and treatments at Fehi Spa. For the fun part, we took the dolphin cruise and did a whole lot of water sport activities.
[Q] What local cuisine did you try?
I didn't have the local cuisine per se, but I dined at their award-winning Kanusan plating traditional Japanese cuisine where the sushi was my utmost favourite. The seafood at Crab Shack restaurants was simply out-of-the-world and I could come back just for a good meal that is replete with healthy breakfasts, fresh produce, mindblowing seafood and some hearty mocktails by the beach.
[Q] How did you document your trip?
I used my phone to document all my favourite moments during the vacation. Moreover, the hotel staff was super sweet in helping me take pictures and videos as well.
[Q] Your favourite memory from the holiday?
There are a bunch of memories from this trip, some of my favourites being the dolphin cruise, date night with my husband at Kanusan, having some great seafood at the Crab Shack.
[Q] Who is the most interesting person you've met during your recent vacation?
I bumped into this girl gang from Dubai who was there for a vacation. We chatted up and bonded for a bit over the usual girl stuff. I also met someone from Germany who knew me and that was a great feeling.
[Q] What's the most interesting thing you've learnt from your latest travel?
Life is too short to miss out on travel so keep travelling and exploring such beautiful places.
[Q] What was the most challenging thing you've done during your recent vacation?
This trip was one for leisure and a relaxed vacation. But for me the most challenging thing to do was to get out of bed and leave that gorgeous view for the other activities that were planned. (laughs)
[Q] What are the activities or must-see or must-dos that you cannot miss when here?
Do not miss the motorised water sport activities at the resort, that includes the jet ski excursions, paddle boarding, snorkelling, parasailing, fishing trips, catamaran sailing, and many more! Take the dolphin cruise and just hang out by the waters at any given chance!
[Q] What would your advice be to other travellers?
I would suggest for my future travellers, to check with the property on the activities they have planned according to your dates. These properties have events and activities planned for each day, so you can plan and pick according to your stay dates.
[Q] Must-have fashion accessories for travel?
Sunglasses, jewellery stack, chunky chains, big hoops, side slings and my shoes.
[Q] Three must-carry outfits for travel?
Athleisure sets, a stylish nice and easy dress and a pair of white shirts and shorts.
[Q] Skincare essentials to carry while travelling?
I carry a lot of skincare items. So, sunblock for sure! Then it'd be cleanser, sheet masks, moisturisers and massage rollers.




Add to favorites