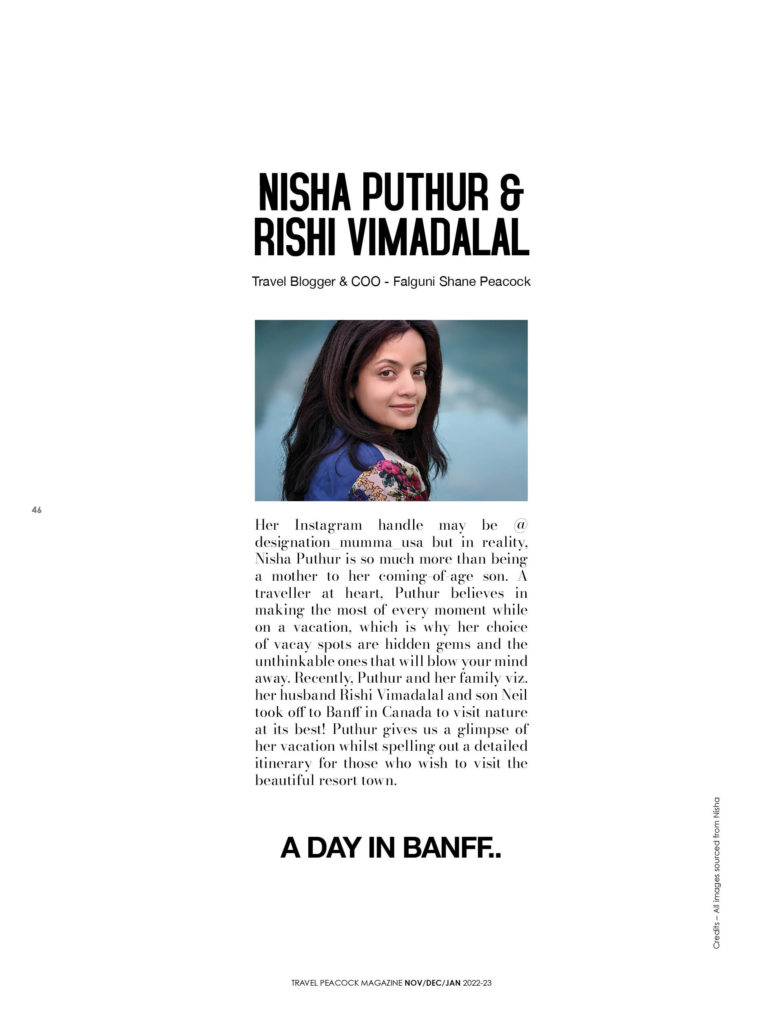 Credits – All images sourced from Nisha
Her Instagram handle may be @designation_mumma_usa but in reality, Nisha Puthur is so much more than being a mother to her coming-of-age son. A traveller at heart, Puthur believes in making the most of every moment while on a vacation, which is why her choice of vacay spots are hidden gems and the unthinkable ones that will blow your mind away. Recently, Puthur and her family viz. her husband Rishi Vimadalal and son Neil took off to Banff in Canada to visit nature at its best! Puthur gives us a glimpse of her vacation whilst spelling out a detailed itinerary for those who wish to visit the beautiful resort town.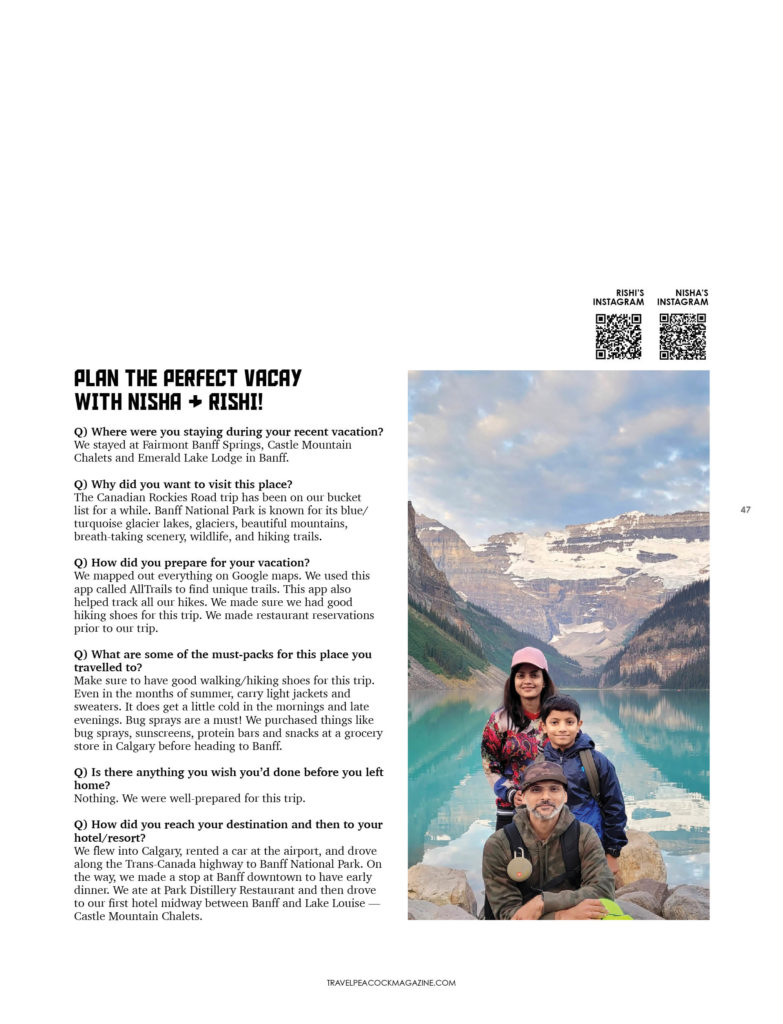 Q) Where were you staying during your recent vacation?
We stayed at Fairmont Banff Springs, Castle Mountain Chalets and Emerald Lake Lodge in Banff.
Q) Why did you want to visit this place?
The Canadian Rockies Road trip has been on our bucket list for a while. Banff National Park is known for its blue/turquoise glacier lakes, glaciers, beautiful mountains, breath-taking scenery, wildlife, and hiking trails.
Q) How did you prepare for your vacation?
We mapped out everything on Google maps. We used this app called AllTrails to find unique trails. This app also helped track all our hikes. We made sure we had good hiking shoes for this trip. We made restaurant reservations prior to our trip.
Q) What are some of the must-packs for this place you travelled to?
Make sure to have good walking/hiking shoes for this trip. Even in the months of summer, carry light jackets and sweaters. It does get a little cold in the mornings and late evenings. Bug sprays are a must! We purchased things like bug sprays, sunscreens, protein bars and snacks at a grocery store in Calgary before heading to Banff.
Q) Is there anything you wish you'd done before you left home?
Nothing. We were well-prepared for this trip.
Q) How did you reach your destination and then to your hotel/resort?
We flew into Calgary, rented a car at the airport, and drove along the Trans-Canada highway to Banff National Park. On the way, we made a stop at Banff downtown to have early dinner. We ate at Park Distillery Restaurant and then drove to our first hotel midway between Banff and Lake Louise — Castle Mountain Chalets.
Q) What is the first thing you did when you entered your hotel/resort room?
Since it was a long day of travel and we got to our hotel late, we went to bed. We woke up really early in the morning the next day to drive to Lake Louise to catch the sunrise.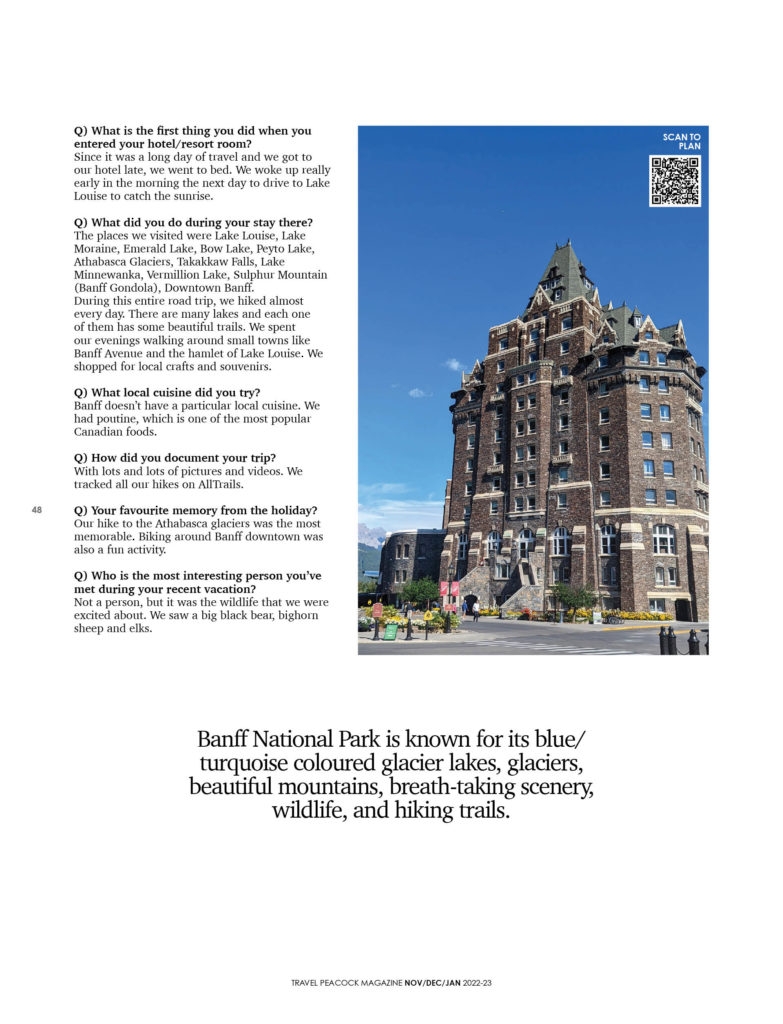 Q) What did you do during your stay there?
The places we visited were Lake Louise, Lake Moraine, Emerald Lake, Bow Lake, Peyto Lake, Athabasca Glaciers, Takakkaw Falls, Lake Minnewanka, Vermillion Lake, Sulphur Mountain (Banff Gondola), Downtown Banff.
During this entire road trip, we hiked almost every day. There are many lakes and each one of them has some beautiful trails. We spent our evenings walking around small towns like Banff Avenue and the hamlet of Lake Louise. We shopped for local crafts and souvenirs.
Q) What local cuisine did you try?
Banff doesn't have a particular local cuisine. We had poutine, which is one of the most popular Canadian foods.
Q) How did you document your trip?
With lots and lots of pictures and videos. We tracked all our hikes on AllTrails.
Q) Your favourite memory from the holiday?
Our hike to the Athabasca glaciers was the most memorable. Biking around Banff downtown was also a fun activity.
Q) Who is the most interesting person you've met during your recent vacation?
Not a person, but it was the wildlife that we were excited about. We saw a big black bear, bighorn sheep and elks.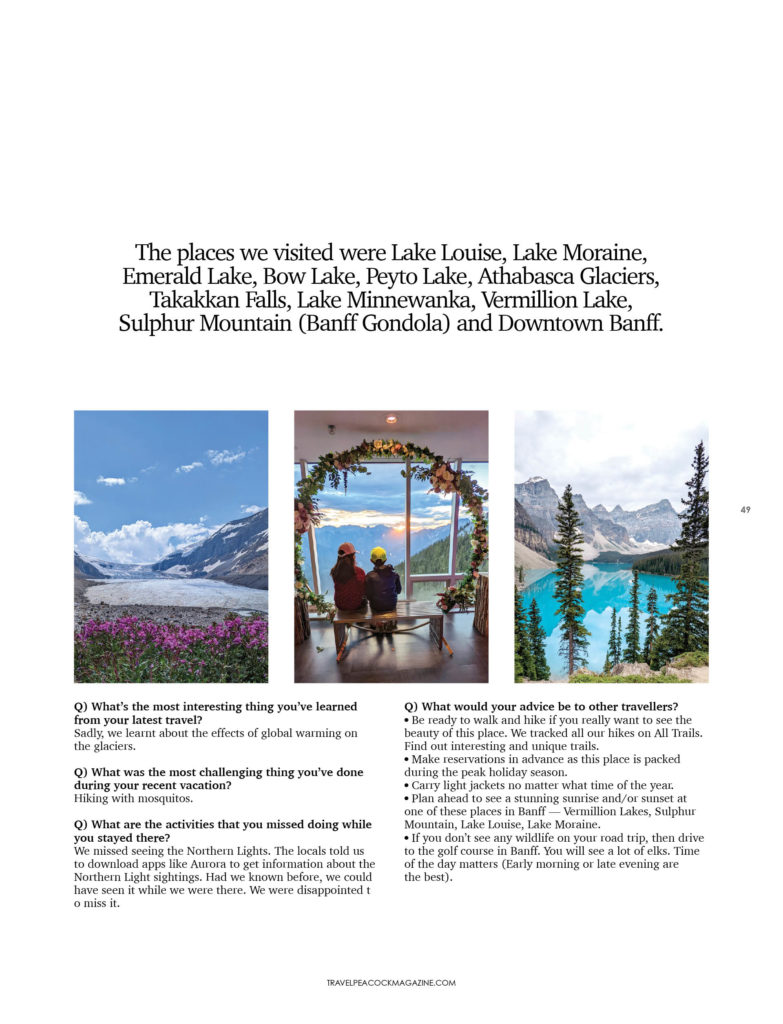 Q) What's the most interesting thing you've learned from your latest travel?
Sadly, we learnt about the effects of global warming on the glaciers.
Q) What was the most challenging thing you've done during your recent vacation?
Hiking with mosquitos.
Q) What are the activities that you missed doing while you stayed there?
We missed seeing the Northern Lights. The locals told us to download apps like Aurora to get information about the Northern Light sightings. Had we known before, we could have seen it while we were there. We were disappointed to miss it.
Q) What would your advice be to other travellers?
– Be ready to walk and hike if you really want to see the beauty of this place. We tracked all our hikes on All Trails. Find out interesting and unique trails.
– Make reservations in advance as this place is packed during the peak holiday season.
– Carry light jackets no matter what time of the year.
– Plan ahead to see a stunning sunrise and/or sunset at one of these places in Banff — Vermillion Lakes, Sulphur Mountain, Lake Louise, Lake Moraine.
– If you don't see any wildlife on your road trip, then drive to the golf course in Banff. You will see a lot of elks. Time of the day matters (Early morning or late evening are the best).