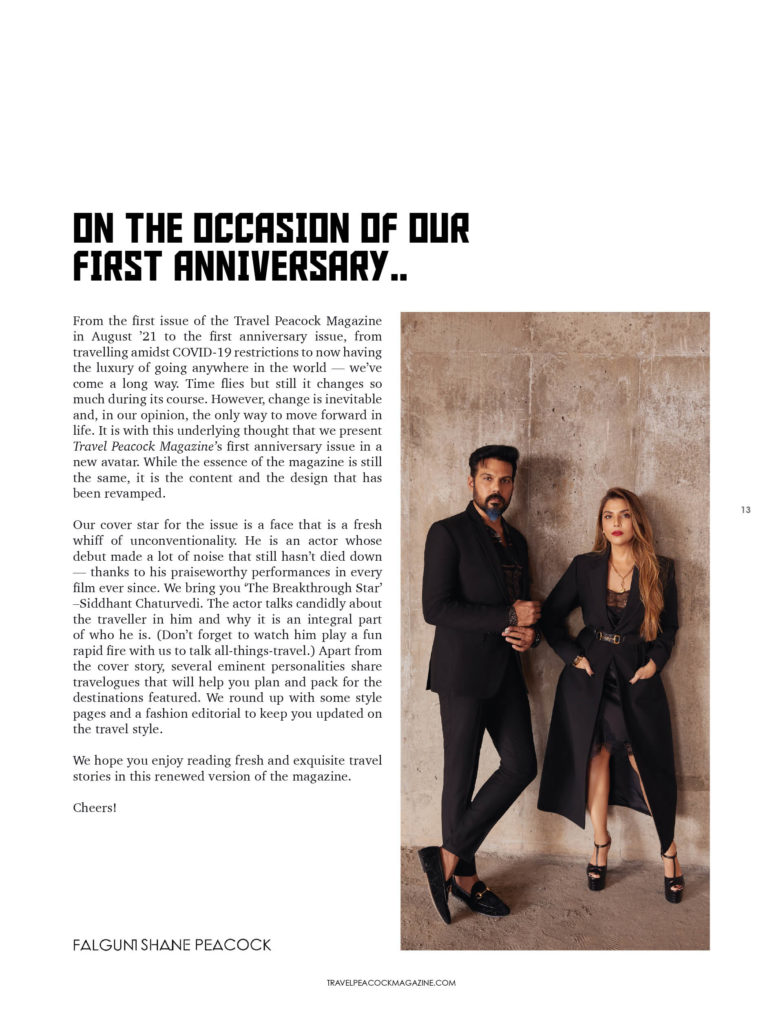 NOV / DEC/ JAN 2022/2023 | EDITORS NOTE
ON THE OCCASION OF OUR FIRST ANNIVERSARY…
From the first issue of the Travel Peacock Magazine in August '21 to the first anniversary issue, from travelling amidst COVID-19 restrictions to now having the luxury of going anywhere in the world — we've come a long way. Time flies but still it changes so much during its course. However, change is inevitable and, in our opinion, the only way to move forward in life. It is with this underlying thought that we present Travel Peacock Magazine's first anniversary issue in a new avatar. While the essence of the magazine is still the same, it is the content and the design that has been revamped.
Our cover stars for the issue, too, are faces that are a fresh whiff of unconventionality. Our first cover star is an actor who made some striking moves in the beginning of her career and still continues to do so. We're talking about 'The Exceptional Star': Radhika Apte. Following close is our second cover star — an actor whose debut made a lot of noise that still hasn't died down — thanks to his praiseworthy performances in every film ever since. We bring you the man of the moment–Siddhant Chaturvedi. Both Apte and Chaturvedi talk candidly about the traveller in them and why it is an integral part of who they are. (Don't forget to watch these eclectic stars play a fun rapid fire with us to talk all-things-travel.) Apart from the cover stories, several eminent personalities share travelogues that will help you plan and pack for the destinations featured. We round up with some style pages and a fashion editorial to keep you updated on the travel style.
We hope you enjoy reading fresh and exquisite travel stories in this renewed version of the magazine. Cheers!


Add to favorites