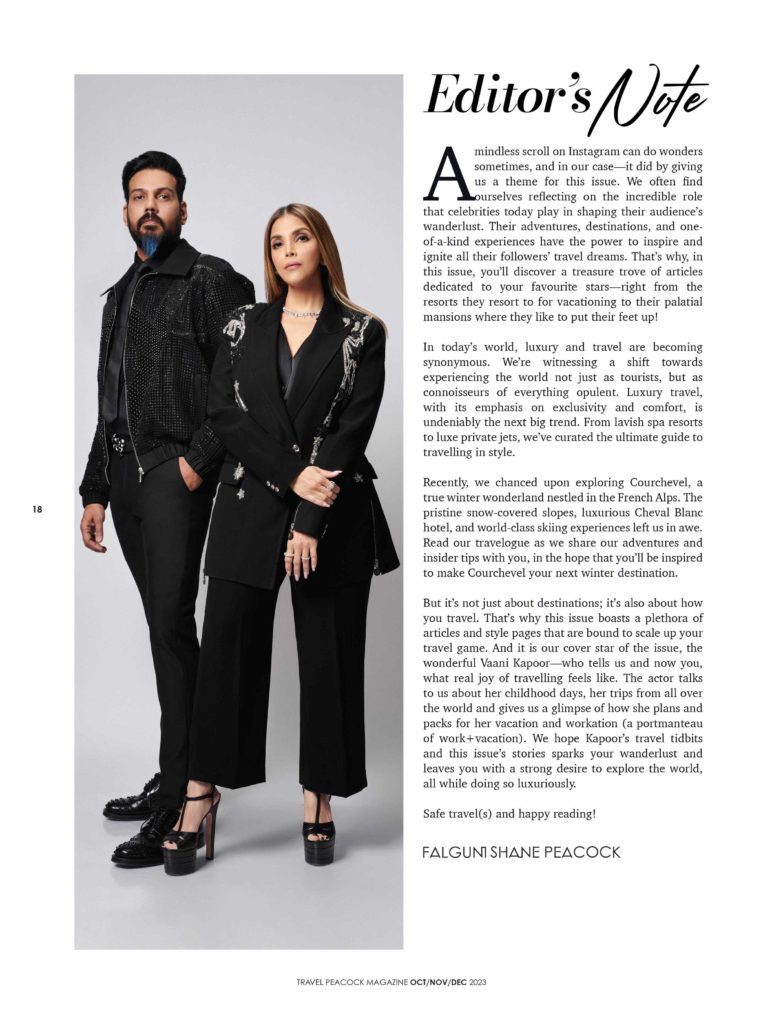 OCT/NOV/DEC 2023 | EDITORS NOTE
A mindless scroll on Instagram can do wonders sometimes, and in our case—it did by giving us a theme for this issue. We often find ourselves reflecting on the incredible role that celebrities today play in shaping their fan's wanderlust. Their adventures, destinations, and one-of-a-kind experiences have the power to inspire and ignite all their followers' travel dreams. That's why, in this issue, you'll discover a treasure trove of articles dedicated to your favourite stars—right from the resorts they resort to for vacationing to their palatial mansions where they like to put their feet up!
In today's world, luxury and travel are becoming synonymous. We're witnessing a shift towards experiencing the world not just as tourists, but as connoisseurs of everything opulent. Luxury travel, with its emphasis on exclusivity and comfort, is undeniably the next big trend. From lavish spa resorts to luxe private jets, we've curated the ultimate guide to travelling in style.
Recently, we chanced upon exploring Courchevel, a true winter wonderland nestled in the French Alps. The pristine snow-covered slopes, luxurious Cheval Blanc hotel, and world-class skiing experiences left us in awe. Read our travelogue as we share our adventures and insider tips with you, in the hope that you'll be inspired to make Courchevel your next winter destination.
But it's not just about destinations; it's also about how you travel. That's why this issue boasts a plethora of articles and style pages that are bound to scale up your travel game. But it is our cover star of the issue, the wonderful Vaani Kapoor—who tells us and now you, what the real joy of travelling feels like. The actor talks to us about her childhood days, her trips from all over the world and gives us a glimpse of how she plans and packs for her vacation and workation (a portmanteau of work+vacation). We hope Kapoor's travel tidbits and this issue's stories sparks your wanderlust and leaves you with a strong desire to explore the world, all while doing so luxuriously.
Safe travel(s) and happy reading!



Add to favorites