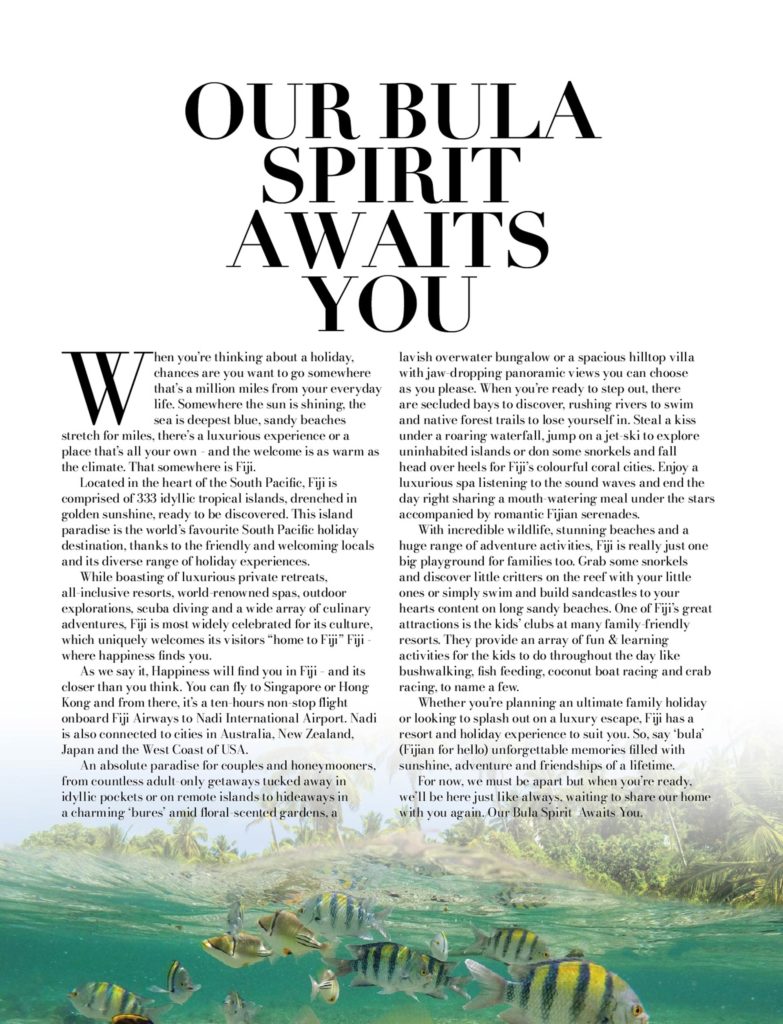 When you're thinking about a holiday, chances are you want to go somewhere that's a million miles from your everyday life. Somewhere the sun is shining, the sea is deepest blue, sandy beaches stretch for miles, there's a luxurious experience or a place that's all your own – and the welcome is as warm as the climate. That somewhere is Fiji.
Located in the heart of the South Pacific, Fiji is comprised of 333 idyllic tropical islands, drenched in golden sunshine, ready to be discovered. This island paradise is the world's favourite South Pacific holiday destination, thanks to the friendly and welcoming locals and its diverse range of holiday experiences.
While boasting of luxurious private retreats, all-inclusive resorts, world-renowned spas, outdoor explorations, scuba diving and a wide array of culinary adventures, Fiji is most widely celebrated for its culture, which uniquely welcomes its visitors "home to Fiji" Fiji – where happiness finds you.
As we say it, Happiness will find you in Fiji – and its closer than you think. You can fly to Singapore or Hong Kong and from there, it's a ten-hours non-stop flight onboard Fiji Airways to Nadi International Airport. Nadi is also connected to cities in Australia, New Zealand, Japan and the West Coast of USA.
An absolute paradise for couples and honeymooners, from countless adult-only getaways tucked away in idyllic pockets or on remote islands to hideaways in a charming 'bures' amid floral-scented gardens, a lavish overwater bungalow or a spacious hilltop villa with jaw-dropping panoramic views you can choose as you please. When you're ready to step out, there are secluded bays to discover, rushing rivers to swim and native forest trails to lose yourself in. Steal a kiss under a roaring waterfall, jump on a jet-ski to explore uninhabited islands or don some snorkels and fall head over heels for Fiji's colourful coral cities. Enjoy a luxurious spa listening to the sound waves and end the day right sharing a mouth-watering meal under the stars accompanied by romantic Fijian serenades.
With incredible wildlife, stunning beaches and a huge range of adventure activities, Fiji is really just one big playground for families too. Grab some snorkels and discover little critters on the reef with your little ones or simply swim and build sandcastles to your hearts content on long sandy beaches. One of Fiji's great attractions is the kids' clubs at many family-friendly resorts. They provide an array of fun & learning activities for the kids to do throughout the day like bushwalking, fish feeding, coconut boat racing and crab racing, to name a few.
Whether you're planning an ultimate family holiday or looking to splash out on a luxury escape, Fiji has a resort and holiday experience to suit you. So, say 'bula' (Fijian for hello) unforgettable memories filled with sunshine, adventure and friendships of a lifetime.
For now, we must be apart but when you're ready, we'll be here just like always, waiting to share our home with you again. Our Bula Spirit Awaits You.