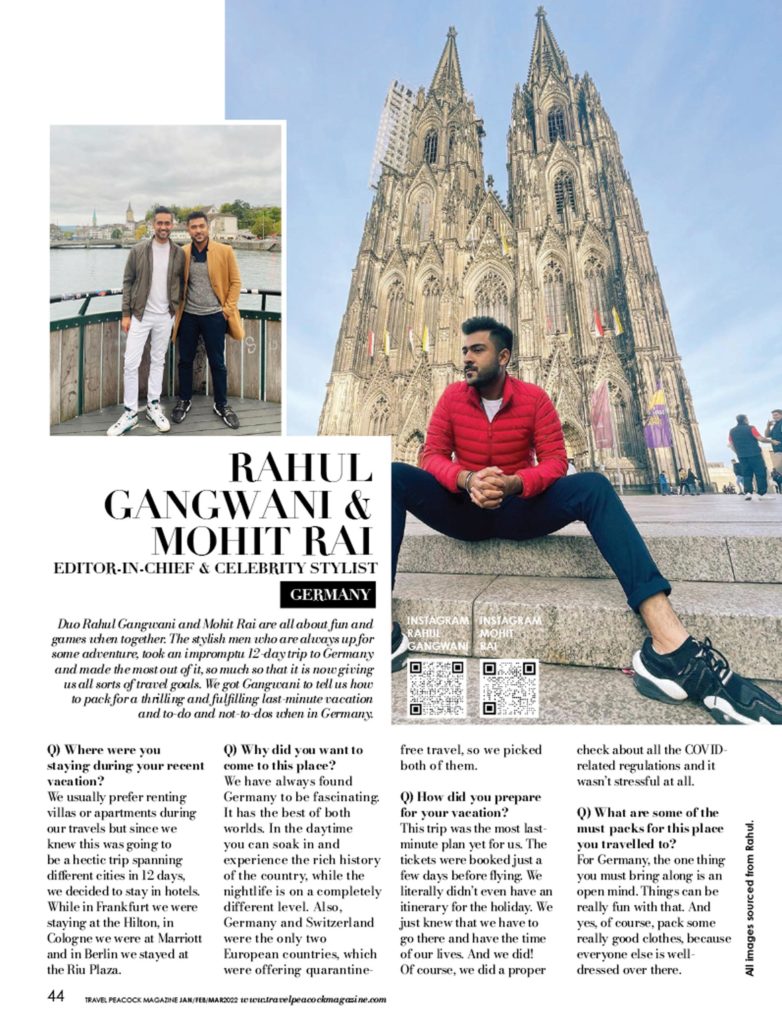 Duo Rahul Gangwani and Mohit Rai are all about fun and games when together. The stylish men who are always up for some adventure, took an impromptu 12-day trip to Germany and made the most out of it, so much so that it is now giving us all sorts of travel goals. We got Gangwani to tell us how to pack for a thrilling and fulfilling last-minute vacation and to-do and not-to-dos when in Germany.
[Q] Where were you staying during your recent vacation?
We usually prefer renting villas or apartments during our travels but since we knew this was going to be a hectic trip spanning different cities in 12 days, we decided to stay in hotels. While in Frankfurt we were staying at the Hilton, in Cologne we were at Marriott and in Berlin we stayed at the Riu Plaza.
[Q] Why did you want to come to this place?
We have always found Germany to be fascinating. It has the best of both worlds. In the daytime you can soak in and experience the rich history of the country, while the nightlife is on a completely different level. Also, Germany and Switzerland were the only two European countries, which were offering quarantine-free travel, so we picked both of them.
[Q] How did you prepare for your vacation?
This trip was the most last-minute plan yet for us. The tickets were booked just a few days before flying. We literally didn't even have an itinerary for the holiday. We just knew that we have to go there and have the time of our lives. And we did! Of course, we did a proper check about all the COVID-related regulations and it wasn't stressful at all.
[Q] What are some of the must-packs for this place you travelled to?
For Germany, the one thing you must bring along is an open mind. Things can be really fun with that. And yes, of course, pack some really good clothes, because everyone else is well-dressed over there.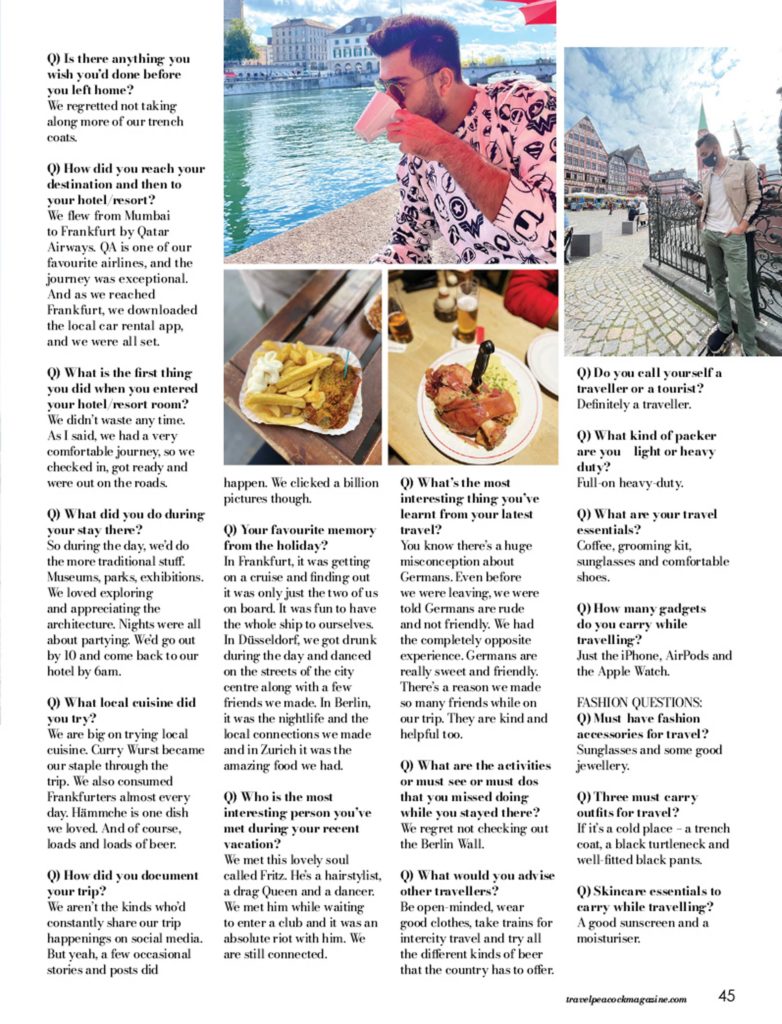 [Q] Is there anything you wish you'd done before you left home?
We regretted not taking along more of our trench coats.
[Q] How did you reach your destination and then to your hotel/resort?
We flew from Mumbai to Frankfurt by Qatar Airways. QA is one of our favourite airlines, and the journey was exceptional. And as we reached Frankfurt, we downloaded the local car rental app, and we were all set.
[Q] What is the first thing you did when you entered your hotel/resort room?
We didn't waste any time. As I said, we had a very comfortable journey, so we checked in, got ready and were out on the roads.
[Q] What did you do during your stay there?
So during the day, we'd do the more traditional stuff. Museums, parks, exhibitions. We loved exploring and appreciating the architecture. Nights were all about partying. We'd go out by 10 and come back to our hotel by 6am.
[Q] What local cuisine did you try?
We are big on trying local cuisine. Curry Wurst became our staple through the trip. We also consumed Frankfurters almost every day. Hämmche is one dish we loved. And of course, loads and loads of beer.
[Q] How did you document your trip?
We aren't the kinds who'd constantly share our trip happenings on social media. But yeah, a few occasional stories and posts did happen. We clicked a billion pictures though.
[Q] Your favourite memory from the holiday?
In Frankfurt, it was getting on a cruise and finding out it was only just the two of us on board. It was fun to have the whole ship to ourselves. In Düsseldorf, we got drunk during the day and danced on the streets of the city centre along with a few friends we made. In Berlin, it was the nightlife and the local connections we made and in Zurich it was the amazing food we had.
[Q] Who is the most interesting person you've met during your recent vacation?
We met this lovely soul called Fritz. He's a hairstylist, a drag Queen and a dancer. We met him while waiting to enter a club and it was an absolute riot with him. We are still connected.
[Q] What's the most interesting thing you've learnt from your latest travel?
You know there's a huge misconception about Germans. Even before we were leaving, we were told Germans are rude and not friendly. We had the completely opposite experience. Germans are really sweet and friendly. There's a reason we made so many friends while on our trip. They are kind and helpful too.
[Q] What are the activities or must-see or must-dos that you missed doing while you stayed there?
We regret not checking out the Berlin Wall.
[Q] What would you advise other travellers?
Be open-minded, wear good clothes, take trains for intercity travel and try all the different kinds of beer that the country has to offer.
[Q] Do you call yourself a traveller or a tourist?
Definitely a traveller.
[Q] What kind of packer are you — light or heavy-duty?
Full-on heavy-duty.
[Q] What are your travel essentials?
Coffee, grooming kit, sunglasses and comfortable shoes.
[Q] How many gadgets do you carry while travelling?
Just the iPhone, AirPods and the Apple Watch.
[Q] What are your travelling pet peeves?
Can't stay in places which are away from the city centre.
[Q] What has been the most useful travel item you've bought?
The luggage weighing scale.
[Q] What's the most reliable source of travel advice?
Local friends.
[Q] What's the most important thing that you've ever lost on any of your vacations?
Wallet which included all ID proofs, cards as well as cash.
[Q] Do you prefer to walk, take public transport, or take private transport during a vacation?
Depends on the distance. If it's a short distance, walking is always preferred. Otherwise private transport.
[Q] What's the best souvenir you've bought?
A wine bottle holder.
[Q] Would you rather see a lot of places or get to know one really well?
See a lot of places and then visit them again to know them better.
[Q] What is your dream traveling experience?
Aruba.
[Q] What, according to you, is that one most clichéd thing to do when on a vacation?
Visit a few museums which we know will get boring.
[Q] Must-have fashion accessories for travel?
Sunglasses and some good jewellery.
[Q] Three must-carry outfits for travel?
If it's a cold place — a trench coat, a black turtleneck and well-fitted black pants.
[Q] Skincare essentials to carry while travelling?
A good sunscreen and a moisturiser.