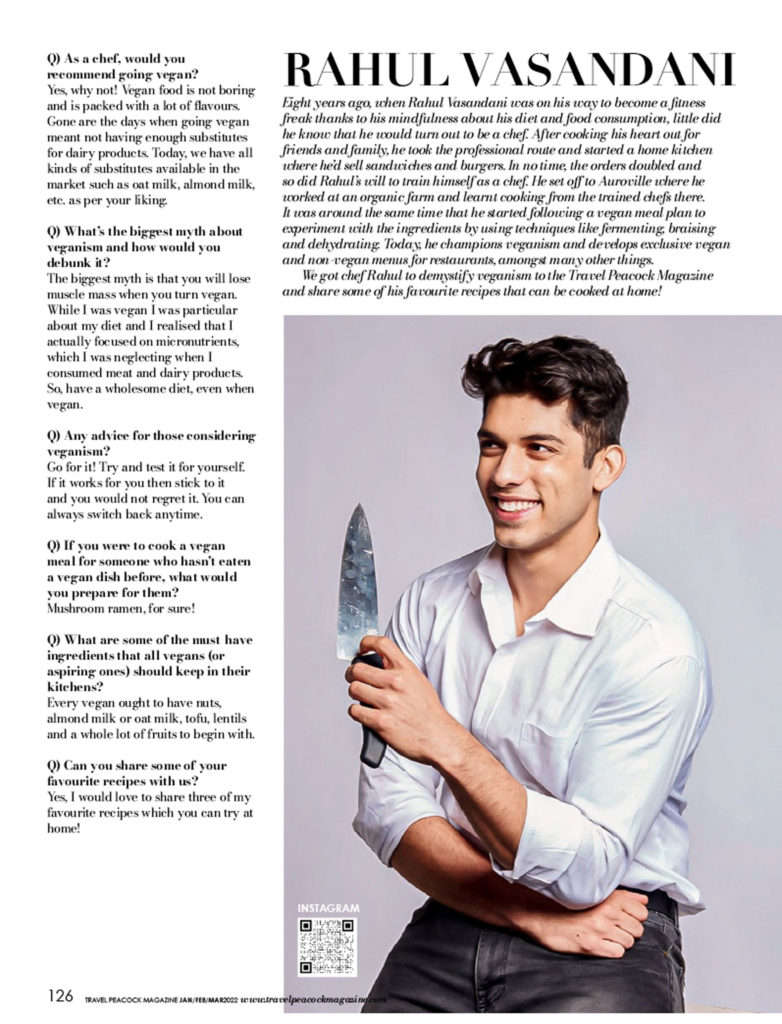 Eight years ago, when Rahul Vasandani was on his way to become a fitness freak thanks to his mindfulness about his diet and food consumption, little did he know that he would turn out to be a chef. After cooking his heart out for friends and family, he took the professional route and started a home kitchen where he'd sell sandwiches and burgers. In no time, the orders doubled and so did Rahul's will to train himself as a chef. He set off to Auroville where he worked at an organic farm and learnt cooking from the trained chefs there. It was around the same time that he started following a vegan meal plan to experiment with the ingredients by using techniques like fermenting, braising and dehydrating. Today, he champions veganism and develops exclusive vegan and non-vegan menus for restaurants, amongst many other things.

We got chef Rahul to demystify veganism to the Travel Peacock Magazine and share some of his favourite recipes that can be cooked at home!

[Q] As a chef, would you recommend going vegan?
Yes, why not! Vegan food is not boring and is packed with a lot of flavours. Gone are the days when going vegan meant not having enough substitutes for dairy products. Today, we have all kinds of substitutes available in the market such as oat milk, almond milk, etc. as per your liking.

[Q] What's the biggest myth about veganism and how would you debunk it?
The biggest myth is that you will lose muscle mass when you turn vegan. While I was vegan I was particular about my diet and I realised that I actually focused on micronutrients, which I was neglecting when I consumed meat and dairy products. So, have a wholesome diet, even when vegan.

[Q] Any advice for those considering veganism?
Go for it! Try and test it for yourself. If it works for you then stick to it and you would not regret it. You can always switch back anytime.

[Q] If you were to cook a vegan meal for someone who hasn't eaten a vegan dish before, what would you prepare for them?
Mushroom ramen, for sure!

[Q] What are some of the must-have ingredients that all vegans (or aspiring ones) should keep in their kitchens?
Every vegan ought to have nuts, almond milk or oat milk, tofu, lentils and a whole lot of fruits to begin with.

[Q] Can you share some of your favourite recipes with us?
Yes, I would love to share three of my favourite recipes which you can try at home!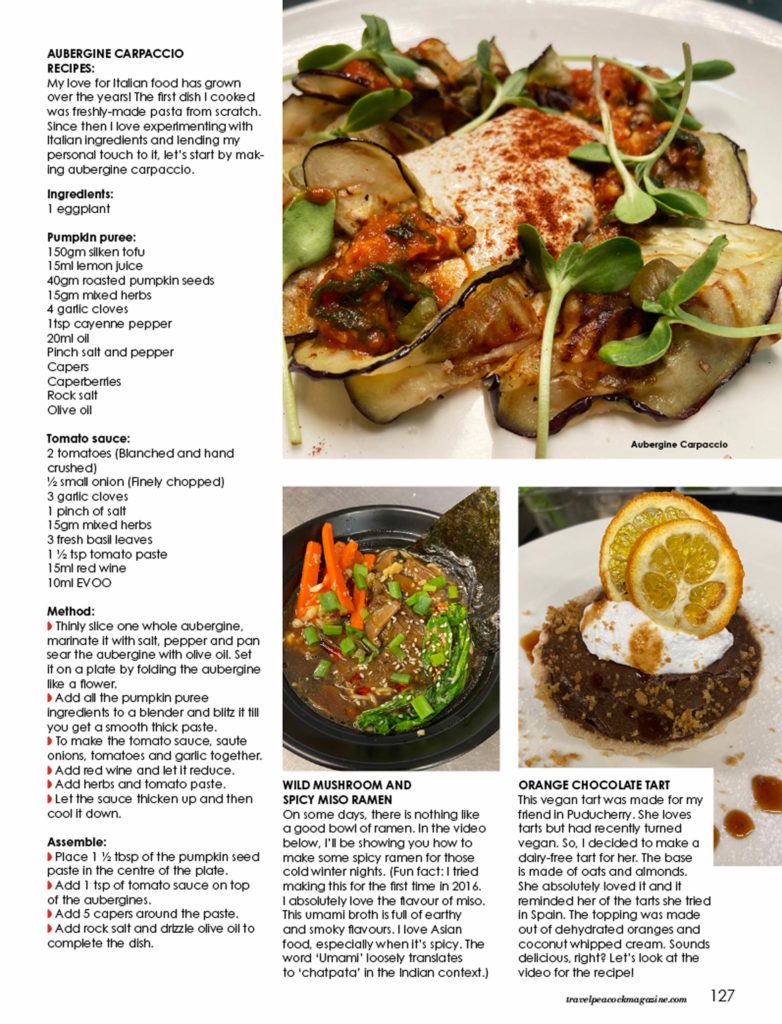 RECIPES:
My love for Italian food has grown over the years! The first dish I cooked was freshly-made pasta from scratch. Since then I love experimenting with Italian ingredients and lending my personal touch to it, let's start by making aubergine carpaccio.

Aubergine Carpaccio
Ingredients:
1 eggplant

Pumpkin puree:
150gm silken tofu
15ml lemon juice
40gm roasted pumpkin seeds
15gm mixed herbs
4 garlic cloves
1tsp cayenne pepper
20ml oil
Pinch salt and pepper
Capers
Caperberries
Rock salt
Olive oil

Tomato Sauce:
2 tomatoes (Blanched and hand crushed)
½ small onion (Finely chopped)
3 garlic cloves
1 pinch of salt
15gm mixed herbs
3 fresh basil leaves
1 ½ tsp tomato paste
15ml red wine
10ml EVOO

Method:
Thinly slice one whole aubergine, marinate it with salt, pepper and pan sear the aubergine with olive oil. Set it on a plate by folding the aubergine like a flower.
Add all the pumpkin puree ingredients to a blender and blitz it till you get a smooth thick paste.
To make the tomato sauce, saute onions, tomatoes and garlic together.
Add red wine and let it reduce.
Add herbs and tomato paste.
Let the sauce thicken up and then cool it down.

Assemble:
Place 1 ½ tbsp of the pumpkin seed paste in the centre of the plate.
Add 1 tsp of tomato sauce on top of the aubergines.
Add 5 capers around the paste.
Add rock salt and drizzle olive oil to complete the dish.

Wild Mushroom and Spicy Miso Ramen
On some days, there is nothing like a good bowl of ramen. In the video below, I'll be showing you how to make some spicy ramen for those cold winter nights. (Fun fact: I tried making this for the first time in 2016. I absolutely love the flavour of miso. This umami broth is full of earthy and smoky flavours. I love Asian food, especially when it's spicy. The word 'Umami' loosely translates to 'chatpata' in the Indian context. )

Orange Chocolate Tart
This vegan tart was made for my friend in Puducherry. She loves tarts but had recently turned vegan. So, I decided to make a dairy-free tart for her. The base is made of oats and almonds. She absolutely loved it and it reminded her of the tarts she tried in Spain. The topping was made out of dehydrated oranges and coconut whipped cream. Sounds delicious, right? Let's look at the video for the recipe!


Add to favorites