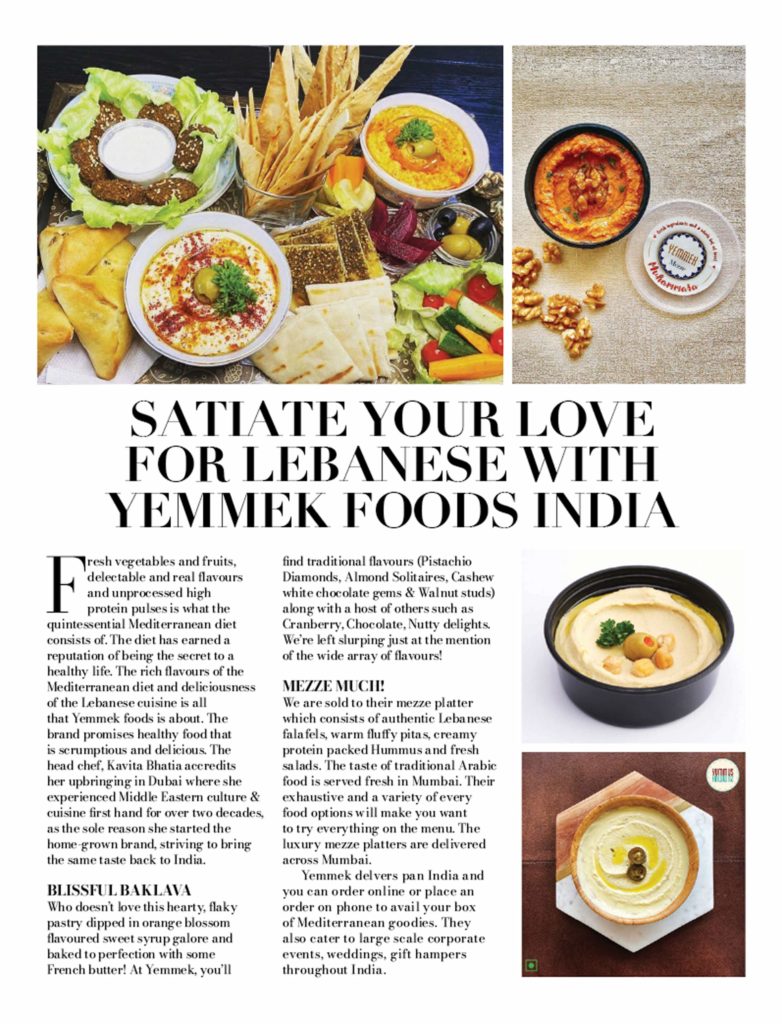 Fresh vegetables and fruits, delectable and real flavours and unprocessed high-protein pulses is what the quintessential Mediterranean diet consists of. The diet has earned a reputation of being the secret to a healthy life. The rich flavours of the Mediterranean diet and deliciousness of the Lebanese cuisine is all that Yemmek Foods is about. The brand promises healthy food that is scrumptious and delicious. The head chef, Kavita Bhatia accredits her upbringing in Dubai where she experienced Middle Eastern culture and cuisine first hand for over two decades, as the sole reason for starting the home-grown brand, striving to recreate the same taste in India.
BLISSFUL BAKLAVA
Who doesn't love this hearty, flaky pastry dipped in orange-blossom-flavoured sweet syrup and baked to perfection with some French butter! At Yemmek, you'll find traditional flavours (Pistachio diamonds, almond solitaires, cashew white chocolate gems and walnut studs) along with a host of others such as Cranberry, Chocolate, Nutty delights. We're left slurping just at the mention of the wide array of flavours!
MEZZE MUCH!
We can't help but swear by their mezze platter, which consists of authentic Lebanese falafels, warm fluffy pitas, creamy protein packed Hummus and fresh salads. The taste of traditional Arabic food is served fresh in Mumbai. Their exhaustive and versatile food options will make you want to try everything on the menu. The luxury mezze platters are delivered across Mumbai.
Yemmek delvers pan India and you can order online or place an order on your phone to avail your box of Mediterranean goodies. They also cater to large-scale corporate events, weddings and deliver gift hampers across India.




Add to favorites