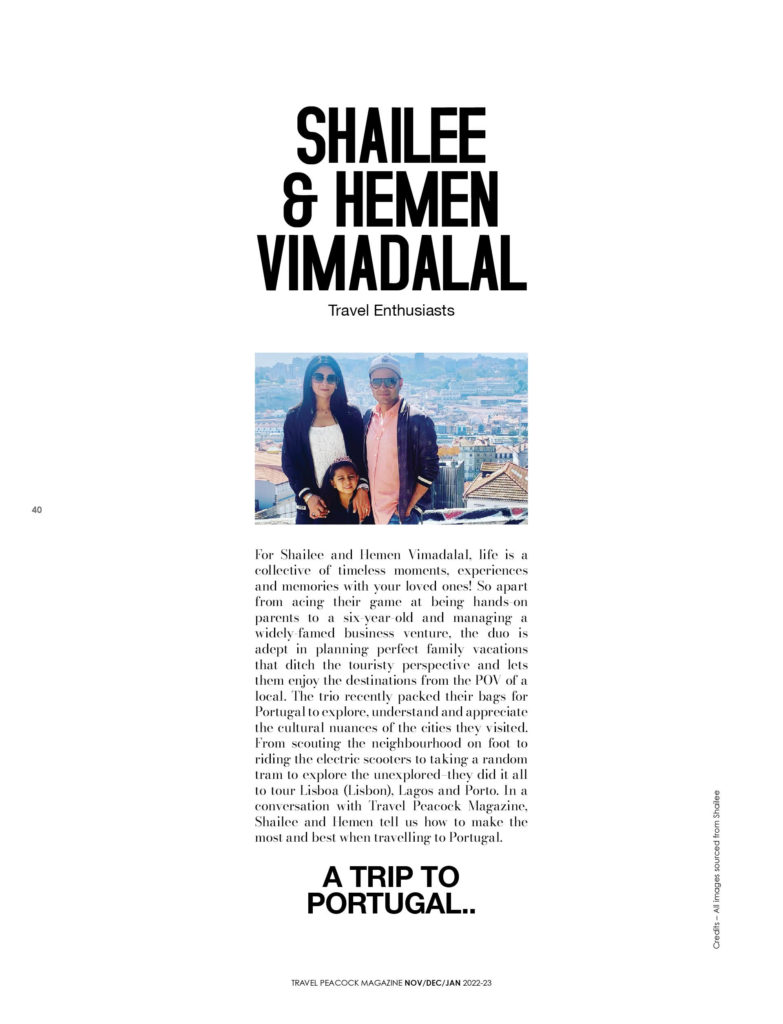 Credits – All images sourced from Shailee
For Shailee and Hemen Vimadalal, life is a collective of timeless moments, experiences and memories with your loved ones! So apart from acing their game at being hands-on parents to a six-year-old and managing a widely-famed business venture, the duo is adept in planning perfect family vacations that ditch the touristy perspective and lets them enjoy the destinations from the POV of a local. The trio recently packed their bags for Portugal to explore, understand and appreciate the cultural nuances of the cities they visited. From scouting the neighbourhood on foot to riding the electric scooters to taking a random tram to explore the unexplored—they did it all to tour Lisboa (Lisbon), Lagos and Porto. In a conversation with Travel Peacock Magazine, Shailee and Hemen tell us how to make the most and best when travelling to Portugal.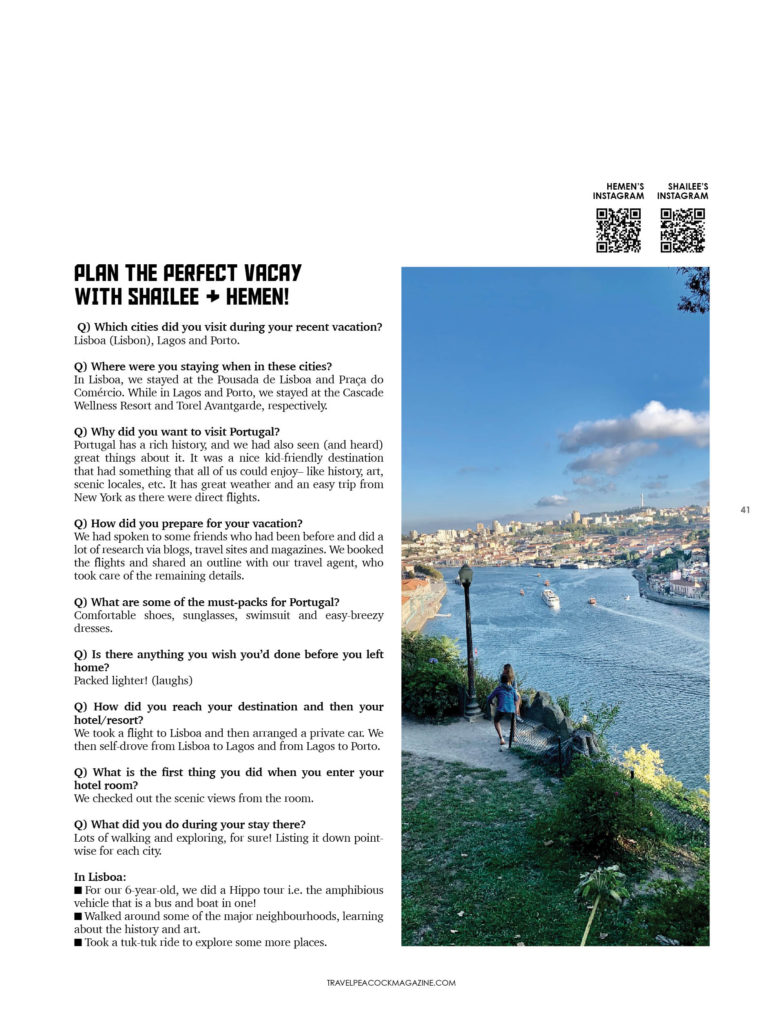 Q) Which cities did you visit during your recent vacation?
Lisboa (Lisbon), Lagos and Porto.
Q) Where were you staying when in these cities?
In Lisboa, we stayed at the Pousada de Lisboa and Praça do Comércio. While in Lagos and Porto, we stayed at the Cascade Wellness Resort and Torel Avantgarde, respectively.
Q) Why did you want to visit Portugal?
Portugal has a rich history, and we had also seen (and heard) great things about it. It was a nice kid-friendly destination that had something that all of us could enjoy– like history, art, scenic locales, etc. It has great weather and an easy trip from New York as there were direct flights.
Q) How did you prepare for your vacation?
I had spoken to some friends who had been before and did a lot of research via blogs, travel sites and magazines. I booked the flights and shared an outline with our travel agent, who took care of the remaining details.
Q) What are some of the must-packs for Portugal?
Comfortable shoes, sunglasses, swimsuit and easy-breezy dresses.
Q) Is there anything you wish you'd done before you left home?
Packed lighter! (laughs)
Q) How did you reach your destination and then your hotel/resort?
We took a flight to Lisboa and then arranged a private car. We then self-drove from Lisboa to Lagos and from Lagos to Porto.
Q) What is the first thing you did when you enter your hotel room?
We checked out the scenic views from the room.
Q) What did you do during your stay there?
Lots of walking and exploring, for sure! Listing it down point-wise for each city.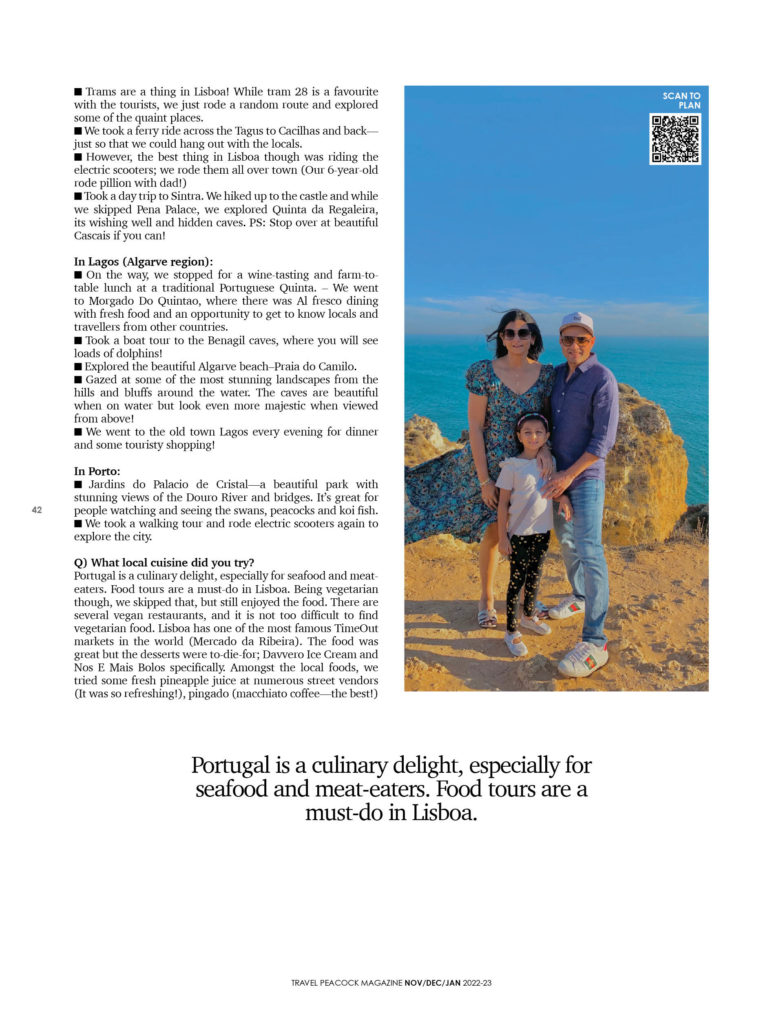 In Lisboa:
– For our 6-year-old, we did a Hippo tour i.e. the amphibious vehicle that is a bus and boat in one!
– Walked around some of the major neighbourhoods, learning about the history and art.
– Took a tuk-tuk ride to explore some more places.
– Trams are a thing in Lisboa! While tram 28 is a favourite with the tourists, we just rode a random route and explored some of the quaint places.
– We took a ferry ride across the Tagus to Cacilhas and back—just so that we could hang out with the locals.
– However, the best thing in Lisboa though was riding the electric scooters; we rode them all over town (Our 6-year-old rode pillion with dad!)
– Took a day trip to Sintra. We hiked up to the castle and while we skipped Pena Palace, we explored Quinta da Regaleira, its wishing well and hidden caves. PS: Stop over at beautiful Cascais if you can!
In Lagos (Algarve region):
– On the way, we stopped for a wine-tasting and farm-to-table lunch at a traditional Portuguese Quinta. – We went to Morgado Do Quintao, where there was Al fresco dining with fresh food and an opportunity to get to know locals and travellers from other countries.
– Took a boat tour to the Benagil caves, where you will see loads of dolphins!
– Explored the beautiful Algarve beach–Praia do Camilo.
– Gazed at some of the most stunning landscapes from the hills and bluffs around the water. The caves are beautiful when on water but look even more majestic when viewed from above!
– We went to the old town Lagos every evening for dinner and some touristy shopping!
In Porto:
– Jardins do Palacio de Cristal—a beautiful park with stunning views of the Douro River and bridges. It's great for people watching and seeing the swans, peacocks and koi fish.
– We took a walking tour and rode electric scooters again to explore the city.
Q) What local cuisine did you try?
Portugal is a culinary delight, especially for seafood and meat eaters. Food tours are a must-do in Lisboa. Being vegetarian though, we skipped that, but still enjoyed the food. There are several vegan restaurants, and it is not too difficult to find vegetarian food. Lisboa has one of the most famous TimeOut markets in the world (Mercado da Ribeira). The food was great but the desserts were to-die-for; Davvero Ice Cream and Nos E Mais Bolos specifically. Amongst the local foods, we tried some fresh pineapple juice at numerous street vendors (It was so refreshing!), pingado (macchiato coffee—the best!) pastel de nata (custard tarts that are best had with a drizzle of cinnamon powder) and pão-de-ló (sponge cake) and ginja (liquor with cherry and vodka).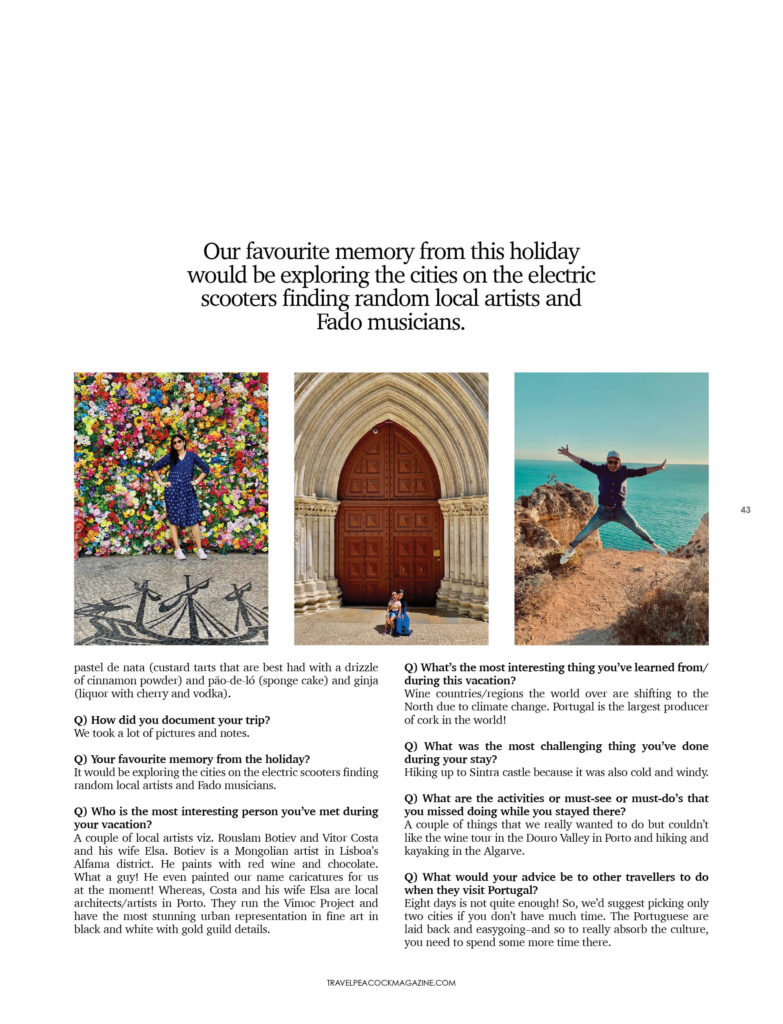 Q) How did you document your trip?
We took a lot of pictures and notes.
Q) Your favourite memory from the holiday?
It would be exploring the cities on the electric scooters finding random local artists and Fado musicians.
Q) Who is the most interesting person you've met during your vacation?
A couple of local artists viz. Rouslam Botiev and Vitor Costa and his wife Elsa. Botiev is a Mongolian artist in Lisboa's Alfama district. He paints with red wine and chocolate. What a guy! He even painted our name caricatures for us at the moment! Whereas, Costa and his wife Elsa are local architects/artists in Porto. They run the Vimoc Project and have the most stunning urban representation in fine art in black and white with gold guild details.
Q) What's the most interesting thing you've learned from/during this vacation?
Wine countries/regions the world over are shifting to the North due to climate change. Portugal is the largest producer of cork in the world!
Q) What was the most challenging thing you've done during your stay?
Hiking up to Sintra castle because it was also cold and windy.
Q) What are the activities or must-see or must-do's that you missed doing while you stayed there?
A couple of things that we really wanted to do but couldn't like the wine tour in the Douro Valley in Porto and hiking and kayaking in the Algarve.
Q) What would your advice be to other travellers to do when they visit Portugal?
Eight days is not quite enough! So, we'd suggest picking only two cities if you don't have much time. The Portuguese are laid back and easygoing–and so to really absorb the culture, you need to spend some more time there.
Q) Must-have fashion accessories for travel?
A pair of sunglasses, a crossbody bag and a scarf.
Q) Three must-carry outfits for travel?
1. A light jacket and warm scarf
2. A versatile, no-fuss dress that can be dressed up with some simple accessories.
3. An athleisure for the 'travel' days.
Q) Skincare essentials to carry while travelling?
Sunscreen is a must! A tube of tinted moisturizer and dry shampoo.