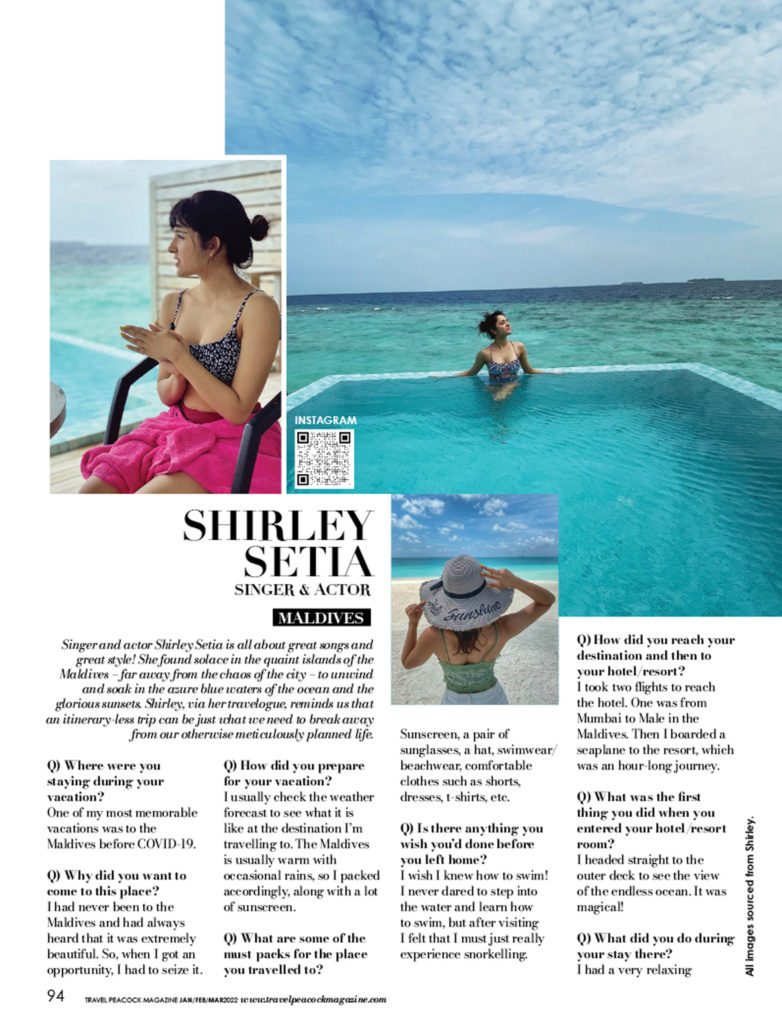 CREDITS – All images sourced from Shirley

Singer Shirley Setia is all about great songs and great style! The songstress found solace in the quaint islands of the Maldives — far away from the chaos of the city — to unwind and soak in the azure blue waters of the ocean and the glorious sunsets. Shirley, via her travelogue, reminds us that an itinerary-less trip can be just what we need to break away from our otherwise meticulously planned life.
[Q] Where were you staying during your vacation?
One of my most memorable vacations was to the Maldives before COVID-19.
[Q] Why did you want to come to this place?
I had never been to the Maldives and had always heard that it was extremely beautiful. So, when I got an opportunity, I had to seize it.
[Q] How did you prepare for your vacation?
I usually check the weather forecast to see what it is like at the destination I'm travelling to. The Maldives is usually warm with occasional rains, so I packed accordingly, along with a lot of sunscreen.
[Q] What are some of the must-packs for the place you travelled to?
Sunscreen, a pair of sunglasses, a hat, swimwear/beachwear, comfortable clothes such as shorts, dresses, t-shirts, etc.
[Q] Is there anything you wish you'd done before you left home?
I wish I knew how to swim! I never dared to step into the water and learn how to swim, but after visiting I felt that I must just really experience snorkelling.
[Q] How did you reach your destination and then to your hotel/resort?
I took two flights to reach the hotel. One was from Mumbai to Male in the Maldives. Then I boarded a seaplane to the resort, which was an hour-long journey.
[Q] What was the first thing you did when you entered your hotel/resort room?
I headed straight to the outer deck to see the view of the endless ocean. It was magical!
[Q] What did you do during your stay there?
I had a very relaxing and calming stay. I tried snorkelling twice, just beside my room and listened to the sound of the waves. The food at the resort was delectable.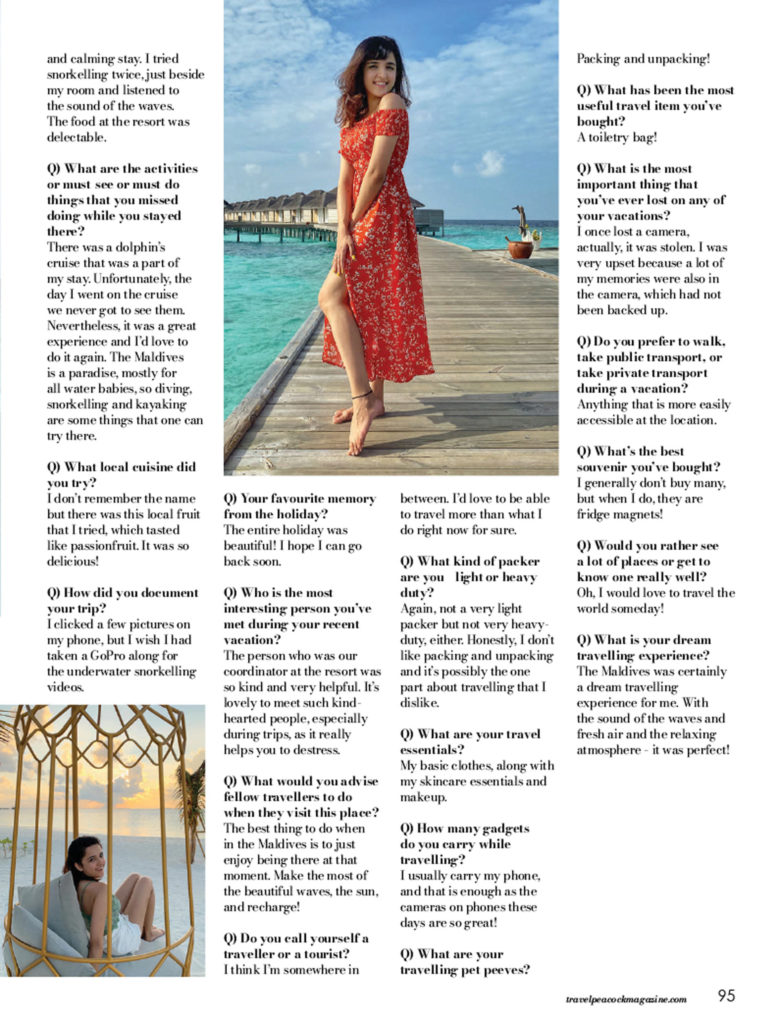 [Q] What are the activities or must-see or must-do things that you missed doing while you stayed there?
There was a dolphin's cruise that was a part of my stay. Unfortunately, the day I went on the cruise we never got to see them. Nevertheless, it was a great experience and I'd love to do it again. The Maldives is a paradise, mostly for all water babies, so diving, snorkelling and kayaking are some things that one can try there.
[Q] What local cuisine did you try?
I don't remember the name but there was this local fruit that I tried, which tasted like passionfruit. It was so delicious!
[Q] How did you document your trip?
I clicked a few pictures on my phone, but I wish I had taken a GoPro along for the underwater snorkelling videos.
[Q] Your favourite memory from the holiday?
The entire holiday was beautiful! I hope I can go back soon.
[Q] Who is the most interesting person you've met during your recent vacation?
The person who was our coordinator at the resort was so kind and very helpful. It's lovely to meet such kind-hearted people, especially during trips, as it really helps you to destress.
[Q] What would you advise fellow travellers to do when they visit this place?
The best thing to do when in the Maldives is to just enjoy being there at that moment. Make the most of the beautiful waves, the sun, and recharge!
[Q] Do you call yourself a traveller or a tourist?
I think I'm somewhere in between. I'd love to be able to travel more than what I do right now for sure.
[Q] What kind of packer are you – light or heavy-duty?
Again, not a very light packer but not very heavy-duty, either. Honestly, I don't like packing and unpacking and it's possibly the one part about travelling that I dislike.
[Q] What are your travel essentials?
My basic clothes, along with my skincare essentials and makeup.
[Q] How many gadgets do you carry while travelling?
I usually carry my phone, and that is enough as the cameras on phones these days are so great!
[Q] What are your travelling pet peeves?
Packing and unpacking!
[Q] What has been the most useful travel item you've bought?
A toiletry bag!
[Q] What is the most important thing that you've ever lost on any of your vacations?
I once lost a camera, actually, it was stolen. I was very upset because a lot of my memories were also in the camera, which had not been backed up.
[Q] Do you prefer to walk, take public transport, or take private transport during a vacation?
Anything that is more easily accessible at the location.
[Q] What's the best souvenir you've bought?
I generally don't buy many, but when I do, they are fridge magnets!
[Q] Would you rather see a lot of places or get to know one really well?
Oh, I would love to travel the world someday!
[Q] What is your dream travelling experience?
The Maldives was certainly a dream travelling experience for me. With the sound of the waves and fresh air and the relaxing atmosphere – it was perfect!