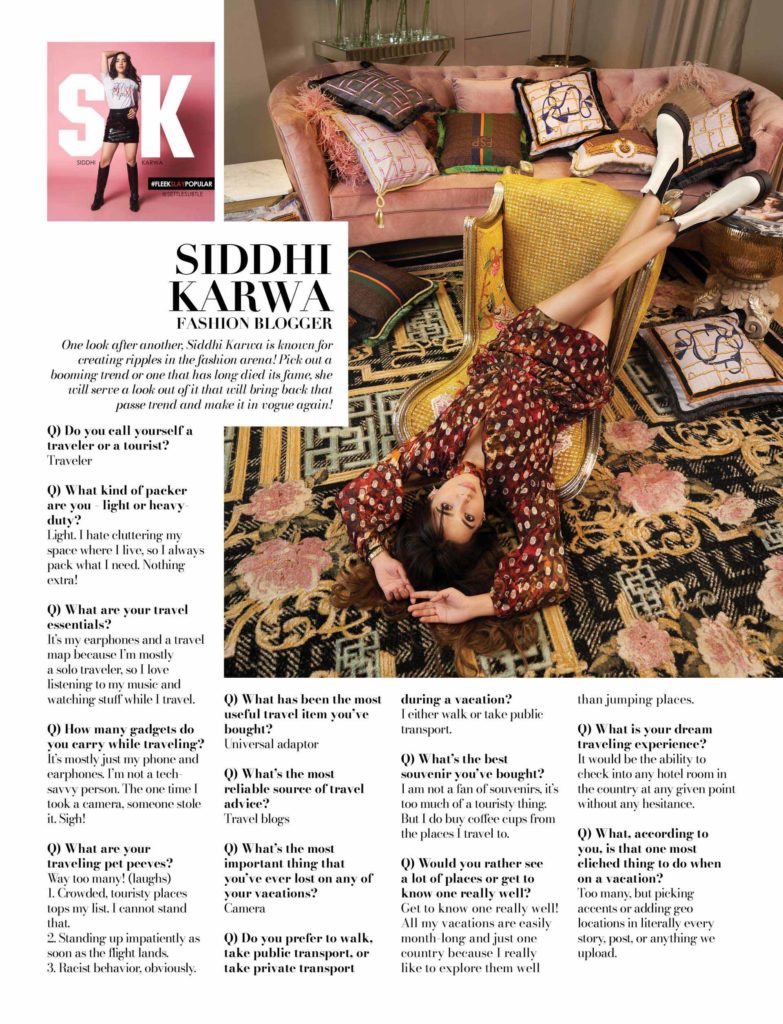 One look after another, Siddhi Karwa is known for creating ripples in the fashion arena! Pick out a booming trend or one that has long died its fame, she will serve a look out of it that will bring back that passe trend and make it in vogue again!

[Q] Do you call yourself a traveller or a tourist?
Traveller

[Q] What kind of packer are you – light or heavy-duty?
Light. I hate cluttering the space where I live, so I always pack what I need. Nothing extra!

[Q] What are your travel essentials?
It's my earphones and a travel map because I'm mostly a solo traveller, so I love listening to my music and watching stuff while I travel.

[Q] How many gadgets do you carry while travelling?
It's mostly just my phone and earphones. I'm not a tech-savvy person. The one time I took a camera, someone stole it. Sigh!

[Q] What are your travelling pet peeves?
Way too many! (laughs)
1. Crowded, touristy places tops my list. I cannot stand that.
2. Standing up impatiently as soon as the flight lands.
3. Racist behaviour, obviously.

[Q] What has been the most useful travel item you've bought?
Universal adaptor

[Q] What's the most reliable source of travel advice?
Travel blogs

[Q] What's the most important thing that you've ever lost on any of your vacations?
Camera

[Q] Do you prefer to walk, take public transport, or take private transport during a vacation?
I either walk or take public transport.

[Q] What's the best souvenir you've bought?
I am not a fan of souvenirs, it's too much of a touristy thing. But I do buy coffee cups from the places I travel to.

[Q] Would you rather see a lot of places or get to know one really well?
Get to know one really well! All my vacations are easily month-long and just one country because I really like to explore them well then jump places.

[Q] What is your dream travelling experience?
It would be the ability to check into any hotel room in the country at any given point without any hesitance.

[Q] What, according to you, is the one most cliched thing to do when on a vacation?
Too many, but picking accents or adding geo locations in literally every story, post, or anything we upload.