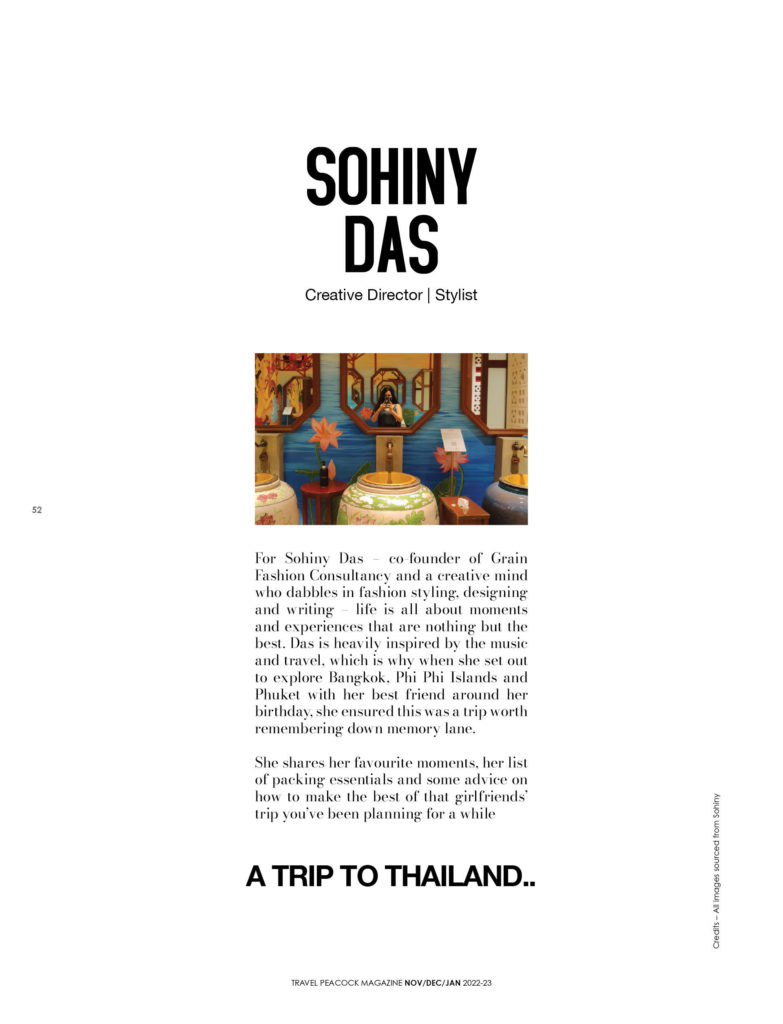 Credits – All images sourced from Sohiny
For Sohiny Das — co-founder of Grain Fashion Consultancy and a creative mind who dabbles in fashion styling, designing and writing — life is all about moments and experiences that are nothing but the best. Das is heavily inspired by the music and travel, which is why when she set out to explore Bangkok, Phi Phi Islands and Phuket with her best friend around her birthday, she ensured this was a trip worth remembering down memory lane.
She shares her favourite moments, her list of packing essentials and some advice on how to make the best of that girlfriends' trip you've been planning for a while.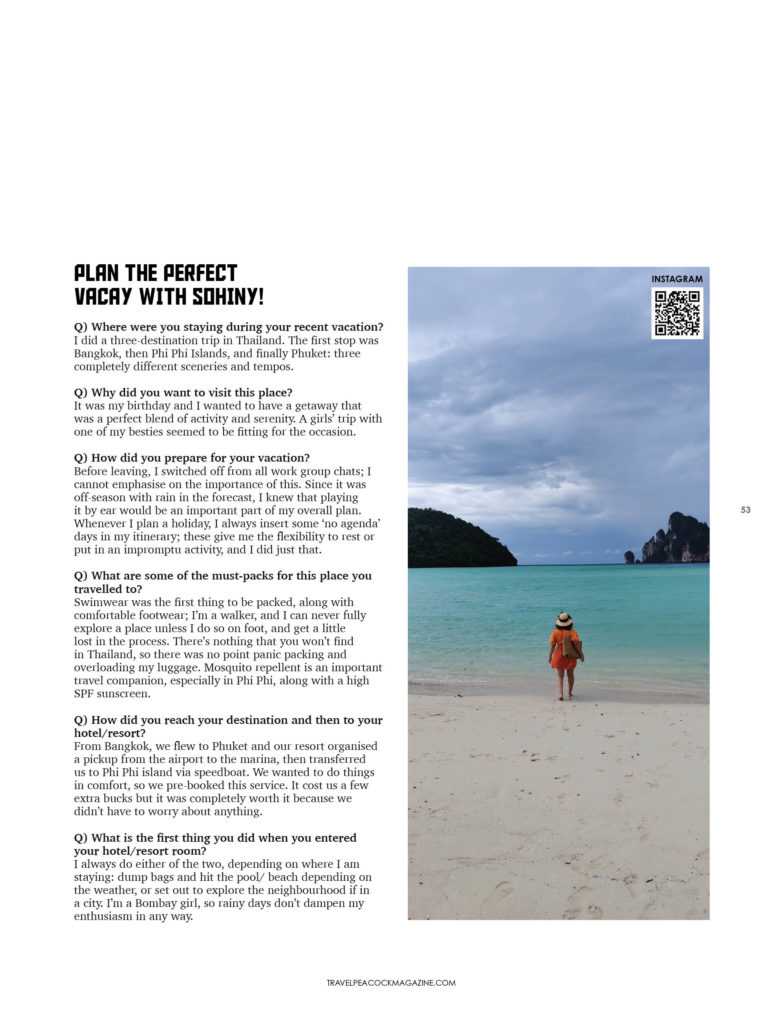 Q) Where were you staying during your recent vacation?
I did a three-destination trip in Thailand. The first stop was Bangkok, then Phi Phi Islands, and finally Phuket: three completely different sceneries and tempos.
Q) Why did you want to visit this place?
It was my birthday and I wanted to have a getaway that was a perfect blend of activity and serenity. A girls' trip with one of my besties seemed to be fitting for the occasion.
Q) How did you prepare for your vacation?
Before leaving, I switched off from all work group chats; I cannot emphasise on the importance of this. Since it was off-season with rain in the forecast, I knew that playing it by ear would be an important part of my overall plan. Whenever I plan a holiday, I always insert some 'no agenda' days in my itinerary; these give me the flexibility to rest or put in an impromptu activity, and I did just that.
Q) What are some of the must-packs for this place you travelled to?
Swimwear was the first thing to be packed along with comfortable footwear; I'm a walker, and I can never fully explore a place unless I do so on foot, and get a little lost in the process. There's nothing that you won't find in Thailand, so there was no point panic packing and overloading my luggage. Mosquito repellent is an important travel companion, especially in Phi Phi, along with a high SPF sunscreen.
Q) Is there anything you wish you'd done before you left home?
Apart from taking a slightly longer vacation, I couldn't have planned anything better. Between my friends and me, we created the perfect itinerary, chalking out a great route.
Q) How did you reach your destination and then to your hotel/resort?
From Bangkok, we flew to Phuket and our resort organised a pickup from the airport to the marina, then transferred us to Phi Phi island via speedboat. We wanted to do things in comfort, so we pre-booked this service. It cost us a few extra bucks but it was completely worth it because we didn't have to worry about anything.
Q) What is the first thing you did when you entered your hotel/resort room?
I always do either of the two, depending on where I am staying: dump bags and hit the pool/ beach depending on the weather, or set out to explore the neighbourhood if in a city. I'm a Bombay girl, so rainy days don't dampen my enthusiasm in any way.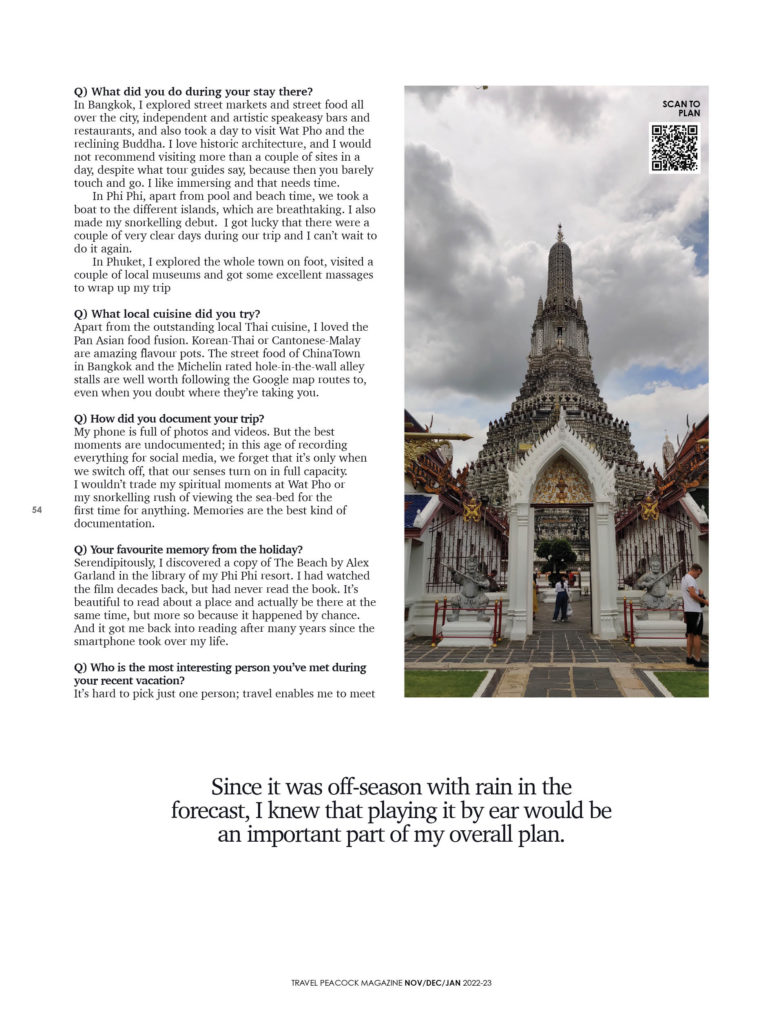 Q) What did you do during your stay there?
In Bangkok, I explored street markets and street food all over the city, independent and artistic speakeasy bars and restaurants, and also took a day to visit Wat Pho and the reclining Buddha. I love historic architecture, and I would not recommend visiting more than a couple of sites in a day, despite what tour guides say, because then you barely touch and go. I like immersing and that needs time.
In Phi Phi, apart from pool and beach time, we took a boat to the different islands, which are breathtaking. I also made my snorkelling debut. I got lucky that there were a couple of very clear days during our trip and I can't wait to do it again.
In Phuket, I explored the whole town on foot, visited a couple of local museums and got some excellent massages to wrap up my trip.
Q) What local cuisine did you try?
Apart from the outstanding local Thai cuisine, I loved the Pan Asian food fusion. Korean-Thai or Cantonese-Malay are amazing flavour pots. The street food of ChinaTown in Bangkok and the Michelin rated hole-in-the-wall alley stalls are well worth following the Google map routes to, even when you doubt where they're taking you.
Q) How did you document your trip?
My phone is full of photos and videos. My Instagram stories received a gazillion questions and requests for my itinerary. But the best moments are undocumented; in this age of recording everything for social media, we forget that it's only when we switch off, that our senses turn on in full capacity. I wouldn't trade my spiritual moments at Wat Pho or my snorkelling rush of viewing the sea-bed for the first time for anything. Memories are the best kind of documentation.
Q) Your favourite memory from the holiday?
Serendipitously, I discovered a copy of The Beach by Alex Garland in the library of my Phi Phi resort. I had watched the film decades back, but had never read the book. It's beautiful to read about a place and actually be there at the same time, but more so because it happened by chance. And it got me back into reading after many years since the smartphone took over my life.
Q) Who is the most interesting person you've met during your recent vacation?
It's hard to pick just one person; travel enables me to meet people from different parts of the world and exchange perceptions of each other's countries. It's always refreshing to meet female travellers because I feel encouraged to brush off apprehensions and stigmas regarding solo travel or girls' trips. Women are always helpful with useful and practical information.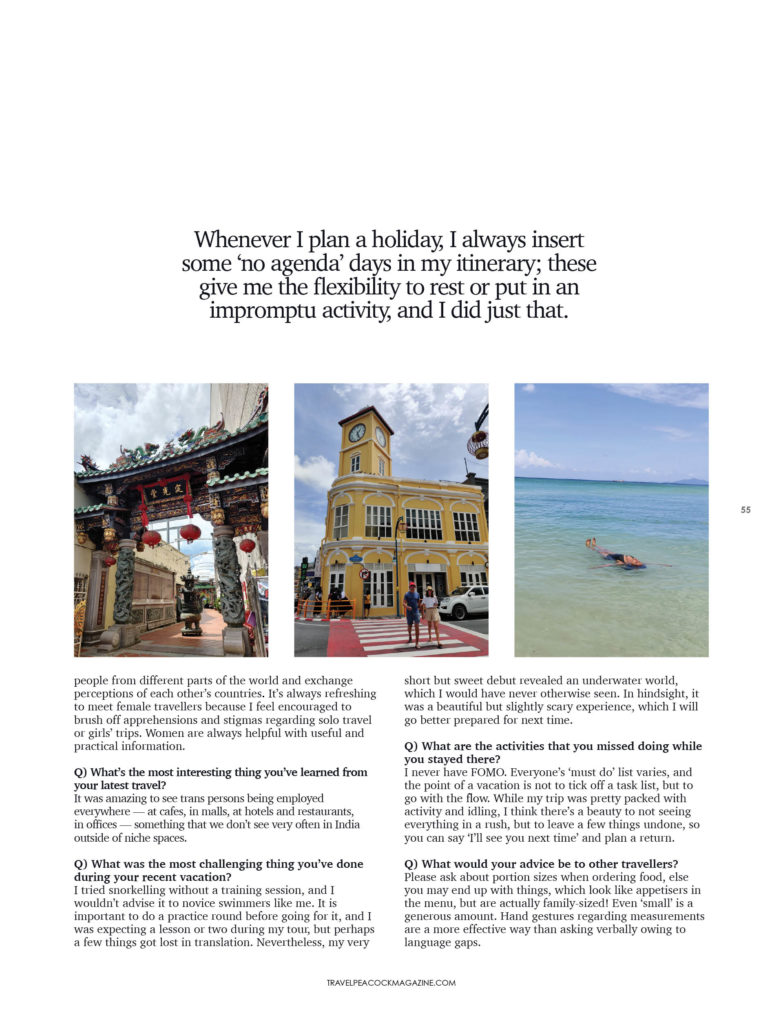 Q) What's the most interesting thing you've learned from your latest travel?
It was amazing to see trans persons being employed everywhere — at cafes, in malls, at hotels and restaurants, in offices — something that we don't see very often in India outside of niche spaces.
Q) What was the most challenging thing you've done during your recent vacation?
I tried snorkelling without a training session, and I wouldn't advise it to novice swimmers like me. It is important to do a practice round before going for it, and I was expecting a lesson or two during my tour, but perhaps a few things got lost in translation. Nevertheless, my very short but sweet debut revealed an underwater world, which I would have never otherwise seen. In hindsight, it was a beautiful but slightly scary experience, which I will go better prepared for next time.
Q) What are the activities that you missed doing while you stayed there?
I never have FOMO. Everyone's 'must do' list varies, and the point of a vacation is not to tick off a task list, but to go with the flow. While my trip was pretty packed with activity and idling, I think there's a beauty to not seeing everything in a rush, but to leave a few things undone, so you can say 'I'll see you next time' and plan a return.
Q) What would your advice be to other travellers?
Please ask about portion sizes when ordering food, else you may end up with things, which look like appetisers in the menu, but are actually family-sized! Even 'small' is a generous amount, and due to my ignorance, I ended up wasting some incredibly tasty food even after I stuffed myself to the seams. Hand gestures regarding measurements are a more effective way than asking verbally owing to language gaps.