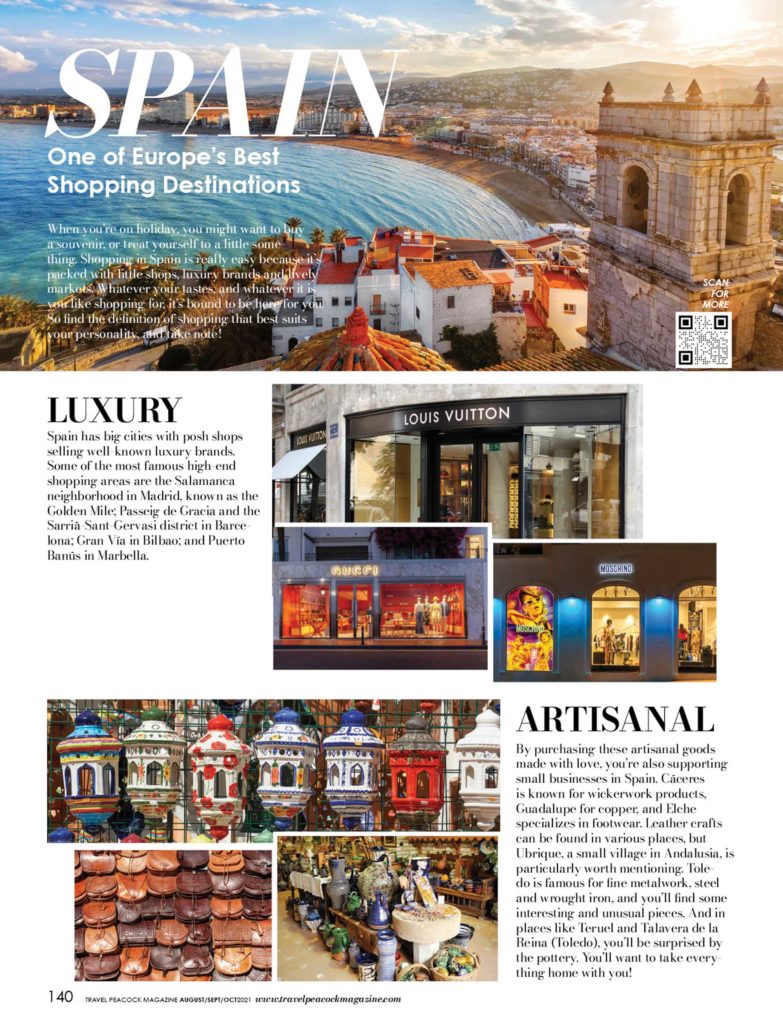 SPAIN – ONE OF EUROPE'S BEST SHOPPING DESTINATIONS
When you're on holiday, you might want to buy a souvenir, or treat yourself to a little some-thing. Shopping in Spain is really easy because it's packed with little shops, luxury brands and lively markets. Whatever your tastes, and whatever it is you like shopping for, it's bound to be here for you. So find the definition of shopping that best suits your personality, and take note!
LUXURY
Spain has big cities with posh shops selling well-known luxury brands. Some of the most famous high-end shopping areas are the Salamanca neighborhood in Madrid, known as the Golden Mile; Passeig de Gracia and the Sarrià-Sant-Gervasi district in Barce-lona; Gran Vía in Bilbao; and Puerto Banús in Marbella.
ARTISANAL
By purchasing these artisanal goods made with love, you're also supporting small businesses in Spain. Cáceres is known for wickerwork products, Guadalupe for copper, and Elche specializes in footwear. Leather crafts can be found in various places, but Ubrique, a small village in Andalusia, is particularly worth mentioning. Tole-do is famous for fine metalwork, steel and wrought iron, and you'll find some interesting and unusual pieces. And in places like Teruel and Talavera de la Reina (Toledo), you'll be surprised by the pottery. You'll want to take every-thing home with you!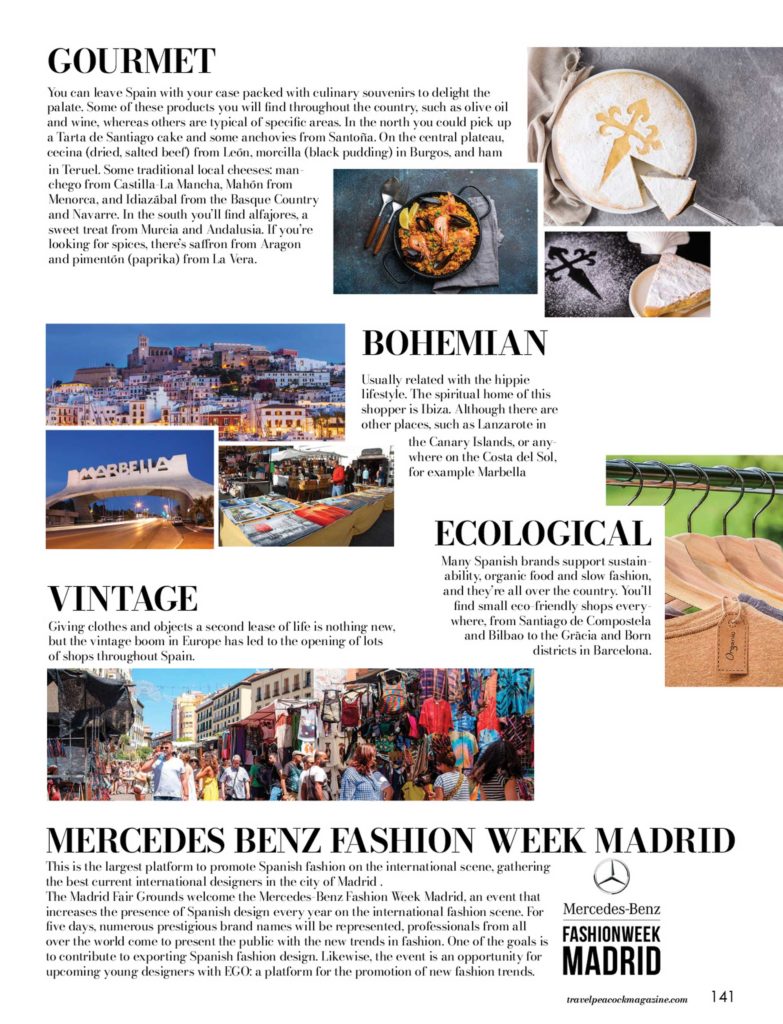 GOURMET
You can leave Spain with your case packed with culinary souvenirs to delight the palate. Some of these products you will find throughout the country, such as olive oil and wine, whereas others are typical of specific areas. In the north you could pick up a Tarta de Santiago cake and some anchovies from Santoña. On the central plateau, cecina (dried, salted beef) from León, morcilla (black pudding) in Burgos, and ham in Teruel. Some traditional local cheeses: man-chego from Castilla-La Mancha, Mahón from Menorca, and Idiazábal from the Basque Country and Navarre. In the south you'll find alfajores, a sweet treat from Murcia and Andalusia. If you're looking for spices, there's saffron from Aragon and pimentón (paprika) from La Vera.
BOHEMIAN
Usually related with the hippie lifestyle. The spiritual home of this shopper is Ibiza. Although there are other places, such as Lanzarote in the Canary Islands, or any-where on the Costa del Sol, for example Marbella
ECOLOGICAL
Many Spanish brands support sustainability, organic food and slow fashion, and they're all over the country. You'll find small eco-friendly shops every-where, from Santiago de Compostela and Bilbao to the Gràcia and Born districts in Barcelona.
VINTAGE
Giving clothes and objects a second lease of life is nothing new, but the vintage boom in Europe has led to the opening of lots of shops throughout Spain.
MERCEDES BENZ FASHION WEEK MADRID
This is the largest platform to promote Spanish fashion on the international scene, gathering the best current international designers in the city of Madrid .The Madrid Fair Grounds welcome the Mercedes-Benz Fashion Week Madrid, an event that increases the presence of Spanish design every year on the international fashion scene. For five days, numerous prestigious brand names will be represented, professionals from all over the world come to present the public with the new trends in fashion. One of the goals is to contribute to exporting Spanish fashion design. Likewise, the event is an opportunity for upcoming young designers with EGO: a platform for the promotion of new fashion trends.


Add to favorites