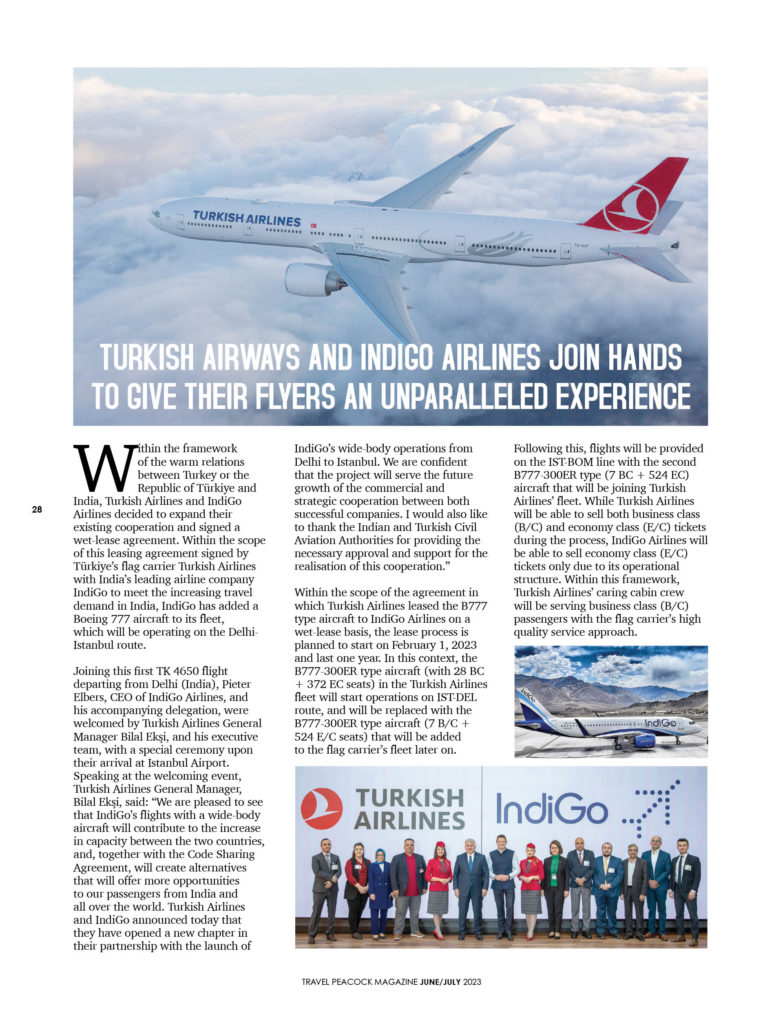 Within the framework of the warm relations between Turkey or the Republic of Türkiye and India, Turkish Airlines and IndiGo Airlines decided to expand their existing cooperation and signed a wet-lease agreement. Within the scope of this leasing agreement signed by Türkiye's flag carrier Turkish Airlines with India's leading airline company IndiGo to meet the increasing travel demand in India, IndiGo has added a Boeing 777 aircraft to its fleet, which will be operating on the Delhi-Istanbul route.
Joining this first TK 4650 flight departing from Delhi (India), Pieter Elbers, CEO of IndiGo Airlines, and his accompanying delegation, were welcomed by Turkish Airlines General Manager Bilal Ekşi, and his executive team, with a special ceremony upon their arrival at Istanbul Airport. Speaking at the welcoming event, Turkish Airlines General Manager, Bilal Ekşi, said: "We are pleased to see that IndiGo's flights with a wide-body aircraft will contribute to the increase in capacity between the two countries, and, together with the Code Sharing Agreement, will create alternatives that will offer more opportunities to our passengers from India and all over the world. Turkish Airlines and IndiGo announced today that they have opened a new chapter in their partnership with the launch of IndiGo's wide-body operations from Delhi to Istanbul. We are confident that the project will serve the future growth of the commercial and strategic cooperation between both successful companies. I would also like to thank the Indian and Turkish Civil Aviation Authorities for providing the necessary approval and support for the realisation of this cooperation."
Within the scope of the agreement in which Turkish Airlines leased the B777 type aircraft to IndiGo Airlines on a wet-lease basis, the lease process is planned to start on February 1, 2023 and last one year. In this context, the B777-300ER type aircraft (with 28 BC + 372 EC seats) in the Turkish Airlines fleet will start operations on IST-DEL route, and will be replaced with the B777-300ER type aircraft (7 B/C + 524 E/C seats) that will be added to the flag carrier's fleet later on. Following this, flights will be provided on the IST-BOM line with the second B777-300ER type (7 BC + 524 EC) aircraft that will be joining Turkish Airlines' fleet. While Turkish Airlines will be able to sell both business class (B/C) and economy class (E/C) tickets during the process, IndiGo Airlines will be able to sell economy class (E/C) tickets only due to its operational structure. Within this framework, Turkish Airlines' caring cabin crew will be serving business class (B/C) passengers with the flag carrier's high quality service approach.