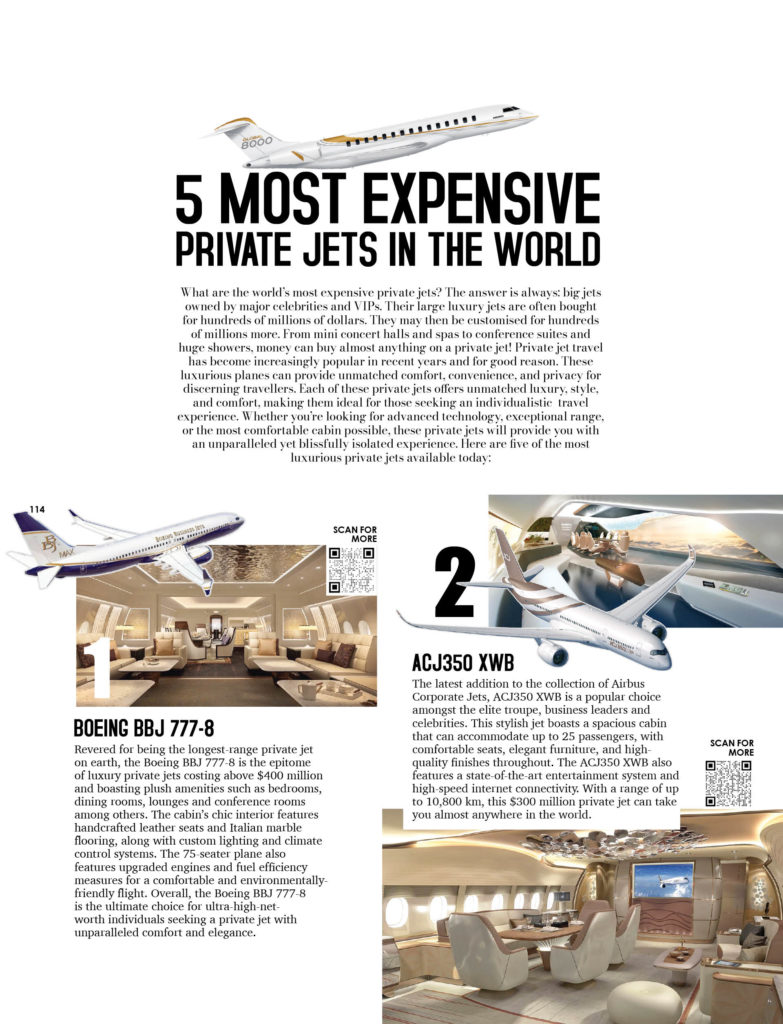 What are the world's most expensive private jets? The answer is always: big jets owned by major celebrities and VIPs. Their large luxury jets are often bought for hundreds of millions of dollars. They may then be customised for hundreds of millions more. From mini concert halls and spas to conference suites and huge showers, money can buy almost anything on a private jet! Private jet travel has become increasingly popular in recent years and for good reason. These luxurious planes can provide unmatched comfort, convenience, and privacy for discerning travellers. Each of these private jets offers unmatched luxury, style, and comfort, making them ideal for those seeking an individualistic travel experience. Whether you're looking for advanced technology, exceptional range, or the most comfortable cabin possible, these private jets will provide you with an unparalleled yet blissfully isolated experience. Here are five of the most luxurious private jets available today:
Boeing BBJ 777-8
Revered for being the longest-range private jet on earth, the Boeing BBJ 777-8 is the epitome of luxury private jets costing above $400 million and boasting plush amenities such as bedrooms, dining rooms, lounges and conference rooms among others. The cabin's chic interior features handcrafted leather seats and Italian marble flooring, along with custom lighting and climate control systems. The 75-seater plane also features upgraded engines and fuel efficiency measures for a comfortable and environmentally-friendly flight. Overall, the Boeing BBJ 777-8 is the ultimate choice for ultra-high-net-worth individuals seeking a private jet with unparalleled comfort and elegance.
ACJ350 XWB
The latest addition to the collection of Airbus Corporate Jets, ACJ350 XWB is a popular choice amongst the elite troupe, business leaders and celebrities. This stylish jet boasts a spacious cabin that can accommodate up to 25 passengers, with comfortable seats, elegant furniture, and high-quality finishes throughout. The ACJ350 XWB also features a state-of-the-art entertainment system and high-speed internet connectivity. With a range of up to 10,800 km, this $300 million private jet can take you almost anywhere in the world.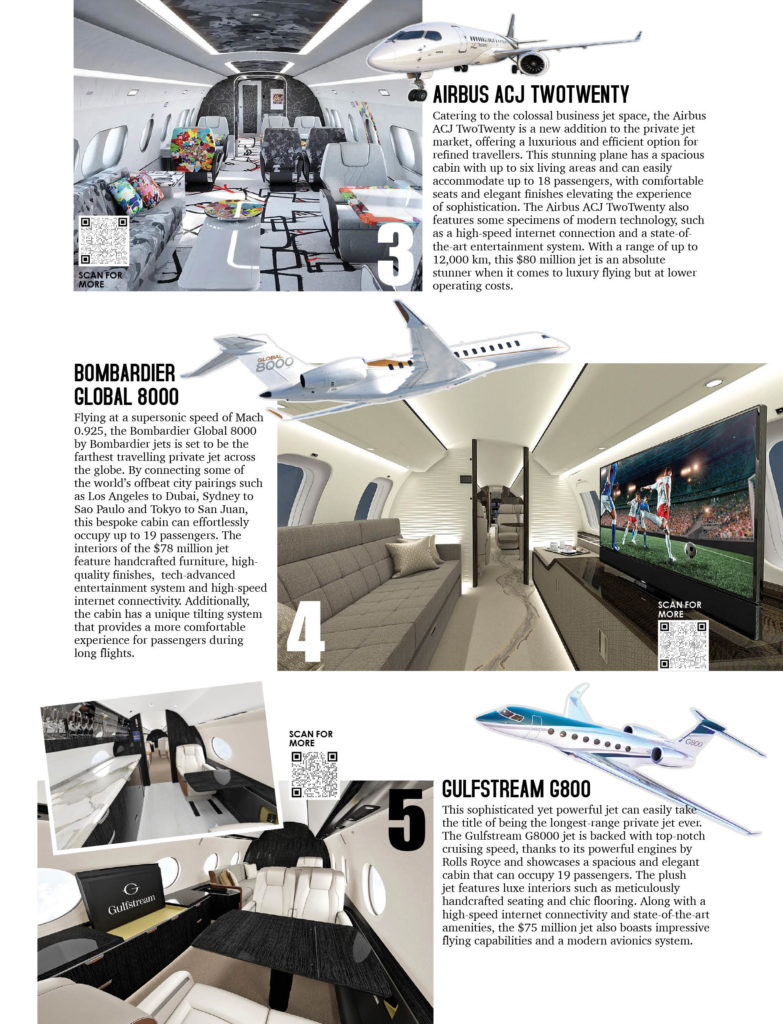 Airbus ACJ TwoTwenty
Catering to the colossal business jet space, the Airbus ACJ TwoTwenty is a new addition to the private jet market, offering a luxurious and efficient option for refined travellers. This stunning plane has a spacious cabin with up to six living areas and can easily accommodate up to 18 passengers, with comfortable seats and elegant finishes elevating the experience of sophistication. The Airbus ACJ TwoTwenty also features some specimens of modern technology, such as a high-speed internet connection and a state-of-the-art entertainment system. With a range of up to 12,000 km, this $80 million jet is an absolute stunner when it comes to luxury flying but at lower operating costs.
Bombardier Global 8000
Flying at a supersonic speed of Mach 0.925, the Bombardier Global 8000 by Bombardier jets is set to be the farthest travelling private jet across the globe. By connecting some of the world's offbeat city pairings such as Los Angeles to Dubai, Sydney to Sao Paulo and Tokyo to San Juan, this bespoke cabin can effortlessly occupy up to 19 passengers. The interiors of the $78 million jet feature handcrafted furniture, high-quality finishes, tech-advanced entertainment system and high-speed internet connectivity. Additionally, the cabin has a unique tilting system that provides a more comfortable experience for passengers during long flights.
Gulfstream G800
This sophisticated yet powerful jet can easily take the title of being the longest-range private jet ever. The Gulfstream G8000 jet is backed with top-notch cruising speed, thanks to its powerful engines by Rolls Royce and showcases a spacious and elegant cabin that can occupy 19 passengers. The plush jet features luxe interiors such as meticulously handcrafted seating and chic flooring. Along with a high-speed internet connectivity and state-of-the-art amenities, the $75 million jet also boasts impressive flying capabilities and a modern avionics system.


Add to favorites