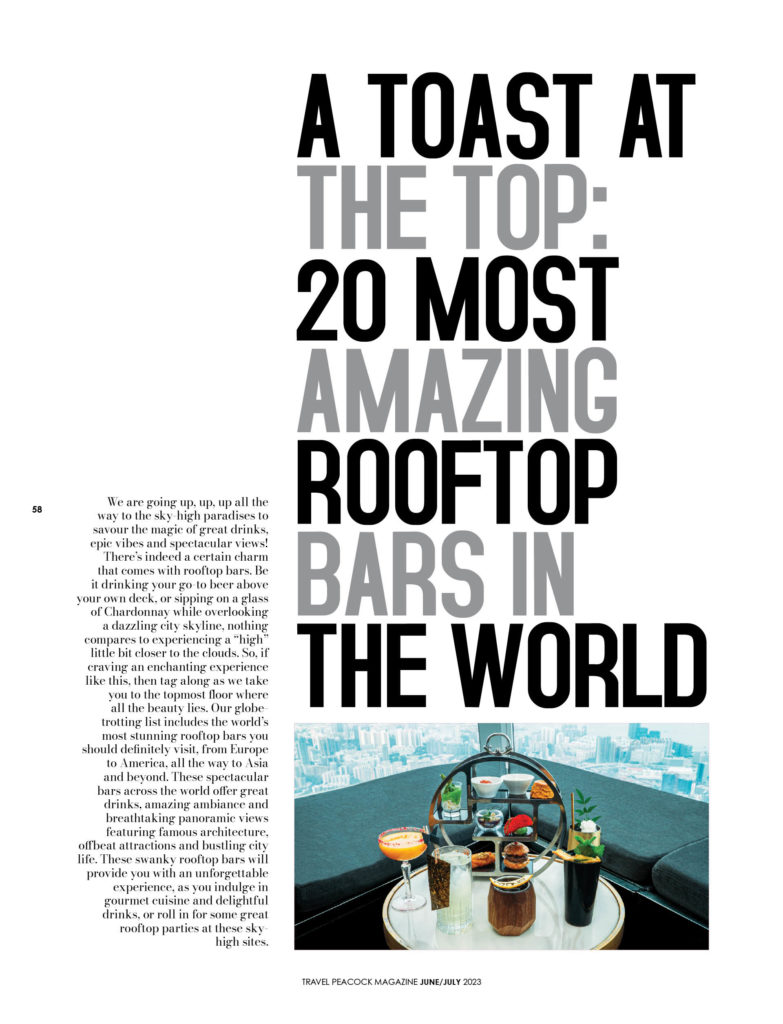 We are going up, up, up all the way to the sky-high paradises to savour the magic of great drinks, epic vibes and spectacular views! There's indeed a certain charm that comes with rooftop bars. Be it drinking your go-to beer above your own deck, or sipping on a glass of Chardonnay while overlooking a dazzling city skyline, nothing compares to experiencing a "high" a little bit closer to the clouds. So, if craving an enchanting experience like this, then tag along as we take you to the topmost floor where all the beauty lies. Our globe-trotting list includes the world's most stunning rooftop bars you should definitely visit, from Europe to America, all the way to Asia and beyond. These spectacular bars across the world offer great drinks, amazing ambience and breathtaking panoramic views featuring famous architecture, offbeat attractions and bustling city life. These swanky rooftop bars will provide you with an unforgettable experience, as you indulge in gourmet cuisine and delightful drinks, or roll in for some great rooftop parties at these sky-high sites.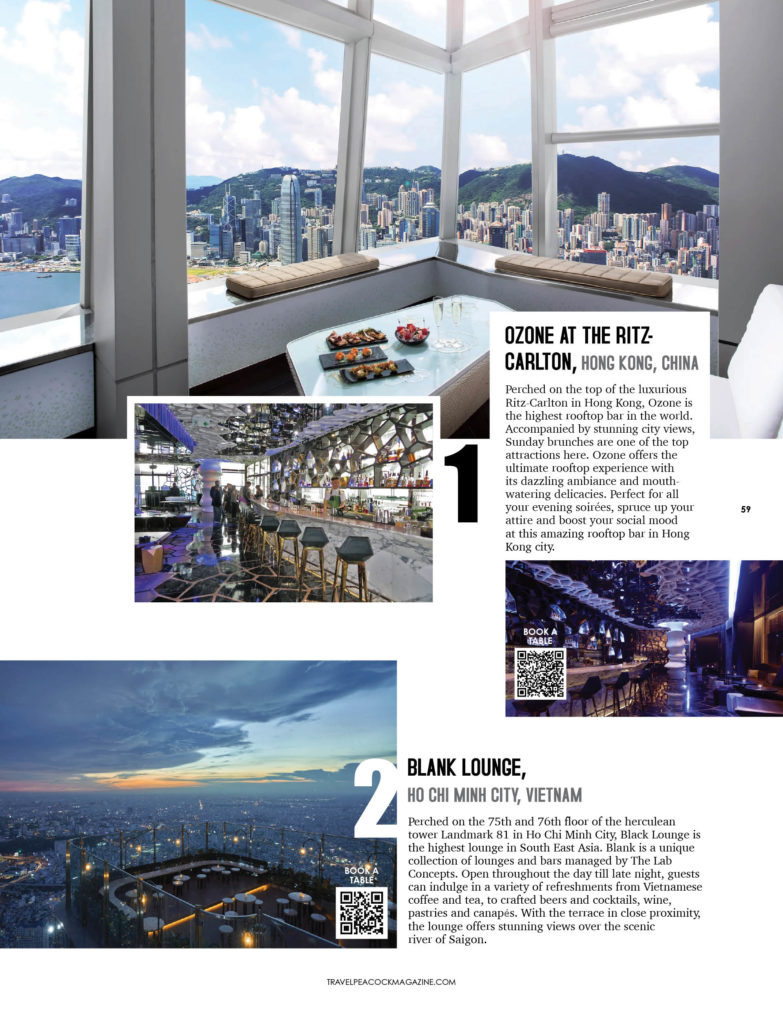 Ozone at the Ritz-Carlton, Hong Kong, China
Perched on the top of the luxurious Ritz-Carlton in Hong Kong, Ozone is the highest rooftop bar in the world. Accompanied by stunning city views, Sunday brunches are one of the top attractions here. Ozone offers the ultimate rooftop experience with its dazzling ambience and mouth-watering delicacies. Perfect for all your evening soirées, spruce up your attire and boost your social mood at this amazing rooftop bar in Hong Kong city.
Book a table: www.ritzcarlton.com

Blank Lounge, Ho Chi Minh City, Vietnam
Perched on the 75th and 76th floor of the herculean tower Landmark 81 in Ho Chi Minh City, Black Lounge is the highest lounge in South East Asia. Blank is a unique collection of lounges and bars managed by The Lab Concepts. Open throughout the day till late at night, guests can indulge in a variety of refreshments from Vietnamese coffee and tea, to crafted beers and cocktails, wine, pastries and canapés. With the terrace in close proximity, the lounge offers stunning views over the scenic river of Saigon.
Book a table: blank-lounge.com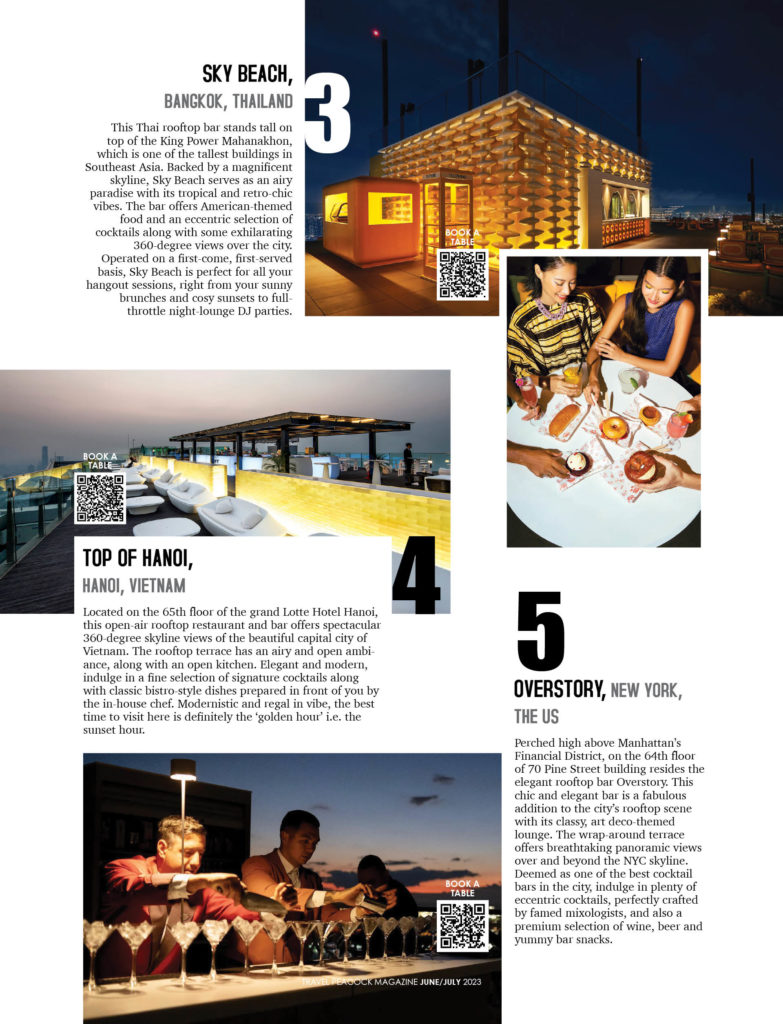 Sky Beach, Bangkok, Thailand
This Thai rooftop bar stands tall on top of the King Power Mahanakhon, which is one of the tallest buildings in Southeast Asia. Backed by a magnificent skyline, Sky Beach serves as an airy paradise with its tropical and retro-chic vibes. The bar offers American-themed food and an eccentric selection of cocktails along with some exhilarating 360-degree views over the city. Operated on a first-come, first-served basis, Sky Beach is perfect for all your hangout sessions, right from your sunny brunches and cosy sunsets to full-throttle night-lounge DJ parties.
Book a table: www.standardhotels.com

Top Of Hanoi, Hanoi, Vietnam
Located on the 65th floor of the grand Lotte Hotel Hanoi, this open-air rooftop restaurant and bar offer spectacular 360-degree skyline views of the beautiful capital city of Vietnam. The rooftop terrace has an airy and open ambience, along with an open kitchen. Elegant and modern, indulge in a fine selection of signature cocktails along with classic bistro-style dishes prepared in front of you by the in-house chef. Modernistic and regal in vibe, the best time to visit here is definitely the 'golden hour' i.e. the sunset hour.
Book a table: www.lottehotel.com

Overstory, New York, the US
Perched high above Manhattan's Financial District, on the 64th floor of 70 Pine Street building resides the elegant rooftop bar Overstory. This chic and elegant bar is a fabulous addition to the city's rooftop scene with its classy, art deco-themed lounge. The wrap-around terrace offers breathtaking panoramic views over and beyond the NYC skyline. Deemed as one of the best cocktail bars in the city, indulge in plenty of eccentric cocktails, perfectly crafted by famed mixologists, and also a premium selection of wine, beer and yummy bar snacks.
Book a table: www.overstory-nyc.com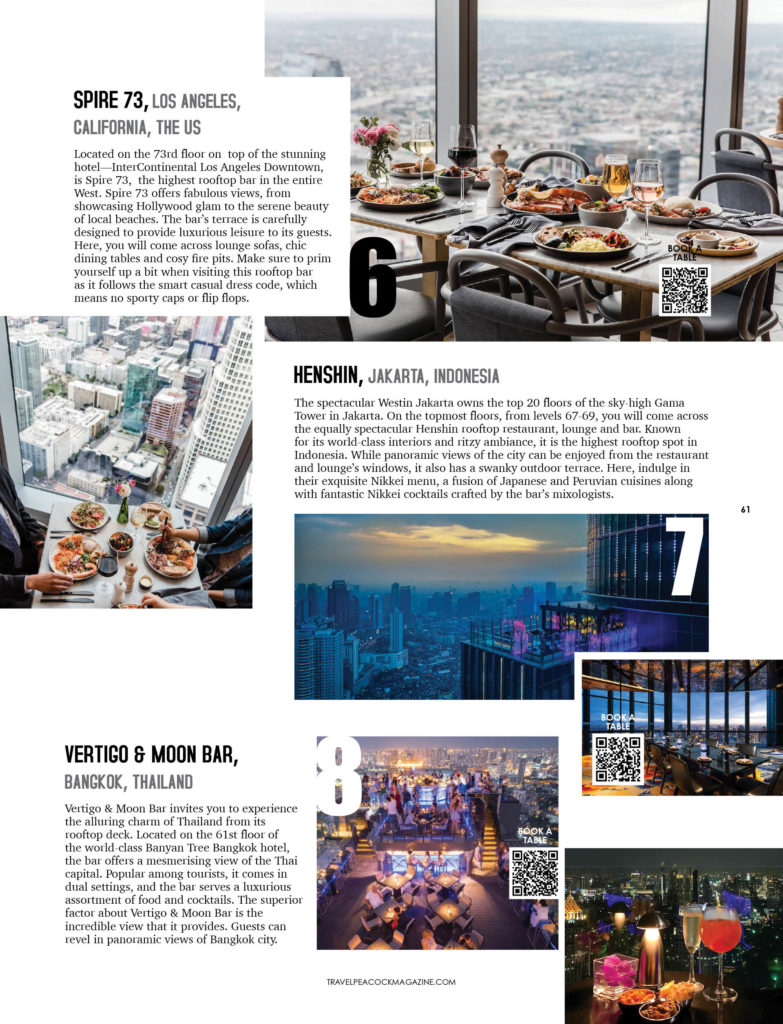 Spire 73, Los Angeles, California, the US
Located on the 73rd floor on top of the stunning hotel—InterContinental Los Angeles Downtown, is Spire 73, the highest rooftop bar in the entire West. Spire 73 offers fabulous views, from showcasing Hollywood glam to the serene beauty of local beaches. The bar's terrace is carefully designed to provide luxurious leisure to its guests. Here, you will come across lounge sofas, chic dining tables and cosy fire pits. Make sure to prim yourself up a bit when visiting this rooftop bar as it follows the smart casual dress code, which means no sporty caps or flip flops.
Book a table: dtla.intercontinental.com

Henshin, Jakarta, Indonesia
The spectacular Westin Jakarta owns the top 20 floors of the sky-high Gama Tower in Jakarta. On the topmost floors, from levels 67-69, you will come across the equally spectacular Henshin rooftop restaurant, lounge and bar. Known for its world-class interiors and ritzy ambience, it is the highest rooftop spot in Indonesia. While panoramic views of the city can be enjoyed from the restaurant and lounge's windows, it also has a swanky outdoor terrace. Here, indulge in their exquisite Nikkei menu, a fusion of Japanese and Peruvian cuisines along with fantastic Nikkei cocktails crafted by the bar's mixologists.
Book a table: www.henshinjakarta.com

Vertigo & Moon Bar, Bangkok, Thailand
Vertigo & Moon Bar invites you to experience the alluring charm of Thailand from its rooftop deck. Located on the 61st floor of the world-class Banyan Tree Bangkok hotel, the bar offers a mesmerising view of the Thai capital. Popular among tourists, it comes in dual settings, and the bar serves a luxurious assortment of food and cocktails. The superior factor about Vertigo & Moon Bar is the incredible view that it provides. Guests can revel in panoramic views of Bangkok city.
Book a table: www.banyantree.com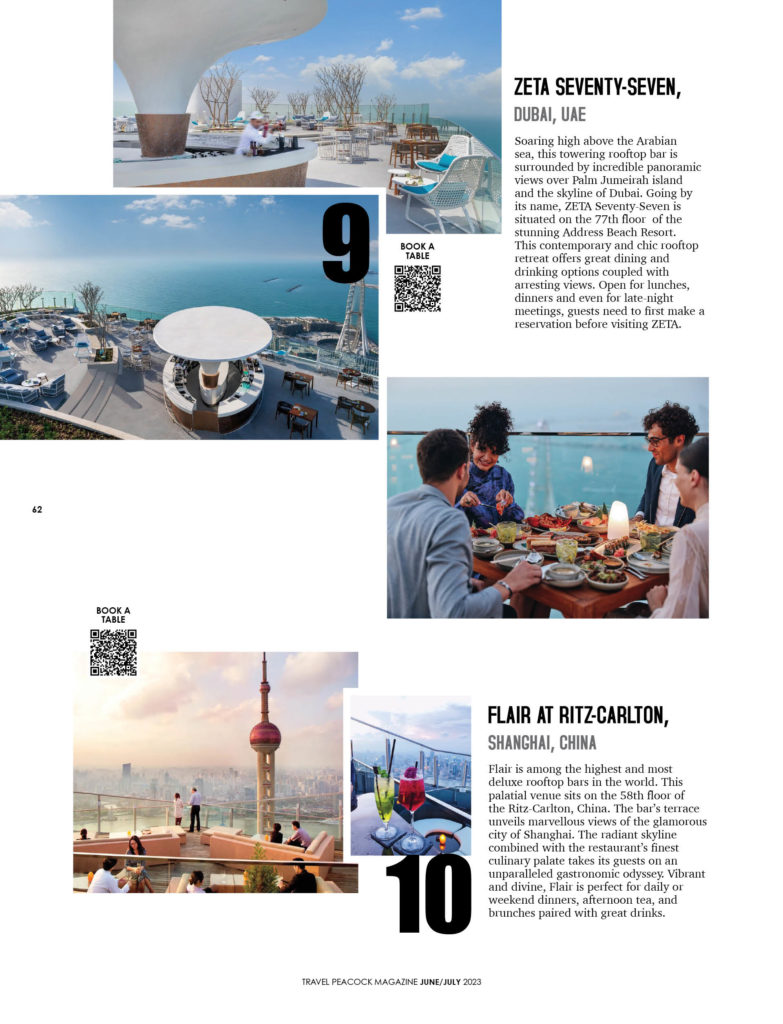 ZETA Seventy-Seven, Dubai, UAE
Soaring high above the Arabian sea, this towering rooftop bar is surrounded by incredible panoramic views over Palm Jumeirah island and the skyline of Dubai. Going by its name, ZETA Seventy-Seven is situated on the 77th floor of the stunning Address Beach Resort. This contemporary and chic rooftop retreat offers great dining and drinking options coupled with arresting views. Open for lunches, dinners and even for late-night meetings, guests need to first make a reservation before visiting ZETA.
Book a table: www.addresshotels.com

Flair at Ritz-Carlton, Shanghai, China
Flair is among the highest and most deluxe rooftop bars in the world. This palatial venue sits on the 58th floor of the Ritz-Carlton, China. The bar's terrace unveils marvellous views of the glamorous city of Shanghai. The radiant skyline combined with the restaurant's finest culinary palate takes its guests on an unparalleled gastronomic odyssey. Vibrant and divine, Flair is perfect for daily or weekend dinners, afternoon tea, and brunches paired with great drinks.
Book a table: www.ritzcarlton.com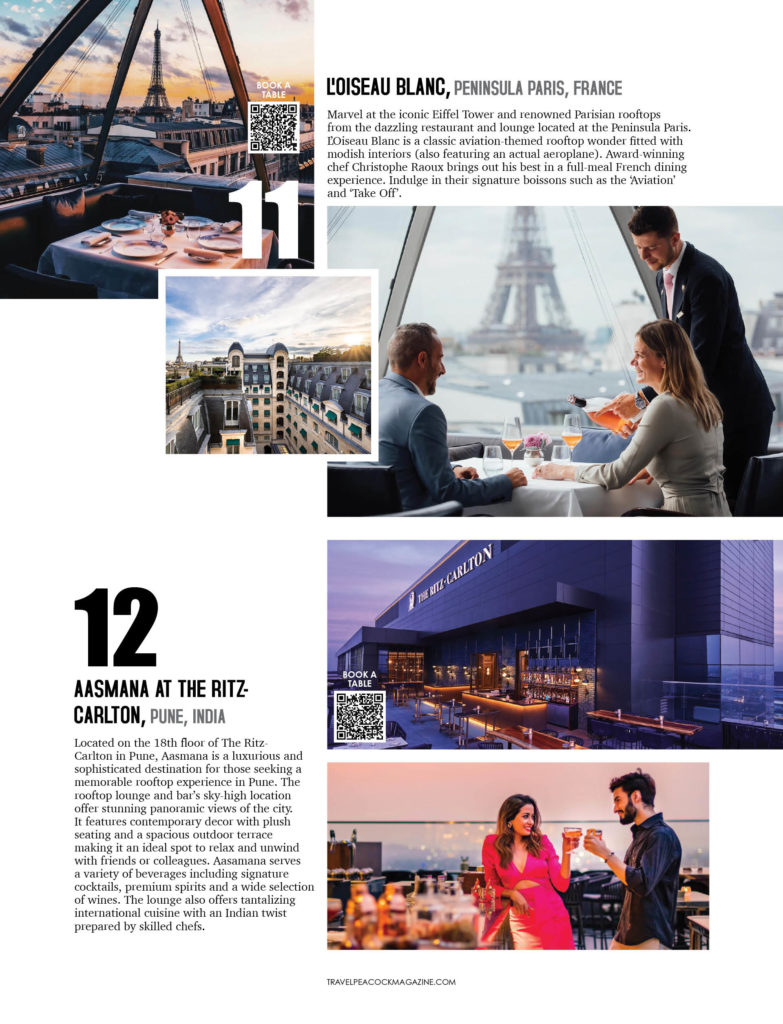 L'Oiseau Blanc, Peninsula Paris, France
Marvel at the iconic Eiffel Tower and renowned Parisian rooftops from the dazzling restaurant and lounge located at the Peninsula Paris. L'Oiseau Blanc is a classic aviation-themed rooftop wonder fitted with modish interiors (also featuring an actual aeroplane). Award-winning chef Christophe Raoux brings out his best in a full-meal French dining experience. Indulge in their signature boissons such as the 'Aviation' and 'Take Off'.
Book a table: www.peninsula.com

Aasmana at The Ritz-Carlton, Pune, India
Located on the 18th floor of The Ritz-Carlton in Pune, Aasmana is a luxurious and sophisticated destination for those seeking a memorable rooftop experience in Pune. The rooftop lounge and bar's sky-high location offer stunning panoramic views of the city. It features contemporary decor with plush seating and a spacious outdoor terrace making it an ideal spot to relax and unwind with friends or colleagues. Aasamana serves a variety of beverages including signature cocktails, premium spirits and a wide selection of wines. The lounge also offers tantalizing international cuisine with an Indian twist prepared by skilled chefs.
Book a table: www.ritzcarlton.com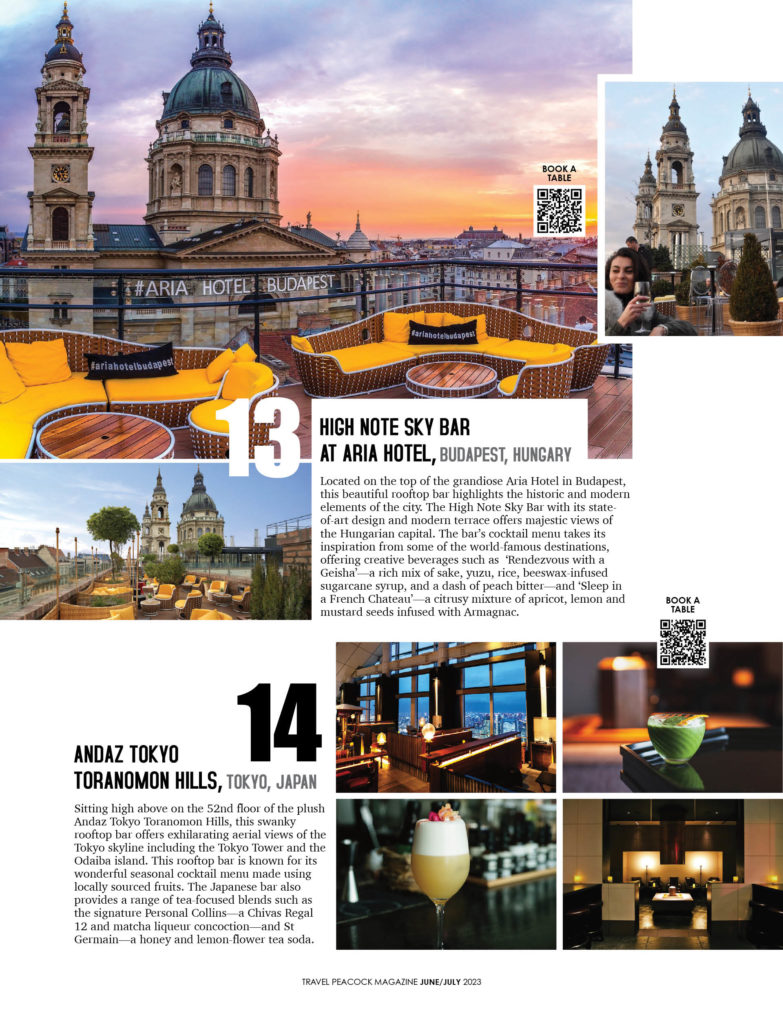 High Note Sky Bar at Aria Hotel, Budapest, Hungary
Located on the top of the grandiose Aria Hotel in Budapest, this beautiful rooftop bar highlights the historic and modern elements of the city. The High Note Sky Bar with its state-of-art design and modern terrace offers majestic views of the Hungarian capital. The bar's cocktail menu takes its inspiration from some of the world-famous destinations, offering creative beverages such as 'Rendezvous with a Geisha'—a rich mix of sake, yuzu, rice, beeswax-infused sugarcane syrup, and a dash of peach bitter—and 'Sleep in a French Chateau'—a citrusy mixture of apricot, lemon and mustard seeds infused with Armagnac.
Book a table: https://highnoteskybar.hu

Andaz Tokyo Toranomon Hills, Tokyo, Japan
Sitting high above on the 52nd floor of the plush Andaz Tokyo Toranomon Hills, this swanky rooftop bar offers exhilarating aerial views of the Tokyo skyline including the Tokyo Tower and the Odaiba island. This rooftop bar is known for its wonderful seasonal cocktail menu made using locally sourced fruits. The Japanese bar also provides a range of tea-focused blends such as the signature Personal Collins—a Chivas Regal 12 and matcha liqueur concoction—and St Germain—a honey and lemon-flower tea soda.
Book a table: www.andaztokyo.jp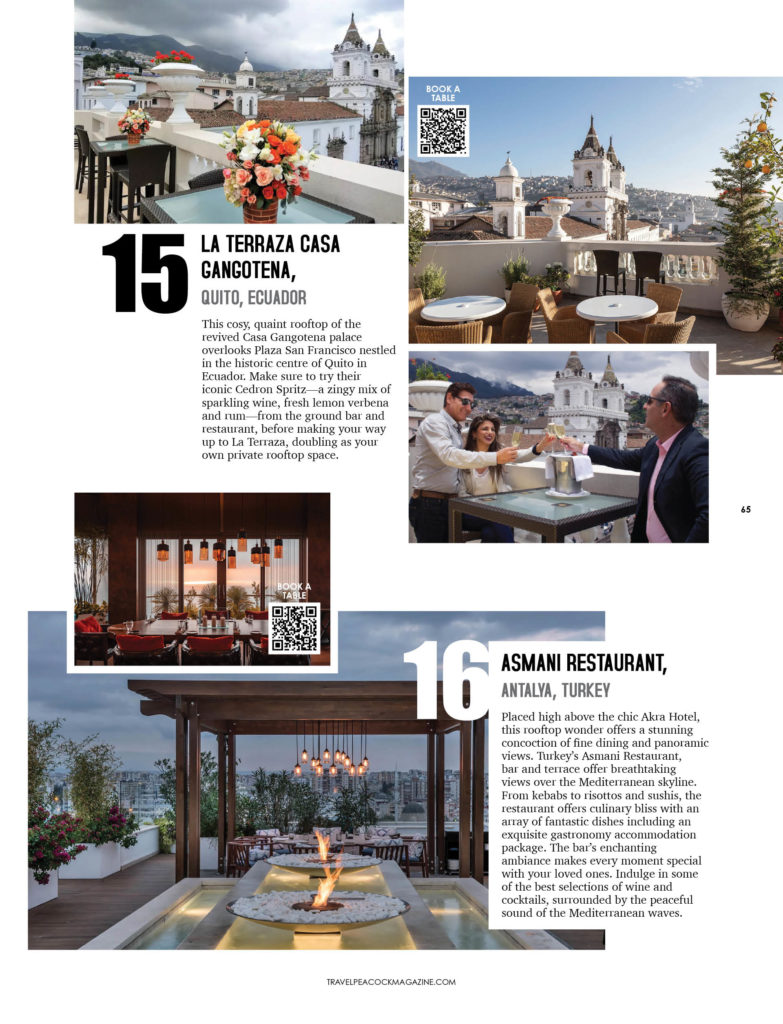 La Terraza Casa Gangotena, Quito, Ecuador
This cosy, quaint rooftop of the revived Casa Gangotena palace overlooks Plaza San Francisco nestled in the historic centre of Quito in Ecuador. Make sure to try their iconic Cedron Spritz—a zingy mix of sparkling wine, fresh lemon verbena and rum—from the ground bar and restaurant, before making your way up to La Terraza, doubling as your own private rooftop space.
Book a table: www.casagangotena.com

Asmani Restaurant, Antalya, Turkey
Placed high above the chic Akra Hotel, this rooftop wonder offers a stunning concoction of fine dining and panoramic views. Turkey's Asmani Restaurant, bar and terrace offer breathtaking views over the Mediterranean skyline. From kebabs to risottos and sushis, the restaurant offers culinary bliss with an array of fantastic dishes including an exquisite gastronomy accommodation package. The bar's enchanting ambiance makes every moment special with your loved ones. Indulge in some of the best selections of wine and cocktails, surrounded by the peaceful sound of the Mediterranean waves.
Book a table: www.asmanirestaurant.com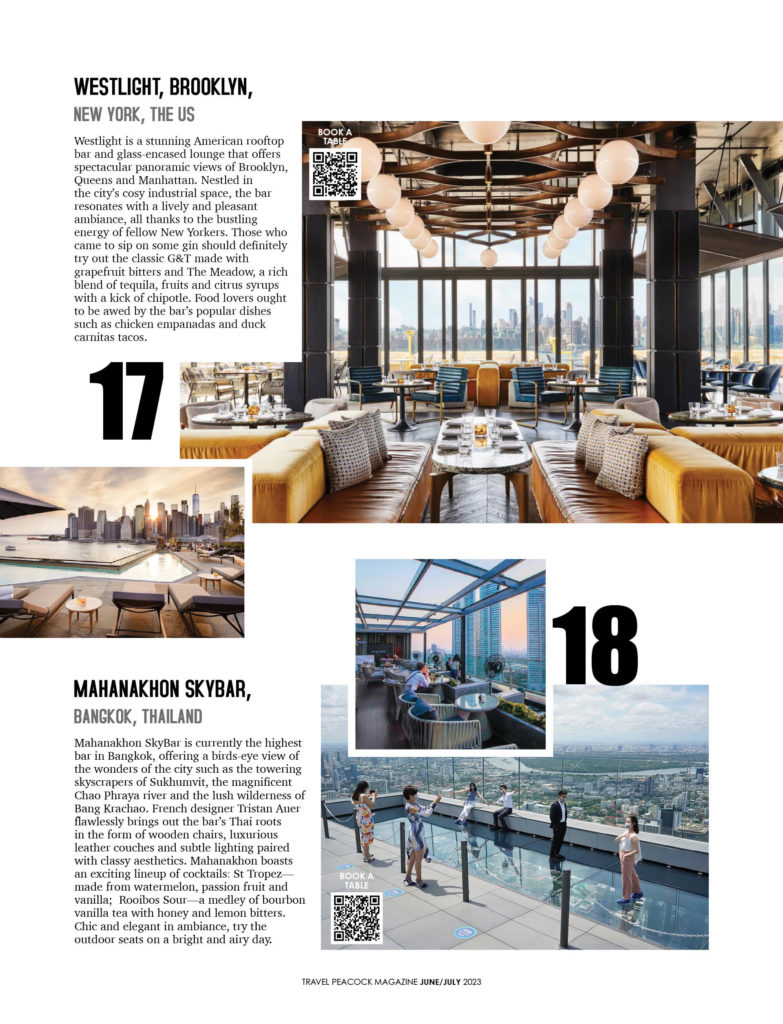 Westlight, Brooklyn, New York, the US
Westlight is a stunning American rooftop bar and glass-encased lounge that offers spectacular panoramic views of Brooklyn, Queens and Manhattan. Nestled in the city's cosy industrial space, the bar resonates with a lively and pleasant ambience, all thanks to the bustling energy of fellow New Yorkers. Those who came to sip on some gin should definitely try out the classic G&T made with grapefruit bitters and The Meadow, a rich blend of tequila, fruits and citrus syrups with a kick of chipotle. Food lovers ought to be awed by the bar's popular dishes such as chicken empanadas and duck carnitas tacos.
Book a table: www.westlightnyc.com

Mahanakhon SkyBar, Bangkok, Thailand
Mahanakhon SkyBar is currently the highest bar in Bangkok, offering a birds-eye view of the wonders of the city such as the towering skyscrapers of Sukhumvit, the magnificent Chao Phraya river and the lush wilderness of Bang Krachao. French designer Tristan Auer flawlessly brings out the bar's Thai roots in the form of wooden chairs, luxurious leather couches and subtle lighting paired with classy aesthetics. Mahanakhon boasts an exciting lineup of cocktails: St Tropez—made from watermelon, passion fruit and vanilla; Rooibos Sour—a medley of bourbon vanilla tea with honey and lemon bitters. Chic and elegant in ambience, try the outdoor seats on a bright and airy day.
Book a table: dev.kingpowermahanakhon.co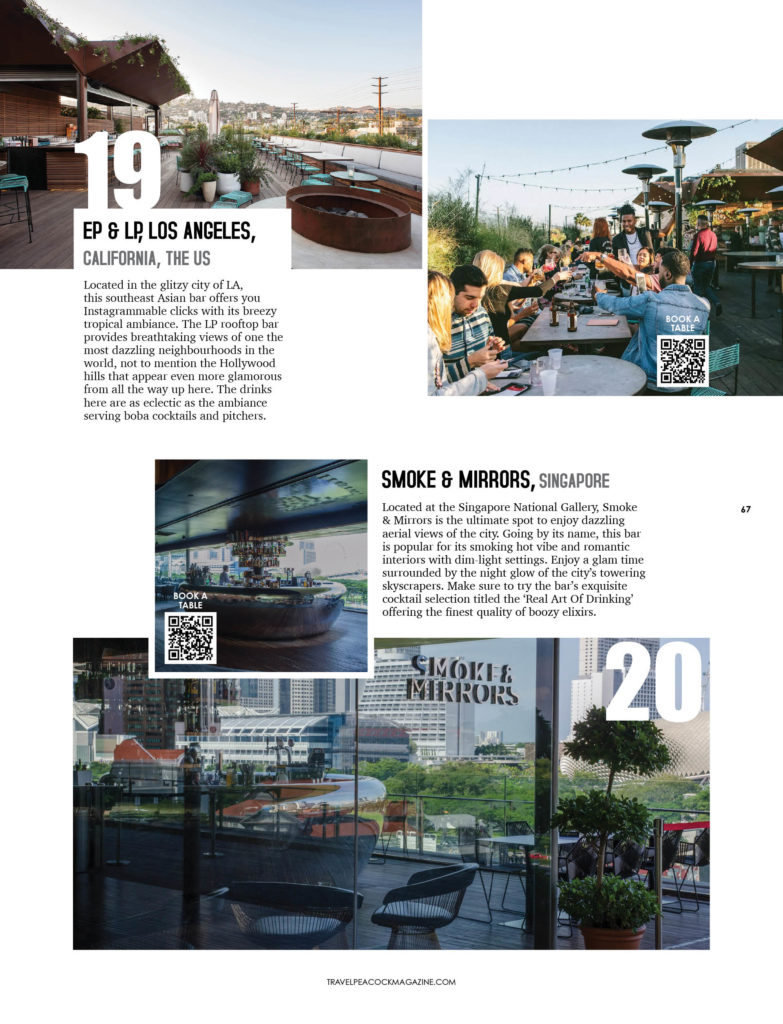 EP & LP, Los Angeles, California, the US
Located in the glitzy city of LA, this southeast Asian bar offers you Instagrammable clicks with its breezy tropical ambience. The LP rooftop bar provides breathtaking views of one the most dazzling neighbourhoods in the world, not to mention the Hollywood hills that appear even more glamorous from all the way up here. The drinks here are as eclectic as the ambience serving boba cocktails and pitchers.
Book a table: www.eplosangeles.com

Smoke & Mirrors, Singapore
Located at the Singapore National Gallery, Smoke & Mirrors is the ultimate spot to enjoy dazzling aerial views of the city. Going by its name, this bar is popular for its smoking hot vibe and romantic interiors with dim-light settings. Enjoy a glam time surrounded by the night glow of the city's towering skyscrapers. Make sure to try the bar's exquisite cocktail selection titled the 'Real Art Of Drinking' offering the finest quality of boozy elixirs.
Book a table: www.smokeandmirrors.com