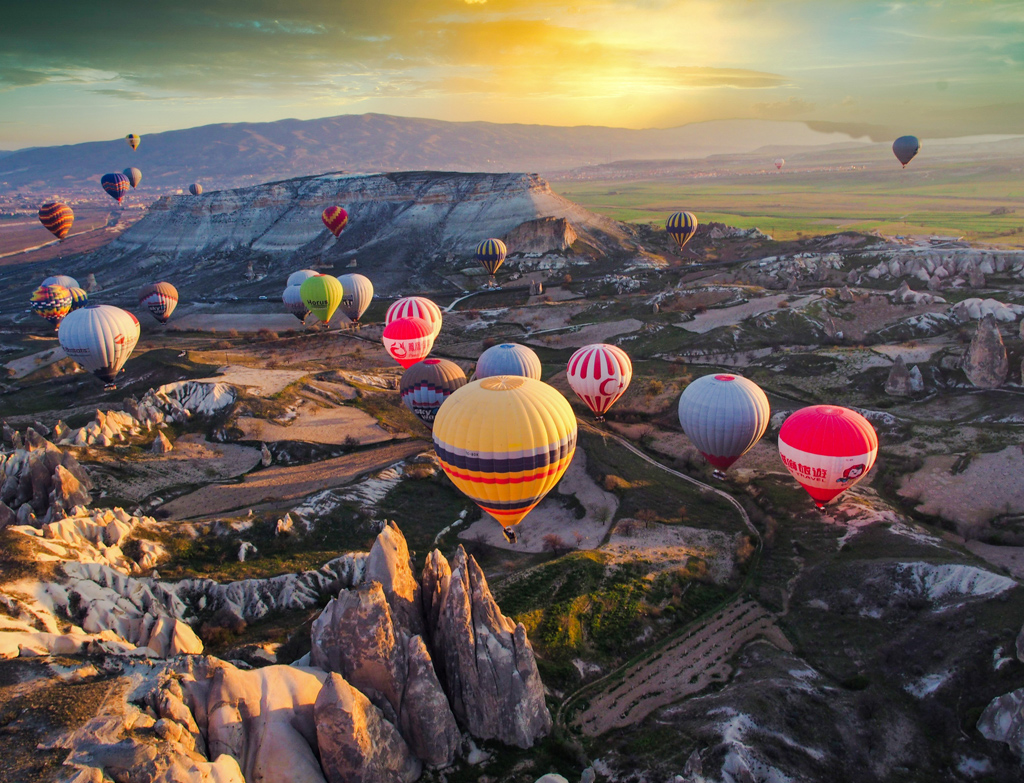 Manifesting spellbinding mélange of zing and zest?  Head to Cappadocia, a semi-arid region in central Turkey to drown in the make believe rainbow designed by the striking hot air balloons soaring high up in the sky. The eye-catching blue, red and yellows in the thick of the clouds will leave your mind with a bagful of memories. Digging into the history of Cappadocia, will reveal that a now world heritage site it was sculpted multiple erosions to form a succession of mountain ridges and valleys. It is located on the central Anatolia plateau and the hot air balloons ascending on this volcanic landscape are sure to make you gape. From an ethnological point of view, the place is a ruling example of the post-iconoclastic Byzantine art period. Showcasing a mix of natural and manmade wonders the place will put you in an enchanted state of mind.
The hot air balloon excursion is bringing tourists from all over the world to visit Cappadocia. Know how you can be a part of the clique. 


How to get there – 
After reaching Istanbul one can opt for a flight to Cappadocia that takes up to 80 minutes or use public transport like a shuttle service. If you are well-versed with driving and want to take pleasure in witnessing the scenic view then book yourself a self-driven road trip. There are many balloon rides to plump for and depending on the budget and preference you can take your pick. 


Types of packages – 

Standard     
The standard or classic flight carries 25-30 people and lasts for about 45 minutes in air. This can cost you about $170-$185 per person. 

Deluxe 
As the name suggests this package has added advantages as compared to the classic alternative. Giving you a good 90 minutes in the air, it carries only two people per compartment. The cost of this would be around $120 per person. 

Private Tours 
Want to make your proposal an occasion worth remembering or celebrate an anniversary in a class by itself. The private hot air balloon tour has got you covered! Renting an entire basket can cost around $1400. The bookings for this need to be made well in advance to live the fantasy while gorging on cake and sipping some bubbly. 
The jaunt is usually filled with pleasure minus any discomfort; however the flights can get cancelled or rescheduled owing to the unpredictable weather conditions.