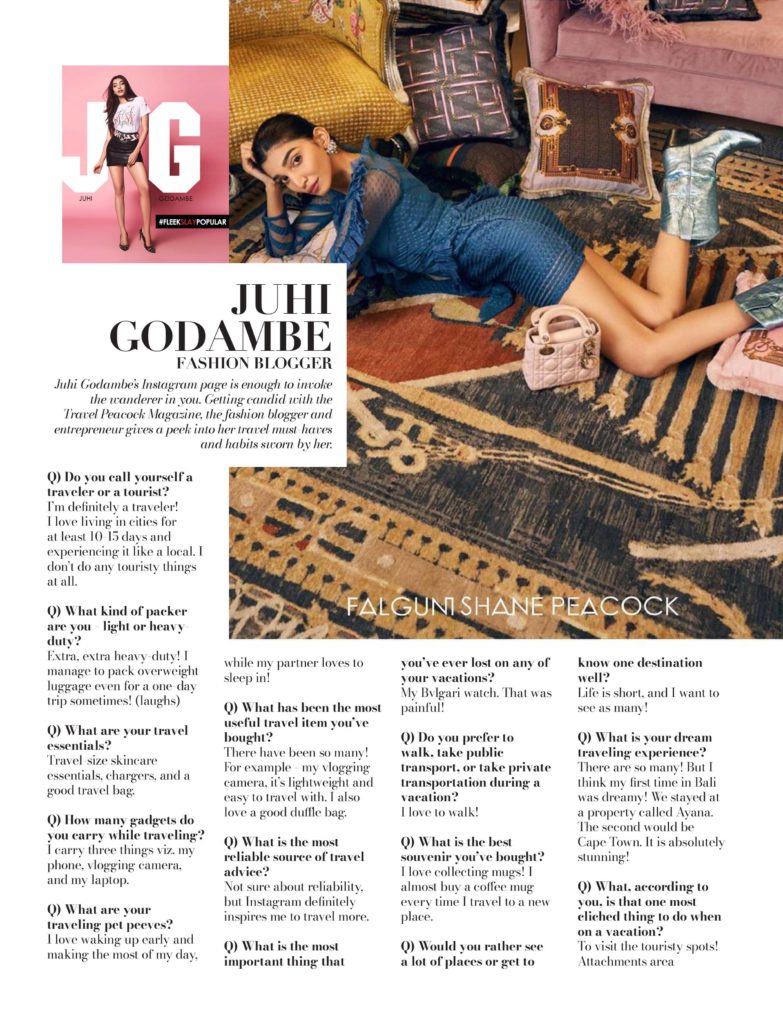 Juhi Godambe's Instagram page is enough to invoke the wanderer in you. Getting candid with the Travel Peacock Magazine, the fashion blogger and entrepreneur gives a peek into her travel must-haves and habits sworn by her.
Images source – Instagram
[Q] Do you call yourself a traveler or a tourist?
I'm definitely a traveler! I love living in cities for at least 10-15 days and experiencing it like a local. I don't do any touristy things at all.
[Q] What kind of packer are you – light or heavy-duty?
Extra, extra heavy-duty! I manage to pack overweight luggage even for a one-day trip sometimes! (laughs)
[Q] What are your travel essentials?
Travel-size skincare essentials, chargers, and a good travel bag.
[Q] How many gadgets do you carry while traveling?
I carry three things viz. my phone, vlogging camera, and my laptop.
[Q] What are your traveling pet peeves?
I love waking up early and making the most of my day, while my partner loves to sleep in!
[Q] What has been the most useful travel item you've bought?
There have been so many! For example – my vlogging camera, it's lightweight and easy to travel with. I also love a good duffle bag.
[Q] What is the most reliable source of travel advice?
Not sure about reliability, but Instagram definitely inspires me to travel more.
[Q] What is the most important thing that you've ever lost on any of your vacations?
My Bvlgari watch. That was painful!
[Q] Do you prefer to walk, take public transport, or take private transportation during a vacation?
I love to walk!
[Q] What is the best souvenir you've bought?
I love collecting mugs! I almost buy a coffee mug every time I travel to a new place.
[Q] Would you rather see a lot of places or get to know one destination well?
Life is short, and I want to see as many!
[Q] What is your dream traveling experience?
There are so many! But I think my first time in Bali was dreamy! We stayed at a property called Ayana. The second would be Cape Town. It is absolutely stunning!
[Q] What, according to you, is that one most cliched thing to do when on a vacation?
To visit the touristy spots!