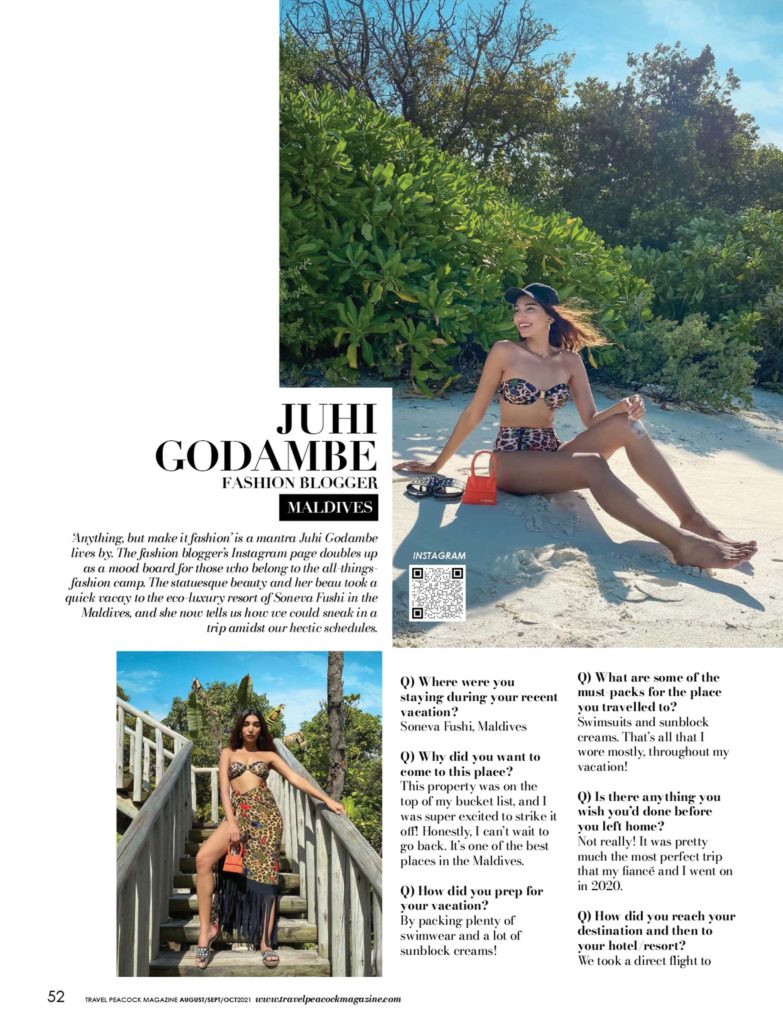 JUHI GODAMBE IN MALDIVES – FASHION BLOGGER
CREDITS – All images sourced from Juhi
'Anything, but make it fashion' is a mantra Juhi Godambe lives by. The fashion blogger's Instagram page doubles up as a mood board for those who belong to the all-things-fashion camp. The statuesque beauty and her beau took a quick vacay to the eco-luxury resort of Soneva Fushi in the Maldives, and she now tells us how we could sneak in a trip amidst our hectic schedules.
SPECIFIC QUESTIONS:
[Q] Where were you staying during your recent vacation?
Soneva Fushi, Maldives
[Q] Why did you want to come to this place?
This property was on the top of my bucket list, and I was super excited to strike it off! Honestly, I can't wait to go back. It's one of the best places in the Maldives.
[Q] How did you prep for your vacation?
By packing plenty of swimwear and a lot of sunblock creams!
[Q] What are some of the must-packs for the place you travelled to?
Swimsuits and sunblock creams. That's all that I wore mostly, throughout my vacation!
[Q] Is there anything you wish you'd done before you left home?
Not really! It was pretty much the most perfect trip that my fiancé and I went on in 2020.
[Q] How did you reach your destination and then to your hotel/resort?
We took a direct flight to Male, followed by a seaplane to take us to the Soneva Fushi islands.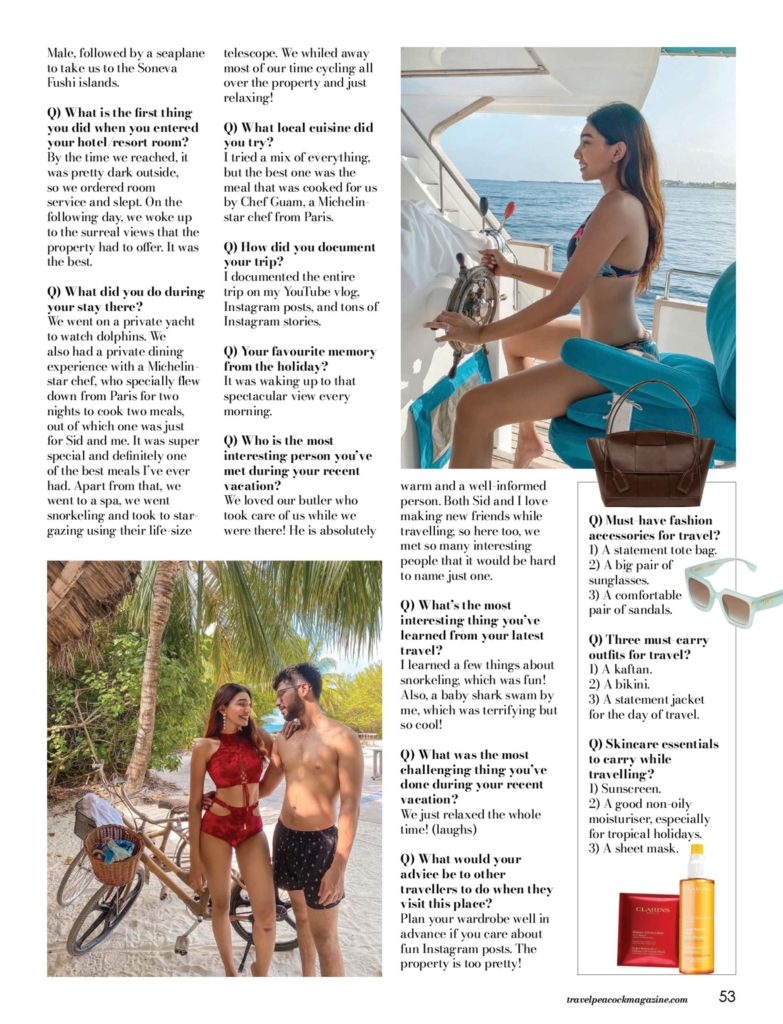 [Q] What is the first thing you did when you entered your hotel/resort room?
By the time we reached, it was pretty dark outside, so we ordered room service and slept. On the following day, we woke up to the surreal views that the property had to offer. It was the best.
[Q] What did you do during your stay there?
We went on a private yacht to watch dolphins. We also had a private dining experience with a Michelin-star chef, who specially flew down from Paris for two nights to cook two meals, out of which one was just for Sid and me. It was super special and definitely one of the best meals I've ever had. Apart from that, we went to a spa, we went snorkeling and took to star-gazing using their life-size telescope. We whiled away most of our time cycling all over the property and just relaxing!
[Q] What local cuisine did you try?
I tried a mix of everything, but the best one was the meal that was cooked for us by Chef Guam, a Michelin-star chef from Paris.
[Q] How did you document your trip?
I documented the entire trip on my YouTube vlog, Instagram posts, and tons of Instagram stories.
[Q] Your favourite memory from the holiday?
It was waking up to that spectacular view every morning.
[Q] Who is the most interesting person you've met during your recent vacation?
We loved our butler who took care of us while we were there! He is absolutely warm and a well-informed person. Both Sid and I love making new friends while travelling, so here too, we met so many interesting people that it would be hard to name just one.
[Q] What's the most interesting thing you've learned from your latest travel?
I learned a few things about snorkeling, which was fun! Also, a baby shark swam by me, which was terrifying but so cool!
[Q] What was the most challenging thing you've done during your recent vacation?
We just relaxed the whole time! (laughs)
[Q] What would your advice be to other travellers to do when they visit this place?
Plan your wardrobe well in advance if you care about fun Instagram posts. The property is too pretty!
[Q] Must-have fashion accessories for travel?
1) A statement tote bag.
2) A big pair of sunglasses.
3) A comfortable pair of sandals.
[Q] Three must-carry outfits for travel?
1) A kaftan.
2) A bikini.
3) A statement jacket for the day of travel.
[Q] Skincare essentials to carry while travelling?
1) Sunscreen.
2) A good non-oily moisturiser, especially for tropical holidays.
3) A sheet mask.
GENERAL QUESTIONS:
[Q] Do you call yourself a traveller or a tourist?
I'm definitely a traveller! I love living in cities for at least 10-15 days and experiencing it like a local. I don't do any touristy things at all.
[Q] What kind of packer are you – light or heavy-duty?
Extra, extra heavy-duty! I manage to pack overweight luggage even for a one-day trip sometimes! (laughs)
[Q] What are your travel essentials?
Travel-sized skincare essentials, chargers, and a good travel bag.
[Q] How many gadgets do you carry while travelling?
I carry three things viz. my phone, vlogging camera, and my laptop.
[Q] What are your travelling pet peeves?
I love waking up early and making the most of my day, while my partner loves to sleep in!
[Q] What has been the most useful travel item you've bought?
There have been so many! For example, my vlogging camera, it's lightweight and easy to travel with. I also love a good duffle bag.
[Q] What is the most reliable source of travel advice?
Not sure about reliability, but Instagram definitely inspires me to travel more.
[Q] What is the most important thing that you've ever lost on any of your vacations?
My Bvlgari watch. That was painful!
[Q] Do you prefer to walk, take public transport, or take private transportation during a vacation?
I love to walk!
[Q] What is the best souvenir you've bought?
I love collecting mugs! I almost buy a coffee mug every time I travel to some new place.
[Q] Would you rather see a lot of places or get to know one destination well?
Life is short, and I want to see as many!
[Q] What is your dream travelling experience?
There are so many! But I think my first time in Bali was dreamy! We stayed at a property called Ayana. The second would be Cape Town. It is absolutely stunning!
[Q] What, according to you, is that one most cliched thing to do when on a vacation?
To visit the touristy spots!